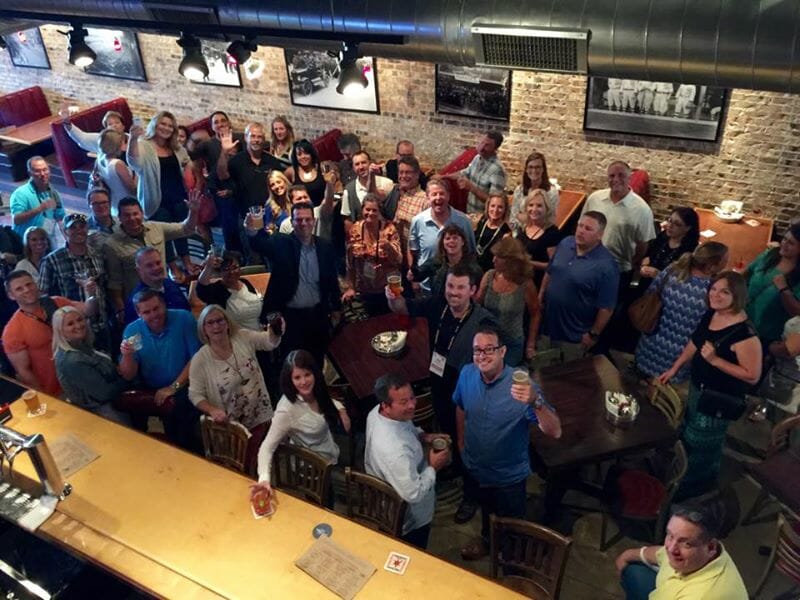 "You are an average of the five people you spend the most time with" is a famous quote by motivational speaker Jim Rohn.  I don't know if you've ever heard or read that phrase before, but the bottom line means that it really matters who you surround yourself with…they make a difference.  This could be professionally, culturally, spiritually, any number of ways really.
For this article, let's just concentrate on one aspect and that's business.  Who do you spend the most time with and how do you interact?
I mean it.  Who is on your list?  Don't make me get you a pen and paper.
For most people, it's just the regular crew in the office.  You know, the same group that leaves old moldy fruit in the refrigerator and never makes another pot of coffee.  Are you getting any intellectual or professional stimulation from those knuckleheads?  What cutting edge thing did you talk about today?  Are they challenging you on the notion of what's new or what's passe?  Are they driving any innovation in your company or just shoving another order into the system like mindless drones?
Shifting gears here, I want to talk to you about a great mastermind group that you may or may not have heard about.  It's called the PromoKitchen.  This year, they asked me to be a "chef"…which means that obviously have heard about my BBQ.
Not really.
Actually, it means they have found and enjoyed some of the pieces that I have written and seen the work that I have done with sustainability or to try to give back to the decorated apparel industry.  My bread and butter clients are all promotional item folks, so it's a good fit.  PromoKitchen is all about asking the hard questions and disrupting or challenging the promotional item industry to make it better.  Pushing for excellence is a great way to describe it.  That's in my DNA.  Here's the link to the PromoKitchen website and you can see what I mean.  Click here.
Here's what ties my opening statement in with PromoKitchen.  This past week was the ASI Show in Chicago, and PromoKitchen held an event at a fantastic local restaurant, Flo and Santos.  (highly recommend it!)  Getting out of the office and spending a few hours exchanging ideas and discussing the industry is exactly what drives that pursuit of excellence.  Here are a few of the conversations:
PromoKitchen Mentorship program.  This is a free resource where they match you up with someone that can push you and challenge you to be better.  Needs some help and coaching to get to the next level?  Signing up and getting some guidance just might be the best thing for your career that you've ever done.
Don't take my word for it though.  Read this excellent article that Aubrey Collins wrote about the experience after her mentorship this past year.  Click here.
Want to learn more details or sign up?  Go to the PromoKitchen website and sign up!  Click here.
The 90-9-1 Rule.  Have you heard of this?  It's genius.  Someone (didn't have a business card and I can't remember their name) started a fantastic conversation with me about social media and is a big fan of my blog.  (Thanks!!)  After a few back and forth tips, he pulled this out and fired it into the discussion:
90% of the people read content online.  This is from any source.  Facebook, LinkedIn, Twitter, Blogs, Articles.
9% of the people that read that content share or like it online.  This is the tip of the iceberg for the readers.  The other 91% of the folks that read that content won't do anything with it…but they read it.
1% of people create the content that everyone consumes.  Want more exposure or be seen as a thought leader?  Start creating the content.  I love being in the 1%.  You should join me.
Periscope.  Speaking of the 1%…  PromoKitchen always seeks to educate, and the event had a great social media discussion that was led by fellow chef Charity Gibson of Green Banana Promotions.  Periscope is a new free social media app that allows you to broadcast live video feeds to your followers and network and they can comment on them.  It's an offshoot of Twitter, and it's a really interesting development.  Charity led a class and we downloaded the app and discussed how this could be used for our businesses.
While I'm certainly no expert, I can see some extremely beneficial uses for this new technology.  I can see doing shop tours, or live demonstrations on printing or embroidering techniques.  Maybe an interactive video blog.  What about a live product demonstration?  The creative uses for this are endless!
What was fantastic at the PromoKitchen event was the discussion with the group on how this could be used, and learning about Periscope together.  It was exciting and the exact intellectual stimulation that I was hoping for when I drove down from Milwaukee.  When you think to yourself, "Do I really want to make the trip just to hobnob with a bunch of strangers in a bar?", this is the reason why you go.
I tried Periscope myself the other day with a live broadcast after I went for a run.  Actually during the run is when I thought about it and was so inspired I couldn't wait and just did it all sweaty.  I know you are thinking…"hey Marshall that's gross!"  It was going to be rough anyway so why make it perfect?  Just call it a sketch!  Went well, but I couldn't figure out how to flip the screen to record me like a selfie (double tap the screen) or how to stop recording.  Here's the link to my attempt.  Can you do better?  Share!  Click here to get Periscope.
The History Lesson.  I met a lot of people at the event, but one person stood out with the conversation and actually inspired me to look up something the next day.  I was standing and talking to someone, and when I turned a smiling man stuck out his hand and introduced himself as Scott Nussinow from Maine.  We chit-chatted for a bit and when I told him that I was from Milwaukee and ran a apparel decorating shop, Visual Impressions, he asked me a trivia question.
"Do you know who is credited for using a t-shirt as a promotional item for the first time?"
It's funny.  I've been in this industry since 1990 in one position or another and that hasn't ever come up.  Who was the first?  Do you know?
Scott explained that it was Max Scharf with K-Studios back in 1969.  He came up with the original Bud-Man shirts for Anheuser-Busch.  I was so intrigued that I grabbed my pen and paper and wrote that down.  I Googled up several articles the next day about Max, his history, and his legendary status with PPAI.  Here's a great bio if you want to check him out.  Click here.
Who can predict what you will find when you go to an event like this?  Even though the event was in Chicago and there certainly were some local folks at the event, I met and talked to people from Florida, Michigan, New Mexico, Arizona, Maine, Indiana, Missouri, Tennessee, and California. That took considerably more effort to get there then just driving south for two hours.  That's fantastic!  One thing that is certain if you go to events like this, and that is you will be exposed to more available resources, great new ideas, and learn more about your industry than ever before.  Making yourself available to that experience is the hard part.
You have to do it.  Nobody is going to do it for you.