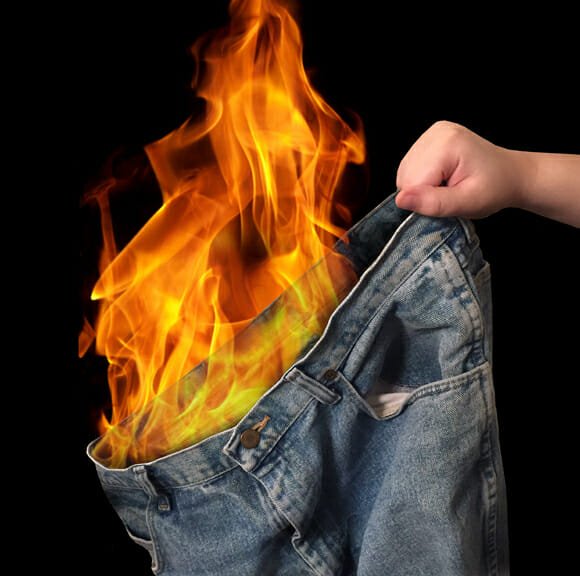 We've all heard them.  Lies.  People are sometimes are strangely deceitful.  We must look like a bunch of suckers or something.  Sometimes though I think they are just kidding themselves.  You know instant karma is going to get them sooner or later, but will that be satisfying enough?  So what are the top big fat whoppers we've heard in our shops?  Check 'em out and see if you have ever heard (or believed) one of these.
"I'm missing two mediums from my order that was delivered two weeks ago."  (Please read this with David Spade's snarky voice for full comedic effect) Are you?  Let's check into that.  (Sound of keyboard clicking) Hmm.  According to our inbound packing slips we received 48 lbs of t-shirts in, and we shipped you 48 lbs of t-shirts out.  If any were missing the weight would be different.  Oh, you just found them?  That's nice.
"I need a quote for 500 t-shirts for an upcoming event.  Can you give me a quote on black and gray t-shirts.  Front, back and one sleeve.  Four colors each location.  And hoodies, we need hoodies too…the kind with the really fat drawstrings."  After three follow up attempts after the quote you finally hear back from them.  All they want is 24 t-shirts.  Light blue.  Front only.  They just got a quote from an online store.  If you don't match the price they are TAKING THEIR BUSINESS ELSEWHERE!  (Hey, can you still do the artwork for me?  I'll pay you, but only like twenty bucks.  My neighbor's kid knows PowerPoint and he says he can do it cheaper.)
"I already got a quote from the shop across town; they are much cheaper than you."  Did you?  Are you using the same t-shirt blank as the one we quoted?  "No."  Did they include preparing the artwork for the job?  "No."  Will they be able to have your job complete by Friday like you wanted?  "Uh, maybe."  Can we see their quote…did it list screen fees in the price or was it separate?  "Yeah, but that's separate from the price."  Are you sure you are getting better deal? "Well they said we were.  Thanks."
(It's Tuesday) "We need shirts for our annual event on Friday, can you do them?"  Sure, we'll need everything handled by tomorrow so we can start work on Thursday.  Here's our price, including the rush fee.  "Rush fee? Oh, I guess anytime next week will be fine then."
"The check is in the mail."  It's the classic.  Sometimes it's true, but more often than not it could be someone weaseling around paying you.  Shore up your AR with more stringent controls over how customers pay, especially this one.  Use deposits, credit cards or PayPal to get your money sooner.  If you have heard this from someone a few times and their account is always past due this is your fault more than theirs.  Make sure your credit hold policy is a good one.
"I'll need you guys to create the art for my order.  Anything is fine.  Just do something cool.  I'll know what I'll like when I see it."  Five revisions later…  "I'll approve this, but my order changed.  All I need is twenty shirts now, and I want to go with a different color shirt.  Can you get red shirts?"
"Here's the PO for the order, thanks!"  Sorry, but there's no ship date included on the PO, it just says 00/00/00.  When should this ship?  "Oh, it doesn't matter.  Any normal lead time will do."  (Five days later) "Hey, where are we on that order?  It was due last Friday!"  (Sound of forehead slap)
"My apparel line is going to be huge!  Give me a deal now, and I'll promise you'll be my printer forever."  Oh really?  The odds are roughly the same as all the waiters in Hollywood making it big one day as movie stars.  Seems legit.
"If you buy an ad in our school's baseball program, we'll give you all of our t-shirt work for the school." That is, of course, until a new parent volunteer comes along and plays his favorite card and gives the work to his buddy.
"Other printers always give us a big discount."  Oh you mean that they start off at a higher quote and then discount it to something reasonable?  You can't control what other printers do.  Stand firm on your pricing if it make sense to you.  Sell your value.
"Hello Owner/General Manager: Greetings how are you doing today? My name is Dale Johnson I'm sending you this email because I will be needing your services. I have a seminar coming up in the city here on the 12th of October, by 3pm …I hope you do Screen printing on T-shirts.  I have some T-shirts that I need you to do Screen printing on, I have 600pcs T-shirts white in color and I'll like to put at the front of the T-shirts (ARISE AND SHINE) you move down lower and put (ISHIA 60:1) I need a perfect job on the T-shirts the total of the T-shirts are 600Pcs.Sizes are M=74Cm 200pcs, XL=78cm 200pcs and XXL=80cm 200pcs. I have a private carrier have the T-shirts deliver to your shop so you can work on them…so kindly get back to me the request information below."  Does anyone fall for this drivel?  Ever?  What's sad is that this continues to fill our inboxes on a regular basis.  If the address was real, we could all just ship them envelopes full of glitter.  (I discovered that website a few days ago.  Pure evil genius.)
On the other hand…are you completely honest with your customers, staff and vendors?  What are you or your staff telling these people?  Integrity counts.  Little white lies, lies of omission, and stretching the truth sometimes have a way of coming back around with some sharp teeth and will focus squarely on your right butt cheek.  Once your credibility is tarnished, getting that back is extremely difficult.  Don't be that guy.