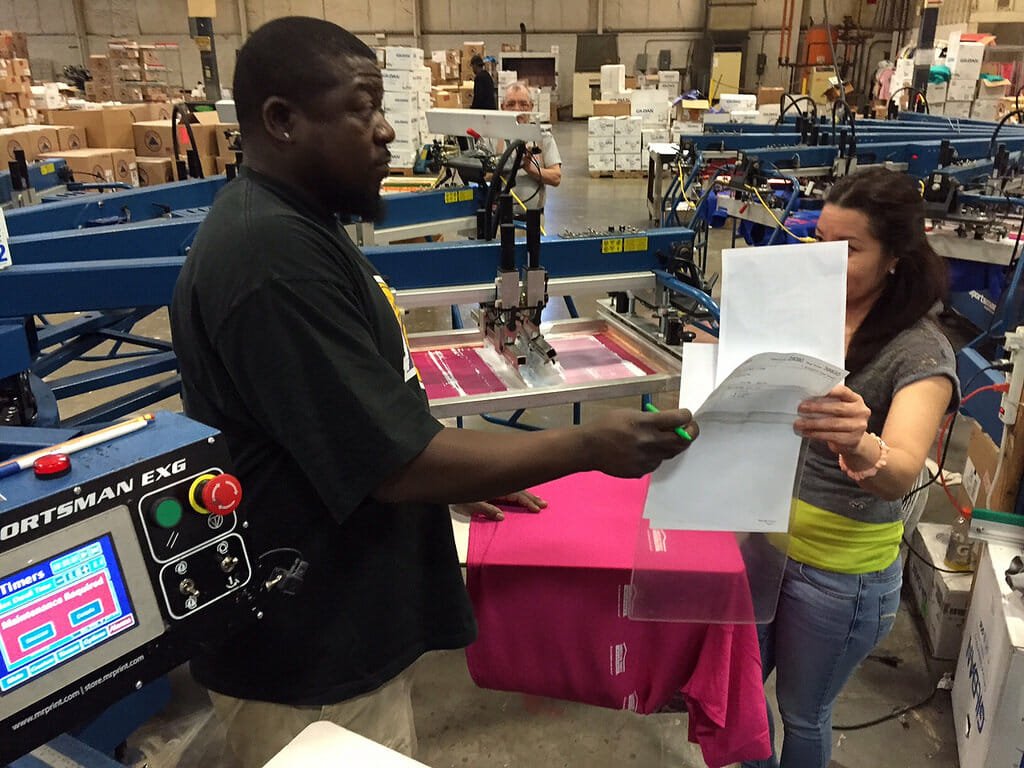 We all want better.  It's easy to have a cynical eye and throw out hand grenades disguised as comments or "helpful suggestions"…but do we ever stoop down and assist in the heavy lifting?  In our own companies, we have different levels of employees.  Some are fantastic, but most are probably average.  Not everyone is a rockstar, although we wish they would be.  That's why our opinions of companies change over time based on our interactions with them.
That's why you have to push for excellence every day.
In the decorated apparel industry, our orders can go through many hands as they start from order entry, art or digitizing, actual production, shipping, and finally invoicing.  There are all sorts of ways things can go miserably wrong if we take the eye off of the ball.  Fumble!
I'm happy to report that this is constantly true, because lately I've been talking to more new customers than ever.  I'm not even in sales.  People are dissatisfied with their current decorator for mostly two reasons.
Customer service – how they were treated or were made to feel.
Technical skill – how the order turned out, as basically it just wasn't up to snuff.
So, what's going on?
I'd like to think it's just because my shop, Visual Impressions, is just so incredibly awesome (and hey, that's true!), but the reality is that more decorators are just letting their customers down than ever before.
Think about your company for a moment.  How are your orders being processed?   What is your technical skill level?  Have you ever just stood and watched your staff working?  Do they really know what they are doing?  Do they just accept mediocre?  When your customers open that box of finished goods do a chorus of angels sing, or is it a rumpled mess?
These days, "that's good enough" just does not work.
The reality is that competition for orders is getting fiercer than ever before.  Our customers in can be a fairly lazy bunch.  They want easy.  Everything is online.  "That shop down the street" where that order used to go to, is being handled by the top result in a search engine.  Do a crappy job and it doesn't take much for someone to flame your company on Yelp or Angie's List or on Facebook.  Just like social media can drive customers to your door, it can drive them away too.
So let's talk about fighting that and developing a better culture of excellence in your shop.  Excellence will always equal customer retention, but also fosters new business growth.
First, it starts with your leadership.  This could be the owner of the company, but mostly it squarely rests on the managers.  Yes, I know that on some days it's like watching a circus.  While we're dealing with the clowns over here, the guy on the trapeze just flew off into the popcorn stand.  This business deals with a lot of stress and is very demanding.  How your management staff deals with people is directly tied to the results you are getting.
Here are a few key tips to building that culture of excellence for your shop:
Set clear expectations.   This is the number one rule and it applies to everything.  From how many jobs have to be produced today, to the rule about using your cell phone on the shop floor.  Your managers and leaders are in control of this.  If they fail to give these expectations, then your staff will create their own.  They will set their own work pace, their own standards for quality, their own rules for behavior…whatever.  Your job is to set the expectations and hold them accountable for their actions.  Are you sure you are giving these expectations?
Stress teamwork.  We are all in this together.  This means when something has to happen, we band together to get it handled.  The old adage, "Many hands make light work" is true.  Maybe a last minute order just came in, or some big project is running late.  Do your people complain that they won't help with that work "because that's not in my job description"?  Those aren't the people you need on your team.  The best companies are made of folks that band together to solve problems.  Better yet, have a staff comprised of people that want to learn other facets of the company to make themselves more valuable.  Those are the people I love to work with on a daily basis.  How many lone wolves are employed in your shop?
Lead by Example.  This means you.  You can't hold your staff accountable for attendance or tardiness issues if you stroll into work late.  If you complain about how messy the shop looks, but your desk looks like it should be surrounded by biohazard tape, what does that say?  If you want a happy workforce, don't walk around the shop frowning all the time.  Dig in and help out when things are getting tough.  If you are a sit in your office and bark orders type of leader, you aren't going to see the same results as someone that fosters respect and understanding of your employees by helping with the workload.  The tone of the shop is always set by the examples presented to the staff.  This is the keystone to your culture.  Remember that.
Give people opportunities for growth.  I'm a huge believer in cross training.  Everyone loves to be respected and challenged.  Give your people some stretch opportunities.  Have a screen-printing catcher or embroidery trimmer start running a machine.  Give that guy that reclaims the screens the opportunity to learn to expose and make them.  Teach people how to ship, or drive the forklift.  Have a key operator manage the Saturday shift one weekend to give them the experience running the floor.   Want excellence in your shop?  Have more of your people learn to contribute and not just be robots.  You are going to lose people that count over time.  People move away, get other jobs, start their own companies, or other reasons for leaving.  Getting more people trained up is called bench strength.  Who is on your bench ready to take over now?
Engage your employees.  These are people.  They all have lives outside of work and their share of problems too.  Some people will be motivated by a simple pat on the back or thank you.  Others might be be able to do more if they are directly challenged by competition.  Some need a kick in the butt occasionally.  Everyone is different.  Don't handle your staff with a blanket approach.  It takes time to get to know people and understand what drives them.  It's harder when there is a language or cultural differences.
Make it fun.  I'm a fairly serious guy, but I like to use humor when I can.  I think my goofy side is usually a good way to connect with people on a human level.  How fun is your shop?  Do people like to work there?  Your employees spend a considerable amount of time daily with you.  Is the atmosphere one that they enjoy?  Have you ever asked?  Job satisfaction is directly linked to the attitudes people feel about their jobs.  If your shop feels like everyone is chained together rowing the boat like some old viking movie, it might be time to rethink that position.  Stroke.  Stroke.  Stroke.
Hire for attitude, train for skill.  I can't stress this enough.  The people that you hire are going to have a direct result to the performance of the company.  Who do you let into the clubhouse?  What is their character and attitude?  Are they someone that will fit in with the group?  If you have someone on staff that is constantly divisive, what are you doing about it?  Over the years I've terminated my share of problem employees.  Their replacements were always better, and in fact in most cases, I wondered why I didn't make that decision sooner.  Who is on your staff that leaves that nagging feeling in your gut?  Are you going to do anything about it?
Be a learning shop.  This industry is in a constant state of change.  New techniques, equipment and needs are constantly being developed.  Are you on the cutting edge?  Are you more of a wait and see type company?  Meaning, I'll wait until someone orders that before I'll look into it.  Often, we get so engrossed in just trying to get orders out the door on time, that we don't look into things that are new or ways to improve.  You have to set aside time for this, and ask your employees to have this mentality too.  Playing around with stuff and not being afraid to fail is the attitude that is going to drive your success.  So go ahead, completely ruin some garments with that wacky idea.  It will be ok.  Learn.
How do you push for excellence in your shop?  Leave a comment!