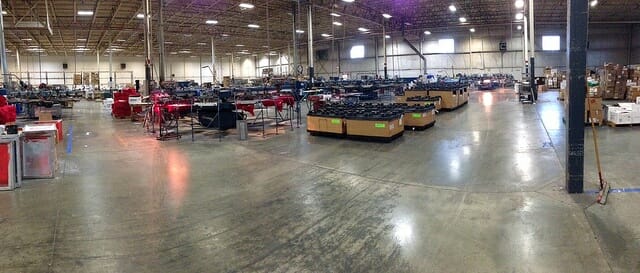 Let's face it, as members of the apparel decoration community we produce items that a lot of people don't have a clue about how they were made.  What does it take to screen-print, digitally print or embroider a shirt?  What about heat press names and numbers or even adding that rhinestone bling to a garment?  I'm sure you have probably given a shop tour and the phrase afterward was "Wow, I never knew how complicated this was!" or similar.  I just gave a shop tour to a potential client who told me he knew all about how shirts were printed.  During the walk through it was apparent that he didn't know what a flash unit was, or why it was used on press.  He had been buying t-shirt printing for years with another printer, and somehow never asked or was never shown!   It was an epiphany for him…now he understood that price list phrase.  "Three colors on darks with a flash".
Your customer base is the lifeblood of your business.  They trust you for professional guidance and knowledge as you are the expert.  As experts, we can position ourselves to teach our customers about the industry, and strengthen our relationship with them.  This is a tool you can use to sell beyond the price list.  Below are a few ways that you can use that to grow your influence and increase your sales:
Demonstrate your knowledge – website, video, blogs, Pinterest, presentations, prepared information kits
It's not enough these days to just hang a sign above your door and wait for customers to just stroll in.  You have to reach out and engage them to attract new business.  A key part of that is demonstrating your expertise.  This can be achieved any number of ways, but the main purpose of that effort is to forward the thought that your company are the experts to turn to when it comes to decorated apparel.  So what's the best method to do that?  Simple – any method that works.
The most basic form of communication for your shop needs to be some informative "one-pagers" that have the information required regarding orders.  For example, you could write and design a sheet regarding art that include facts about how to submit art files, acceptable file formats, the difference between vector and raster files, general placement and sizing guidelines for locations, or any number of items.  Others could be how you are handling the CPSIA requirements, sustainability program, or other compliance issues.  The idea here is to get the processes and procedures that your shop uses down on paper, professionally designed and branded for your shop, and ready to deliver to your customer.  String a bunch of these together as a multiple page .pdf and call it your "New Customer Information Packet".  Customers ask you for this information all the time already.  Do you have all of their answers prepared?  How many times could you avoid getting art files sent to you in Word if your customers had this information before they placed their order?  Having the basic information regarding doing business with your shop prepared and ready to disseminate is the bare minimum that is expected to set you up as an expert.  Have all of your documents designed using some branding guidelines for your shop too.
Another way you can demonstrate your knowledge is with pictures.  Remember, a picture is worth a thousand words; so what do you think a collection of pictures might be worth?  This can easily be handled just with your camera phone as you work.  Take interesting shots of different aspects around your shop.  Try to capture people doing the work, different types of jobs, inks used, equipment and the steps it takes to produce anything.  I like to upload my shots about once a week or so to a Pinterest board called "Behind the Curtain at a T-shirt Shop".   Once a month I push out the link on social media, and I get a good number of hits.  It's like giving a couple dozen shop tours.  When I talk to new customers (or even old ones) about something on the phone or e-mail, I'll forward the link and call out attention to a particular shot that is applicable to the conversation.  We also have this board linked to the Visual Impressions website on the About Us page.
How does your website look?  Is it clean and easy to navigate?  Educating potential customers with your webpage is a good place to start.  Typically, this might be the first place where someone looks after they've started an online search for apparel decoration companies.  They are looking for someone to hand their business to.  Many shops just have a placeholder type webpage that offers little information.  Why?  Put yourself in your customer's shoes.  Pretend you have a 500 piece order for a company outing coming up at the end of the month.  Two locations, 1 color front, 8 color back and they want to use four different neon colored shirts.  If they went to your website could they tell if you are capable of doing that work?  Can they see past examples with pictures or a portfolio?  Is there a capabilities list to see if you could run the 8 color job?  Could they get a quote online, or is there information on who to contact?  Your customers judge you by your website every single day.  The reason your phone isn't ringing or your inbox isn't full could be from this reason alone.  I'm a curious guy, and I like to look up other apparel company's websites.  Some are outstanding; some are extremely dated; some leave you with the wonder if they are still in business.  Your website could be one of the main points of contact with your customers, and full of information they can obtain about your company.
Nothing beats giving real shop tours too.  If you have customers in the building, I would highly advise walking them around and showing them how you create and produce all of your amazing designs every day.  Talk about their job or order, but show them how it will be produced and even who might be doing it.  Think of it as small ten minute presentations.  If you can, weave in something about their upcoming order or personal interest into your discussion.  I like to have visitors touch a hot and freshly printed shirt coming off the dryer belt, or hand them a neatly folded and polybagged t-shirt.  In embroidery, it is fun to watch them be amazed at how fast the needles on a row of embroidery heads can blur into a row of logos on a polo shirt or baseball hat.  These are the experiences that move people beyond thinking of you as a commodity, and moving you into the realm of trusted partner.  You have to take the time to do this!!
Teaching sells – people don't want pushy, they want to be educated.  How can you solve the customer's problem?
Everyone has their pain points.  These are the challenges that people are facing, and if you show and teach them how to solve the problem by working with your company, then you have just gained another long-term client.  The shops that sell only on price and just scream discount, discount, discount don't have any value to offer so this is the only song they can sing.  The value that you bring is your experience and creative knowledge base on how to solve your customer's challenges.  You become a trusted partner the instant you solve that problem.
Sometimes it is about the garment.  "I need ANSI certified safety shirts for my landscaping company."  Sometimes it's about timing.  "I need 24 t-shirts for an important client presentation on Thursday – Help!"  Sometimes it is about the art.  "I've started a new company and need employee uniforms."  Sometimes it will make you smile "My last printer botched the job on these performance tees for our gym – everything turned pink".
You get the idea.  Each one of those examples above is an opportunity for you to educate your customer on something about your company, and how/why you can handle the job for them.  Start with educating your customer by offering not only the solution to their present challenge, but maybe even an array of possibilities that they haven't thought of yet.  Will working with you open their eyes to a new realm of possibilities?  Show them the difference between you and that other shop down the street, or better yet being an anonymous customer from an online t-shirt platform.
Keep it simple.  Don't overwhelm.  One item at a time.  Educate for learning – No sales pitch
Make it easy for your customer to gain the knowledge that they are seeking.  It's important to share things, but keep it simple and brief.  People will ask follow up questions, ask to stop by for a visit, or maybe indicate that they would like to see more if they are interested.  If you are e-mailing them a quote, be sure to include your new customer information packet, and one or two of the one pagers regarding your company.  We also like to include a .pdf of an article or two about our shop, and the link to the Pinterest board.  This gives them the information that they are requesting, with a little more, but doesn't overwhelm anyone like a crazy used car salesman pitch.
If a customer is placing an order for a decoration method that they aren't used to, for example placing a direct to garment order, you can use this as an opportunity to discuss that type of decoration method.  How is it different from standard screen-printing?  What are the advantages or disadvantages?  Why is the pricing different?  If they are in your shop, you might show them how a print is made using both DTG and traditional screen-printing, so they can see the difference.  By simply focusing on educating your customer, you are setting not only this order up for success but for all the other future orders from this same customer as they will develop a relationship with you based on the trust earned from your short educational tour.  These are the interactions that build a large stable of repeat customers that are value based.
Social Media – Broadcast what you are up to.
If you haven't already written a social media marketing plan for your shop, I would suggest finding the time soon.  One of the things that can be a key part of your social media outreach is just simply showing what's happening in your shop.  You can't just constantly yell "Sale!!" and expect anybody to listen.  Those get deleted almost instantly if they haven't unsubscribed from you already.  Instead offer them some interesting tidbits about your shop.  Cooking out on a Friday?  Show the grill and post an invite to drop by for some lunch.  Printing on an unusual location or for some big event in town?  Show the shirts coming down the belt.  You have to make your social media posts interesting and relevant.  Avoid screaming how cheap you are, and instead focus on your quality, technical ability, craftsmanship and capabilities.  Nobody knows that you can print with metallic ink or offer embroidery unless you show them.
The key is to share not only the business end of things, but make it fun and interesting.  Your customers are people too, and they will react positively if you show them how your shop dresses up for Halloween or participates in the charity walk event.  While you are doing that, you can show them that you know how to print purple gel ink on a cuff, sew puff logos on hats, foil on some fleece, heat press numbers for a soccer team, or print a logo on a stack of iPads.  It's up to you to push out the content.  So what are you waiting for?  Start teaching!