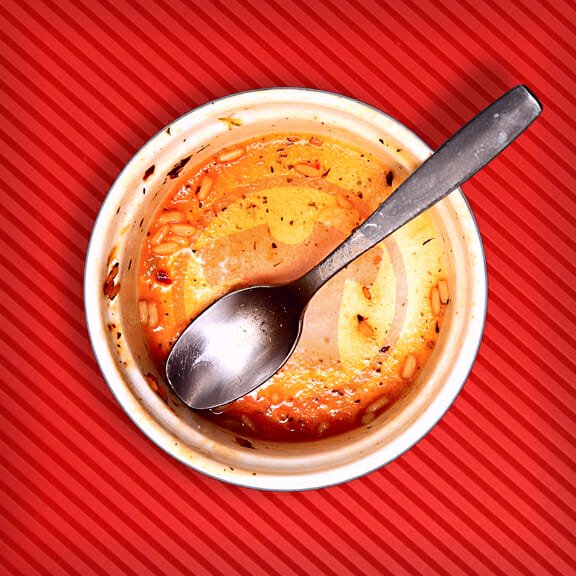 Have you ever tasted a bowl of freshly served gumbo, hot and steaming and brimming with so much goodness you can't wait to shove your spoon in and take a bite?  That rich and savory deliciousness starts dripping down your chin, as you can't even eat the right way it's so fantastic.
Mmmmm.  I'll need an extra napkin please.
A great business is just like devouring that bowl of gumbo.  People are excited about doing business with them, and will always tell  their friends about their experience.
Do you have that in your shop?  Are your customers bragging about what an amazing company you have or about the incredible customer service they just received?  Did they just place a reorder because the awesome work you just finished last week already sold out?  Are your customers sending you brand new customers similar to what happens with outstanding restaurants?
"You gotta check out this place…."
If that sounds like your shop, then congratulations!  You've cooked up a business bowl of some mighty fine gumbo.
If that doesn't seem too familiar, let's discuss what ingredients you'll need to stir up a pot of awesomeness that your customers will start start sharing with anyone that will listen.
First, you might not be familiar with the concept of a bowl of gumbo, as that's a Mississippi Delta culinary treat, so let's get that out of the way.
Gumbo is basically a stew type of food that originates from Louisiana, and like chili is to Texas, there are an infinite number of ways to cook up a bowl of gumbo.   The name gumbo is derived from the West African word for okra, and that suggests that gumbo should contain that item as an ingredient.  Just like chili and whether or not to add beans, you can get into the same arguments with gumbo aficionados with the idea of adding tomatoes, okra or what types of meat need to be featured in the dish.
There are many types of gumbo, but most are built on chicken, sausage, and seafood as the main ingredients.  To me, regardless of what's in the gumbo it's always best with some hot crusty bread that's smeared with some garlic compound butter and an icy cold beer.
Ok, so that's out of the way, and now your taste buds are primed to explode, let's build our shop success gumbo and see what we end up with in our bowl.
Market Research – (The Roux)
A great bowl of gumbo always starts off with a roux.  This is a mixture of flour and some sort of fat, usually bacon renderings, that is stirred in the pot over medium heat and mixed until it is a nice, rich brown color.
The roux is the basis of any great gumbo, and in our business gumbo the roux you need is the understanding of who your customers are, where they are located, and why they should do business with you.  This research is the basic foundation that you need to build a great business.
Have you skipped this step?  Many apparel decorators do.  They wait like spiders in their web, hoping something comes along; instead of doing the work to reach out and understand where their customers are thriving.
Your market research should include primary sources that could include direct conversations with real potential & current customers, surveys, questionnaires or even focus groups.  You need to understand everything about your customers and what makes them tick.  Also, you should know why your customers are doing business with your competitors, and what advantages they have over you.
You can also add to your business roux by backing up your information with secondary bits of data from published resources.  These are available from industry publications, leadership groups, governmental agencies, local college campuses, libraries and even online.  This is the data mining part of the research.
The goal of all of this background work is to establish the best route to take to obtain these customers.
If you have been working really hard trying to get new customers, but you can't seem to make a connection, maybe you've been searching in the wrong spot.  That's the importance of the market research roux.
Build your success gumbo with a good foundation of information.  All the other ingredients you will add later will shine.
Sales Skills – (The Holy Trinity)
The next core ingredients to our shop gumbo is called the Holy Trinity.  In Cajun cooking these always consist of onions, green peppers and celery.  These are added to the roux base and are cooked down until they are soft.  At this stage we will throw in our garlic and sometimes sausage too.  Oh boy.
So for the shop, what's the next thing we're adding in after we know where our customers are located?
Sales of course.
For our industry, we replace onions, green peppers and celery with e-mail sales, in-person sales, and website sales.  That's the Holy Trinity of our success gumbo.
From your customer's perspective, what do you think they think of your sales skills?  Do you make it easy?  Can they place an order without much hassle?  Do you come off like a used car salesman?  Are you always ready with information and knowledge about the industry?
For e-mail sales, if someone sends you a quote request, can you quickly respond with a written quote that is branded with your shop information and looks professional?  Can you respond quickly, or does it take you a day or two to get around to it?  Do you have the "sunshine law" in your shop?  That's when every single email that comes in is answered before the sun goes down.
In-person sales is all about humanizing the experience.  Solid relationships happen when there is a face associated with an account.  When was the last time you visited your top twenty customers?  Do you know the names of their kids, or that they like two sugars with their coffee?
What competes with those big mega-huge apparel websites?  People doing business with people.  This means you have to get out of your office once in awhile.  Try this: for that next order, hand deliver it instead of shipping it.  Thank them with a smile and let them know you appreciate their business.  This is something your competition won't do because it requires effort.  Instant market differentiator!
For web orders, let's talk about the checkout process.  It's funny, and the reason I'm asking is that I've reviewed a good number of apparel industry websites and finding the order button sometimes is an exercise in futility.
Why are your web order sales down or non-existent?  Because your customers can't figure out how to place an order.  Or you never got around to making your website responsive so your website looks horrible on their phone screen.  Or your site is too slow to load the images, which frustrates impatient customers.  Or any number of things you wouldn't tolerate with any other website when you are shopping online.  Why is it then ok for your own website?  Think about it.
If you want your business gumbo to taste awesome…make sure you are adding in your sales Holy Trinity.
Customer Service Excellence – Be Helpful – (The Main Ingredients)
Customer service is the bulk of the main ingredients for our gumbo.  This is the water or beer that's added with the beef bouillon, that goes with the sugar, salt, hot pepper sauce, bay leaves, Cajun seasoning, thyme, cayenne pepper, stewed tomatoes and tomato sauce.
When you add the customer service ingredients to the sales Holy Trinity and your market research roux, you are setting yourself up for a super successful pot of business gumbo.
So what defines great customer service?  Being helpful for starters.  The bulk of your information should be at your fingertips, however if you don't know something just say so.  Get back to the customer with the answer as quickly as you can.
Great customer service is epitomized with that friendly, problem solving demeanor.  I know you've been to a restaurant or store and based on the interactive experience with that one employee thought either extremely positive or negative about that company.  Everyone has a story like that.
What are your customers saying about your shop?
Your company's customer service is just as important, which is why it's the bulk of the ingredients.  Customer service isn't limited to just the folks that man the phones either.  Your art department is front and center when you send out a proof.  Your receiving and shipping teams are highlighted when boxes are moving in and out of your shop.  Your production team is on duty when those goods are decorated and placed in the box.  Are they neatly folded and looking perfect or do they look like a college student's two week-old dirty laundry?
Great customer service is about making sure that the customer is so absolutely thrilled with their experience and your shop's delivering on their expectations that even the thought of doing business with anyone else seems ridiculous.
Do your customers think that way?  If not, what are you doing about it?  Maybe you need to change up some of the ingredients in your shop gumbo to make it taste better.
Always Deliver!  – (The Meat)
So what's left in our gumbo?  The main meat of course.  There are lots of variations in gumboland as this concoction can have oysters, crab-meat, shrimp, chicken, pork, ham, sausage, veal, and even leftover turkey after Thanksgiving.  It's all about preferences and taste.  What do you like?
In our shops, the main meat can be defined as "Always Deliver!".  
This means staying late to finish that job.  This means solving that problem when the goods come in the wrong color, or two mediums were misprinted.  This means hitting that PMS color…even over an underbase white.  This means sewing tiny letters, even on a hat.  This means printing on a towel, and not having the ink so abrasive it can take off skin.  
The meat of our industry is based on delivering on expectations.  As soon as you don't someone is going to say:
"Hey, where's the meat?"
It is so noticeable that it is going to be frustrating to the customer.  Can you imagine being handed a big bowl of seafood gumbo and the actual seafood is missing?  How would you react?  That's what happens when you don't deliver in this industry.  It's a big deal.
Always deliver.
Go the Extra Mile – (Lagniappe)
Another great idea that comes from the land of gumbo is the expectation of lagniappe.  This usually is defined as something extra given to a customer to make them feel special or welcome.  This is the all you can eat pretzels or nuts on a bar when you are having a beer, or the thirteenth donut you get when you buy a dozen.  They don't have to do it, but it's just friendlier.
For our gumbo, this the crusty baguette that is served piping hot with a garlic compound butter.  It's served up with the bowl of our delicious gumbo on the side of the plate.  Crusty on the outside, warm and soft on the inside, and if done right, it really compliments the dish as you can use the bread to soak up the goodness in the bowl.
In your shop, what type of lagniappe do you offer?  Are you going the extra mile to make your gumbo stand out?  Have you even thought about it?  These days a little something extra could be just the thing to separate you from those yahoos down the street or online.
Maybe you throw in an embroidered hoodie with your customer's logo, or a few dozen beer coozies with an order over a certain size.  You could offer a free screen at every 144 shirts ordered.  What if all new customers received free digitizing on embroidery?  It could be that you polybag all embroidered shirts or jackets, just because it looks nicer.
Think about what would make your customers smile.  That's what is important after all.
"There are no traffic jams along the extra mile." – Roger Staubach
Hey, thanks for reading my blog…here's my lagniappe for you:
All-Star Gumbo Recipe – make this for your shop crew next Friday
Cooking Time – About 4 hours. Serves 20 – Make sure you have enough beer
1 Cup All-Purpose Flour

1 Cup Bacon Drippings (render down about two packages of bacon)

1 Cup Coarse Chopped Celery

1 Large Coarsely Chopped Onion

1 Large Coarsely Chopped Green Bell Pepper

2 Minced Garlic Cloves

1 Pound Andouille Sausage, Sliced

3 Quarts Water

1 Bottle of Beer 

6 Cubes Beef Bouillon

1 Tablespoon White Sugar

1 Teaspoon Cayenne Pepper – add more if you like it spicy

Kosher Salt to Taste

½ Tablespoon Cajun Seasoning (Tony Chachere's) to taste

4 Bay Leaves

½ Teaspoon Dried Thyme

1 Can Stewed Tomatoes (14.5 oz)

1 Can Tomato Sauce (6 oz)

4 Teaspoons Gumbo File Powder

2 Tablespoons Bacon Drippings

2 Packages Frozen Cut Okra – Thawed (10 oz)

2 Tablespoons White Vinegar

1 Pound Lump Crabmeat – Fresh if you can get it

3 Pounds Fresh Fish (Grouper or similar) cut into small chunks – Fresh if you can get it

2 Tablespoons Worcestershire Sauce

(Note – if you can't get seafood, or don't like it…substitute 4 pounds of the meat of your choosing.  Chicken and sausage work very well here.)
Directions:
Make a roux by whisking the flour and 1 cup of the bacon drippings together in a large, heavy saucepan over medium-low heat to form a smooth mixture.  Cook the roux by whisking constantly, until it becomes a rich, mahogany brown color.  This can take 20-30 minutes.  Watch your heat carefully and whisk constantly or the roux will burn.  When the color is right, remove from heat and continue whisking until the mixture stops cooking.
Finely chop the garlic, celery, onion and green bell peppers with a food processor.  Stir the vegetables into the roux, and mix in the Andouille sausage.  Bring the mixture to a simmer over medium-low heat, and cook until the vegetables are tender.  About 10-15 minutes.  Remove mixture from heat and set aside.
In a large soup pot, bring the water, beer and beef bouillon cubes to a boil.  Stir the bouillon cubes to dissolve.  Whisk the roux, vegetable and sausage mixture into the boiling water.  Reduce heat to a simmer, and mix in the sugar, salt, hot pepper sauce, Cajun seasoning, bay leaves, thyme, cayenne pepper, tomato sauce, and stewed tomatoes.  Simmer the soup over low heat for 1 hour.  Mix in 2 teaspoons of the file gumbo powder at the 45 minute mark.
While the soup is simmering, melt 2 tablespoons of bacon drippings into a skillet and cook the okra with vinegar over medium heat for about 15 minutes.  Stir in the okra into the simmering gumbo when cooked.
Mix in the crabmeat, fish and Worcestershire sauce and simmer until all the flavors have blended, about 45 minutes.  Before serving stir in 2 teaspoons of the file gumbo powder to thicken the mixture.
Serve over white rice, with a crusty butter baked bread, alongside an icy cold beer.  Dixie or Abita Turbodog if you can find it.
"Laissez les bons temps rouler!"