The key to any complex endeavor is always centered on people understanding exactly what they need to do.  This is true in your apparel decorating shop too, and the instrument that is used is the ubiquitous work order.  These pages look different in every shop, as everyone uses different systems to generate their pages, but the key information is the same.  The standards that your shop sets on creating these forms can go a long way towards how organized and efficient your production team operates daily.  Below are some thoughts, tips, and tricks on creating a good work order document that can function as the blueprint for success in your shop.
Dates.  This is one of the most critical pieces of information on the work order.  The Date Entered shows when the work order was created.  The Ship Date shows the date that the job has to leave the building.  The In-Hands Date shows the date that the job has to arrive at its final destination. Tip: All three of these dates have to be real and not padded or just chosen randomly on the calendar.  The reason?  The rest of the shop uses these dates for scheduling, reporting, and other tasks. 
The comparison between the Date Entered and the Ship Date allows you to see if you should be charging for a Rush Fee, your allotted production time to handle all your tasks, or even how to ship the incoming inventory.
The Ship Date is probably the most critical of all three as this determines the schedule for the all of your production departments.  If you have set operating standards for your production teams, they should be able to query your system and review incoming jobs.  Using the ship date, they can work backward from there to determine when their piece of the job is due.  For example, if your standard is that jobs should be printed one business day before the order is to ship, then the screens have to be burned two business days before, and the art approved three business days before.  This means that the art creation deadline should be four business days before the Ship Date.  (Assuming the job is small enough to be printing on one business day)  If your sales or customer service reps use padded dates, then the standards used for production scheduling won't work as well.
The In-Hands Date helps your shipping team choose the correct method to ship the order to make the delivery date.  They can use this information to pick the best route and carrier if there is a choice.  I'll get into the importance of Notes later, but if the order is event-based or critical your shipping team can also ramp up the freight by guaranteeing the shipping or sending it as a priority.  Without an accurate in-hands date on the work order, your shipping crew won't be able to make an informed decision themselves.
Client Information.  An order isn't an order unless you have basic key information.  Customer company name, contact name, phone number, address, internal account number, etc.  These fields can't be left blank for the obvious logical reasons.
Inventory Information.   So, what shirt blanks are you going to decorate for the order?  The quality information you include on your work order, the better decisions the rest of your staff can make on their own.  As strange as it sounds, some customers aren't very specific on the details of what their order may include (usually on customer supplied inventory).  How can you quote, know what to decorate, or review the order is correct if you don't have this information?  Tip: Your work order should include the product SKU or Part Number, description, color, and quantity for each size for the job.  The reason?  Receiving needs this information to check in the goods, Art needs this information to create or digitize for the job, production needs this information for scheduling and order review before starting.  Invoicing needs this information for billing.  Common mistakes include:
     1.  Entering the quantity in the wrong column or field.  You wanted to enter 36 in Small but typed it in Medium.
     2.  Transposing numbers.  Instead of typing in 36, you typed 63.
     3.  Hitting the wrong key.  Instead of typing in 36, you typed 26.
     4.  Cloning an order to save time, but forgetting to change quantities.
     5.  Using the wrong part number.  Instead of using G-2000, you typed in G-5000.
     6.  Forgetting the shirt colors.
     7.  Forgetting that adult and youth, or ladies and men's are different part numbers.  These different shirt-types need their own line items.  More often than not, this comes more from your customer's purchase order information.
Notes.  This simply is the area of the work order that you write out your instructions to the different departments in your shop.  Depending on your form, these could be different areas on the page or all compressed into one space.  Standardizing how your team enters notes, information used, and what should be included is crucial to maximizing the production efficiency of your shop.  Your staff has to be trained to read and understand notes to their departments, and held accountable for reading them.  Notes entered that aren't read are worthless, and will just lead to a lot of finger-pointing.  Notes entered and actioned are a gold mine and lead to an efficiently run shop.  Tip: The key is to agree on common terms and verbiage and have your staff trained to comprehend the information and make informed decisions.  You want to strike a fine balance between having the right information and information overload.
     Notes to Purchasing.  Any information you may want to include for the staff that has to purchase the inventory for the order.  Notes here could include where to locate goods on the web, client instructions regarding style or color, a reference to a key distributor sale price on an item, or other necessary details regarding how to source the inventory for the order.
     Notes to Receiving.  Helpful information to add here would obviously be tracking numbers on inbound freight.  Other information could be some special instructions or a heads-up regarding some detail on the order.  You could also have notes on where to stage the goods after they check in the inventory.
     Notes to Art.  Art instructions should never include these words: "Do Something Cool".  Rather, write a better creative brief that will allow them to use their creative talents and design something that can make your company money, with the minimal amount of time invested.  Art instructions could also include instructions on the origins of the customer supplied art: art to be e-mailed, art in folder 123456 on the server, art uploaded to FTP, etc.  This helps your art staff get started in the race by locating the file quickly.  For art instructions on how to create the piece, including all necessary details from the client.  Have your sales or customer service dig for key details that may also include all verbiage (spelled correctly), Pantone colors, locations, dimensions of art, key placement on the shirt, any and all customer provided logos or art, etc.  The more this is spelled out and made easy from the front end of your shop, the easier and less painful the art creation will be.
     Notes to Production.  Having keynotes in this area is critical for correct production execution.  Examples could include placement on the shirt (Print 1" down from the collar please), production sequence (Print LC and then heat press numbers), post-production steps (Relabel, Hangtag, Polybag), shipping notes (ship with order #123456), packaging (Use customer supplied boxes), ink selection (use Polywhite Ink), key reminders for scheduling (EVENT – MUST SHIP WEDNESDAY), other reminders (Client Press Check Tuesday at 9:00), or tips (Burnout shirts – Watch heat – Easy to Scorch).  These notes should be formatted the same way every time and easy to read.  Absolutely critical notes should be bolded, and if possible enlarge the text so it jumps off the page.  Your press crews have to be trained and held accountable for reading these notes too.
     Notes to Shipping.  If you are using this feature it's critical that your staff reads and understands the notes in this section.  Mis-shipped orders can get expensive quickly.  Common examples of notes to shipping could include reminders (Ship with order #123456), instructions (Event – please guarantee freight), requests (Please insure freight), account information (Ship on third-party account #xxxxxxx), packaging (Use customer supplied boxes), carrier selection (UPS), reminders (Customer Pick-Up – bring to front desk), or financial information (Credit Card Order – Bring Shipping $ to CSR).  Shipping is such a critical part of the order it pays to carefully scrutinize this part of the process.  It doesn't matter how good of a printer or embroiderer you are if you ship the order wrong and miss the event you've got a huge problem on your hands.  Including and using notes to shipping can really help you in the long run.
     Notes to Invoicing.  Some customers have special financial needs, such as invoicing multiple orders on one invoice, using a credit card to pay for an order, a discount or deal applied to the order, or other financial considerations.
Art Approval Forms or Mock-Ups.  A key part of your Work Order packet has to be a production friendly example of the job.  This will probably be an extra page or two and has to be printed in color.  Nothing drives home success in production as an easy to understand art mockup that your operators can use when setting up the job.  Have your creative team develop this page, and show as examples how the art will look on each color of the shirt.  Tip: Going through the exercise of mocking up the job on the right color shirt, and even the style of shirt, by your art department, will ferret out any potential production problems.  For example, a line of type at the bottom in black might not show up so well on the navy shirts for the order.  This is a far cheaper way of discovering the problem than the midnight hour realization on the press, with the job due the following day.  Here are some key items to have on your art approval form:
     1.  Job Information.  Order name, Work Order #, design number, client name, and client PO #.  Get these on the form for easy reference.
     2.  Artist Name or Initials.  If you have more than one artist, this helps if there are any questions.
     3.  Art Location Information.  Use terms like Full Front, Left Sleeve, etc.  If you have more than one location, you need to label each one on the approval form.  Include design dimensions for each location.  Also include key location placement information such as "3" down from the collar", or "line up with the third button", or "print 3" up from hem of the shirt".  Include all screen ink colors, and list them in order that they will be printed.  Include mesh counts.  Also, include any special instructions or tips for your operators to use when running the job.
     4.  Art – Screen-printing.  Show the job on a mock-up of the shirt for placement.  Have the art proportional to a size large, and make a note of it on the form.  Your art staff should measure the shirt if necessary to ensure the art is sized correctly, and so they can illustrate how it will look on the mock-up.  Also, include an enlargement of the art so you can show detail.
     5.  Art – Embroidery. Same as screen-printing, but show thread colors, steps and the center point for the file.
In closing, the idea that you should revolve your critical thinking about your work order construction is to try to answer all questions by having the information on the form.  If anybody has to stop and ask "What does this mean?" you are not doing it correctly.  Sure, getting all of this information prepared, entered, designed or printed takes time; and your front office or art staff may complain or push back on getting these details on the form.  It's extra work for them and they probably don't see the benefit.  However, for every minute your screen-printing or embroidery machines aren't running, you are losing money.  The key to turning over more jobs daily, and improving efficiency all begins with having the correct and necessary information at your staff's fingertips.  Don't let your staff bully you into thinking that they "don't have time" to write a work order correctly.  Instead develop the tools, training, and teamwork needed to comprehend the benefits of building a work order that is easy to understand and practical.  Your bottom-line will thank you.
"Shop Basic Info Pack"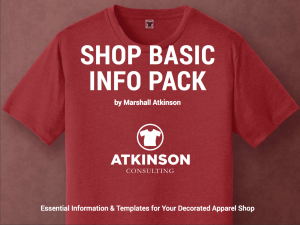 This $49 eBook was written for shops just like yours. But it isn't just a normal book.
It contains fully customizable templates for you to create a Business Plan, and a robust Employee Handbook.
There is a great section on Branding for your shop.
Plus for the production minded a customizable screen-print Production Log and Dashboard system that you can use to analyze your shop's production. Get that data you need to interpret what's going on on your production floor.
Click Here to purchase your downloadable copy today and start your journey to get to the next level for your shop.