I actually had an entirely different blog article to post today. But it almost seems irrelevant and inconsequential to post with what is going on in the United States.
On Wednesday, I took a break from a morning spent coaching shops and made my lunch, and made the mistake of turning on the tv. I couldn't believe what I was seeing at our nation's capital.
I got so riled up that I did something that I don't do, which is posting my opinion on politics on social media. Namely Facebook. I usually keep that stuff in check, as I feel that nothing you can do or post will ever matter.
Setting hyperbole on fire never solves anything.
But I posted. Here's my page if you want to read it.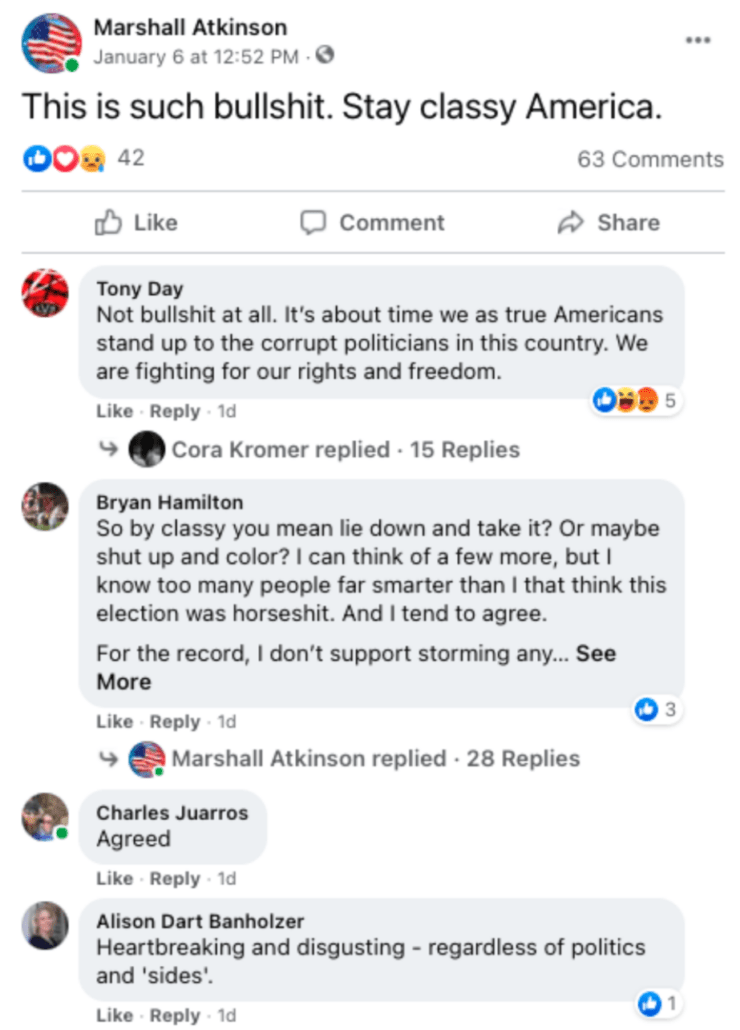 One person, who evidently now has deleted their remarks, chimed in and asked me what my opinion on the Biden administration is going to have on this industry.
How do I know? It's not like someone from his staff is calling me up.
Because the original poster took down his comment, I can't read what I wrote back, or the list of comments from multiple people that followed. But to paraphrase, I explained that I didn't want to speculate on the future because I don't have a crystal ball. His best bet for success is to create a better future for himself by taking his own action.
That triggered the person, and he called me out on it and said that as an industry leader I should have an opinion that could help him. Posting articles about EOM or other topics doesn't help in his situation.
A few others jumped to my defense (thank you), and I offered to help the guy if he wanted personal attention, he could just call me.
But, here's the thing.
He was right. My response didn't go far enough. I wasn't clear enough. Let's rectify that now.
Here goes…
Let's Set The Stage For A Discussion on Action
Do you have a favorite sports team? I'll bet you do.
Regardless of whether it is played with a ball, a puck, a car, or just people running wearing shoes, you take a side and cheer them on.
Fervently. Religiously. During a tense game or match the veins in your neck and forehead bulge as you scream your guts out in the stadium or on your couch as you watch.
You wear the team colors. Put stickers of affiliation on the back window of your car. Hang their logo'd flags in front of your house. Indoctrinate your kids so they follow the same team and learn the traditions.
But all of that obsessing has absolutely zero impact on what happens in the game. You are not calling the plays. You'll never see a second of game time.
Despite how loud you yell, and how much merch you wear, your efforts are but a tiny drop in the sea.
This is absolutely congruent with what happens when you post something on social media about politics. You are just a fan yelling at the tv.
Regardless of what side you are on, it doesn't affect the outcome of the game and it never will.
Instead, why not focus on what you can do to make a difference. Take some action instead.
Here's What Action Looks Like
Tiny Little Monster
When the pandemic struck, St. Louis Missouri shop owners Sloan Coleman and Jenny Rearick with Tiny Little Monster decided to do something to help their local businesses survive.
They built a great way to fundraise, where for $20 a fan of a local business could support their favorite business during these tough times by buying a printed t-shirt for that company on their online store. $10 went to the business, $10 went to Tiny Little Monster. This small effort actually helped two businesses stay afloat during these difficult times.
This idea was the "Here for Good" campaign, and it quickly spread across the United States and even into other countries. Huge sums of money were raised, and thousands of businesses were saved. Hundreds of apparel decorators participated.
By taking action.
Chef Jose Garcia
It is no secret that restaurants everywhere are in trouble. With the pandemic lurking, nobody is going out to eat and dining in there. Oh, how I miss it!
This has a trickle-down effect, as that means farmers aren't selling as much of their harvest, restaurant workers can't pay their bills, real estate investors now have empty buildings, and the list goes on.
Chef Garcia founded the World Central Kitchen in 2010, and quickly became as Time Magazine calls him, "the face of global disaster relief."
His idea is to take that industry and spin it around to help feed people who are in trouble. Wherever they are.
For example, in Washington DC, his team has set up a relief site at the Washington Nationals Baseball Stadium and has cooked 500,000 meals for the hungry in that city. He needs the meat and produce that the farms provide. The unemployed restaurant workers now have a job. Families in the community have a full belly.
He's done this all across the United States.
Chef Garcia and World Central Kitchen are taking action. They are making a difference to thousands of people, in many different cities.
Shirt Lab Summit
Last year when the pandemic struck, my Shirt Lab partner Tom Rauen and I knew that we wouldn't be able to host our live industry training events.
After a brief meeting, we decided to take action and host a virtual event and put together a list of some fantastic people to interview. Over the course of three days, we shared videos with the best and brightest and discussed amazing ideas for sales, marketing, and shop operations.
We had over 2,400 attendees from 32 countries attend. On the third day, we launched our mastermind group, Shirt Lab Tribe that now has over 100 members and is growing strong.
Again, this is about taking action. Live events were not going to happen, so we made a virtual one and actually reached a bigger audience.
That action step allowed us to create something bigger later.
Take Action! You Can't Lean On A Shovel And Pray For A Hole
Leaning on the shovel is pretending to work. Just like talking about what you need to do, or are going to do. You have to roll up your sleeves and start digging that hole.
Nobody is going to do it for you. Even the government.
On that Facebook post, that guy wanted to specifically know what to do as the minimum wage rate for Florida is set to increase. He didn't mention that in his original comment, so I didn't understand that is where he was going with these thoughts. It was only after he wasn't satisfied with my original answer did he offer up the real baseline story.
Of course, I don't know anything about his business. Where is he on his business journey? How does he create his pricing matrices, or who his main customers are? It's just not enough information to accurately give him advice.
Should he research and possibly deploy more automation in his shop to use less labor? Of course. Efficiency gains always are part of cost optimization.
Should he raise his prices to reflect the new labor rate? Why not? If you don't think other industries will be doing the same when the minimum wage increases you are mistaken. But, its not that simple as I don't know his market, or his place in it.
The main thing I was trying to get across is that change is constant. You have to take action in business or you will be left on the side of the road.
What Should You Do?
First, if you need some help, let's talk. Schedule a call here and let's discover how I can help you understand your challenge and choose a path forward.
I also have a book dedicated to this exact problem called "Moving Past Disaster".
But, if you want to get started on your own, here are the action steps I would take:
Take a snapshot of the current situation. Where are you now?
Pull together accurate data. If you aren't measuring, you don't know the facts and you are just guessing.
Ask people questions. Your staff, suppliers, neighbors, friends, and most of all your customers. Do the same answers keep popping up?
Write or update your business plan. A business plan helps you paint a bullseye on what you want to achieve.
Take action and launch. It should be messy. You should have failure and mistakes ahead of you. That means you are doing something. It's part of it. Learn from those. Safe actions aren't creative and usually don't go very far.
But most of all, it is the action step that matters here. Don't wait until things are perfect, or for someone's permission.
Go!
Sloan and Jenny just took action and created a movement that has helped thousands of businesses through these difficult times.
Chef Jose Garcia has fed an incredible number of people. He just rolled up his sleeves and started cooking.
Shirt Lab went from a live event business to a virtual one and created an online mastermind group that is making a tremendous difference to its members. We are helping people just like you every day.
None of these people or examples waited to see what the current governmental administration was going to do. It just doesn't matter.
Aspiration is dissatisfaction. You can't sit there. Do something.
Act now.