Recently I traveled to Irving Texas to do something that used to be a steady part of this industry, namely attending a trade show. This was the Graphics Pro Expo or GPX show for short.
This trade show wasn't the biggest. It wasn't the most well-attended. But it was like putting on an old pair of comfortable jeans.
It fit just right.
Trade shows are amazing places where commerce and new ideas intersect. It is where small group conversations can magically happen, that spark innovation or inspiration.
While this article, won't capture everything that happened I'd like to highlight some of the top moments for me.
Q&A With Alan & Marshall Live at the GSG Trade Show Booth
Every week Alan Howe with Easiway Systems and I produce a live questions and answers show for the industry. Recently, we've upgraded a few things, and have partnered with the Graphic Solutions Group (GSG) as our show sponsor. (Please thank them!)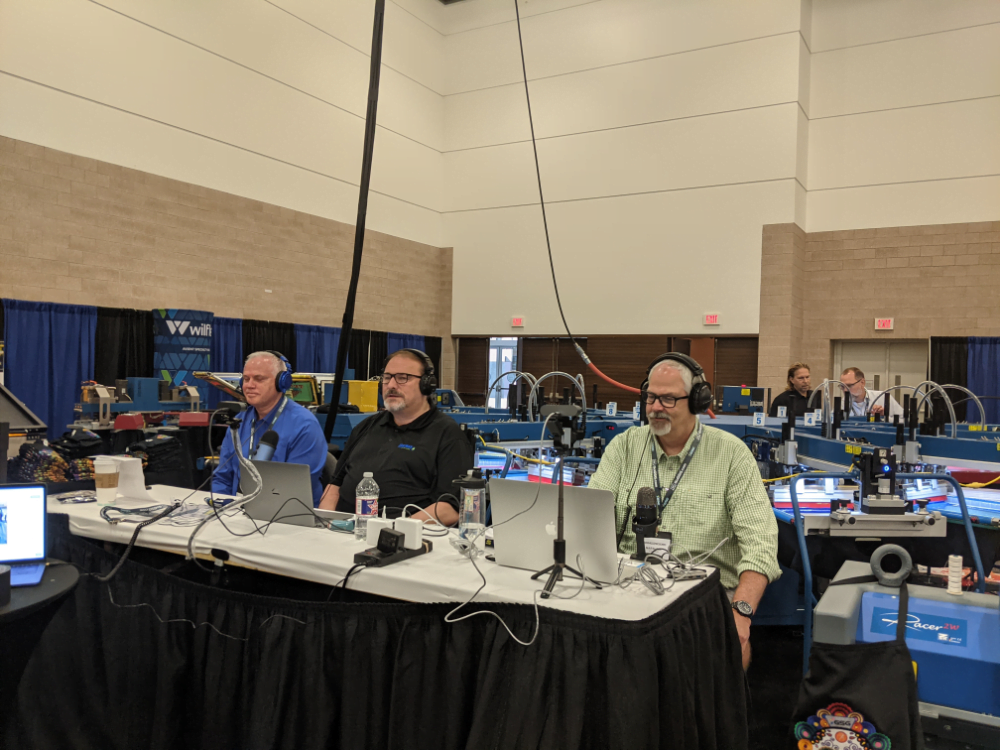 The fun part of putting on a live show is that you don't know what might happen next. This week, we decided to up our game and broadcast the show from the trade show floor.
With the new M&R Cobra press as a backdrop, we set up and produced our show starting an hour before the trade show floor opened from the GSG booth.
The hilarity ensued.
The whole show was a lot of fun, but my favorite part was during the segment where we interviewed Peter Walsh with M&R, and we were discussing the new Cobra screen-printing press. One of the key features is that it is an extremely quiet press.
As a follow-up question to what he was presenting, I asked, "…and what makes it so quiet Peter?"
And in his usual deadpan Australian fashion he replied, "Well, it's not making any noise."
M&R Cobra
I believe this machine will become very popular, very quickly.
GSG had Lon Winters and Jason Ballash with Graphic Elephants running the demos, and I loved the effortless setup and printing on the Cobra. As Lon said, "this is the first time this press has been seen in the wild."
First, as Peter so hilariously mentioned, it doesn't make any noise. If you have been running automatics in your shop, you know how production is supposed to sound. Especially if you have multiple presses churning out work.
The Cobra is different because it uses electric printheads, so the press doesn't rely on air choppers to drive the action.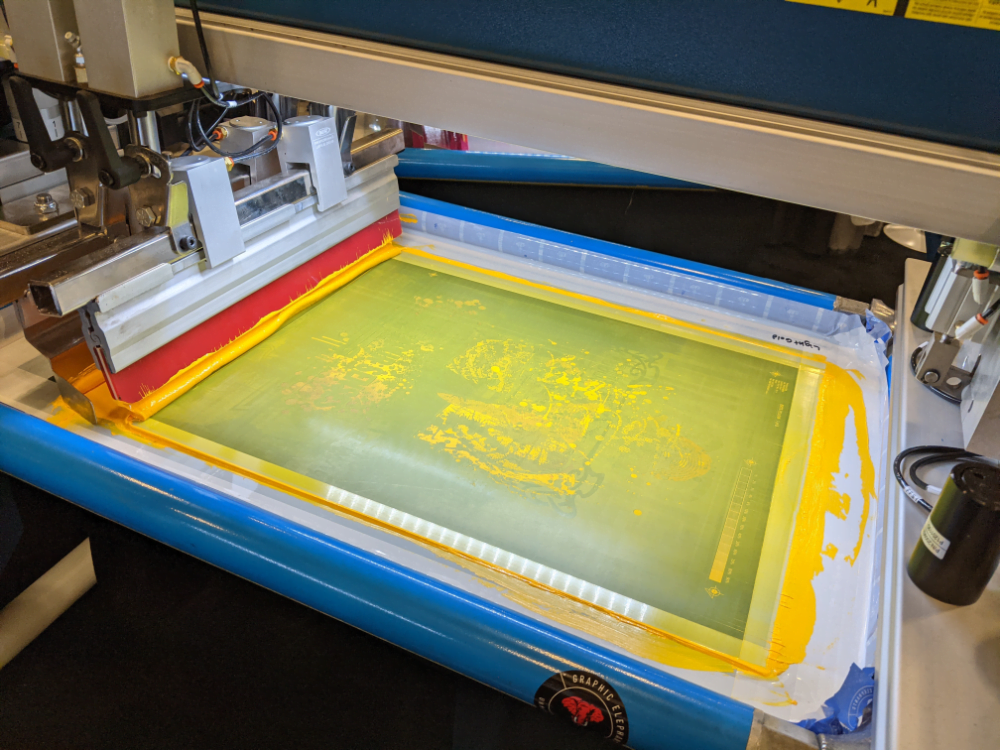 Another fantastic feature is that they mounted LED lights underneath the press arms to illuminate the screens. You can get the press in 8, 10, or 12 color models.
It can pair with the Digital Squeegee, and is Tri-Loc and Tri-Sync compatible too.
Say Hi to Terry Combs
Terry Combs with Equipment Zone was walking the show. This is fun, because he was not hosting his 2 Regular Guys podcast (which is excellent, by the way)
Alan and I thought it might be fun to have him on our show, while his show was airing, but he wouldn't go for it. Wimp.
Good thing I know how to run Photoshop.
If you see Terry, please say hi and let him know how much you appreciated his segment on the Q&A With Alan & Marshall show.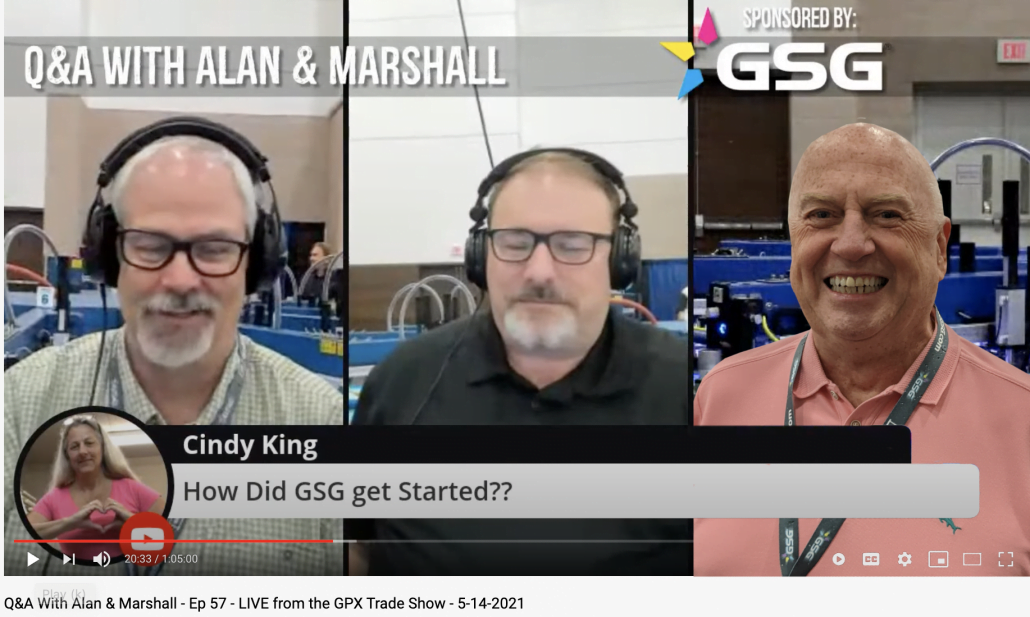 It Was Good To See and Be Seen
It really was a lot of fun catching up with industry pros. To a person, everyone is excited about the reopening of business. You could feel it in the air at the trade show, like static electricity.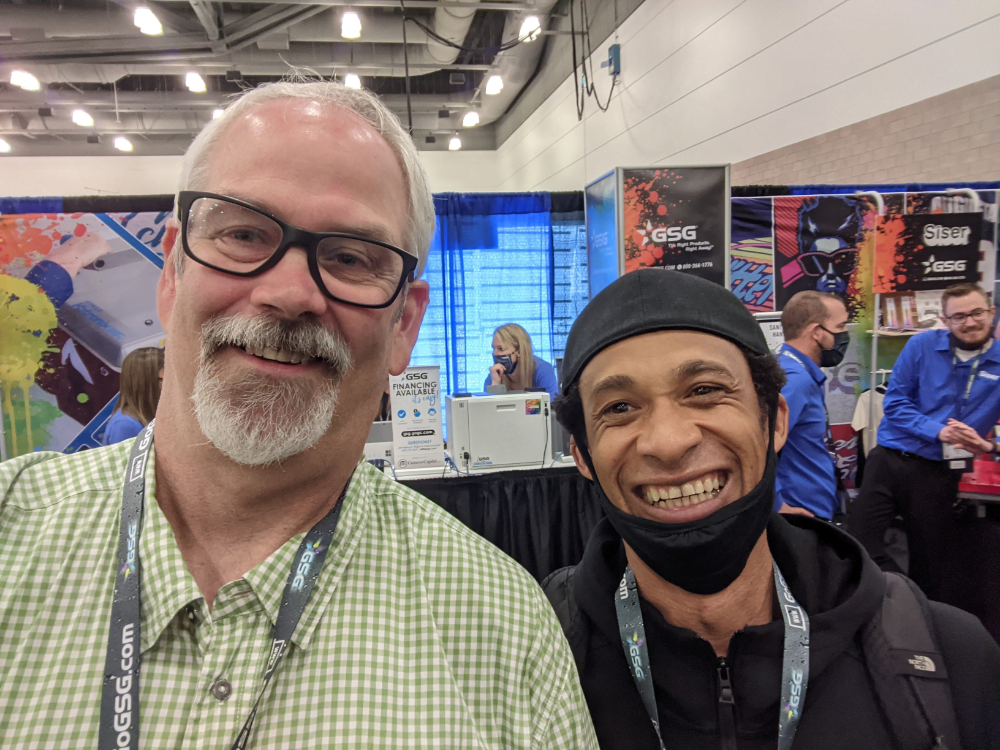 Met up with Brett Bowden from Printed Threads and loved hearing tales of his family trip to Hawaii. Talk to him about the amazing adventure with his kids with a sea turtle on the beach.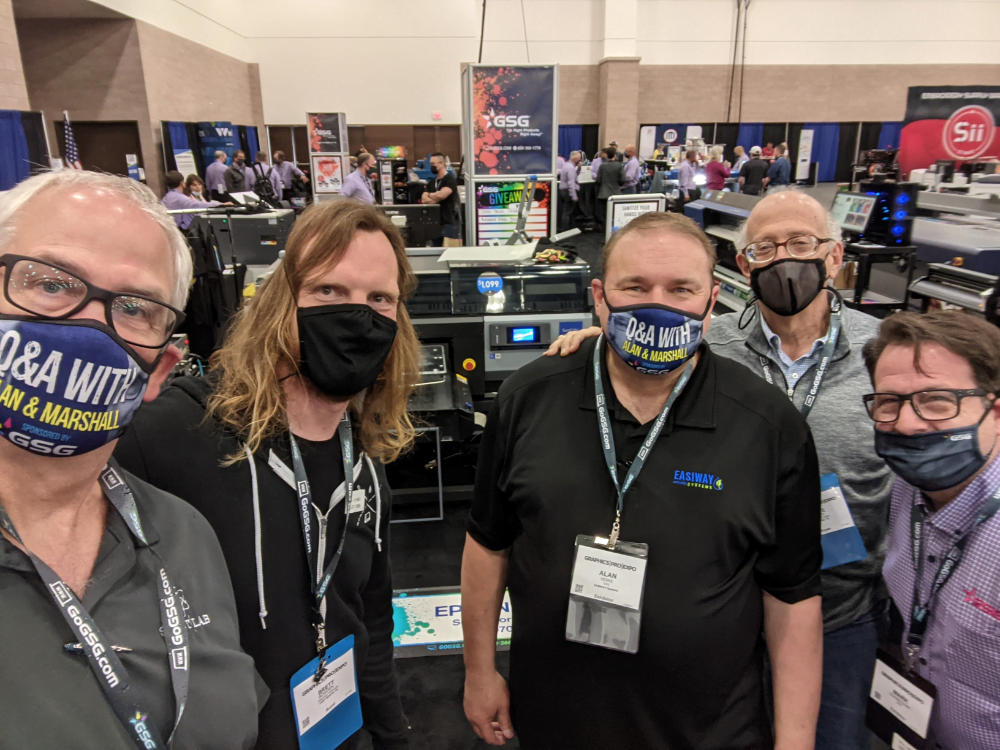 Bruce Jolesch with PXP Print Solutions dropped by. They are churning out some fantastic work.
I had multiple discussions with Bruce Ackerman about a new scheduling feature that Printavo is developing. Good stuff, and right on the money. This is really going to up their game in the industry.
Josh Wylie drove down from Oklahoma to be a guest on the Q&A Show, as his shop, IGG Screenprinting is a great GSG customer. It was fun catching up with him. I think the last time I spoke to Josh was the Catalyst dinner at ISS Long Beach in 2020.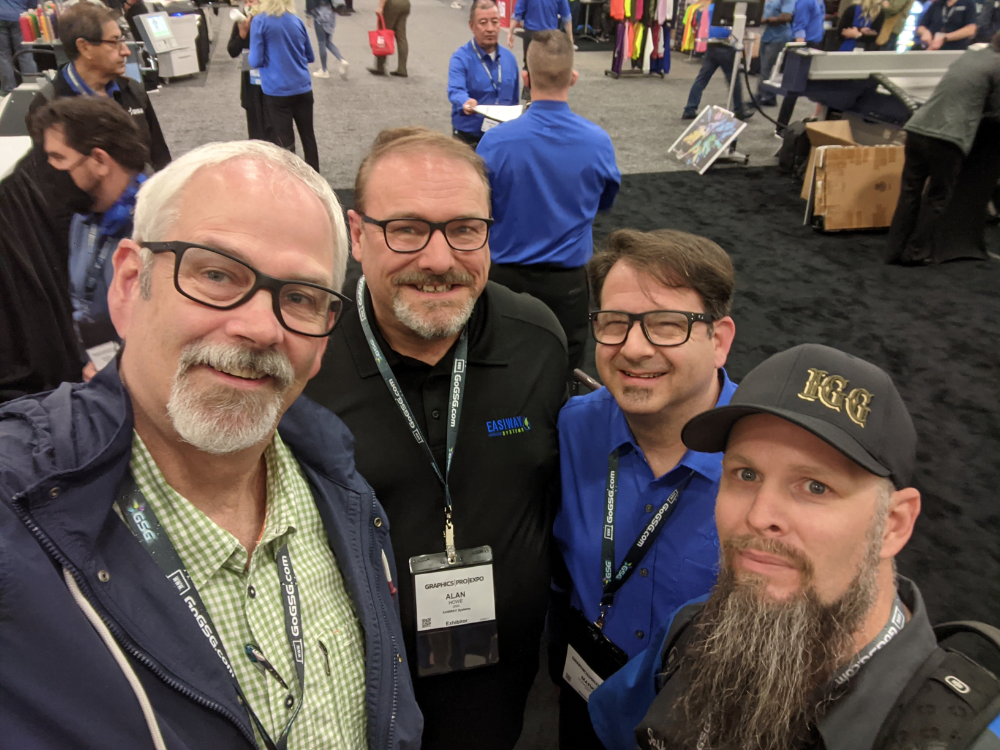 Ft. Worth Community Arts Center
On Thursday morning I drove out to Ft. Worth and toured the Ft. Worth Community Arts Center, which will be the venue for the Shirt Lab Ft. Worth event that we are having in September.
This is an incredible space, and the upcoming Shirt Lab Live event that will immediately follow the ISS Ft. Worth Show is going to absolutely rock.
I made a Facebook Live video from the front row of the auditorium so you can get a sneak peek of what it might be like to be there. Check it out here.
We are revamping a few things on the event right now, but you can still buy tickets. I believe that the ISS Ft. Worth show just might be the biggest industry event this year. Come out to that trade show, and then stay a few days after for the Shirt Lab Ft. Worth event.
Top Secret Info – Production Tracker App
On Wednesday, I started working with one of my clients, Bobby Harris with K&B Promotions in Arlington on a secret project (thanks Bobby!) that I've been helping to develop. This is a Production Tracker tool that will allow you easily capture production data from any decoration workgroup in your shop.
It's an app that will work on any phone, laptop, tablet or iPad. Your crew will easily and simply get their production data entered and pushed to the cloud and instantly graphed for real-time updates and visualization regarding your speed, downtime, averages, and production totals.
This was the first time we've had the system in a shop and tracking real, actual data, and it was incredibly exciting. I have about two dozen shops in the test group, and we will be releasing the test version to them soon.
If getting easily obtained, measurable production data is important to you, please take twenty seconds and get on the mailing list for this new app. Just click here.
We have a few months of testing and development left, and our goal is to have this available in early Q4 of this year. Get signed up!
---
"Progress is man's ability to complicate simplicity." – Thor Heyerdahl
"Always remember that you are absolutely unique. Just like everyone else." – Margaret Mead
"Get your facts first, then you can distort them as you please." – Mark Twain