/imagine Darth Vader. I'm writing this article to show you the power of using an artificial intelligence (AI) platform called Midjourney. It is simply amazing. I can't get enough.
Its remarkable ability is to conjure up images based on a few words called prompts. I've been playing around with it lately to demonstrate its power best (of the dark side?).
I used the cultural icon of Darth Vader for this demonstration. Below you can see the images that have been created, and throughout, only a few word prompts have changed.
Warning. I get a little silly.
Darth Vader Painted In the Style of…
To start, I wanted to see if Midjourney could emulate different artists' styles. This is somewhat controversial, as artists' creative thinking process is why we like them. You be the judge if Midjourney got it right or not.
If you haven't used Midjourney yet, it is hosted on Discord, so you'll need to get an account. Afterward, join the Midjourney bot and get going. Everything here was created on the V5 AI. If you want to check out my experiments and learning, just click here to see the gallery.
To get going, you have to type in /imagine to queue up the AI, and the prompt words that follow are the instructions. You can be as sparse or as detailed as you want.
By default, the AI creates four images in a grid. You can create more variations with these or upscale each to something better.
All of these took about a minute or so each to create. I'm not exaggerating.
/imagine Darth Vader painted in the style of Jacques-Louis David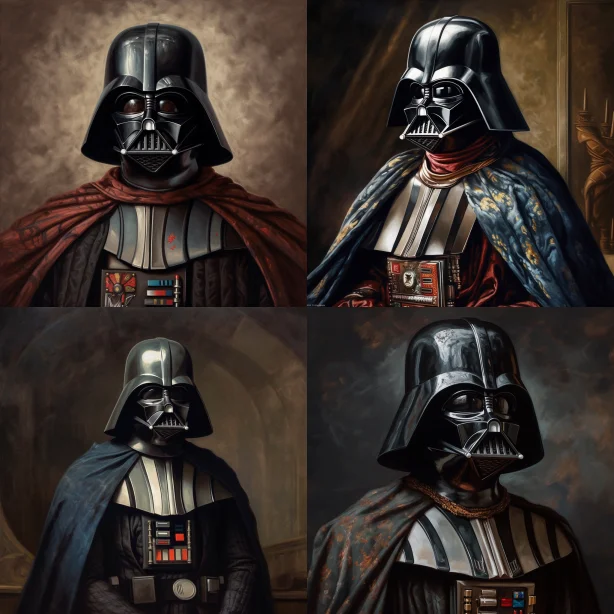 This was my first attempt with the idea. Jacques-Louis David was a French neoclassical painter and one of my favorite artists. One of his best paintings was "Death of Marat," as the entire upper half of the painting is simply dark brushstroke work without any objects. This was a striking visual device in 1793. He did many portraits in his career, and out of fun, he was the first artist I thought of for this experiment.
/imagine Darth Vader painted in the style of Leonardo da Vinci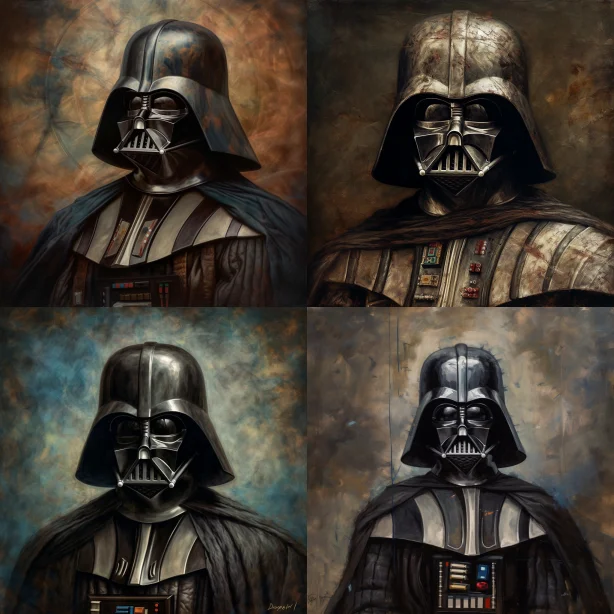 Surely you've heard of this guy. After all, he painted the most famous portrait of all time, the Mona Lisa. He arguably was one of the most gifted and intellectual people ever. Leonardo painted the Mona Lisa between 1503 and 1516 and would constantly work on it as he traveled.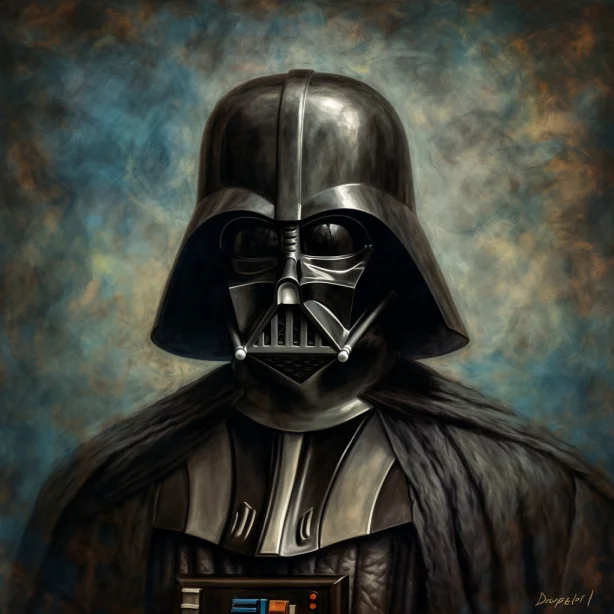 In the grid, I liked the one in the lower left, so I upscaled it. It doesn't look like Leonardo painted it to me, but it is a nice portrait of the evil genius. Come to think of it, I liked the one in the upper right-hand corner of the grid too. This one looks like ol' Darth is battle-scarred.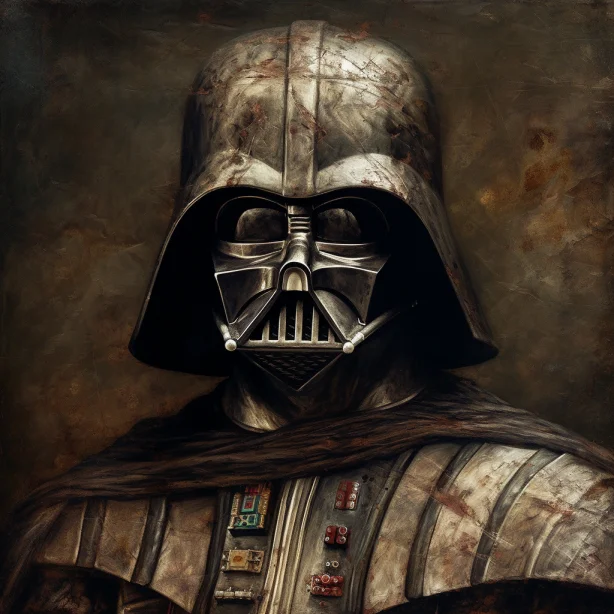 /imagine Darth Vader painted in the style of Salvador Dalí
Here's where things get weird. As it should if we will emulate one of the greatest surrealist painters of all time. Dalí bent the rules with his masterful technique and out-of-this-world imagery. Somehow I could actually see Dalí painting these. My favorite work of his is "The Hallucinogenic Toreador," which is on display at the Dalí Museum in Tampa.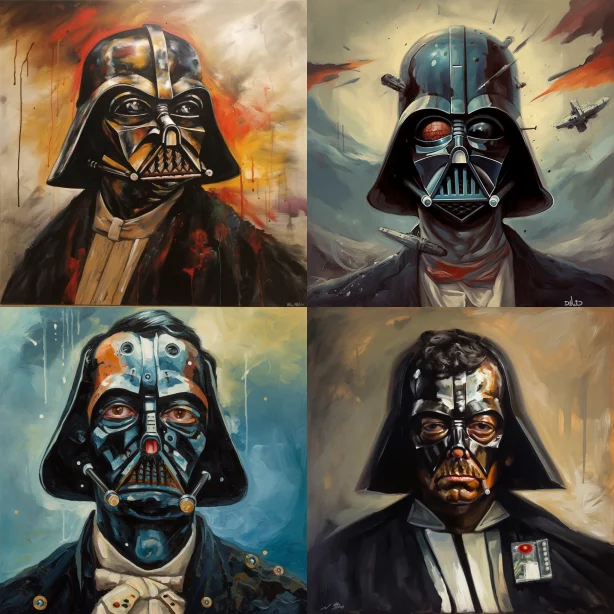 /imagine Darth Vader painted in the style of Norman Rockwell
Norman Rockwell was an American painter and illustrator who created some of the most iconic images for a magazine called "The Saturday Evening Post." One of my favorite series of his was called "The Four Freedoms," and you have undoubtedly viewed them before. He has a unique style, and I was keen to see if Midjourney was up for the task.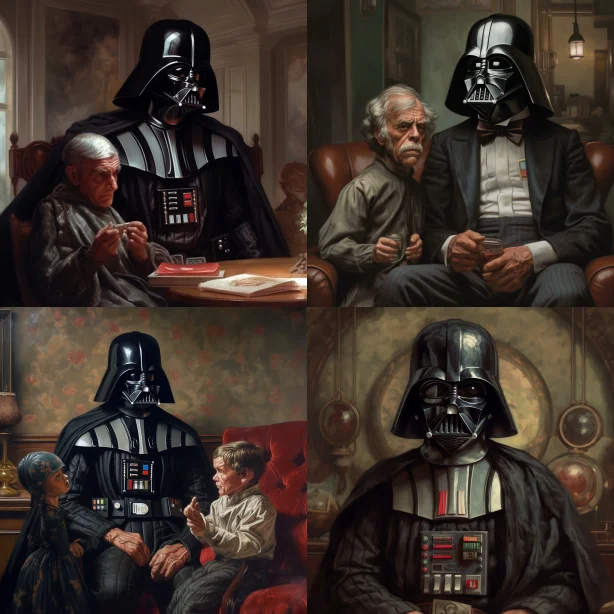 Result?
It's just plain weird. Although I do like the old man with the Princess Leia hair and mustache in the upper right. Remember, Midjourney creates these in about a minute.
Sometimes you have to try again.
/imagine Darth Vader painted in the style of Pablo Picasso
Pablo Picasso was a Spanish painter who spent most of his life working and creating in France. He created thousands of works but is best known for his cubism paintings, such as his 1937 work Guernica. I simply loved his prodigious work ethic.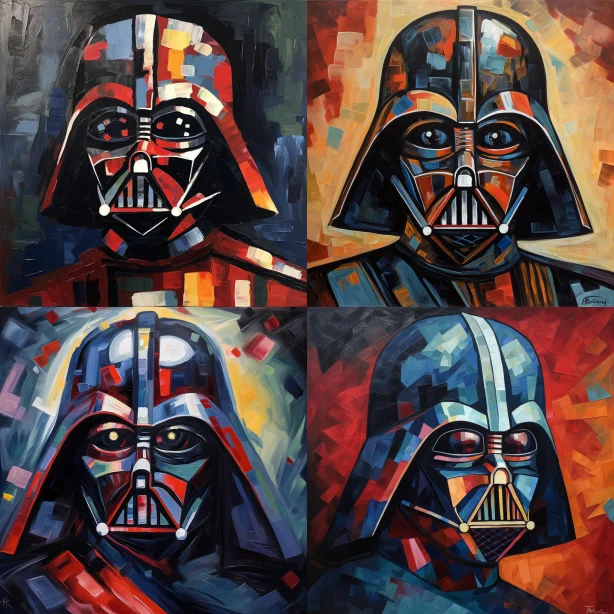 Would Picasso have painted Lord Vader? I'm not sure, but I like the one in the upper right on the grid the best. This is Vader's expression when he is jacked up on too much Tatooine coffee.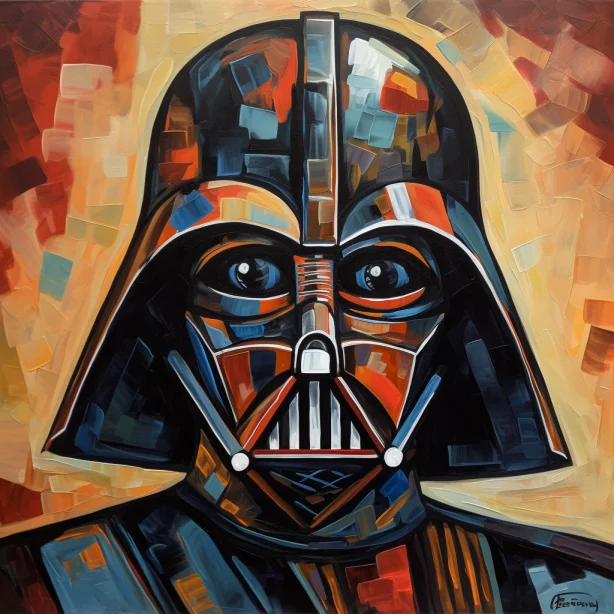 /imagine Darth Vader painted in the style of Todd McFarlane
Ok, how about some recent creative minds? Let's see if the creative flair of Canadian comic book artist Todd McFarlane can prompt Midjourney into something interesting. Check out the four images below. Now compare these to the original suggestion at the top by Jacques-Louis David. Remember, we are only changing the inspiration point for Midjourney to start the creative process.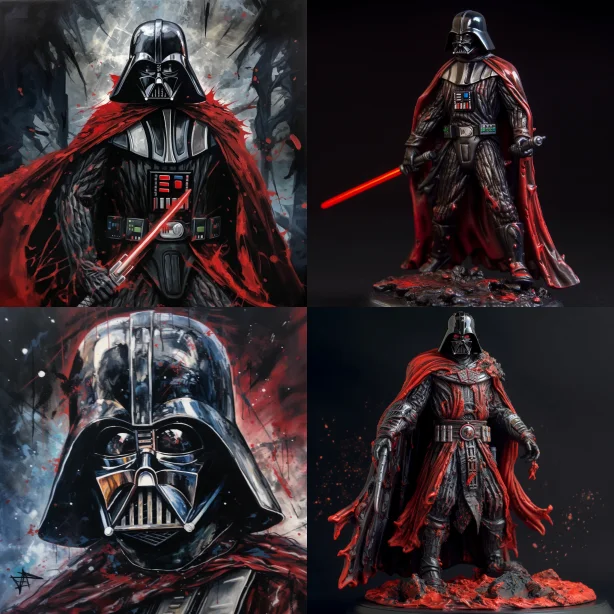 /imagine Darth Vader painted in the style of John Singer Sargent
Another one of my all-time favorite portrait painters is John Singer Sargent, specifically for the one he created of President Teddy Roosevelt in 1903. Sargent uses dramatic lighting and quick brushwork that somehow appears realistic. Can you imagine Darth Vader sitting for a portrait commission with one of the images below?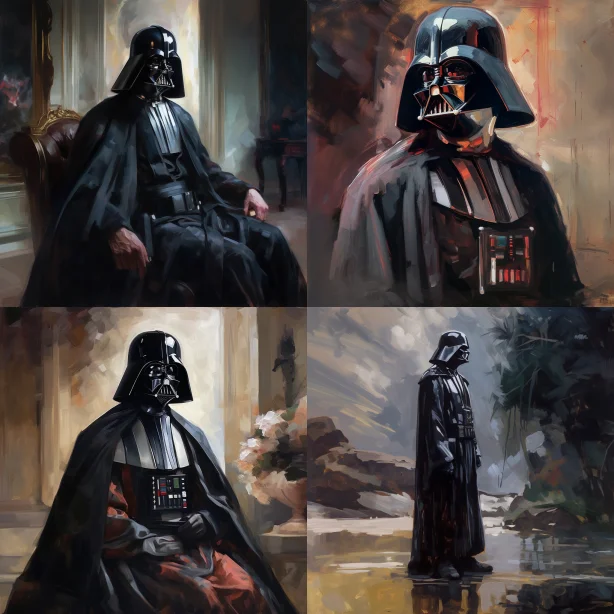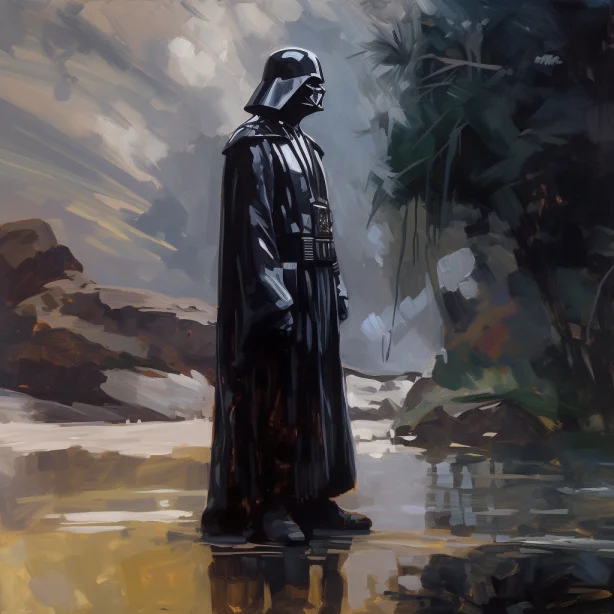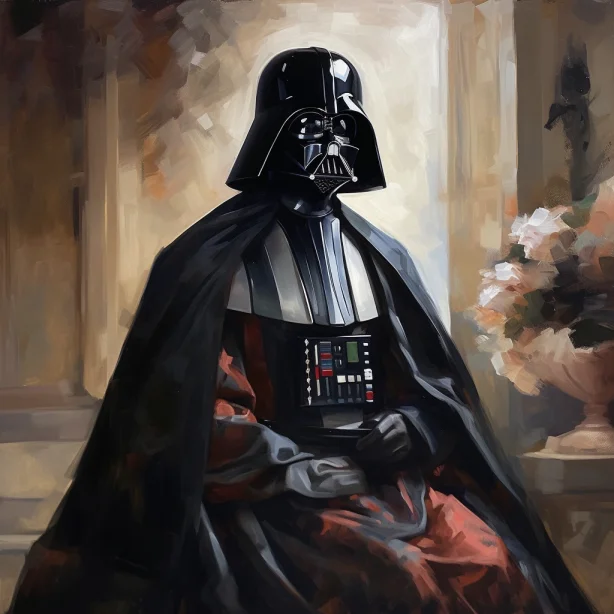 Ok. Now Let's Get Silly
So, don't you think Midjourney does an admirable job of creating something special with a little more than a few words? But what happens if we don't give it much direction and just let it surprise us?
Get ready to see Darth Vader spring into action like you have never witnessed before.
Here's a question for you. What does Darth Vader look like when he is happy? Can't you see the smile below?
/imagine Darth Vader happy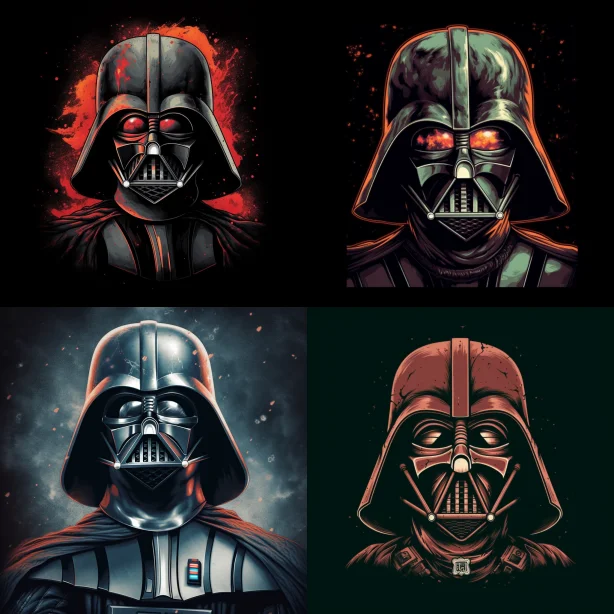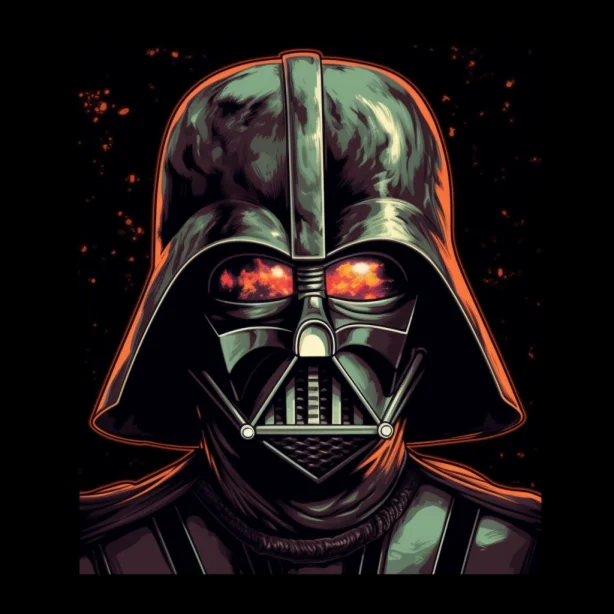 I don't know why Midjourney considers this to be Darth Vader's happy face, but it works. Maybe it is because of the destruction that is reflected in his eyewear. What do you think?
/imagine Darth Vader frosting a chocolate cake
Evidently, the Emperor is coming over for dinner, and none of the Stormtroopers can help make dessert. This is when you just suck it up and do it yourself. Even if you are a Sith Lord.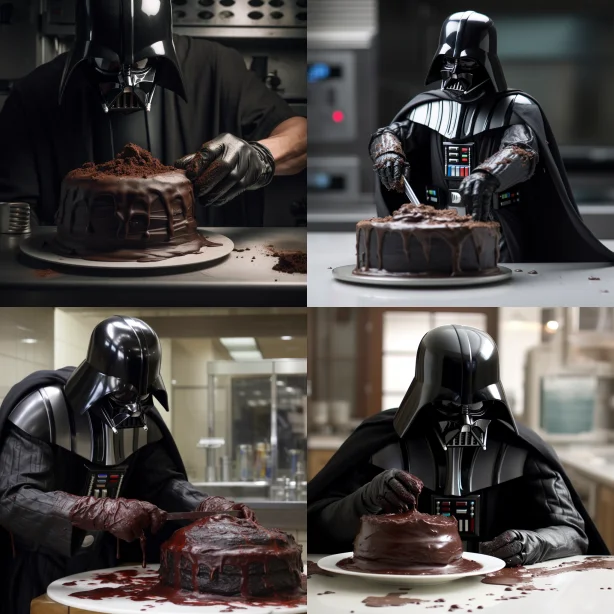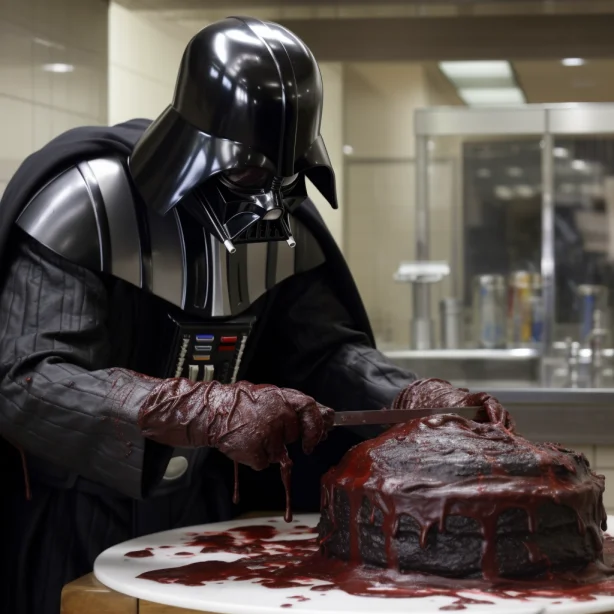 I don't know about you, but I want to watch this reality show. Especially when he cuts the cake for the guests with his glowing red lightsaber.
/imagine Darth Vader paddling a canoe
When Lord Vader isn't zipping around some planet searching for the latest sci-fi MacGuffin, he likes to relax and commune with nature.
Remember, for Midjourney, the only instructions were "Darth Vader paddling a canoe." What would the results have been if you were to render this yourself?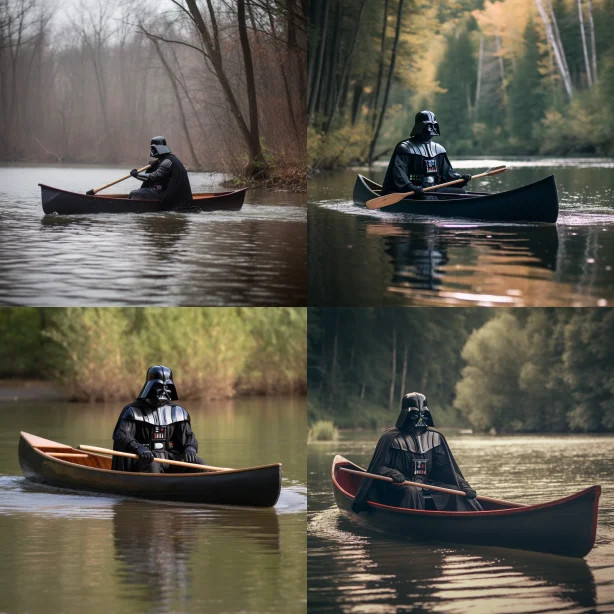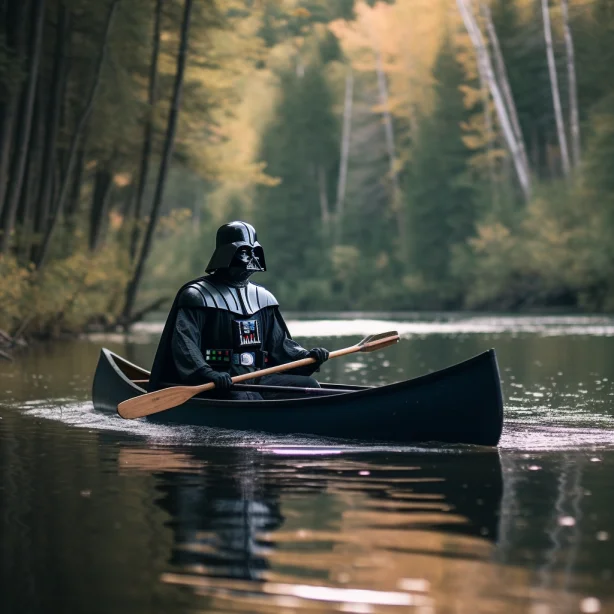 /imagine Darth Vader wins at poker
One good thing about the dark side of the force is that you can get a good winning streak going at a casino. Whatever you do, don't go all in against him.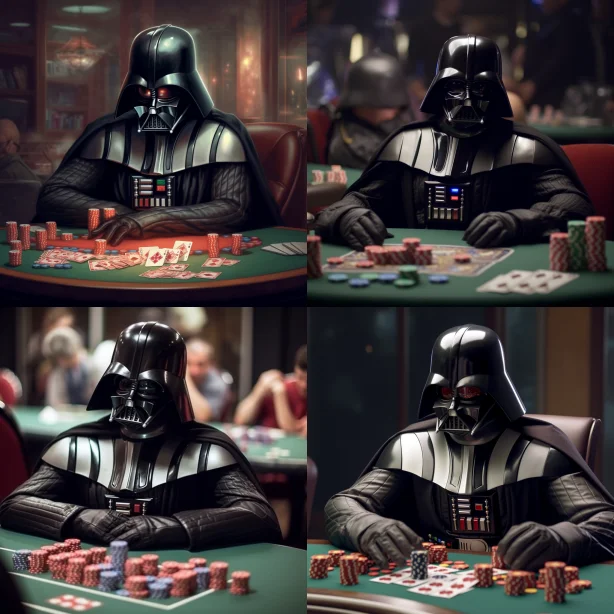 /imagine Darth Vader playing a Stratocaster electric guitar
You know Darth was the lead guitarist for a heavy metal band, "The Siths" on the Death Star, right? Anyone that doesn't applaud after their first set is frozen in carbonite.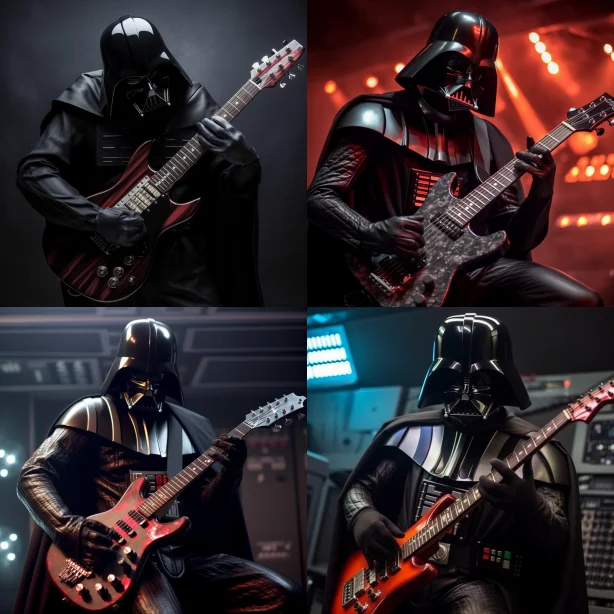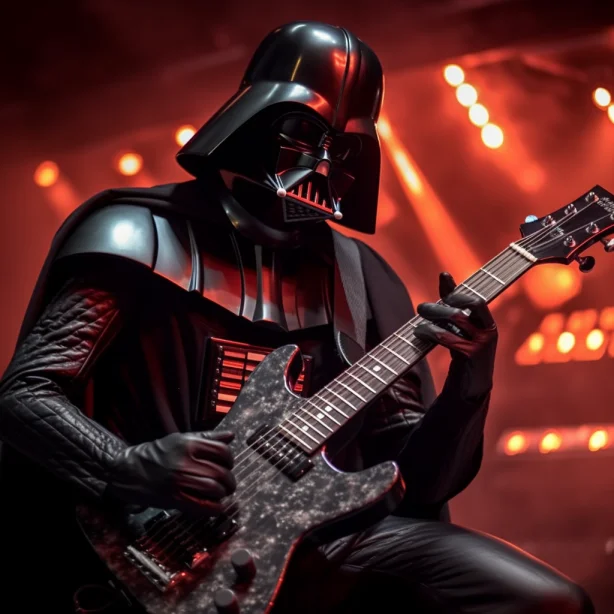 /imagine Darth Vader on vacation
Sooner or later, you need to unplug, unwind, and relax with a sunny day at the beach. There is nothing better than getting your toes in the sand and a cool one in your hand.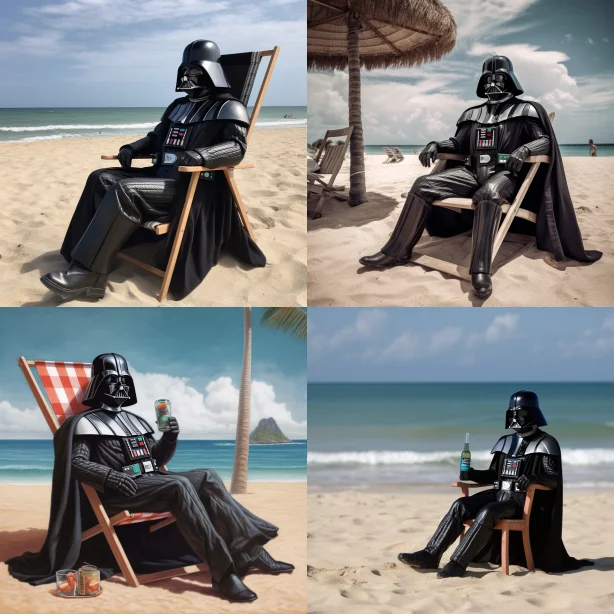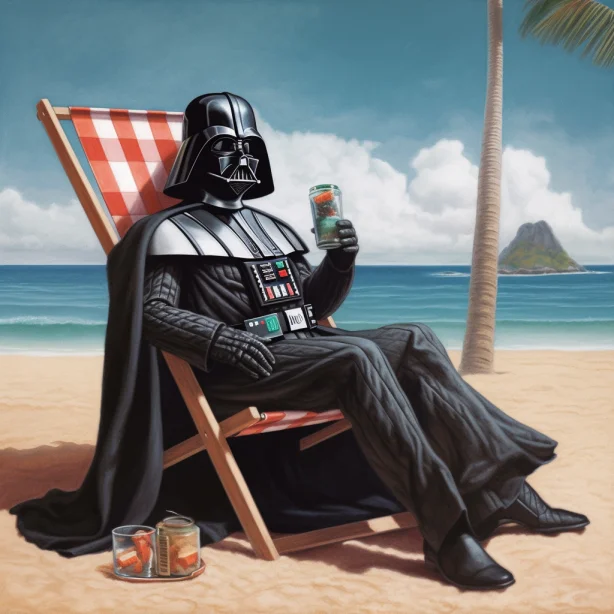 /imagine Darth Vader barbecuing on the grill and it's on fire
When Darth isn't baking chocolate cakes or paddling his canoe around the lake, he likes to kick back and get some burgers going. Things sometimes get out of hand.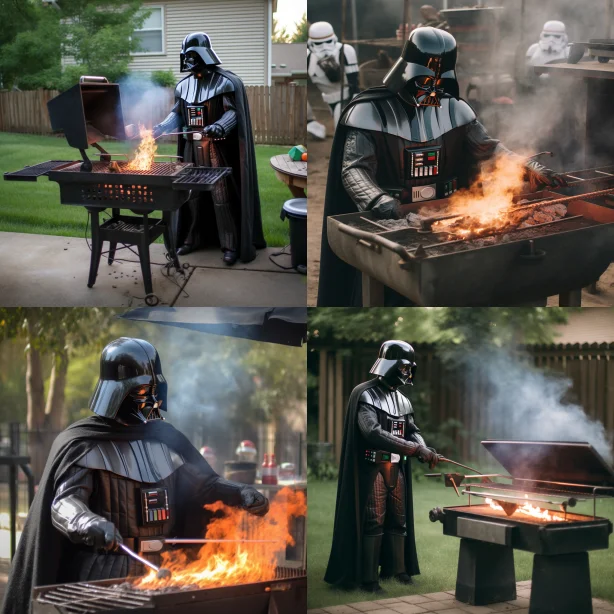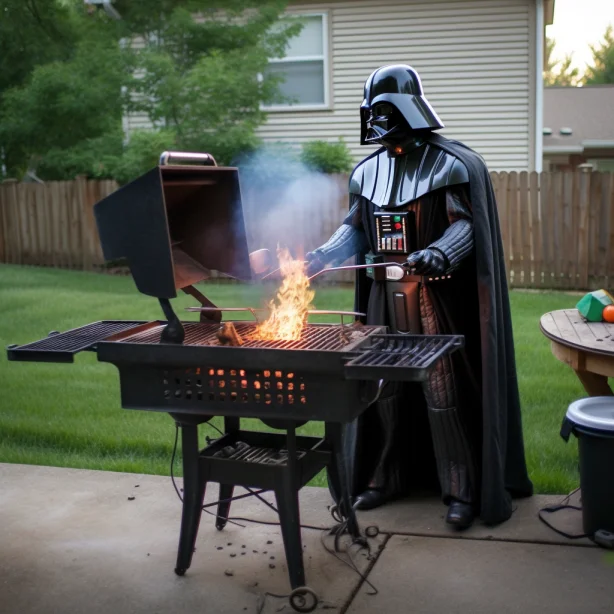 /imagine Darth Vader dances onstage
Ok, so when I wrote the prompt "/imagine Darth Vader dances onstage," I was incredibly intrigued about the results when they came back in Midjourney.
Would Darth be in a ballet? Some sort of space version of country line dancing with Stormtroopers all in unison and lockstep?
Nope.
Evidently, Midjourney sees Darth going full-tilt Elvis with a little Magic Mike thrown in for good measure. Notice in the lower left that he's being cheered on by a Stormtrooper regiment. This is part of the Imperial conditioning.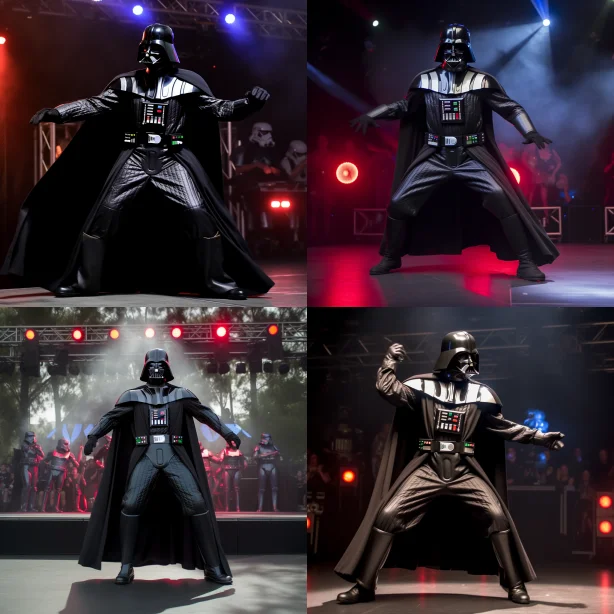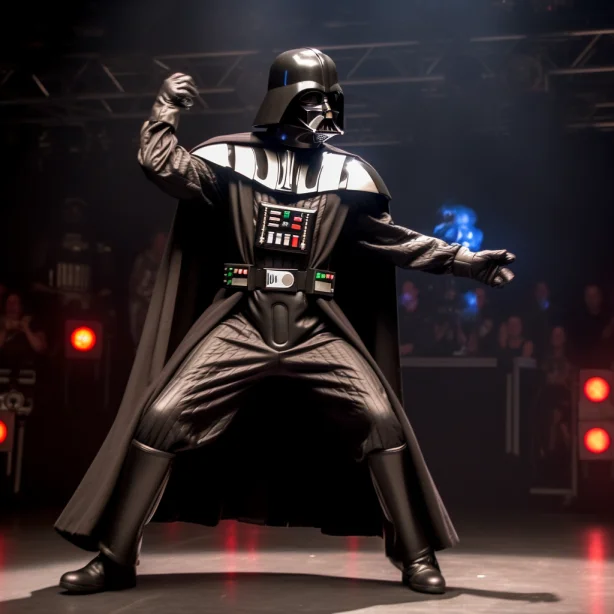 So, What Do You Think?
I'd love to keep these going, but frankly, I want to see what Yoda might be up to. Plus, it's a little tiring. I mean, these take about 60 seconds to render. It's exhausting.
What do you think, Darth?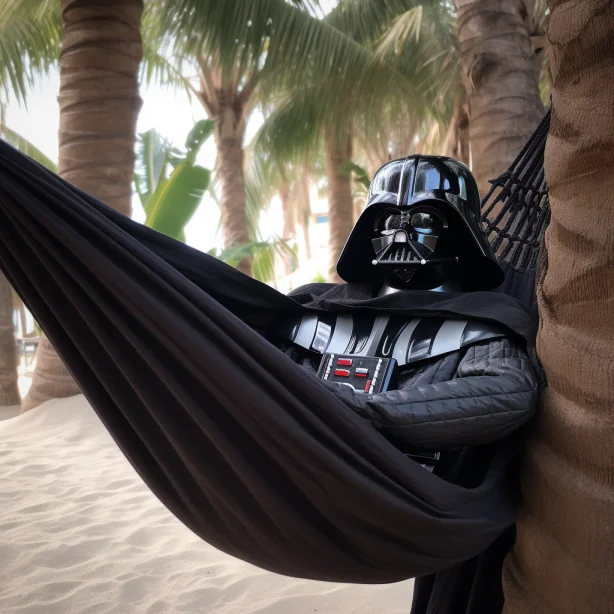 ---
"Everything you can imagine is real." – Pablo Picasso
"Imagine all the people living life in peace. You may say I'm a dreamer, but I'm not the only one. I hope someday you'll join us, and the world will be as one." – John Lennon
"You can't do it unless you can imagine it." – George Lucas
---
Help Support This Blog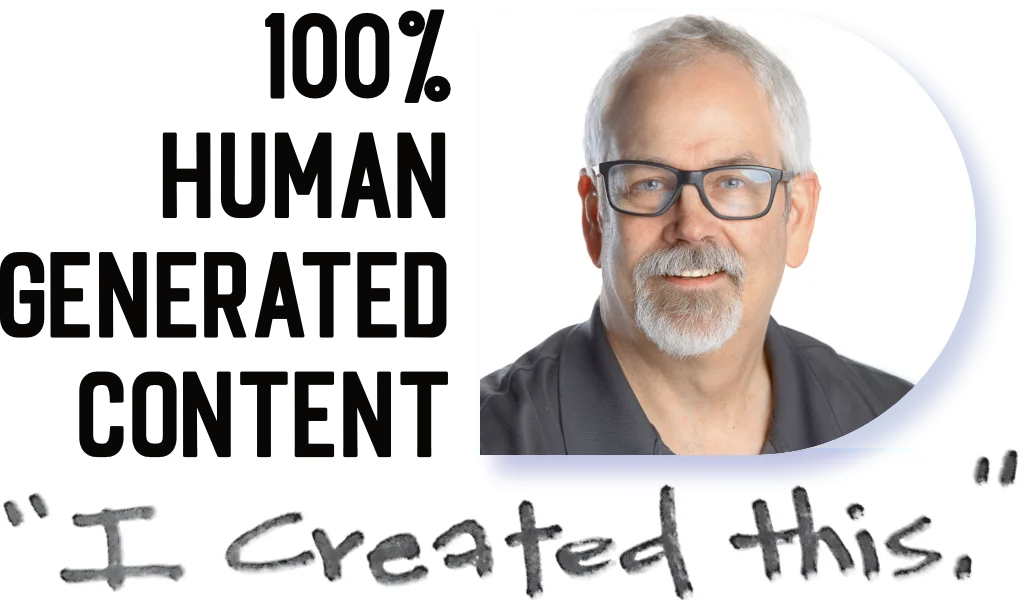 While I may be goofing around with AI for some projects, this blog and its contents have been created by me, Marshall Atkinson. For this particular article, I did use Midjourney, an AI tool…but it was me using it and directing the results.
Why am I writing this? To remind you, dear reader, these words are backed by a real person. With experience, flaws, successes, and failures… That's where growth and learning happen. By putting in the work.
If you are reading this and it is not on my website, it has been stolen without my permission by some autobot. Please report this to me and/or publicly out the website that hijacked it. And if you are trying to copy and use it without my permission, you are stealing. Didn't your mama teach you better?
If you like this blog and would like to support it, you can:
Share this blog on your social media.
Subscribe to the Success Stories podcast.
Watch and like an episode on the Jerzees Adventures in Apparel Decorating YouTube series.
Get signed up for the new Production Tracker app.
Also, my basic elevator pitch to you is that I help with "Clarifying effective change." If you are dissatisfied with your business's current results, maybe I can help.
Please schedule a discovery call here if you want to learn more.
Thanks!