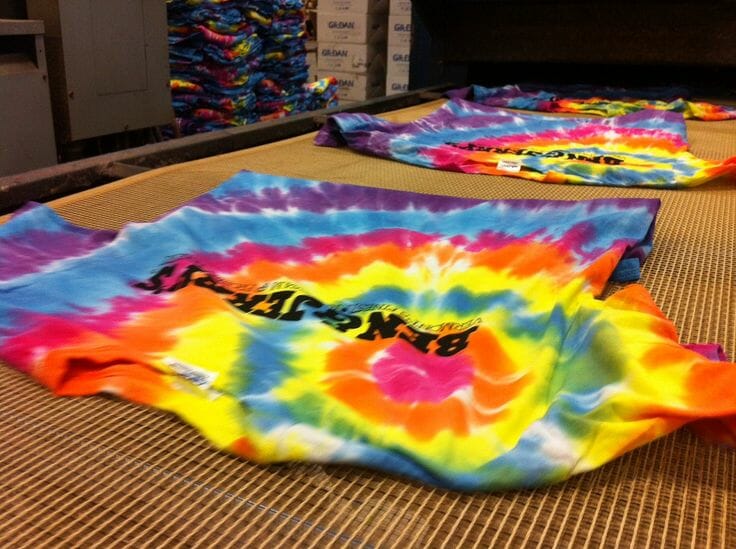 Wow, what a year!  Glad this one is in the books, and I can't wait to see what's in store for the next one.
Thank you for taking the time out of your busy week and reading my blog on the decorated apparel industry.  I appreciate the support and incredible interaction from everyone out there.  Your questions and article ideas help keep this blog fresh and relevant, so keep them coming!  As always, send anything to matkinson4804@gmail.com
Below is a clickable list of all my top articles, in order of popularity, with a brief description.  One-stop shopping in case you missed anything.  Just click the title to read the article.  Enjoy!
When You Are Up to Your Ass in Alligators. Still my number one read article.  Dozens of new people read this one every day, and if you haven't read it click on the link and find out why.  As an added bonus, there's my recipe at the end for fried gator tail.  Be sure to have a cold beer ready to go with it!
Creating Art for T-shirts: Common Rookie Mistakes Defined. Just getting into the biz?  What makes a great t-shirt design vs one that is so awful only your mother will say "That's nice".  Avoid these mistakes so you don't create confusion or any costly errors.  Or something ugly.
20 Biggest T-shirt Shop Mistakes & How to Avoid Them. There's one thing in making mistakes, and it's quite another to not learn something from the problem.  Avoid both and read this article.
When Lightning Strikes – On the Production Floor with Boston Strong. After the tragedy of the Boston Strong Marathon, two college kids raised over $1,000,000 from their dorm room for the One Fund Boston.  They coined the phrase Boston Strong, and used the Ink to the People website to sell t-shirts for the fundraiser as they felt they "had to do something".  This article explores what that was like from the t-shirt printer perspective, as failure was not an option.
Apparel Decorating Tricks – Have You Tried These Yet? 100% crowd-sourced article.  Industry veterans, gurus, and just regular folks, sent in their best tips and tricks for keeping shops humming to perfection.  Think you have something to share too?  Leave yours behind as well and become famous.
Save That Misprinted T-shirt! – 7 Secret Tips That Really Work. Did someone in your shop goof up?  Before that t-shirt becomes a floor rag, see if you can save the mistake with one of these tips.  Of course, the biggest tip is to not make the mistake in the first place but that's a different article (see #9 below).
Starting Your Own Apparel Line – What You Need to Know. Thinking of launching the next big line of shirts and retiring to somewhere tropical?  Before you start ordering plane tickets and calling the moving company, you better start your dream line with some practical, down to earth advice.  Read this.
Lame Excuses Apparel Decorators Make. Have you ever uttered any of these?  I hope not.  If so, it's ok – as long as you change your ways.  It's not too late.  Get down and dirty in your shop and ferret out the excuse makers.
Top Tips to Improve T-shirt Print Quality. This article gives you the recipe for improving print quality from the shop floor perspective.  What you need and how to do it.  Want to run a better shop?  Check this article out and see what you can do today.
Face It, Your T-shirt Art Sucks. …and I mean that in a good way.  Have I told you how talented and creative our art department is lately?
Feed the Eagles and Starve the Turkeys. Learn how to prioritize and get more done in a day.  Here's what I've been doing for over 25+ years.
Why a Daily Production Meeting is a Waste of Time. Do you have this in your shop?  Why?  Read this article and learn that there's a better way to accomplish your production coordination without resorting to a daily meeting.  Drop that money and time waster today!
The Ironical Hard to Hear Truth About the T-shirt Industry. I'm not uncovering too many skeletons, just venting a little.  Check out what burr is under my saddle with this article.
Universal Truths for Apparel Decorators. We all share the same challenges and have to play with the same cards.  Let's sarcastically explore this topic and find out what universal laws our industry is governed by.  Such as gravity, or alcoholism.
Race to the Bottom: Pricing Wars. Getting prices slashed by a competitor?  How can they do the job for that little amount of money?  This reader suggested article explores this phenomenon and what you can do about it besides joining in the stupidity.
5 Biggest Issues in the Decorated Apparel Industry Today. A short list with a big impact.  Check out this article and also listen in on the 2 Regular Guys podcast that was a follow up.  Does my voice really sound like that?
9 Core Skills Every Apparel Decorator Should Master. Can you do all of these?  Working on some, but haven't mastered them all?  Improve every day and you'll get there!
10 Attributes of the Most Successful Apparel Decorators. What makes one shop a success, while another just stays average to mediocre?  Read this article and find out.  You'll be shocked to learn you have what it takes to push your shop to greater success.
Help Wanted – Finding the Right People for Your Shop. This is one of the most asked questions that I get from readers, so I wrote an article to explore the topic.  Where do great employees come from and how do you find them?  Discover the possibilities and start with this article.
10 Creativity Tips for T-shirt Designers. It's the old art director in me that wants to share where to find a well-spring for creativity and keep the ideas flowing.  As we all know, there isn't an idea button on the keyboard.  Before you start dumping a little whiskey into your coffee for inspiration, read this article and maybe it will help.