There has been so much focus on online stores recently, I started to wonder if another article about this topic would even be relevant.
So, I turned to a trusted topic research partner that I've been using for a few years now, "Answer the Public" for more thinking on what people might be after on this topic. If you haven't heard about Answer the Public, it is a way to find a way to discover what people are looking for when they type something into the search window on Google.
To start, I typed in "online stores" into the Answer the Public. In a few seconds, the site pops out the most popular Google searches into a visualization style graphic.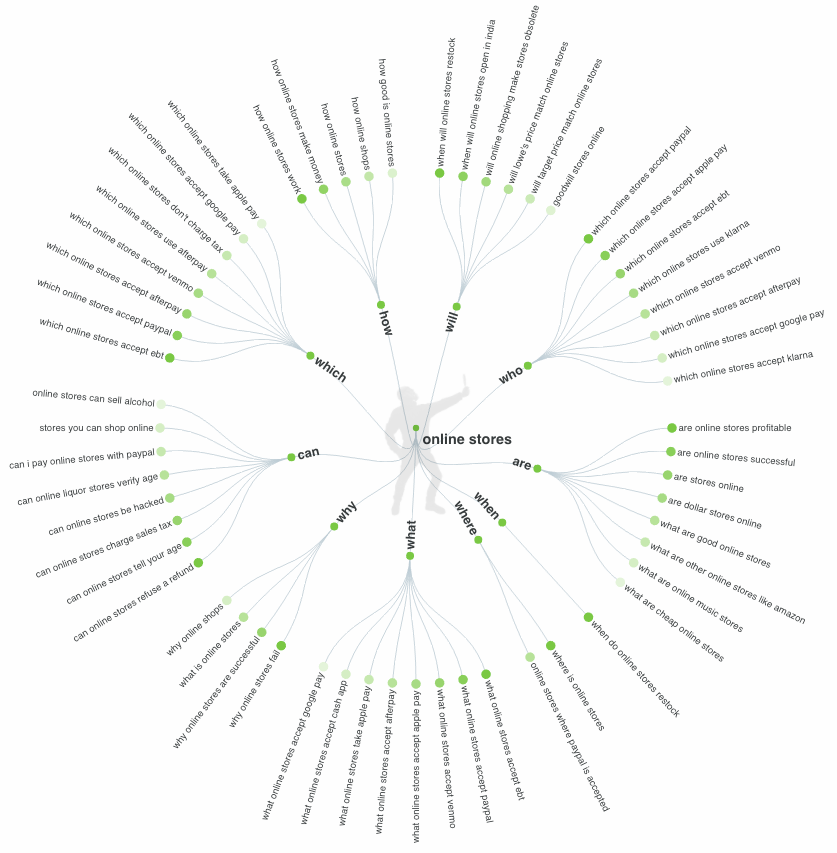 What's interesting here is that these are broken up into groups that have a few similar ways of asking the question.
How
Will
Who
Are
When
Where
Why
Can
Which
Using the Online Store Search Data
Let's examine a few of these and see you can connect what you are doing with your online store, and what people are searching for with Google.
How Online Stores Work
This is a popular choice for people searching on Google.
Think about it.
You are in charge of raising funds for your high school athletic department to fund a facility renovation. Maybe you are a restaurant that wants to sell merch to offset losses in the dining room. There are plenty of other use cases as to why this is a popular search choice.
But what are you doing with this information?
Do you offer online stores for your customers to help them solve problems? If so, do you have a video, blog, or infographic that details "How online stores work", so you become the answer to this query?
Get those details out in an fun, educational, and entertaining way and get customers lined up for you to create an online store for them.
Will Online Stores Make Stores Obsolete?
Here's another search choice from Google. People have been hearing and seeing about the retail apocalypse for years, but with the COVID pandemic upon us, that spells doom for many traditional brick and mortar retail store locations.
Do you have an answer to that question? If you did, you would show up when someone typed that in online.
Are Online Stores Successful?
Of course, they are. But for everyone that asked that question, they don't know the answer.
Have you written a white paper or blog article detailing your sales statistics? You can even narrow it down further by throwing in the market segment into the title.
For example, "Most successful online stores for fashion boutiques" or "Successful online stores for Little League Baseball Teams" or "Top 10 most successful police department online store techniques."
This is how your potential customers discover you. With the content that you create, that answers their question.
What Online Stores Accept PayPal?
I have an online store, and it accepts PayPal. This is a good thing, as almost all of my non-United States sales are made with PayPal. Easily 50% of my eBooks are sold using PayPal versus a credit card.
People see PayPal as "fun money." They will buy lower-cost items on an impulse decision using PayPal, as there is something quirky about not using a credit or debit card for the same purchase.
Do you accept PayPal?
Why Do Online Stores Fail?
Again, people want to know this.
Here is your opportunity to discuss the nuts of bolts of success, by outlining the reasons why some online stores don't do as well as others.
Online Stores Fail because:
Too many products in the store
Not enough marketing
Product images could be improved
Unrealistic expectations
Lack of creative focus
Poor image listing and details
Can Online Stores Be Hacked?
Here's a security question. Do you have the answer?
If you are using a third party platform provider for your online store offerings, what is their take on that question?
One of the challenges that you might want to discuss in a FAQ video is your platform's security. If people are searching for clues to this question, you better have an answer.
Which Online Stores Don't Charge Tax?
Are you doing online stores for your customers, but they are tax exempt?
What if they are not reselling the goods, but providing them for their employees as a benefit and the "store" is simply an easy way to order?
Think this through from your customer's point of view that might want you to host the online store.
Online Store Prepositions
Here's a good tip. People are searching for something and "online store" is only part of that search phrase.
Can
To
Near
Is
With
For
Without
What Online Stores Can I Use ApplePay?
Again, customers are wanting to spend money. Are you set up to take it from a different transaction platform like ApplePay?
How will a customer know? What are you doing to inform them?
Online Stores to Buy Cute Clothes
Are your product offerings cute? Who buys cute things? What clothes are considered cute?
Here's a question for you: If your market is for women or includes baby or toddler apparel, are you using "cute" in your marketing listings or descriptions?
Your product or website needs to be in the search result if the "cute" label applies as a description.
As with many things, words matter.
Online Stores Near Me
Does this one even make sense? Virtual stores exist out in the ether of the internet, not on Main Street.
But what if you have an online store, but a physical location as well?
Then it might make sense to have your geographic location tied into the online store. Does yours have an address?
Online Stores with Free Returns
What is the return policy for your online store? Do you have one?
If it is stated as "Free Returns", yours might show up in this query to Google. This could also be something that you play up to help quell the fear of ordering online from you.
Online Stores for Plus Sizes
Put this in with other niches that you might consider offering. I'm 6'5″, so finding clothes sometimes is a pain. I usually order an XXL, but sometimes if it is a slimmer fit, I'll grab an XXXL instead.
Do you have size charts? How are you showing that on your online stores?
Better, do you have a blog, video, or another resource that talks about your offering so your customers can be informed? This cuts down on calls into your office, emails, and more importantly, returns.
I've ordered enough stuff over the years to seek out and check before hitting the buy button. I'm guessing your customers might know this too. How prepared are you?
Answer the Public Alphabetical
Another great feature for this idea generator for you is the alphabetical listing tool. You need to scroll down a little bit, but as you can see our two-word query "online stores", pushed out an amazing array of popular searches by people.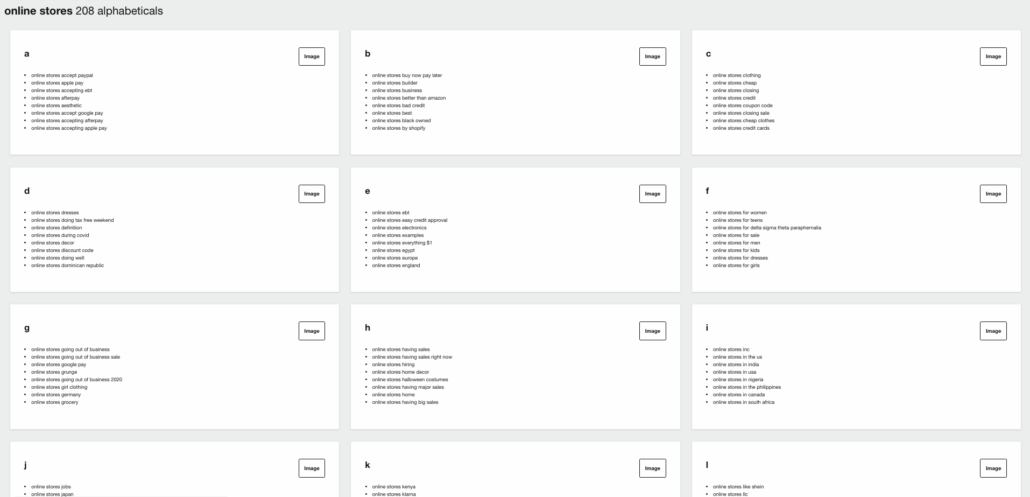 This is a great way to rethink what your marketing might be like for your online store in how people use search to find the answers they need.
Favorite: Online Stores Other Than Amazon
Think about how you can play up the "shop local" even while being virtual. Show your team, customers, even the office pet, and then queue up the online store in the same post.
This is perfect for a "Shop Local" campaign that you might be considering if you had success with a "Here for Good" campaign earlier this year.
What Can You Try?
I use the Answer the Public search app when I'm trying to generate ideas for a blog article or maybe to write a headline.
Just type in a few words and wait a few seconds. Ideas start flowing.
I usually jot them down on a notepad if I see something I like. Once I have a few, I'll start to draft an outline of my idea. All it takes is about four or five points to have a solid article.
What can you try?
---
"Every once in a while, a new technology, an old problem, and a big idea turn into an innovation." – Dean Kamen
"Design is an iterative process. One idea often builds on another." – Mark Parker
"A creative man is motivated by the desire to achieve, not by the desire to beat others." – Ayn Rand