Traditionally the ISS Long Beach Expo has been the best and one of the most successful decorated industry trade shows. People from all over the world have flown in to walk the show, learn new techniques, network, and discover what's around the corner.
The challenge the show directors had this year was the lingering effects of COVID restrictions. Many of the veteran booth exhibitors decided to not participate. Which caused a cascade effect with normal attendees. It is a completely understandable position. However, those decisions were disruptive and had consequences that will last far longer than the show days.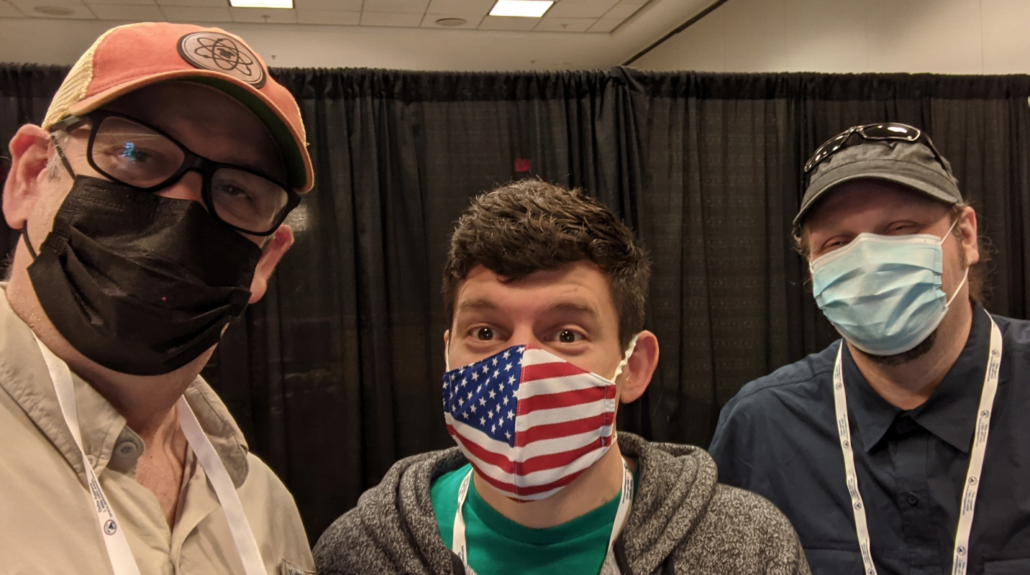 But this article wasn't about who was missing. I'm a glass-half-full guy. This year I put my money where my mouth is by having a booth for Shirt Lab Tribe at the ISS Long Beach Expo. It was a new experience for both my Shirt Lab partner Tom Rauen and me, and in hindsight probably a great one.
For this article, I wanted to concentrate on who actually went. Why did they choose to go? What did they see or experience? Let's talk about the results of the show!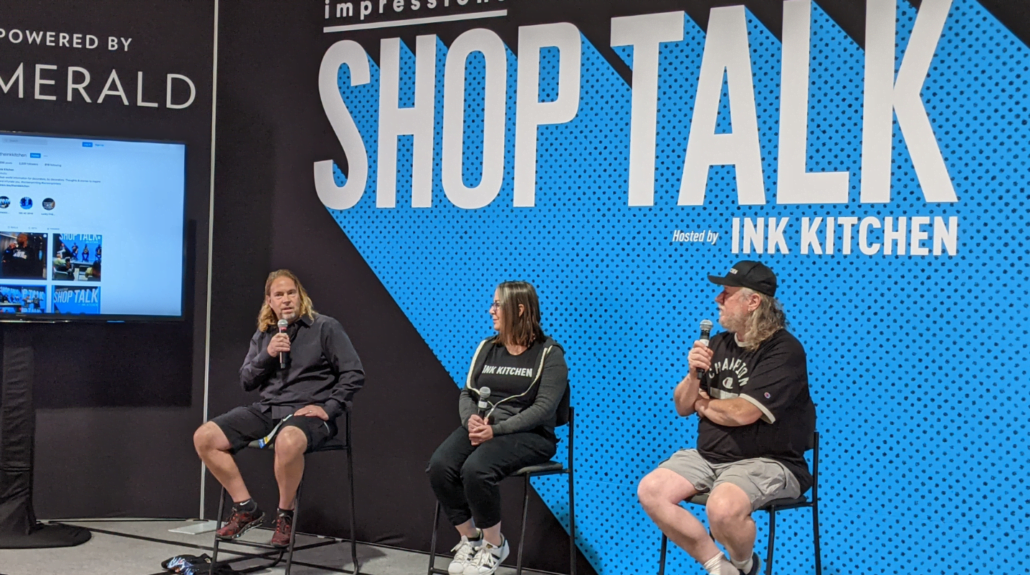 Attendees
Over the course of the three days that show as open, I literally spoke with hundreds of people. I taught two classes that were well attended, had some very interesting dialog with folks coming by our booth, and also spoke with a ton of folks at the networking events too.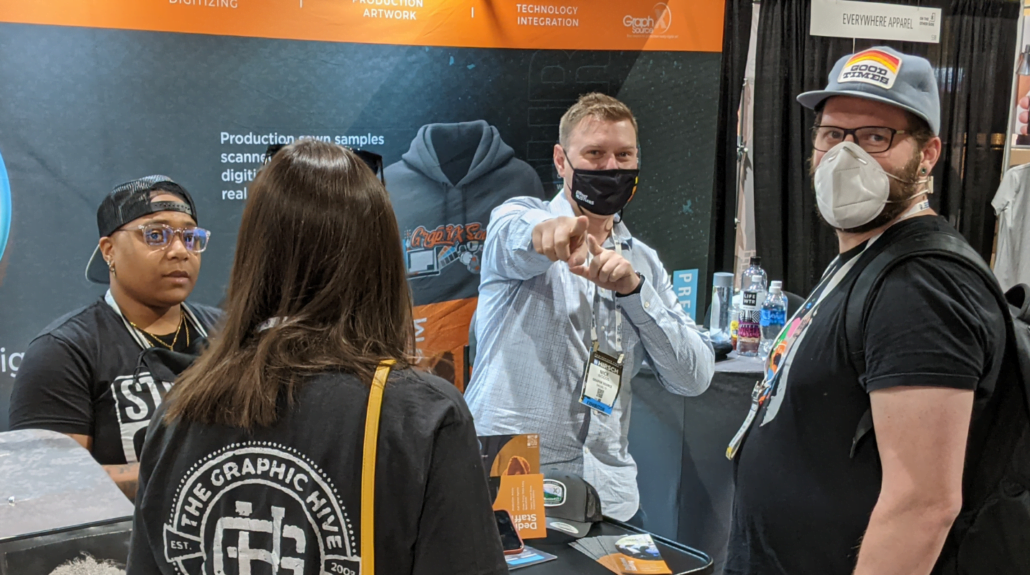 The majority of the people I met were from somewhere else besides California, which means that they traveled to get there. I met people from dozens of states, but some folks really had to travel as they came from Alaska, Canada, or even Hawaii.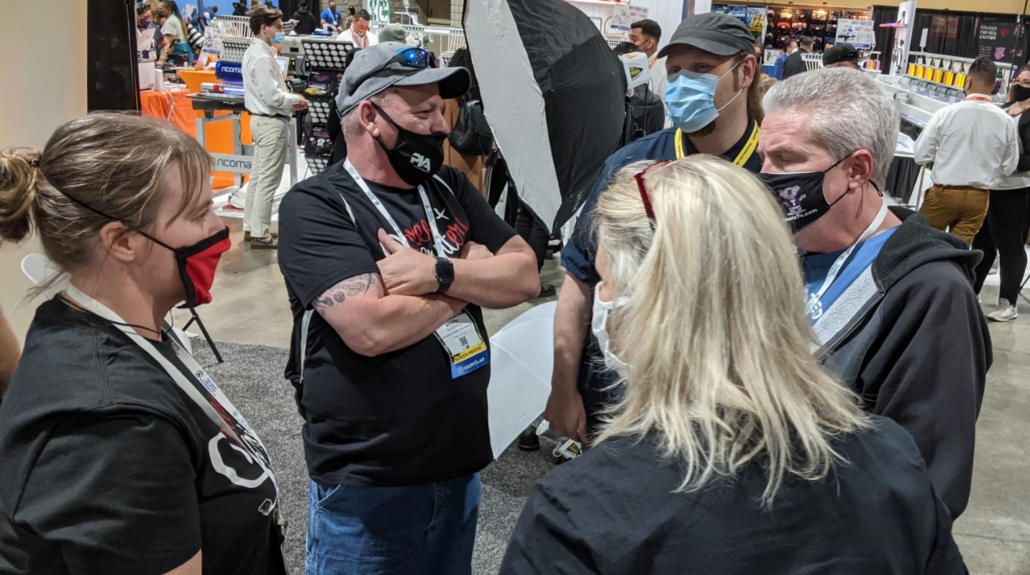 At every interaction, I basically asked a few questions. "How is the show?", "What are you looking for?" and "Why did you decide to come?" Here are some answers:
Legendary character Pete Junior owner of New Era Apparel in New York said, "I'm not going to let COVID stop me from hanging out with my friends." For him, it was the industry networking that drives the reason to go to ISS Long Beach, not who was exhibiting. The connections and life-long friendships are what keep Pete coming back year after year.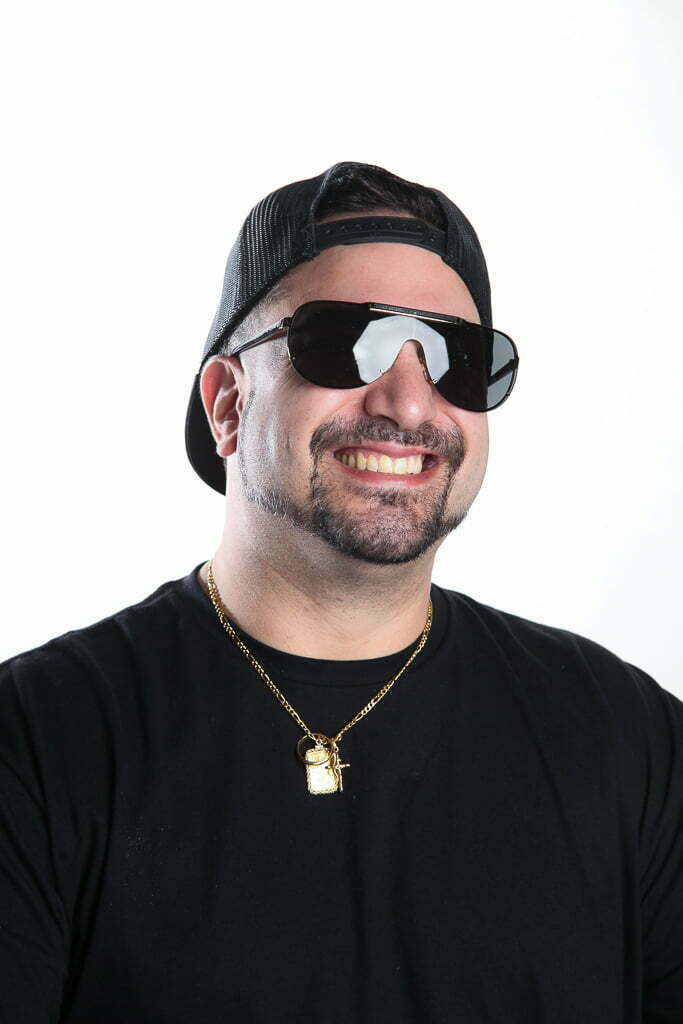 Darryl Garcia owner of Color Tech in Salinas California had a similar take. "Try is a loser word. We are either going to do things or we are not. There is no trying. Showing up and participating is part of that." Darryl is a former UPS driver and is constantly learning new things to help his business.
Ron Frieborn with Ron Frieborn Printing in Los Angeles, California was looking for sublimation blanks and to "broaden aspects of sales." He wanted to meet up with industry friends in-person and to find out what is new in the market. Ron came down for the day on Friday and had lunch with industry friends that arrived for the ISS Long Beach Expo.
Justin Leader with JC Pro Design in Salt Lake City, Utah was there to "specifically learn about the new Direct to Film transfer technology and start some research with a new possible workflow." DTF has replaced DTG as the favorite type of item to have in a trade show booth. They were everywhere.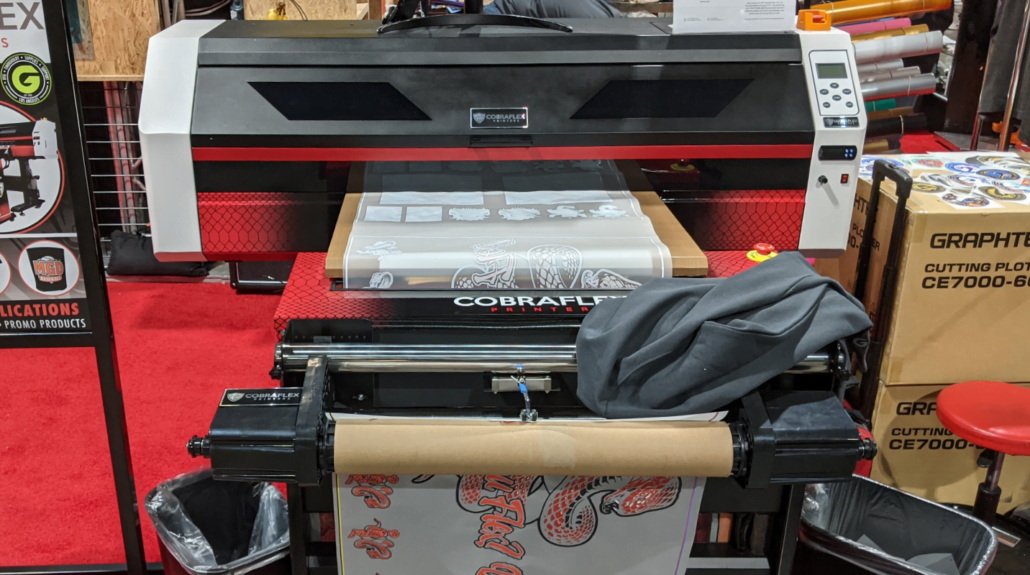 Kim Johnson with Paisley Jo Designs in Glendale Arizona attended all three days. She said "I bought a tag press, and love finding vendors that I've never seen before. Frankly, I didn't think the show would be this good. The best part was the seminars, which were better than the other years." Kim recently moved her business from Oklahoma to Arizona. She was very keen on finding answers and best practices to grow her business this year.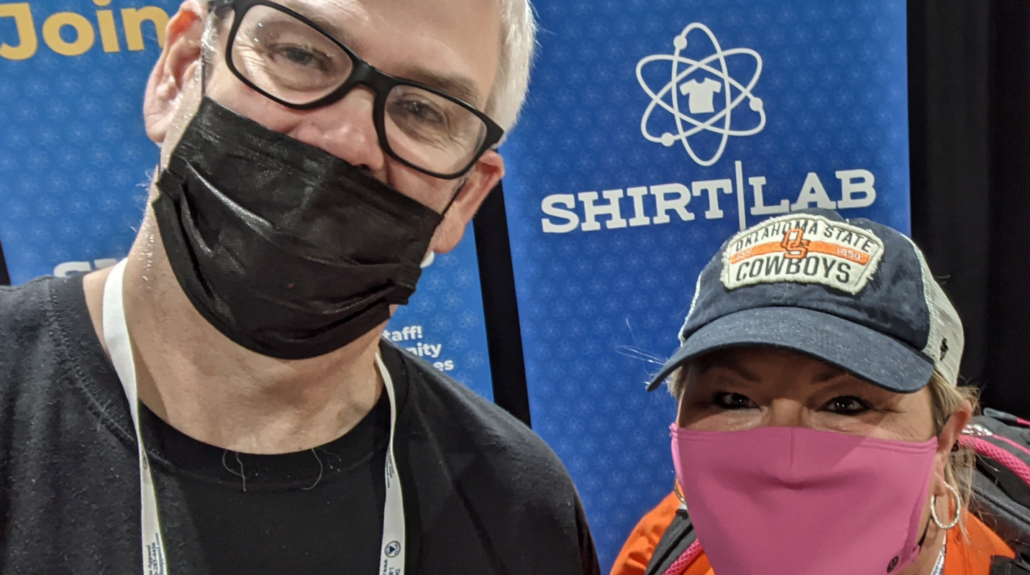 Mike Woolbright with Express Tees in Stanton California said that he was there to "concentrate on finding alternative inventory vendors." He seemed pleased because he was able to "find a new polo with an off-brand distributor."
Exhibitors
Alex Mammoser, the director of sales for Easiway Systems, said that for "many people that came by this was their first time at a show. It was good to have longer conversations with people because it wasn't so busy. We helped a lot of people understand and solve some problems."
Tim Gibson with Hanes agrees. "We got to have more in-depth conversations with customers and spend more time with them." He seemed pleased to enjoy the fact that some of the competing apparel blank manufacturers didn't exhibit at the ISS Long Beach Expo.
Milissa Clark with Lane 7 Apparel said "People came with a purpose, and they were on a mission. This year there was less tire-kicking and more sales." That's what trade shows are all about, right?
Brett Bowden with Printed Threads and MADE Lab said that he thought that "The energy was good. There were a lot of positive vibes for the industry. We got to see some old friends and we connected with a lot of people. They enjoyed learning what we have to offer."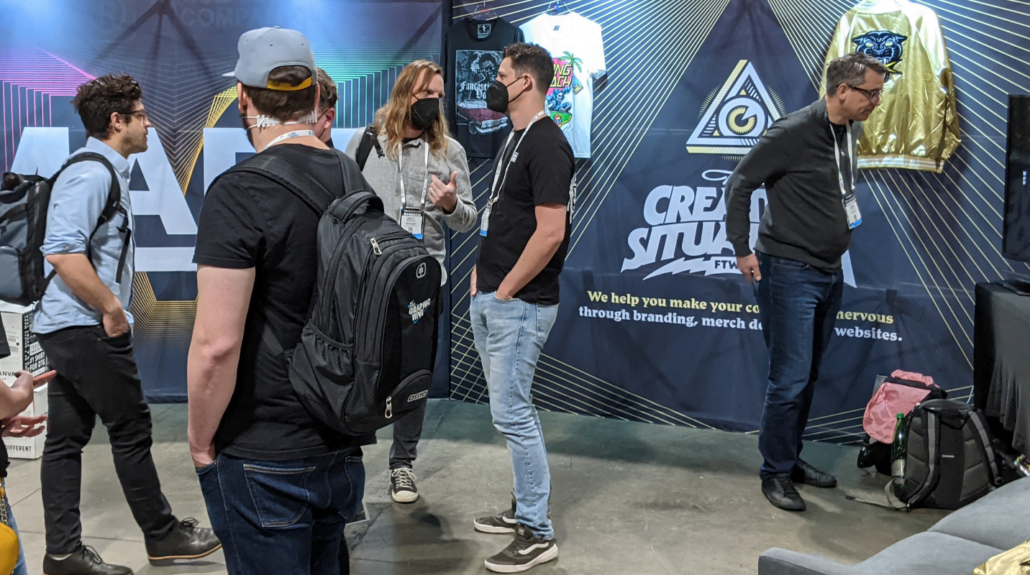 Bruce Ackerman, the owner of Printavo, commented that "Friday and Saturday there were a lot of people. I hope that the success of this show kicks off people being comfortable with getting back together." Bruce also said that "while there were fewer exhibitors, there were so many DTF machines in booths. It seems that DTF is replacing DTG. I wonder who will win that race?"
ROQ equipment president Ross Hunter said, "I felt like the show went awesomely – much better than we could have ever expected in the environment we're dealing with. I think it was definitely time for people to get out and see new equipment, see new blanks, and get out there and network with each other. Attendance was phenomenal. Our new booth location, right at the front of the show, was absolutely fantastic. It was great being right in the front and everyone got to see us first and interact. The whole experience was incredibly cathartic and unifying and we can't wait to do it again!"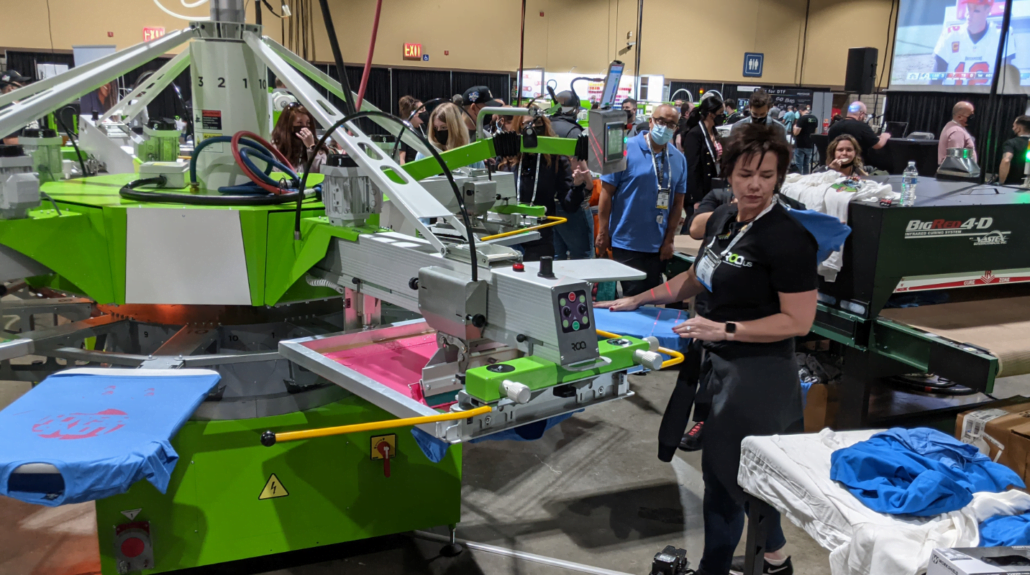 Tom Rauen, co-founder of Shirt Lab thought that "it was great to see the different levels of people on their entrepreneurial journey. For some, this was their first show, for others they wanted primarily to network and learn."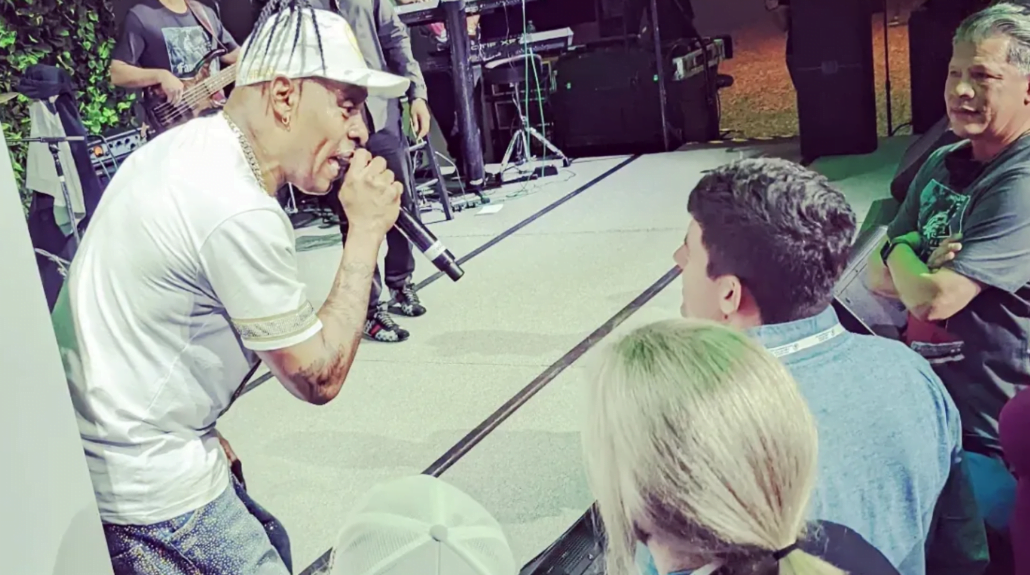 Key Takeaways
It was ROQ's show.  There were smaller equipment vendors such as Vastex, Brown, or Epson…but with M&R not attending ROQ made quite the impression.  Their bright green presses and equipment were immediately upfront and were swarming with buyers the entire show.
What was attracting the crowd? With the rollout of their next-gen DTG machines ROQ NOW and the ROQ Hybrid, it was difficult to pinpoint the rockstar of the Impressions Long Beach Expo. But, definitely one of the crowd-pleasers was the ROQ NEXT automatic screen printing press that had a new tag printing mechanism that they call the Tagbot.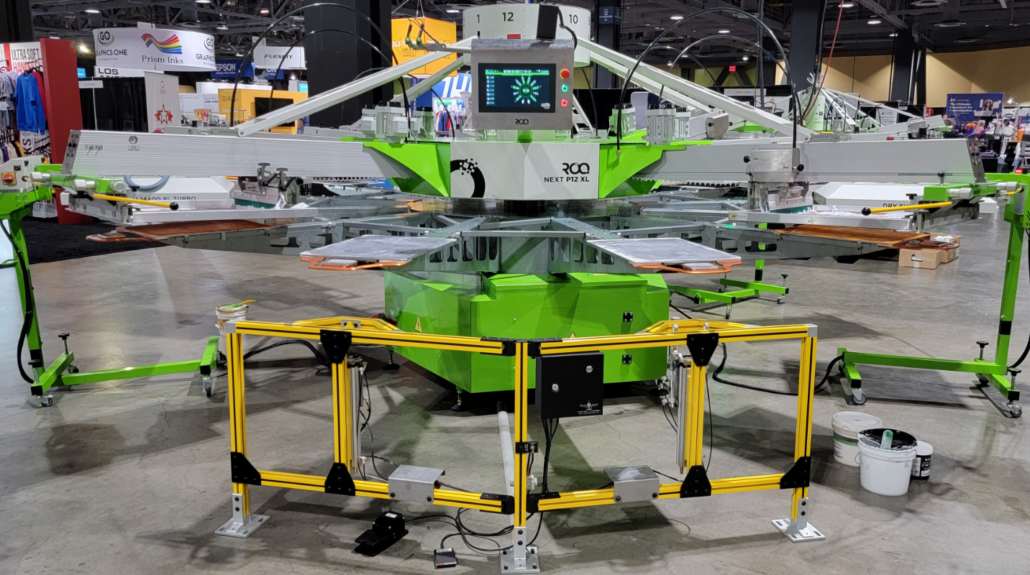 Another incredibly obvious takeaway is the advent of the Direct to Film equipment out on the market. It felt like every other booth was showing off the technology. And to me, this feels like the early-adopter days of DTG. As Bruce Ackerman said, it is going to be interesting to see who takes control of that equipment market. Especially since none of the big equipment manufacturers were there showing their version of the innovation.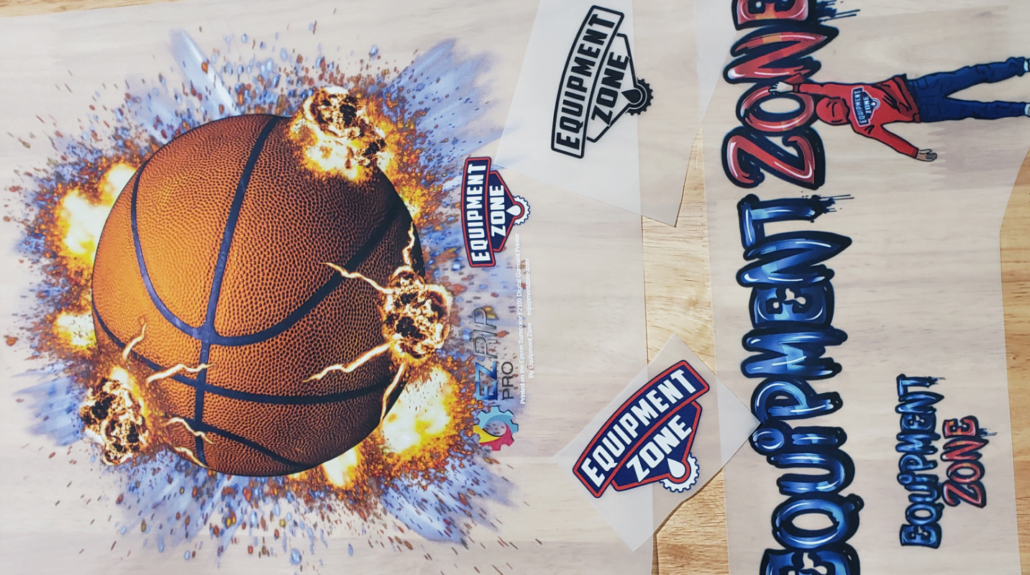 One aspect that I did find interesting was in the Equipment Zone booth where they were showing how to convert an existing Epson DTG printer into a DTF (direct to film) printer. DTF transfers create a new opportunity to expand the use of your DTG printer and increase your customer base by decorating even more products. DTF transfers are heat applied to a wider variety of substrates such as 100% polyester and polyester blends. And are also easier to heat apply to more products like backpacks, tote bags, caps, hats, patches, can koozies, neck labels, sleeve prints, and too many to mention.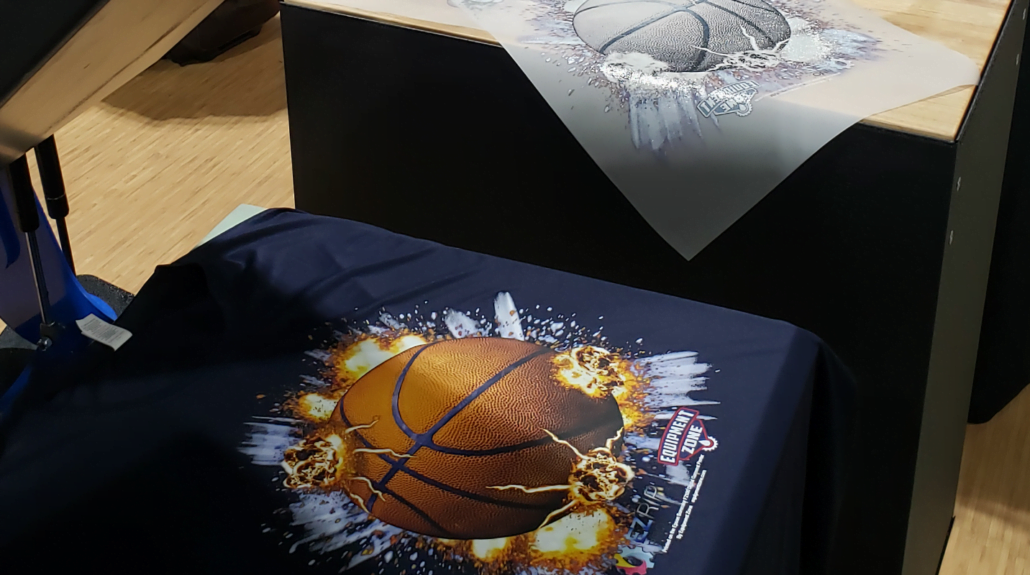 Wrapping Up
While I'm positive that there will be more trade shows this year, there will also be more people having to decide to attend, exhibit, or stay home.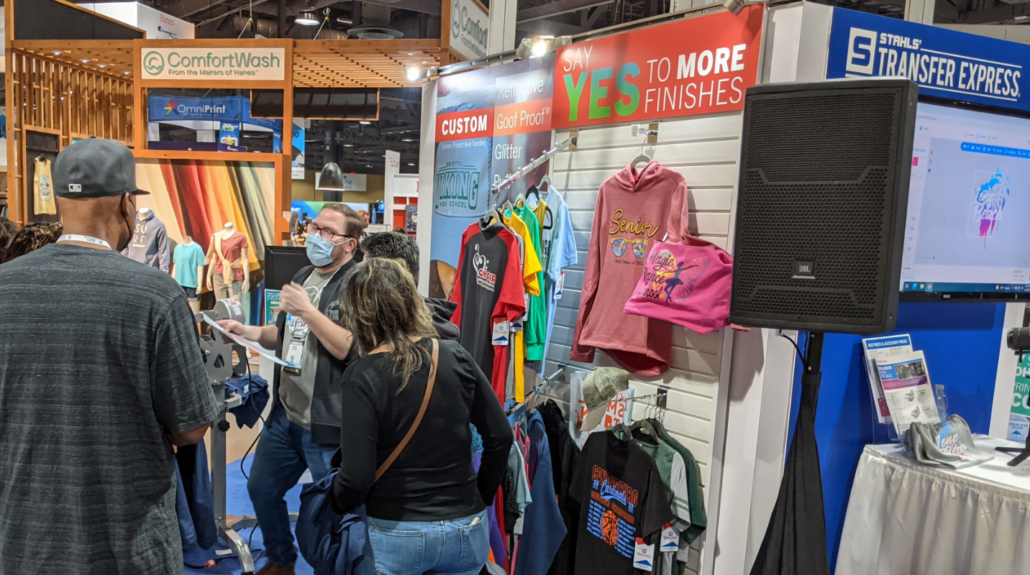 As someone who attended four trade shows last year, and one this year, the people that actually attend are enthusiastic about being there. They want to learn. Some are looking for answers. All are willing to talk about their problems and challenges and see if there is a solution on the horizon. So, if you are asking me if it is worth it to go my simple answer is:
Yes.
---
"Setting goals is the first step to turn the invisible into the visible." – Tony Robbins
"If you want to conquer fear, don't sit home and think about it. Go out and get busy." – Dale Carnegie
"The secret to getting ahead is getting started." – Mark Twain
---
Help Support This Blog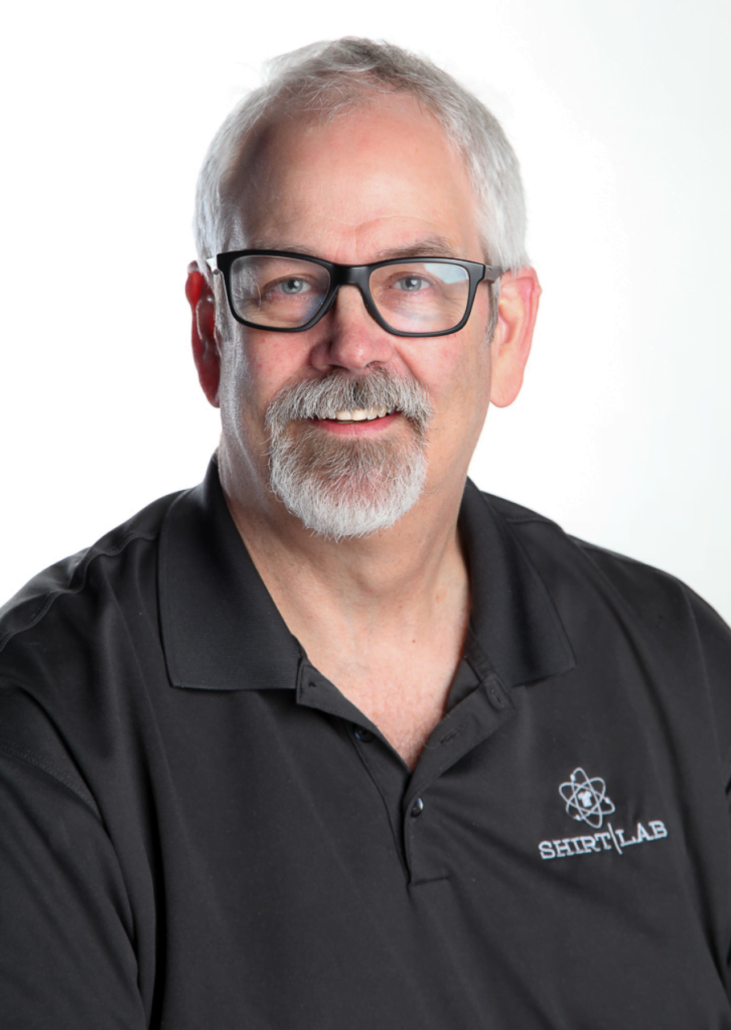 If you like this blog and would like to support it, you can:
Share this blog on your social media.
Subscribe to the Success Stories podcast.
Watch and like an episode on the Jerzees Adventures in Apparel Decorating YouTube series.
Get signed up for the new Production Tracker app.
Thanks!