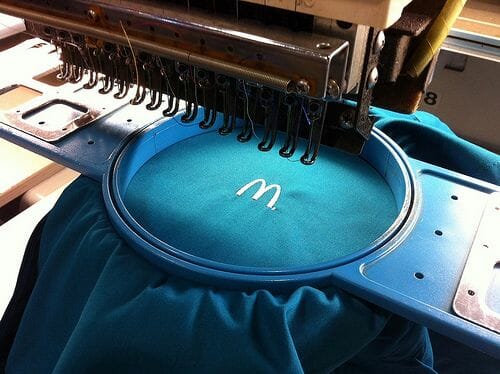 Pinterest is an amazing social platform that can help your business by providing an easily searchable and highly public place to show the world what your shop can do.  For those that think it is only wedding cakes, cute shoes and ways to tone your butt muscles, you are sadly mistaken.  If you haven't already, check out my Pinterest board that I use for Visual Impressions called "Behind the Curtain at a T-shirt Shop".
I started using Pinterest when it first came out, and over time it has proven to be a valuable part of my social media plan, and a great source of inspiration for personal designs.  Maybe you've seen Pinterest, or even started your own set of boards but haven't really ever used it.  Below are my reasons why I think it's such a great tool, and why you should make it part of your routine today.  By the way, it's 100% free – which is the price I always like.
Shop Tours.  This is the number one reason by far.  It is incredibly easy to snap a few pics on your smart phone while you are working or walking around the shop.  Once you start, you'll start noticing shots that would make great images for your board.  I usually just take the shots and once a week or so load them to my Flickr account so I can pin them.  What makes a good shot?  Really anything, but try to compose it in an interesting way.  I want to show people different aspects of our shop that they might not get to see, and possibly some different production techniques in progress from the shop floor.  How do you hoop a shirt for embroidery?  How do you burn a screen?  Mix some ink?  Show your staff smiling and having fun at work.  Show what makes your shop unique, or what you are really proud of completing.
A lot of shops have the ubiquitous portfolio page on their website, but not a lot show actual production scenes.  To me, "how we do it" is more powerful.  Customers want to know that you can print over the seam on a hoodie, embroider using metallic thread, or print a logo on a bucket.  Plus, people like to see this stuff on a Saturday morning drinking coffee in their underwear on the couch.  Pretty scary thought, but it's true.
Once you build your board, you will find yourself sending it to new customers with your price list, or talking to a customer on the phone and sending them the link to a picture if they are asking about some particular production technique.  Photos are powerful, and harnessing that power can unlock a lot of doors for your shop.  Pinterest gives you tools to link your website to Pinterest, or Pin images from your site with this handy widget builder.  Here's where we put ours – check it out,
The Pictures
Your cell phone is in your pocket usually and if you are like me, you can't live without it. (How did that happen?)  Start today and pull it out of your pocket and shoot photos of the action in your shop.  Take a bunch of them; you can always delete the ones you don't like.  I always take multiple shots of the same thing; as you never know if the shot is too blurry or dark, or if someone isn't smiling. To pin images, I upload them first to my Flickr account.  This helps get them set up for the web.  Once loaded to Flickr, I use the Pin tool to place the photos to the Pinterest board.  It's very easy.  Here's a shot of my number one photo on Pinterest, which is the jig we made to quickly set up heat press numbers for sports teams.
If you don't have a photographer's eye, just do your best.  To compose your shot, what you are trying to achieve is to capture the action, but do so in an interesting manner.  I try to work in different camera angles than you would normally expect.  Everything on our Pinterest board has been captured with my camera phone, but some shots were the best out of maybe six or seven.  Shooting the object from different angles, or framing the subject in unique ways can lead to a more creative shot that simply squaring it up and taking the picture.  If you click on this link and go to the board, look at a few of the shots I've loaded.  Try to imagine how I held the phone or framed the shot to get the look I posted.  Now, try the same thing in your shop.  It's pretty easy and really fun…mess around and don't be afraid to fail.  The delete button is right there.
Now, think about your customer base and your sales approach.  What questions are you answering, or what do people not understand about the industry?  How can you show off your expertise?  Here's your chance to document your approach and answer their questions.  I know that when we give people shop tours, they are always fascinated with the process and to the person say "Wow, I never knew this much work went into this!"  Clients have a deeper appreciation for the great work that you do for them when they understand the process.  It's all about educating your customers.
Waves of Inspiration
Another great reason to use Pinterest is that it is a truly incredible place to find creative and graphic inspiration.  Top designers and artists are constantly posting their work, and if you follow them you'll see their stream of images in your queue.  Re-Pin the ones that you like, or maybe that have something interesting that you can refer to later.  I love to see how different creative minds are using color, texture, spatial relationships and composition.  Want to know my creative tastes?  Check out my board Design and see for yourself.  I also keep one just for T-shirts, as it's great to see different shirts out there.
Pinterest also allows you to create "Secret" boards that limits the access to just you.  What's great about that is you can pin images, tutorials, videos or other great things and keep them quiet.  Maybe you don't know anything about the difference between a font and a typestyle or how to create a mask in Photoshop.  You could pin the article link to this board and use it as a reference source later when you need it.  I have a few secret boards and pin to them on a regular basis.  One is focused on images for future use.  The other is food recipes that I want to cook, but I don't want to load my overall Pinterest board with these, as I want to keep it professionally focused.
Collaboration
One of the coolest trends with Pinterest is the ability to collaborate on a board with other people.  This means that you can allow your graphic design staff to share a board for inspiration, or maybe have your customers pin photos of them wearing your shirts.  It's not called "Social Media" for nothing!  Get others involved with your board and have some fun.
Sharing a board is also a great way to manage the work load if you are pressed for time.  Set some clear expectations and direction about what can be pinned, timing of the work, or other instructions.  This is a great tool to use for shops with staff that have a lot on their plate, but want to keep their social media presence moving forward.   Our site Ink to the People has a collaborative board just for fun visual references with a few of our designers, here's the link.     It's all about engagement.
Following Other People
As you use Pinterest you'll see images that you like, or you can use the search window to find them.  As you pin, start following people that are posting to view their latest pins in your stream.  You can follow them globally, so you see everything that they pin, or you can just follow one particular board.  If someone becomes overwhelming in your stream you can always unfollow them or that board later.  Like turning a faucet on or off, you are in control of the images that appear in your queue.
What I find interesting is to click on the source of the pin, and then snoop around that person's pins and boards.  You can find a lot of very intriguing and creative people to follow this way.  As you pin and follow other people, you will be tailoring the images that appear in your stream to your own personal tastes and interests.
Another thing to mention is that your customers and your competition are also using Pinterest.  Seek them out and follow their boards.  What insights can you glean from reviewing their habits and interests?  Some also post links to their other social media streams like Facebook or Twitter in their header at the top of the page.  Click on those links to start following them on other social media channels too.  You can learn a lot about them if you are paying attention.
Part of Your Social Media Game Plan
Pinterest is a great tool to use to broaden your appeal and focus on the visual aspects of your company.  If you are planning on starting or ramping up your Pinterest usage, think about what you want to accomplish and drive your work towards using the tool in that manner.  For example, if you just want brand awareness about your shop then regularly posting pics and sending out links to view is a great way to build that communication stream.  About once a month or so, I send out the link to the Behind the Curtain at a T-shirt Shop board, and get a lot of hits with it.  Our use of Pinterest on social media is about driving education to current and potential customers.  We want people to see our shop and capabilities.  That's the goal.  How do I know it is working?  I use Buffer to schedule all of my social media posts, and for anything you push out that has a hyperlink, Buffer can give you how many people are clicking, sharing or liking your post.  It is a great way to measure engagement and see what works.  When I post the Pinterest page, it's not uncommon to get 20-60 people clicking the link and taking a virtual shop tour.  Not bad for something that's free.
However, there are other uses on Pinterest too.  If the user clicks through the image it takes them to the original source.  So if you have an apparel line or brand, the user could click through to your order page to be able to order the shirt online.  Also, underneath the image you have the ability to write up to 500 words (not limiting to 140 like Twitter) to describe your image.  This makes your image more searchable, so be sure to add a description that might get you some extra hits if you word this section correctly.
Pinterest has a new business account too.  I haven't switched mine over yet, but I've been considering it.  It's been set up to be more professional and social media friendly than just a normal "personal" account.  To be fair, I haven't tried this yet but you should look into it.
There are also third party software apps for Pinterest that can help you, including Shopintoit, which is a Pinterest store builder.    Woobox helps you create Pinterest contests, coupons and other things you might find creatively useful.   Visual.ly can help you create info graphics about your shop or brand.
So who is doing a good job on Pinterest so far?  Here are some boards that I follow and like (all for different reasons):