I'm just going to say it. Stop protecting 2020.
This year, frankly, doesn't need your help. It's already junkyard dog mean.
I've written several articles about how to reinvent your business, plus a book, "Moving Past Disaster" that can help you recover from the pandemic crisis.
A lot of businesses are finishing up the third quarter a lot stronger than they left the end of the second quarter of this year.
The fourth quarter of 2020 might even become a winner if you have done the work and invested in an online presence with online stores or building the fulfillment muscles to handle other company's online store orders.
But the one thing that I want you to really start focusing on is getting the first quarter of 2021 right. We need to be heading into this next year with clarity of purpose, strategic plans for the future, and the willingness to do what it takes to succeed.
Here's Why I'm Saying This
The pandemic crisis isn't going to magically disappear this year. We are in a marathon struggle. The solutions that we needed to get this COVID-19 challenge behind us have not appeared.
Small businesses everywhere, including yours are still at risk.
You can feel it in your gut, can't you?
I think we are all waiting for another shoe to drop. Will it be the election results? The appearance or non-appearance of a vaccine? A crazy crash in the markets? Maybe a farm plague on cotton?
Who knows?
I'm completely over trying to use my obvious inadequate tea leaf reading or crystal ball gazing skills. None of that semi-voodoo wishful-thinking stuff is working.
Success Is Being Found Here
What is working is good ol' fashioned hard work.
There is light at the end of the tunnel. But we just don't know how long the tunnel really is for us as we navigate through it. And do you hear a train whistle?
Seriously though, what is working is that businesses are reinventing themselves. Companies used to do one thing, but now they are doing something else.
Or they disappear.
Right now this is happening:
Millions of workers are learning that they don't have to go to the office to get work handled. How has this transformed the way you or your customer's work? Have you made changes to help?
Malls were maybe-kinda-sorta on the way out in 2019. Do you remember the "retail apocalypse" that everyone has been talking about for the last few years? It's here. Physical retail stores everywhere are closing. Most for good.
Online sales are insane, and only growing larger.
Digital communication is at an all-time high. How many Zoom calls are you in a week? Who wants to make this better raise your hand?
As companies lean down their staff, they are increasingly outsourcing the work to other companies. Is that you?
As workers have lost their jobs, people everywhere are trying to make ends meet with gig economy work.
To me, it seems that trust is at an all-time low. A lot of this has to do with either a lack of information or too much contradictory information. This means that for a lot of consumers, they are simply stuck with a "wait and see" attitude. How are you building trust?
Stop Protecting 2020
This year is virtually over. I want to get to 2021 already.
I can't help but think the air in that year might even smell better. Yeah, I know. I'm too optimistic. We all know the stink of 2020 is going to carry over.
It's not like New Year's Eve 2020 is some sort of magical bubble wall.
The point of this article is that I am lobbying you to stop trying to get back what you've lost this year.
The wishful thinking of "if only" isn't helping.
Wishful thinking: "If only we have a great September, we can head into the fourth quarter with some momentum."
Reflects your sales planning and marketing: "If only we have some decent sales this holiday, it will make up for that dismal spring."
Cross-training solves this: "If only we could find a (Insert "production manager", "press operator", "salesperson", "social media help", "graphic artist", or other position) we could be in better shape."
"If only we had more answers." – Are you asking the right questions?
Take Control of 2021
It will be here before you know it.
You need to be thinking about the first quarter of next year, right now.
Why?
Because your competition isn't yet. Actually, I don't think many business people are even thinking about January and beyond.
Black Friday, Cyber Monday, Holiday sales, Fourth Quarter Results, and other big business landmark dates are eclipsing that thought.
Think back to January of this year. How was that month for you? I know, it feels like five years ago. Jump into your system and run a report. Maybe pull up 2019 and 2018 too.
Who ordered?
Are those customers still around?
If you think 2020 was awful, just wait until you stare at the beginning of 2021 and realize that it already looks really empty. Thanks a lot, COVID.
You better stop protecting 2020 and start thinking about getting a jump on 2021.
Some Food for Thought:
Service industries are going to explode. Especially companies that deliver. People are getting used to having goods and services brought to them. Fact: I just had my gas grill propane tanks switched out and I didn't have to go somewhere for the refill.
Get your company set up to rank with voice search.
Your webpage could be your most valuable sales asset. How's yours? When was the last time you updated it?
Do you like the location of your business? As more real estate properties emerge for sale or lease, you could upgrade your address to a better location. Be ready.
Many companies are hurting for sales. Can you partner with a company to offer a new product or service?
All problems in front of you can also be viewed as opportunities. Are you open to them?
Nervous Energy
I'm talking to many business owners and everyone that I speak with seems more optimistic lately. There is nervous energy.
Sales are down, but profit margins are up. This is mainly due to shops being forced to lean out the labor and do more with less.
As we collectively stare down the rest of 2020, my wish for you is that your leadership brain is already thinking about next year. Strategy and planning need to happen now. So many things have changed.
You are seeing that now.
The 800 lb. gorilla in the room is the question: "What are you going to do about it?" High impact actions now, can have huge dividends in 2021.
Actions to Take
Automation. Remove labor and streamline services or workflow from your processes.
Invest heavily in a webpage, online stores, or any digital communication method of working with customers.
Cross-train more staff. Gone are the days where your crew only had one focus. You need help in other areas and to build your bench strength for key positions.
Rebuild for speed. How can you do things faster, but with better quality? Simplify.
Hire right. There are fantastic people out there that are jobless due to COVID. They may not be in your area. You can instantly add talent, skill, knowledge, and reputation to your company by bringing new staff on board.
Map technology changes to customer needs.
Critical thinking. Abraham Lincoln once said, "Give me six hours to chop down a tree and I will spend the first four sharpening the ax."
Flex your marketing muscles. As other companies are pulling back, now is the time to get ahead. Remember, your marketing has to be about how you solve your customer's problems and how you make them the hero. How are they going to feel after working with you?
2020 will go down forever as the year where the wheels completely blew off the bus. Let's get past it.
Start the process of rethinking your sales and marketing for next year. This needs to happen now. Get out in front of it. Talk to your customers, especially ones that ordered from you in the past in the first quarter. Lead with empathy.
Let's tame the next normal.
---
"Quality is not an act, it is a habit." – Aristotle
"The way to get started is to quit talking and start doing." – Walt Disney
"You can't build a reputation on what you are going to do." – Henry Ford
---
Shirt Lab Tribe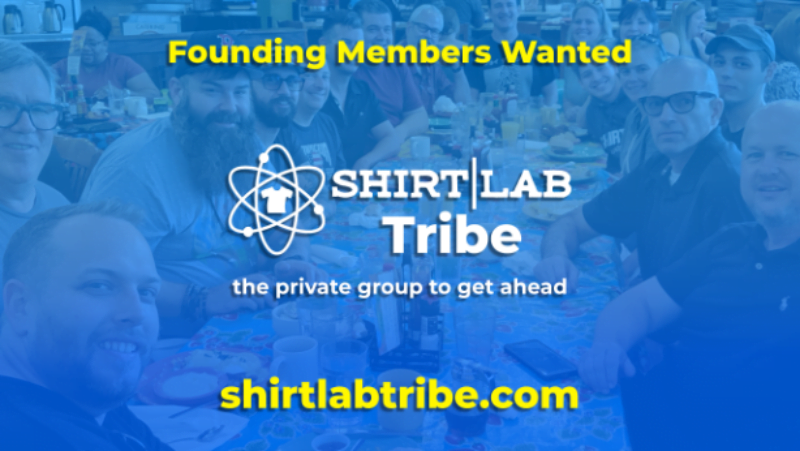 Are you searching for the latest in sales and marketing tips and tricks for your shop?
Do you want to hang out with dedicated decorated apparel industry entrepreneurs that are interested in helping each other succeed?
Now there is a private place for that.
Shirt Lab Tribe.
This is a group that is built and dedicated to only one purpose. Helping you succeed.
Join today. Click the button below and take the action you need to hit your goals.
We are closing out our Founding Member discount rate. Currently, it is $49 per month to join, but just around the corner, this will be increasing to $99 per month.
Don't wait!