It is official.  Shirt Lab St. Louis was an amazing success.
One of the most interesting takeaways from Shirt Lab St. Louis was the fact that I was awestruck by the tremendous amount of expert knowledge not only in the room but being delivered by the instructors.  As one of the founders of Shirt Lab, I had the presentations from the instructors well before the event.
I knew what was coming.
But I wasn't prepared for the brain melt that transpired as I listened to the interactions between the Shirt Lab attendees, instructors, and sponsors in the room.
As each segment was delivered, the knowledge bombs stacked up.
Never before has the phrase, "You must be present to win" has been more truthful.
Even the instructors, experts in their fields all, paid rapt attention and asking fantastic follow-up questions.
It was just that kind of day.
But, let's back up a little bit.
First, Shirt Lab St. Louis was in St. Louis
Have you been to the "Show Me State"?  It was a lot of fun and really easy for our attendees to get too.  Nice airport or an easy drive.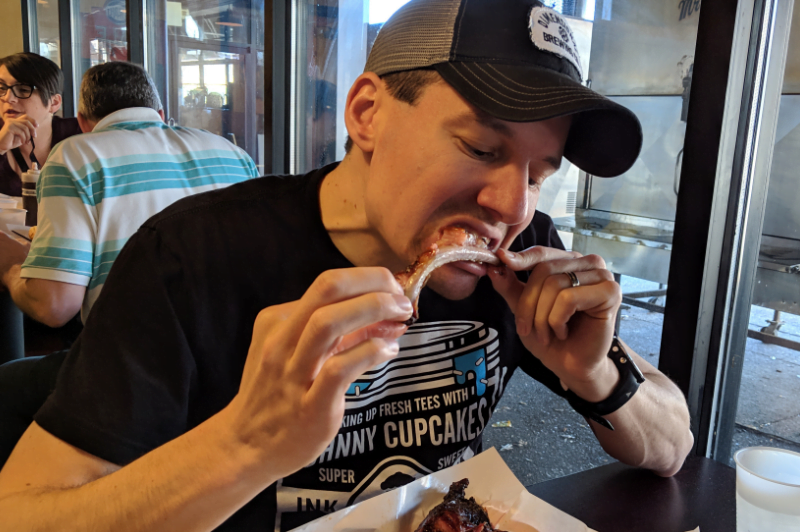 Plus there is the BBQ.  On Thursday we stopped in at Pappy's Smokehouse.  Tom can tear up some ribs.
Huge Shirt Lab Shout Out to Sponsors
Tom and I can't do it all.  Believe it or not, we need help.
This comes in the form of our incredibly generous sponsors.  Please drop what you are doing right now and throw them some business.
Here's why.
They can't sell equipment, shirts or ink at Shirt Lab.  They back us because it makes the industry better.
We're not a trade show.  Tom and I just want to make the industry better and build a tribe of like-minded people who share that same dream.
Diamond Level
Gold Level
Silver Level
Bronze Level
Lawson Screen & Digital Products
Supporting Sponsors
Shirt Lab Host Shop – Kick Print
One of the things we like to do is to network with a local printer for a Shirt Lab event.  In Columbus Ohio, that was Nate Leber with Leber Designs and Graphics.
In St. Louis it was Jonathan and Danielle Tynes with Kick Print.  They run a fantastic shop, and really have their processes dialed in.  Impressive.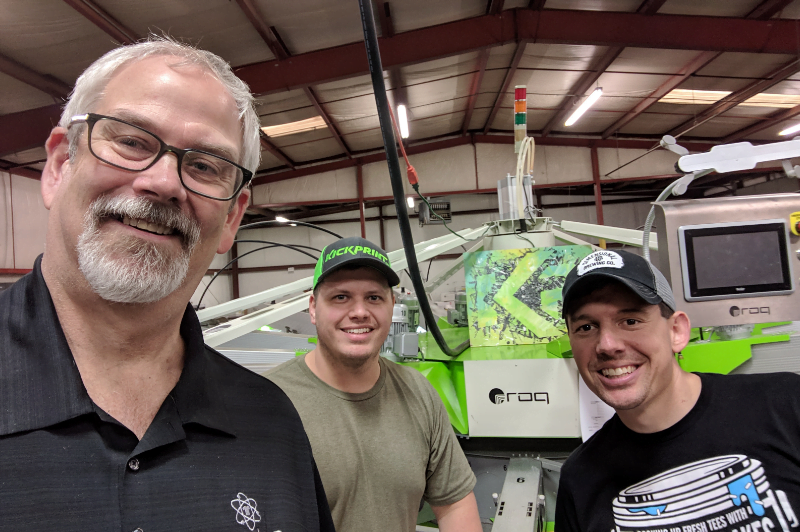 Shirt Lab Live from Lawson Screen & Digital Equipment
On Friday around midday, we journeyed over to Lawson Screen & Digital Equipment for a fun tour of their shop and broadcast a Facebook live event.
Here's the video link from that visit from Lawson's recording.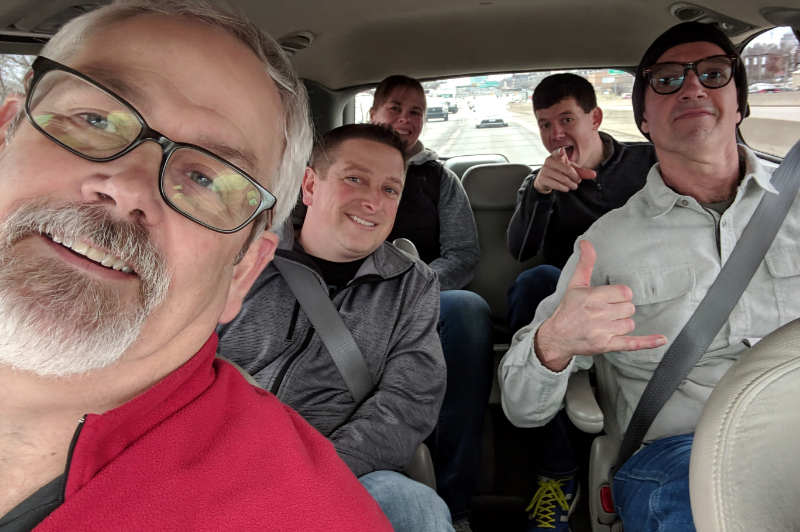 Shirt Lab attendees Bobby Harris with K&B Promotions (2nd Shirt Lab), Megan Urban with IdntiTeez (2nd Shirt Lab) and Darryl Garcia with Color Tech (1st Shirt Lab) all Ubered over with us to Lawson for a fun tour.  Huge shout out to Taylor Landesmann for his hospitality and financial support for Shirt Lab.
Shirt Lab Friday Night Networking
For our Friday Night networking event, InkSoft helped us build a perfect event.  First, we had it at the Budweiser Tap Room in Ballpark Village.  We had our own section and using Shirt Lab / InkSoft pint glasses, everyone helped themselves to our own selection of about ten beers.  You just pulled your own beer.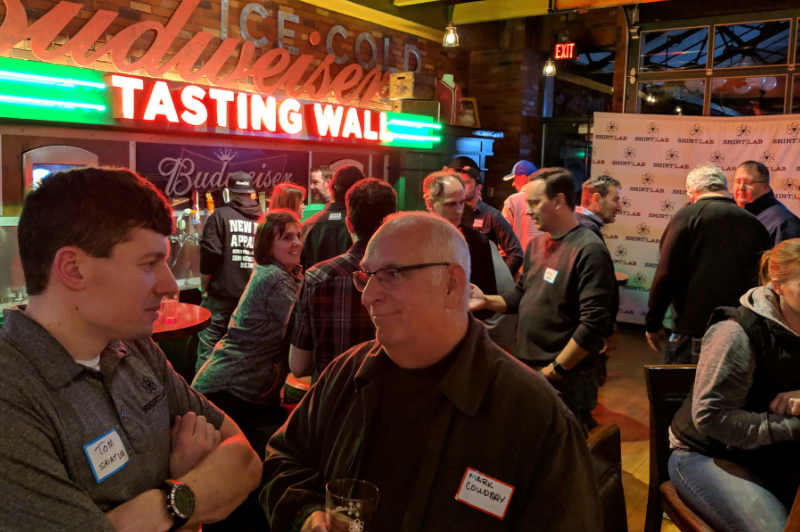 As usual, our networking event is the Rock Paper Scissors championship and Danielle Tynes from Kick Print was the Shirt Lab St. Louis champion!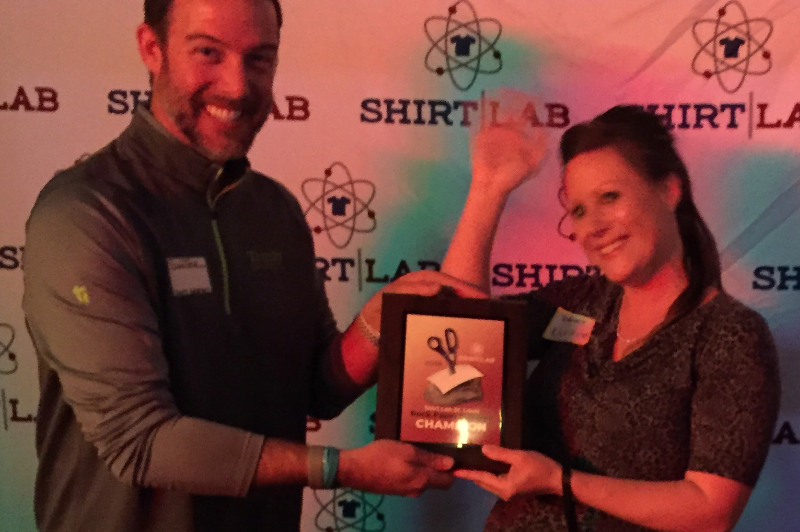 Here's a fun shot of Danielle being presented the trophy by Scooter Cardoza from Trinity Graphics, who was the Shirt Lab Columbus winner.
Big shout out to Kevin Loose (Shirt Lab Columbus) and Custom Craft Trophy for supplying the hardware.
Shirt Lab – Personal Branding & Networking
Shirt Lab co-founder Tom Rauen kicked the day off with his personal method of inventing the "interesting character" in his hometown of Dubuque Iowa.
Why was this important?
For starters, when Tom walks into a room just about everyone already knows who he is and what he does.  He's worked very hard at creating this persona to his advantage.
Which is why he's been featured in the Wall Street Journal, USA Today, on television news channels, and all of the other local media.
Journalists call him for his opinion.
But it wasn't always that way.
He's always at work creating new and interesting ways of getting his brand out there.  From setting the Guinness Book of World Records for wearing the most t-shirts at one time (247), to being the national polar vortex correspondent for international media by freezing a wet t-shirt on the doorstep of his shop.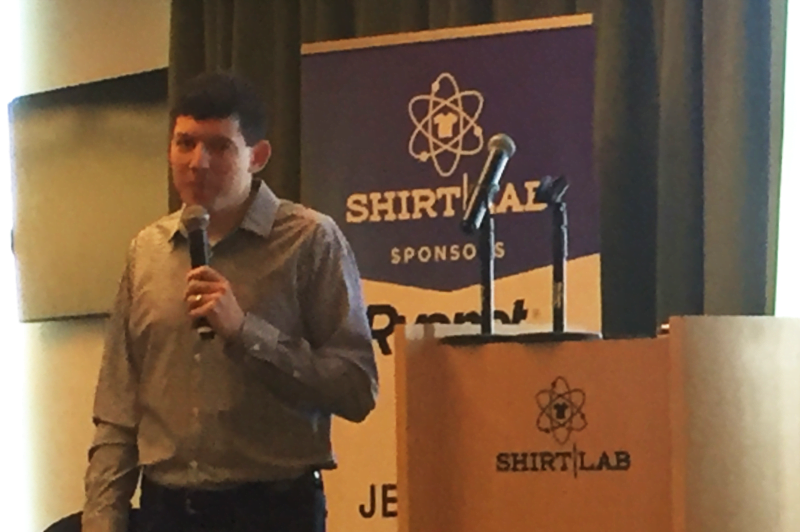 He even got coverage when the Catholic church was convening to name the new pope, which coincided with the month of March, by creating the "Pope Bracket", which was a March Madness type bracket of all of the cardinals that were slated to be picked.
It's always something different, and Tom walked everyone through his journey for building his brand.
Shirt Lab – Facebook Ads Simplified
Next up was Matt Plapp.  Matt travels the country training companies on how to use Facebook to gain more customers by using primarily one tool, Facebook Messenger.
Matt has an interesting take on "normal" marketing and that is the proposition that nobody is consuming your content as they did before, or at the levels that you expect.
Think about it.
Let's say you have a mailing list of 2,000 customers.  If you are pushing out some interesting content, you might have an open rate of about 20-30%, and a click-through rate of 10-20% of that.
That's 400-600 people opening that email, about 40 – 120 people reading it.
Out of 2,000 people on that list.
Matt walked everyone through a different journey using Facebook Messenger and creating automated bots.  These would be set up on your brand page, not your personal page.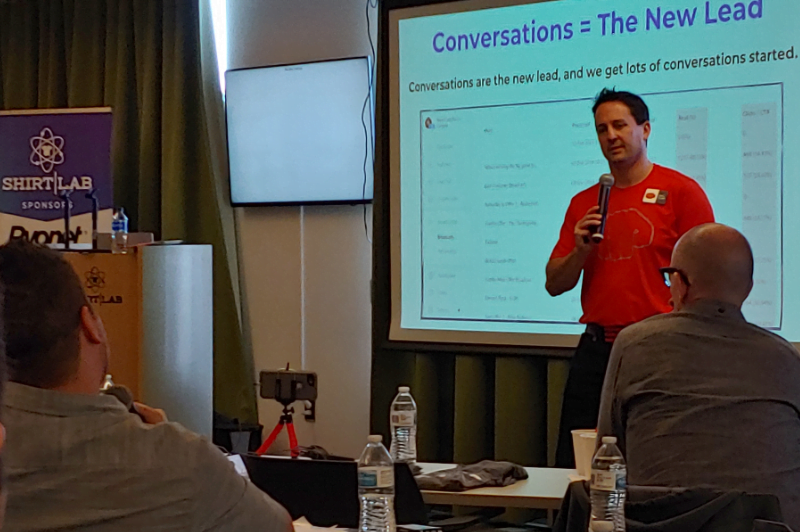 He likes Facebook Messenger because it is a more human way of engaging your audience.  He uses segmented and highly targeted posts that will generate open and engagement rates that are 80-90%, instead of 10-20%.
That's because they are taken down a path that filters out the message and who gets it.
It's not one-size fits all.
Matt carefully explained how he builds this out, and he answered dozens of questions from the Shirt Lab crowd.
Shirt Lab – Starting a Subscription Service
I polled a number of the attendees before the event, and this segment taught by Justin Lawrence of the Oklahoma Shirt Company was one of the main reasons many of the attendees came to the event.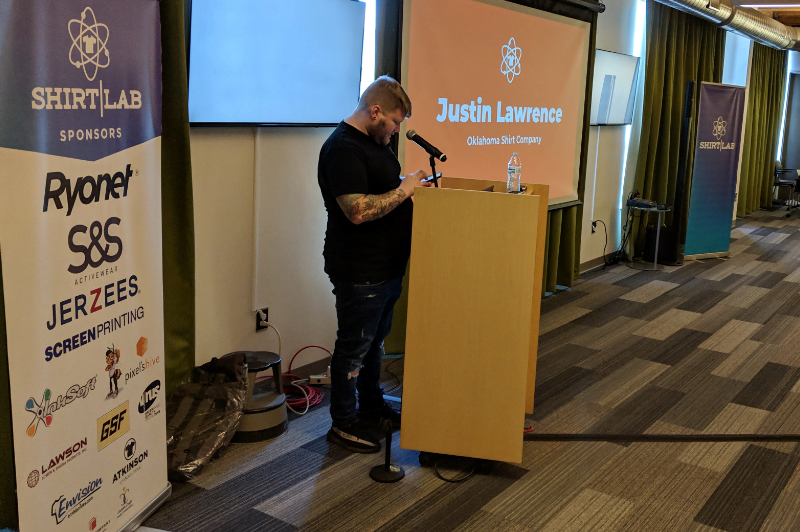 Justin wove his journey into the industry and told the tale of how he started the Oklahoma Shirt Company subscription t-shirt idea.
It was funny, inspiring, and loaded with "How-To" and "You Better Not" tips.
Justin shared his failures too.
It was awesome.
In fact, one of the things I like the most about Justin's presentation was constant words of caution.  He wanted to be clear about expectations and the amount of hard work it takes to build that service.
A lot of his success with running a subscription service comes from being organized and working backward from when he wants his customers to get the new t-shirt for the month in their hands.  His shop has everything mapped out and they use a calendar for planning each step along the way.
Justin is a printer's printer.  He was open.  Honest.  He shared his mistakes so that audience members could start their subscription service and (hopefully) not make them.
It's going to be fun tracking how many shops that attended Shirt Lab St. Louis launch their t-shirt subscription idea in the next few weeks.
Shirt Lab Shout Out – PixelsHive
All that learning produced the need to fill up our bellies.  PixelsHive provided catering to our crowd for lunch.  It was fantastic!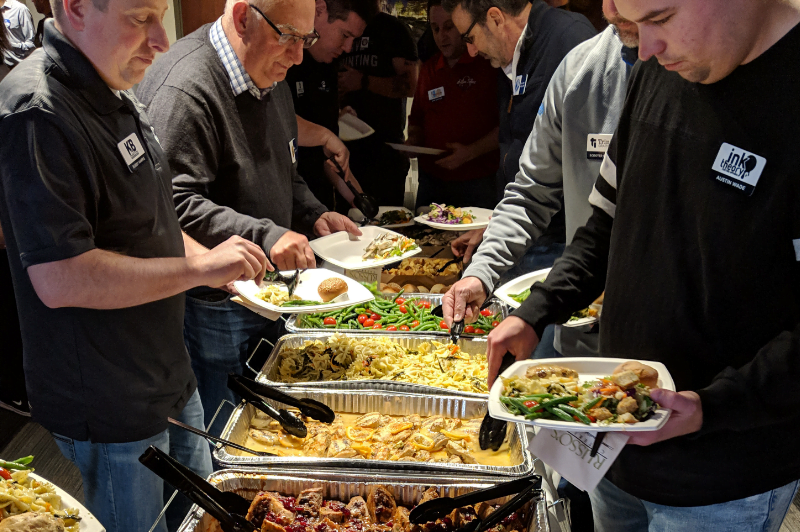 Lunch break was an hour and afforded many conversations about what was taught during the morning sessions, as well as follow up questions with the Shirt Lab workshop instructors.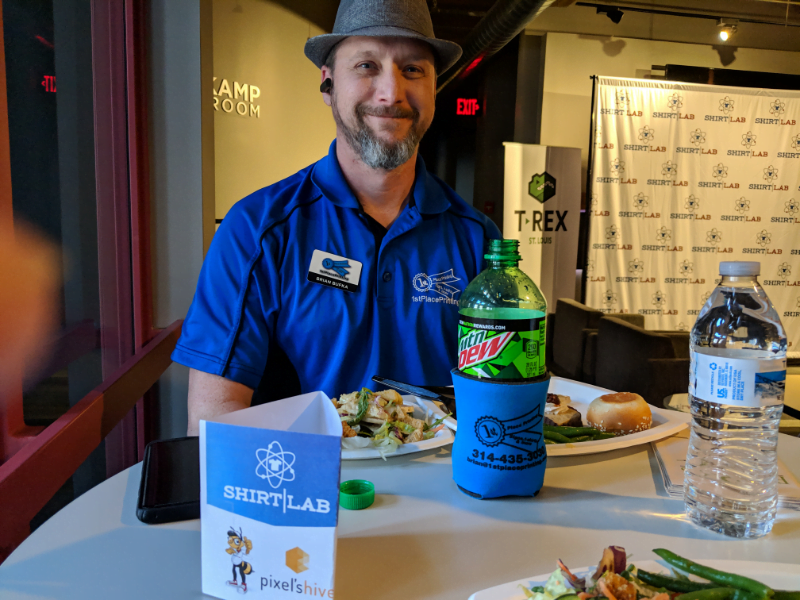 Personally, I chose to eat with Brian Bufka with 1st Place Printing, as we're Facebook friends and in a lot of the same industry groups.  It was wonderful to get to know him better and hear his story about his shop.
Time spent working on connections like these is what makes Shirt Lab tick.
Shirt Lab – Profit First
You can literally say that Mark Coudray "blew the doors off" with his presentation.  How can I make that statement?
Look at this.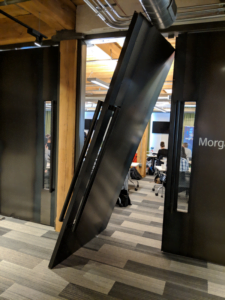 During his talk, someone was quietly sneaking out to use the restroom and this massive solid metal door fell off the hinges to a thunderous crash.  Nobody was hurt, but it was a dramatic moment for sure.
Profit First is a best-selling business guidebook by Michael Michalowicz.  Mark is not only a Profit First Professional, but he has an advanced Profit First certification so he has access to higher level information and resources.
Read Profit First
If you haven't read the book, click here and get a copy today.
Mark walked everyone through what it means to take a shop through the Profit First journey.  It's one thing to read the book (or listen to an audio version), it's another to hear a member of our community describe how it works for our industry.  Specifically.
Except for the crashing doors, the sounds of pens scribbling in their Shirt Lab journals, the audience was quiet.  This was the good stuff.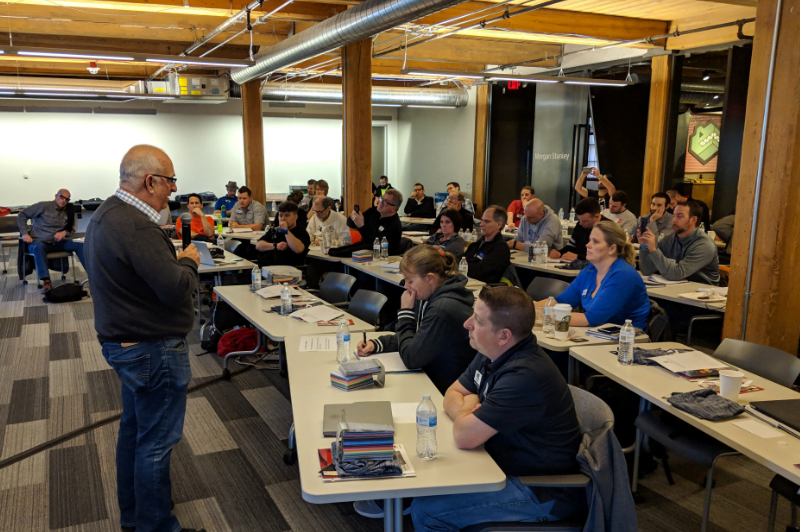 Even one of the speakers, Matt Plapp, came up to the front row to absorb this information.
It was that good.
Shirt Lab – Branding Your Shop with Video
Every Shirt Lab has Ryan Moor doing something with video, but his presentations for each one are uniquely different.
For Shirt Lab St. Louis, Ryan walked everyone through the process of building a video to brand and highlight your shop.  He used a few specific examples of already published videos and then dissected each one.
What worked well?
Could there be any improvements?
What should they change?
From the thumbnail chosen to how the videos could be improved for SEO value, Ryan delivered the goods on the foundational basis for constructing branded videos that work for your shop.
He even walked Shirt Lab attendee Jim Barboza with Gateway Shirts Marketing Group through the finer points of outlining steps to make his videos better.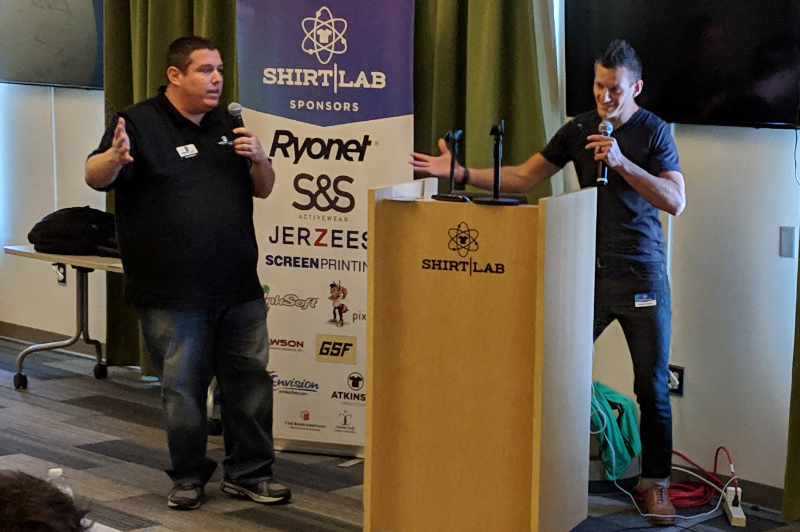 It was inspirational.
Ryan even made me want to do more with video, as that is something I've been wanting to do for some time now.
Shirt Lab – Automated Marketing
We pegged Lori Feldman, who is the self-titled "Database Diva" to help us with this segment of Shirt Lab.  She was fantastic.
Lori delivered her presentation in a no-nonsense, but warm and soothing style.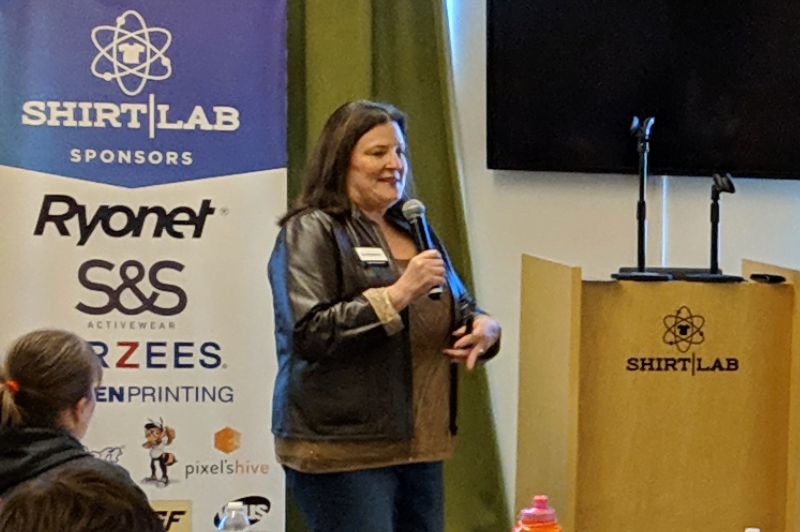 She spoke eloquently on what she calls her "Treasure Triangle" for automated marketing.  This consists of three areas.
"Sell Stuff Now!" through the use of an email or newsletter.
"Drive Traffic" using targeted landing pages.
And "Automated Marketing", which uses trigger-based functionality to push potential customers toward action.  As the workshop discussion was about automated marketing, you can probably guess which of the three works best.
Text vs HTML
She then expounded on how to create automated marketing emails that work and demonstrated why text-only emails get a significantly higher rate of return and engagement.
Lori then dove into illustrating a step-by-step blueprint for two automated marketing campaigns.  One was a for a 30-Day Onboarding New Customer Campaign, and the other was a Quote/Proposal Follow Up Campaign.  Lori says that 100% of your database should be on some sort of automated drip campaign 100% of the time.
You just have to build that.
She closed with sharing her 11-word top performing email of all time.  I'll bet you wish you knew what that phrase might be…
Shirt Lab Q&A Roundtable
At Shirt Lab Columbus we asked the attendees on our feedback form how we could make Shirt Lab even better.  The most popular response was more interaction with the instructors with a Q&A session.
And that's exactly how we closed the day.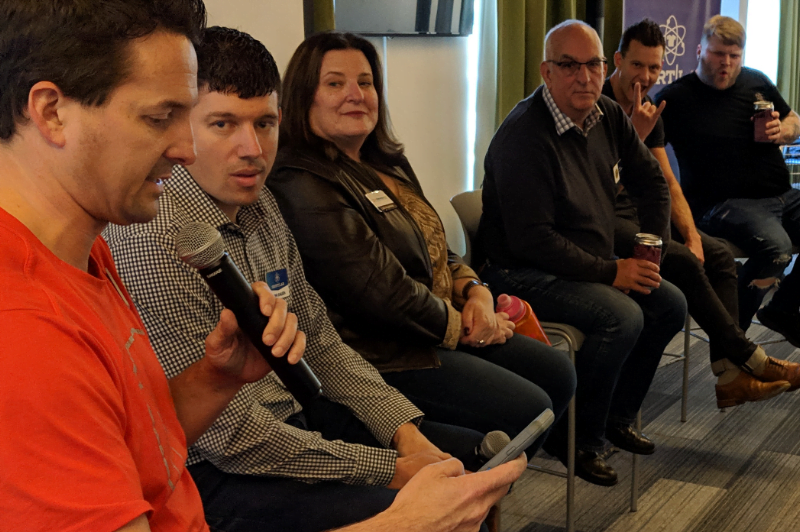 Attendees jotted down their questions for our panel of experts, and that started a few incredible discussions.
Often involving multiple speakers and the Shirt Lab crowd.
Shirt Lab Attendees Comments
We asked for feedback from the attendees at Shirt Lab St. Louis on what they thought about the event.
Here are a few:
Success
"I loved that the event is geared toward helping screen printers succeed in business.  Each session was better than the previous.  Shirt Lab will change the way I run my business." – Ron Witters, Titan Graphics
Organized
"Event was well organized.  I am able to walk away with action steps that I can implement easily and immediately.  Well done!" – Jim Barboza, Gateway Shirts Marketing Group
Interaction
"I enjoyed being able to have a good amount of 1:1 interaction with each of the speakers and being able to dial in on subjects with others who have proven methods that work." – Nicole Langone, Re13ntless Customs
Coming Back!
"Well done!  Thanks! See you in May!" – Alison Banholzer, Wear Your Spirit Warehouse
Take Action
"Shirt Lab was awesome again.  Every speaker brought great content.  Now I just have to decide what actions I need to take Monday morning." – Bobby Harris, K&B Promotions
Passion
"First class event, all around.  You guys thought of everything (except toppling doors!!)  Love all the passion from everyone in the room and the whole continuous learning vibe.  Thanks for inviting me!" – Lori Feldman, The Database Diva
Start Implementing
"Shirt Lab was great again.  All of the speaker's presentations were wonderful.  It's exciting to take information back home and start implementing what I've learned today." – Megan Urban, IdntiTeez
First Class
"Best event in the industry hands down!  Pages of notes taken that is certain to add to our bottom line!  First class!" – Jonathan Tynes, Kick Print
Your Voice Can Be Heard
"Love this event!  I was glad to see that it is a smaller crowd…people don't get overlooked and their voice can be heard.  It's also less intimidating.  I'm excited that not all Shirt Labs will be the same…different themes and different locations.  The fact that all the slide presentations are sent out to you is great!!  It allows complete focus on the speaker…not just pen to paper." – Danielle Tynes, Kick Print
Engaging
"Loved the presentations from Justin and Tom.  Both very engaging and interesting.  Really liked the roundtable at the end of the day. Overall I really enjoyed the day, speakers and networking." – Jess Niebrugge, Designs Unlimited
Head Spin
"Very informative!  Makes my head spin with ideas!  Every speaker gave me an "a-ha" moment!" – Tina Brumleve, Designs Unlimited
Extra Helpful
"I had a great time and learned much.  I found Tom Rauen, Mark Coudray, and Justin Lawrence was extra helpful.  For future speakers, I would like to see someone talk about running a production floor, training, and motivating employees, and ways to increase production numbers." – Kyle Petersen, Visual Impressions STL
Love My Job Again
"Shirt Lab was a great time.  Being able to meet and be around people from all over who knows and completely in the same boat as you in a career set.  It was a great time being able to talk shop with people who get it.  Two of the speakers, in particular, were great to listen to and truly inspired me.  I learned a lot, and it truly made me more excited and love my job again.  I look forward to using what I've learned here today.  Thank you very much for having us!" – Gabrielle K Kohlmann, Visual Impressions, STL
Great Workshop
"I loved Mark's presentation.  Profit First.  I want to learn more about this.  Matt's – spend $ to grow the database.  Justin was awesome!  I loved how he asks suppliers for free shirts for his staff.  Great workshop!  So much great info." – Scooter Cardoza, Trinity Graphics
Next Up – Shirt Lab Washington DC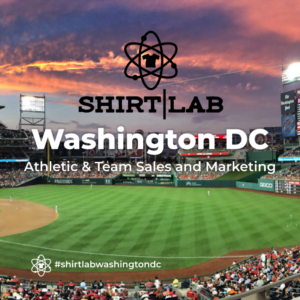 Are you hitting constant home runs with your sales and marketing efforts?  Want to learn from the best industry pros and develop a new strategy that actually works?
Then Shirt Lab Washington DC is for you.
May 18, 2019
Not only is it built for Athletic and Team Sales and Marketing, but we're actually having it in the Reagan Room of the Washington Nationals stadium.  Plus, every attendee after the event on Saturday will get to stay and hang out with us as we watch the Washington Nationals play the Chicago Cubs.
This Shirt Lab is all about sports.
Whether you are catering to team sports like soccer or Little League, cross fit gyms, or 5k races.  As you know, this is a niche all it's own.
That's why we are bringing the heat for this special event that is built to make you better.
Here's the topic line up:
Hit a home run with Athletic Sales
Seasonal Action Planning for Sports
Team Webstores for Sports Sales
Crushing Your Sales Team Goals
Increasing Your Revenue with Sales Team Bundling
Educating Customers with Video
Plus an "All-Star" Roundtable!
This event is about you winning.  Let us help you develop the tools and strategy you need.
[av_button label='Get Tickets' link='manually,https://shirtlabpro.com/shirt-lab-washington-dc/' link_target='_blank' size='x-large' position='left' label_display=" icon_select='no' icon='ue800′ font='entypo-fontello' color='theme-color' custom_bg='#444444′ custom_font='#ffffff' av_uid='av-u6v7r6′ admin_preview_bg="]