He said, "You have to care enough to confront." Wow. What a mind-blowing phrase. Especially in this industry.
What we are talking about here is the fact that sometimes staff members don't have the psychological safety to speak their minds. They know something isn't working the way it should. But, anytime they say something or voice their opinion because they care about the end result, they feel that they either are going to get in trouble or cause a ruckus.
So, they keep quiet.
This is how and when small problems seem to escalate into much larger ones. Then, the conversation can quickly turn into an unnecessary accusation, "Why didn't you say something?"
Here's the Story
A few days ago, I spoke with a regular coaching client. We talk weekly and were discussing the fact that their year to date sales numbers were up. Both in top-line revenue and bottom-line profit.
One of the reasons why was that this shop has been consistently working on changing its company culture. Previously, there was more of a collection of individuals all just going about their business.
Now, by weeding out staff members that didn't fit (including a production manager) and choosing to hire new employees that are in alignment with the company's teamwork vision, they have achieved some remarkable changes.
Errors are down. Not just in production, but with other department quality issues as well. They have checklists and MORE processes.
Efficiency is up. They are now moving more orders through production at a faster rate, with the same employee headcount.
Job satisfaction has increased. Staff members are happier. Everyone works toward a common goal. People feel like they are being listened to and their ideas acted upon.
They are catering to different customers. By sticking to their guns on points such as pricing, minimum quantities, and 100% payment upfront they have changed their customer profile to a higher caliber customer that is in alignment with what they do best.
This is because the current team cares enough to confront the challenges as they are happening. Previously, most of the staff might let that small incorrect or missing detail slide.
Now?
Someone is speaking up about it immediately and will work make it right.
How Did This Happen?
It's no secret how this came about.
It was hard work. Some of it was uncomfortable as they had to make some difficult choices. Let's review some of the points so you can possibly make these changes in your shop.
Safety
It starts with Safety. Not just physical safety, but mental, emotional, and psychological safety as well.
Your team has to know that you care about them. Their health matters to you. Not just their physical health, but what's ticking around in their heads too.
You might think or say to yourself, "But of course, we care about our people! They know we have their backs." But unless you actually say the words and demonstrate this mindset with actions, it is hyperbole. This starts with active listening and ends with positive actions to make things better.
In this case for the shop in question, that meant removing people that were not on board with the bigger vision. Which is tough to do in today's "can't find enough people to work" situation that businesses everywhere are in.
But they did it anyway. A year later they have double-digit net profit increases to show for it.
How is keeping whats-his-name because you don't want to hire anybody better working out for you?
Community
Does your team consider that they belong to a special tribe at the workplace?
It's been said before that "our company is a like a family." I think that is the wrong way of looking at it. For me, a company is like a community.
A community is a group of people that are banded together because of a common interest or purpose. Such as they all work for the same company. Communities that thrive are built on a common purpose, communication, vision, teamwork, and some leadership sprinkled in for flavor.
But the one thing that really makes a community thrive is empathy and caring for one another. How is that being demonstrated daily in your shop?
Are you rewarding that? Better, are you participating in that?
Appreciation
One of a human being's utmost desires is to be appreciated.
Every employee at any company constantly wants this trait to show up and prove that they made a good choice for their employment.
Sure. They could work really anywhere. How many competitors do you have within 15 miles from you?
There is a reason why people choose to work for you. Do you know your employee's personal reasons why they come in every day? Remember, they literally can work anywhere right now. Everyone is hiring. Probably at a higher rate than you.
When was the last time that you said "thank you" or "good job?" For my client that I'm writing about today, this is constant, almost daily behavior from the owner. Company culture is incredibly important, and active listening and acts of appreciation consistently are demonstrated.
For example, during a recent employee birthday party celebration the work staff stopped the lunch early so they could go back to work. They had "orders to finish" was the reason. This was not a manager's or owner's decision. This was a screen printing press operator that spoke up.
Would that happen in your shop? Do your workers have an ownership mentality?
Vision
What is the vision for your company? This is what makes people care.
Does your company have and operate by a set of Core Values? Are big decisions being filtered through that lens? Can you go from chaos to clarity?
When your crew is fully engaged at work, they know that what they do matters. There is a reason why they care. The overall company vision drives decisions that are being made.
Yet, some shops are rudderless. They lack vision. There is no direction. And the results probably match.
When Things Go Wrong
Yet, nothing is ever perfect. Mistakes happen. People get frustrated. It is summer, so when it gets hot people tend to have short fuses.
So when the statement is "Care Enough to Confront" what you don't want is an argument or a yelling match about something. That's not what we are talking about here.
Confrontation is not a license to point the crooked finger of blame.
When things go wrong this illuminates the opportunity to create improvement. Care enough to confront simply means that the team is all in on making something work better. "Help me understand why this didn't work?" or "Why did this happen?"
It's been said that "teamwork makes the dreamwork" and this is accurate regarding continuous improvement and problem solving.
Blue Genie Question
One of my favorite on-site excercises is to ask employee is, "Pretend I gave you Aladdin's lamp and you rubbed it, and a magical blue genie appeared. The genie will grant you one wish to make your job easier or the company run better. What are you spending your wish on?"
I've been asking this question in shops for years. It is always astounding to me that some of the responses are for the easiest to fix things.
You have to care enough to confront your employees about what's broken. Yes, it may be painful to hear. Maybe there are things that they are going to want you to buy. There could have to be a change in company policy or a process.
But when you start implementing the changes that your staff outlines to make things better…that is where the real blue genie magic happens.
Alacazam!
---
"It is amazing what you can accomplish when you do not care who gets the credit." – Harry S. Truman
"Is it ignorance or apathy? Hey, I don't know and I don't care." – Jimmy Buffett
"Nobody cares how much you know, until they know how much your care." – Theodore Rooselvelt
---
Help Support This Blog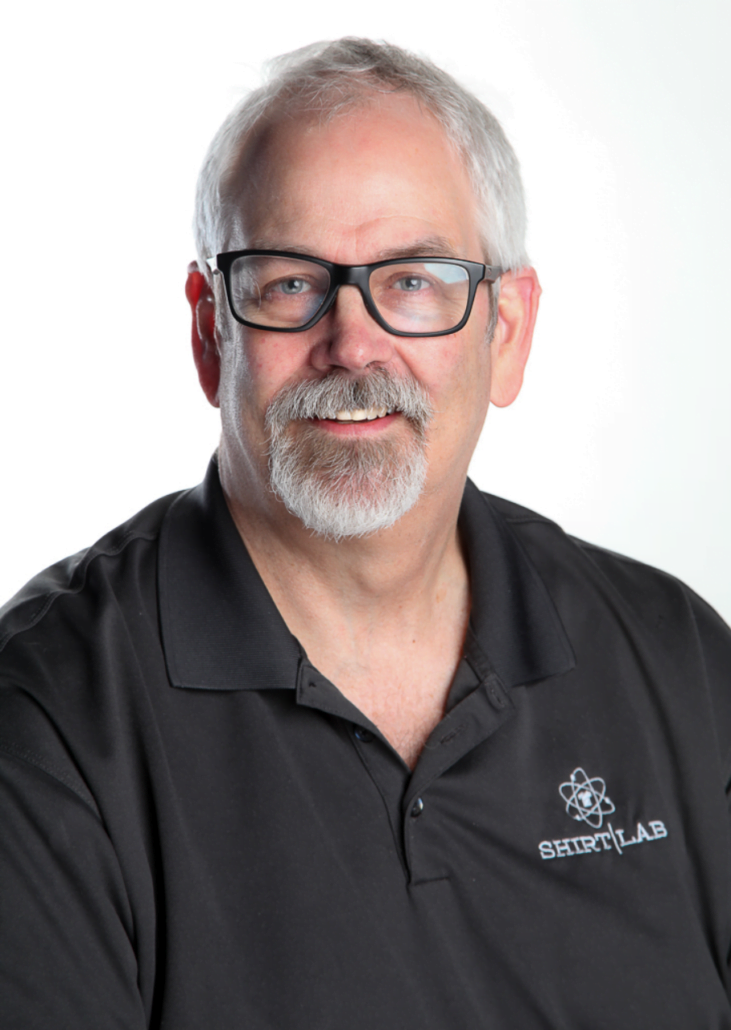 If you like this blog and would like to support it, you can:
Share this blog on your social media.
Subscribe to the Success Stories podcast.
Watch and like an episode on the Jerzees Adventures in Apparel Decorating YouTube series.
Get signed up for the new Production Tracker app.
Also, my basic elevator pitch to you is I'm about "Clarifying uncertainty through best practices to accelerate forward momentum." If you need help and want to learn more, please schedule a discovery call here.
Thanks!

Marshall Atkinson also shares exclusive blog content at Supacolor.com. Supacolor makes The World's Best Heat Transfer and provides tips, inspiration, and other resources designed to empower professional garment printers.