Hopefully by now you have seen a marketing post or two about the upcoming Shirt Lab Summit that will be held completely online and for free June 1 through June 3, 2020.
Our team at Shirt Lab has been working incredibly hard for the last six weeks or so building this online event.
This article is meant to be half a teaser, and half some information you can use to understand what's going on with the event.
For a fun snapshot, grab our event guide and flip through it.
Monday, June 1 – Sales
Bruce Ackerman – Printavo
Roger Burnett – Social Good Promotions
Mark Coudray – Catalyst
Dana Derricks – Author "Dream 100"
Todd Downing – Fat Dad Custom Graphics
Josh Ellsworth – Stahls'
Jarrod Hennis – Rockford Art Deli
Todd Moen – Kreativ Launch
Aaron Montgomery – OurSuccessGroup.com
Ken Seidl – Seidl Business Services
Brad White – Gander Group
Tim Williams – YR Store
Plus a special announcement from Adrienne Palmer with Screen Printing Magazine
Tuesday, June 2 – Marketing
Dan Carr – Carr Media
Shelby Craig – The Rocket Family
Charity Gibson – Peerless
JP Hunt – InkSoft
Greg Kitson – Mind's Eye Graphics
Rock LaManna – LaManna Consulting Group
Justin Lawrence – Oklahoma Shirt Company
Ryan Moor – Ryonet | Allmade | ROQ
Adrienne Palmer – Screen Printing Magazine
Bill Petrie – PromoCorner
Wednesday, June 3 – Ops
Dane Clement – Great Dane Graphics
Scott Fresener – T-Seps
Mark Gervais – Ningbo Shenzhou Knitting Company
Alan Howe – Easiway Systems
Joyce Jagger – The Embroidery Coach
Marci Kinter – Printing United Alliance
Jesse Martinez – Matsui
Tiffany Rader Spitzer – Roeder Industries
Charlie Taublieb – Taublieb Consulting
Brian Walker – I-Group Technologies
Lon Winters – Graphic Elephants
So, Who Are These People?
We wanted to get a great mix of industry veterans, shop owners, consultants, suppliers, and legends in the industry to help make our Shirt Lab Summit fantastic.
These folks are the best of the best. Some of the people listed above you probably have taken a class or two from at a trade show or an online webinar. Maybe you have read one of the hundreds of articles, blogs, or books they have authored? Or, maybe you have viewed them in a video or two?
Eight of the thirty-three speakers are members of the ASPDT (The Academy of Screen and Digital Print Technologies) Twenty-four of them are business owners. Combined everyone has over 750 years of sales, marketing, and operations experience in the industry.
Even if you don't watch all of the Shirt Lab Summit interviews, I know that you will take away solid gold nuggets of information that you have never heard before.
Your biggest challenge may just be what to implement first.
What Are They Sharing?
For starters, we're asking them the questions you would ask. What's their secret sauce? What are the tactical things you can do today to make your business better?
Do you want to sell more? Yep, Shirt Lab Summit has answers for that.
Do you want to market better? That's there too.
Do you want to produce more per day in the shop? Gotcha.
What Should You Do?
For starters, click this button. Get registered. It is free.
Then, pay attention to what's going on with the Shirt Lab Summit for the next few weeks leading up to the event. Sssssssh. Here's a secret. We will be sharing some things you don't want to miss in our Shirt Lab Attendees Only Private Facebook Group.
That's it.
Oh, and if you want to mark your calendars to attend our live sales and marketing workshops when we can all travel and network again:
Shirt Lab Dallas – March 19-20, 2021
Shirt Lab Chicago Women's Nexus – June 5, 2021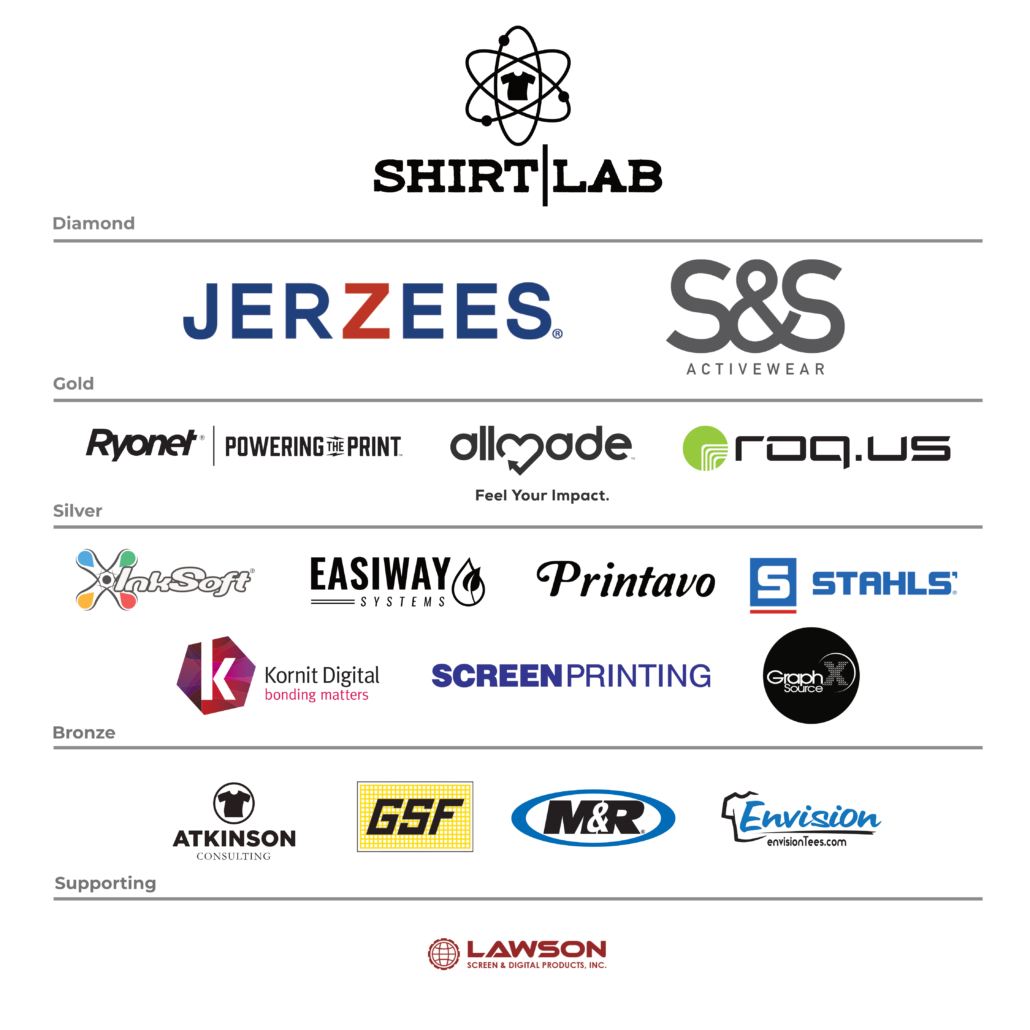 ---
"The noblest pleasure is the joy of understanding." – Leonardo da Vinci
"It is what you learn after you know it all that counts." – John Wooden
"If we knew what we were doing, it would not be called research, would it?" – Albert Einstein