In a few of my coaching sessions in these past two weeks, I've been using an analogy that I think explains the coronavirus pandemic effect on a business.
Currently, it feels like you are swimming the length of an Olympic-sized pool underwater. At the far end of the pool is where you want to be when this event is over.
Cash on hand is your oxygen.
As you slowly stroke your way underwater through the pool, will you run out of cash and drown?
It is already happening with a few businesses in the industry. Some have closed up shop for good, others are filing for bankruptcy protection. They are sinking to the bottom of the pool now.
There are only two ways that a company can make it to the other side of this event. Saving cash or bringing in cash.
Cash is the oxygen you need for this journey.
The longer this current event lasts, the more businesses will run out of that oxygen-rich cash and simply drown.
My wish is that is not you.
Survival of the Fittest
Currently, the length of this swimming pool we find ourselves in may get longer than anyone anticipates. I don't care who you are, there is no way to accurately predict when the "all clear" whistle will blow and things return to "normal" and we can get out of this pool.
In fact, I doubt there will even be a whistle. What works for one company, might not be the lifesaver for another.
The COVID-19 effect on business will certainly have some Darwinian effect here. Companies that can't adjust, are managed poorly, don't have good cash management systems, rely on poor business decisions, or maybe simply are unlucky will join the others at the bottom of the drowning pool.
It is truly the Survival of the Fittest.
How good of a shape your company was in before the crisis struck may also have a lot to do with your success in making it to the other side.
But more than anything, it is actions that companies are taking now that will supply them with that oxygen-rich cash that will keep them swimming.
What Is Working Now
Some shops are getting that oxygen. They are still operational and working. This is a combined effort by saving cash and hustling to bring money where they can. Let's discuss both.
Saving Cash
By now you have probably already laid off or furloughed your employees. Other popular tricks were to ask for forbearance, deferrals, or reduced rates on equipment loans, mortgage or rent payments. You should have called your credit card companies to lower your interest rate or get the minimum payments reduced or waived.
Those are fairly standard. But what else are people doing?
Get granular. Are you spending money on subscriptions? This could be magazines, but for a lot of companies, this means software. There's a good bet that you signed up for things a few years ago, and are still paying monthly. If you chose the annual payment option, look to see when it renews. It might be just around the corner.
Is your shop closed down but you are still paying for two garbage dumpster tips a month?
Take a strong and in-depth look at every dollar you are spending. Divide any expenditure into three categories:
Got to have
Nice to have
Don't need right now
These are lean times, and they call for lean decisions. Any money savings is less money you need to bring in to stay in business.
Know your numbers!
Making Cash
On the other hand, you need to be bringing in money to survive. This is the oxygen you need to keep swimming to the other end of the pool.
Many shops are pivoting into a few areas that seem to be working fairly well. One is a version of the "Here for Good" campaign that I wrote about last week. The other is doing something with protective face masks.
Both of these are really good for some much needed short term financial injections for your business, but also if handled correctly will help your business lead with empathy in your community. This may even prove to be more important.
Here for Good
Any version of this is having great success if the shop puts in the work and can get local participation. Sloan Coleman with Tiny Little Monster started this campaign for her area and graciously offered everything up to decorated apparel community to help them too.
The idea is simple.
Sell a t-shirt that is branded with a local business that is closed down during this pandemic for around $20. The shop keeps $10, and the business gets $10. This keeps two businesses going until the economy opens back up.
Most of the shops that are working on this are getting around 30-40 businesses to participate, and have raised about $2,000-$5000. One shop has over 360 local businesses in the program and has raised over $82,000. Like anything, results are going to vary.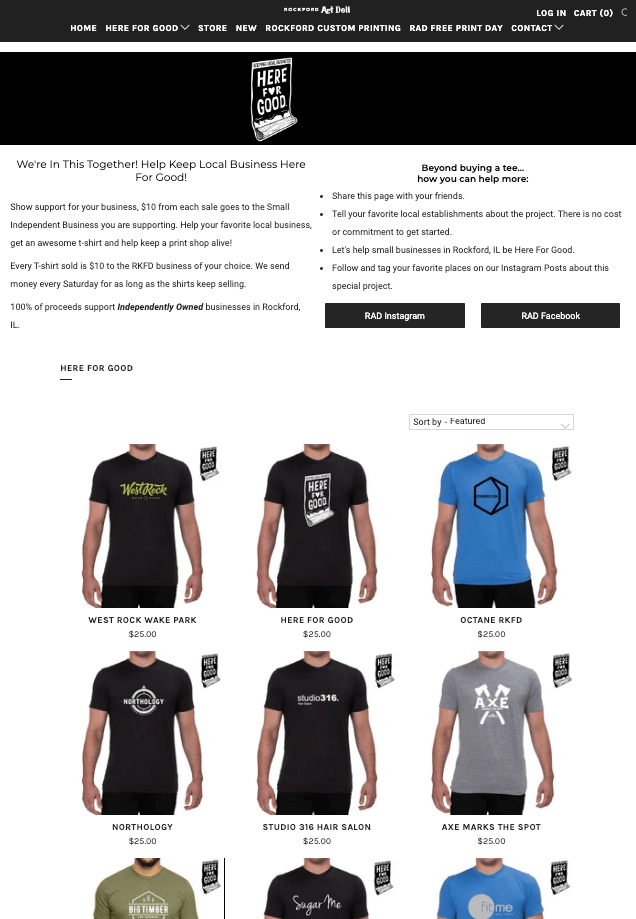 If you are a shop that hasn't started this, I would suggest joining this private Facebook group that has a lot of activity with other business owners working this idea.
Lots of good tips and problem solving in there. Your industry tribe wants to help you.
Masks
There is a feeding frenzy right now with the mask craze. It may look like an easy decision to jump into that, but before you do take a minute and get some clarity. Here are some questions to ask:
Do you want to be selling these or giving them away? Some shops are selling blank masks, while others are branding them. I've seen a few have a "buy one, donate one" program. A few are throwing in masks in with orders and not charging anything. What makes the most sense for you and your customers?
Plenty of mask options on the market, all with various levels of quality, durability, styles, and most importantly, availability. The demand for these is intense.
If you are planning on decorating them, how are you going to do it? Heat press application? Embroidered cloth tag? Screen-printed? Dye sublimation?
Does this fit in with what you normally do? Who are your customers and what mask models and options do you think they want? Make sure you have alignment.
The protective mask market is real.
People are going to want them, and this could be something that lasts for quite a while. But before you just start aimlessly grabbing any type of mask that is available and trying to sell it, my advice for you is to think about this more long term. I know you need cash now, but these are unnatural times we are in.
My advice? Do some research first. Talk to your customers. Find reliable vendors. Get a few options on masks that you like, and will feel very comfortable selling or giving away.
Don't just leap off the cliff.
If you are going to be printing masks, Action Engineering has built some mask pallets for all manufacturers of presses. It is $395, and if you are serious about decorating these with screenprinting, this is a tool that is a must-have for efficiency.
If you are going to do it, do it right.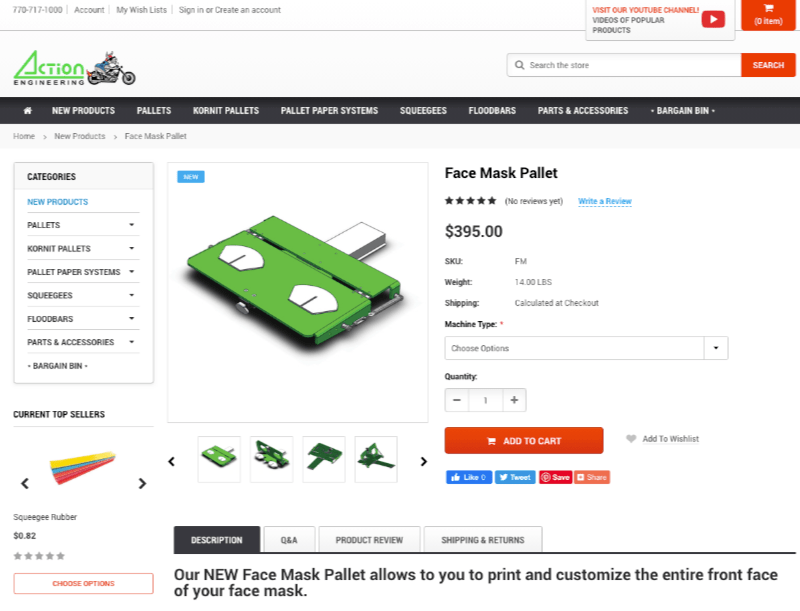 Marketing
Throughout the land, some shops are open for business, while others have resorted to basically going "underground" to survive. Plenty of factors involved here.
Right now, your potential and current customers are focused on their own concerns. They may not even know or care what you are doing.
However, this is absolutely the right time to be spending time thinking, planning, and most importantly, executing your marketing. When you go radio silent, your business is quickly forgotten or people will make up their own stories about what you are doing.
Share your news everywhere. Check out this post from EG Threads on LinkedIn. Have you posted anything similar? Get it out and into your rotation.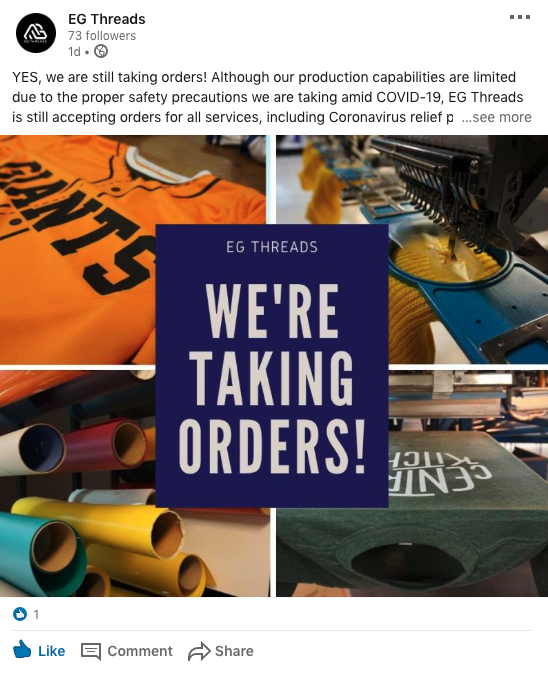 Also, it is important that you engage with your customers and have fun. Here's a video from Joe Sudrovic from Gorilla Joe Screenprinting in Ohio for an announcement for the winner of a recent design contest.
What's great here is that it a low-key video aimed at his local target, his community. Plenty of shops are scared to do videos as they think they have to be at Martin Scorcese's level of professionalism with what they post. Joe publishes and pushes video content out constantly and simply uses his phone.
You can do this. Be real. Open. Honest. Talk about what's going on and how you can help. Ask for questions or comments.
Decision Making
Lastly, I want to add some points about making decisions.
We are in some uncharted territory here. For shop owners that are a little older, you've been through crisis situations before. Recessions, 9/11, and maybe even some local problems after a hurricane or big tornado.
But nothing this big. It's global. No one has all of the answers.
Some shops are still operating but at a fraction of where they need to be. One owner, Bobby Harris with K&B Promotions in Texas is using game theory to help him make decisions.
Bobby assigns point values to different things in his shop such as order revenue, profit, work in progress, and other tasks. He's keeping track of these constantly, and using it to look forward to the next few weeks to help him understand his business. It's more or less a forward-looking dashboard. K&B Promotions is a contract decorator, and this allows him to comprehend what's happening easier.
Action Tips
However you are looking at your business, you need to keep calm and do what it takes to ride this out. Want some action tips? Here are five things you can do right now:
One – Make a Video Post Encouraging Others in the Face of Crisis
Be vulnerable. You don't have to have the answers. Admit what you don't know. But, be present and acknowledge that others are hurting, struggling, and in the same boat.
Gather and rally your tribe.
Two – Make a List of What Matters To Your Customers Right Now
Get your brain firing. Pretend you are your top customer. What scares them? Think about what they need at this moment in time. What questions do you think they have? How can you help?
Then, start that process with your number two customer. Go down your list.
Start contacting them and see how you can help. Bonus round…do your ideas on the page match their reality? If not, how come you don't know that?
Get busy.
Three – Experiment
Get in your shop and try something that you always thought was hard. Be willing to completely mess it up. This may or may not be production-related. It could something to do with your sales process or creating art. What if you invented a faster way to receive inventory? The time is now to solve some problems.
Yes, I know there is the shelter in place mandates everywhere. Do it anyway, just be safe about it. You can work by yourself, right?
Four – Provide Comfort and Encouragement
Who on your radar is struggling? I've been calling a few shops every day for weeks. I'll continue to do this too.
Why?
Because I want to stay connected and help. I'm not selling anything, and most of these folks aren't my clients anyway. I simply recognize that we're all insecure now and reaching out with friendship is one of the best things I can do.
It helps me too, as everyone that I speak with makes me feel better. I need mental support just like everyone else. Do what makes you feel good.
Five – Move Beyond Now
As I wrote last week, this event is going to end and preparing now is the best use of your time.
There will be opportunities before you that didn't exist six weeks ago. Will you be ready for them? Have you started thinking about how the world will change? Start pivoting and asking some tough "what if" questions.
"What if schools next fall are all online, how will I adjust?"
"What if traditional events, concerts, and other meetings are canceled, but everything moves to it being virtual and online? What do you need to do?"
"How prepared are you for online sales? Do you have your lead generation and pipeline set up? Voice search? What is the most frictionless experience you can provide?"
"How many of your competitors won't make it? What does that mean for your business?"
Before you go…
Lastly, do you think you might need some help figuring this out? Who are you brainstorming with?
By the way, that's what I do. Please check out my coaching plans here. I would love to chat with you and discover how I can help in your situation.
---
"Being productive gives people a sense of satisfaction and fulfillment that loafing never can." – Zig Ziglar
"You never know when a moment and a few sincere words can have an impact on a life." – Zig Ziglar
"Every choice you make has an end result." – Zig Ziglar