The secret project that Shirt Lab co-founder Tom Rauen and I have been working on came to fruition when the registration for Shirt Lab Forge was launched this past week. The event will be held virtually on October 23 and 24, 2020.
I know what you are thinking. "Uh, what is Shirt Lab Forge and what does that have to do with me?"
For starters, this virtual event is about E-Commerce. You know, websites, online stores with (InkSoft, Printavo Merch, Stahl's Spirit Sale, or Order My Gear), selling on Amazon, Etsy, or even Shopify.
Are you happy with your results in those digital marketplaces?
I'll bet you want to see some improvement right?
Shirt Lab Forge isn't about improvement. It's about domination. We want you to absolutely own your channel.
To tell you the truth, I'm still astonished that we are lucky enough to get these speakers to share some of the secrets of their success. These folks are at the top of their game.
For more details, check out the Shirt Lab Forge Event Guide below, but for this article, I want to walk you through what you are going to see at this stellar event.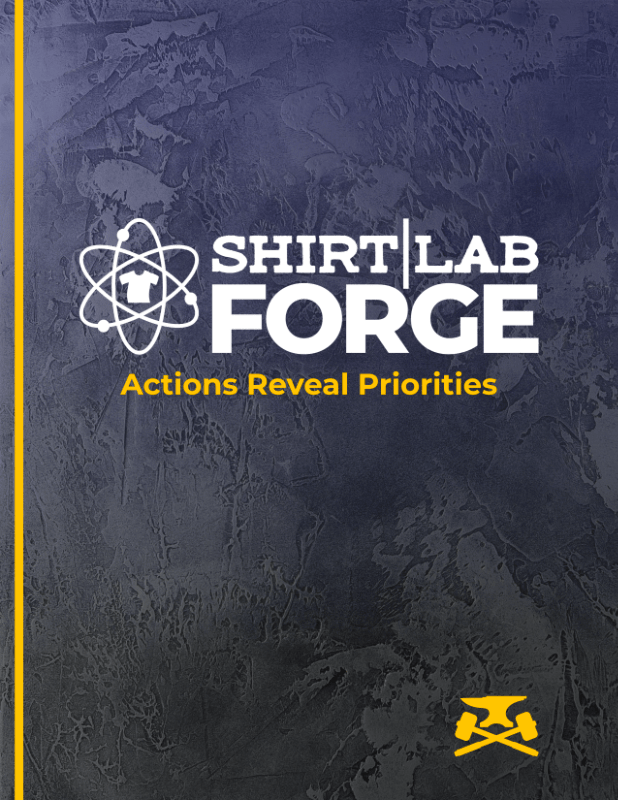 Shirt Lab Forge Line Up
There will be eighteen presentations on E-Commerce for Shirt Lab Forge.
Seventeen of them are pre-recorded, and one will be live; which is the first one on the list below.
Check these out:
Jeffrey Gitomer – "Winner, Watcher, Whiner. Which One Are You?"
Jeffrey Gitomer will be presenting to Shirt Lab Forge live on Saturday, October 24, and will be taking questions after the presentation.
Jeffrey will the keynote presenter at next year's Shirt Lab Live event in Dallas, but wanted to help us with this virtual event and discuss E-Commerce sales. If you like podcasts, you should subscribe to his Sell or Die podcast. It is incredible.
He is the "King of Sales", and has written The New York Times best-selling books "The Sales Bible", "The Little Red Book of Selling", "The Little Black Book of Connections", and "The Little Gold Book of Yes! Connections."
Fernando Angulo – "Search and Acquisition in 2020: The Era of the User"
Fernando Angulo is Head of Communications at SEMrush.
He has been with SEMrush since the beginning of the company's marketing efforts and has built its all-star marketing team. Being one of the most recognized faces of the brand, Fernando is speaking at 50+ top conferences worldwide each year.
Fernando specializes in B2B search marketing, e-commerce, influencer marketing, and trained marketing teams of companies such as Expedia, T-mobile, Henry Schein, and Bing".
Jay Busselle – "Driving Traffic"
Rumor has it Jay started screen printing "unofficial replica" t-shirts of his favorite skiing and skateboarding companies, as well as a few bands which will remain nameless, in the mid-'80s.
It's been almost 30 years and Jay is still hanging out with promo peeps and apparel geeks on the island of misfit toys!
Jay is the founder of a weekly Twitter chat called #promochat, a board member (also known as a chef) for PromoKitchen, and the marketing director for Equipment Zone. Jay is a highly-rated industry presenter and accomplished trainer on topics like branding, social media, and LinkedIn.
Jay is also a self-proclaimed CTO – Chief Taco Officer!
Erich Campbell – "Everyday E-Commerce"
Erich Campbell is the Project Manager for the Commercial Division at embroidery software company BriTon Leap. An award-winning commercial embroidery digitizer, he digitized for commercial production since 2000 on projects ranging from business-to-business standards to Better call Saul's props.
He worked with e-commerce extensively, creating and running apparel stores for national and local companies, consulted for embroidery companies large and small, and is a current columnist for Printwear Magazine, a contributor to UK-based Images Magazine, and a blogger for the textile art blog MrXStitch.com.
A one-time hopeful medievalist turned dyed-in-the-wool digitizer, this fanatic embroidery educator teaches at events across the country, brings his experience to producing the 2 Regular Guys podcast, and continually looks for places to talk shop and push businesses toward profit.
You can catch up with his latest embroidery escapades at ErichCampbell.com
Shelby Craig – "How to Build A Facebook Ad Funnel for E-Commerce Products"
Shelby Craig is a serial entrepreneur, marketing junkie, home chef, coffee connoisseur, and girl dad times 3.
He is a T-Shirt Snob who is the founder of Rocket Shirts in Murfreesboro, TN. Rocket Shirts understands that most people are overwhelmed when ordering custom apparel for the first time. They have created a simple and easy process to ensure customers get their branded apparel in days and not weeks.
Average turnaround time of 3-5 days guarantees their customers can quickly, Get Shirt Done, empowering the customer to do what they do best, and let Rocket Shirts handle the rest.
Nic Fitzgerald – "Stories That Sell"
Nic is a husband, father, best selling author, and storytelling marketer. He works with entrepreneurs and businesses to leverage their stories and experiences to sell more of their products and services. He has been professionally telling stories since 2015, has worked on 13 Hollywood feature films, 2 TV series, many commercials, and was a freelance photojournalist for NBC in Utah.
He has worked with Oscar and Emmy winners, entrepreneurs, marketing masters, and other master storytellers. He has taught thousands of people about using their stories in their businesses as a consultant, speaker in multiple summits, podcasts, Facebook Lives, and from stage.
He absolutely loves seeing stories used to build businesses into brands.
Jessica Gibbons-Rauch – "Using Analytics: The Not-So-Sexy Side of Program Management"
After 15 years of working for promotional marketing distributors, Jessica has rewritten what it is to be in the industry.
Her business, Trend on Brand, supports distributors and content providers and their needs from merchandising, strategy, digital marketing, and everything in between.
She also is an adjunct professor at Northern Illinois University in the Digital Marketing program, PromoKitchen Chef, and a consultant for Trendependent among many other projects.
Erik Huberman – "The Critical Three Pillars of Marketing"
Erik Huberman is the founder and CEO of Hawke Media, the fastest growing marketing consultancy in the United States. Launched in 2014, Hawke Media has been valued at $75 million and has grown from seven to over 150 employees in three locations (Los Angeles, New York, and Boston).
The company has serviced over 2000 brands of all sizes, ranging from startups like Tamara Mellon, SiO Beauty, and Bottlekeeper to household names like Red Bull, Verizon Wireless, and Alibaba.
Hawke Media has taken home numerous industry awards including inclusion on the Inc. 5000 2020 list of "Fastest Growing Companies", Fortune Magazine's "50 Best Workplaces in Southern California" and Huberman was named The International Business Awards Entrepreneur of the Year in the field of Advertising, Marketing, & Public Relations.
As a serial entrepreneur and marketing expert, Huberman is a sought-after thought leader in the world of digital marketing, entrepreneurship, sales, and business. Prior to Hawke, he founded, grew, and sold two successful e-commerce companies.
Huberman is the recipient of numerous honors and awards including Forbes "30Under30," CSQ "40Under40", Inc. Magazine's "Top 25 Marketing Influencers," and Best in Biz North America's "Marketing Executive of the Year." A regular contributor to major publications like Forbes, Entrepreneur, and CSQ, Huberman is also a well-known keynote speaker.
Tyler Jorgenson – "Niche Domination"
Since the age of 5, and possibly earlier, Tyler has been inventing creative ways to make money.
Tyler is well known as one of the top Sales Funnel Strategists and can often be found building in ClickFunnels. He once launched 176 new Shopify stores in under 9 months.
As an entrepreneur he focuses on building companies. Either on his own or in partnerships. He has owned a restaurant, a real estate & finance company, eCommerce websites, an international nutraceutical line, a chain of fitness centers and a Nationwide organic meal delivery service.
Tyler consults businesses on business strategy, product development, sales funnels, and marketing. He currently hosts a radio show called BizNinja Radio that broadcasted weekly on ABC News affiliate KMET AM 1490 in Southern California.
Mark Kapczynski – "Partnering At Scale During A Pandemic"
Mark is the Chief Marketing Officer of Gooten, a globally distributed supply chain company transforming the way online brands manufacture and fulfill merchandise to their customers.
He is responsible for all facets of marketing including branding, content marketing, customer acquisition, and loyalty programs.
Dave Lindenbaum – "Presents, Presence, Presence, Presents"
Dave Kombucha Lindenbaum (aka "Mr. Goldenshowers"**) has been living the science of achievement and the art of fulfillment for the past 14+ years.
He has innovated both the product creation sides and marketing sides of his multiple 7 figure physical product brands Get Kombucha and DIY Gift Kits.
Like many marketers, for years Dave struggled with the execution of his ideas, until one day he shifted his attitude towards working really hard at finding things that are really easy to implement.
Dave has documented all of these "easy things that get results" in his Amazon Loopholes, Marketplace Loopholes and Redemption Funnel Academy educational courses and coaching intensives… which he is EXCITED about sharing with you.
**He has earned the nickname Mr. Goldenshowers from his huge heart and eagerness to shower fellow marketers and business owners with non-stop gold.
Dale Manning – "Partnering At Scale During A Pandemic"
Dale is an experienced entertainment and technology leader that focuses on e-commerce. Dale works at OneLive as the VP or On Demand and Marketplaces.
OneLive is the largest provider of e-commerce for the entertainment industry.
Ryan Moor – "When and How to Remodel or Rebuild"
Ryan is the founder and CEO of Ryonet, Allmade Apparel, & ROQ.US.
Ryonet was conceived in 2004 out of a punk band's need for more tour money, birthed into the wild of the early eBay market space, and raised to its current status as a leader and innovator in the screen printing industry by an insatiable team of hard-working printers, led by the fearless and spiky-haired Ryan Moor.
Ryonet works to bridge the gap between learning and doing, believing that hard work and passion can take you anywhere if you have the right tools.
They do it all – from showing you how to properly flood your screen, to the eco-conscious products for you to put on your shelves.
Kevin Oakley – "Future of Online Fulfillment"
Kevin started in a spare bedroom with a manual press and together with his business partner Shane has grown into an operation outputting millions of shirts yearly!
Find out more at Stokedonprinting.com
Jeremy Parker – "How We Made The Inc 500"
Jeremy Parker is an award-winning documentary filmmaker and serial entrepreneur.
He is the Co-founder and CEO of Swag.com, the best place for companies to buy quality promotional products that you'll actually want to keep.
They work with 5,000+ companies including Facebook, Google, Amazon, Netflix, Spotify, and Tik Tok. They are #218 on the 2020 Inc 500 (fastest-growing companies in the US). Jeremy was also named by Crain's NY as one of the 40Under40.
Tom Rauen – "Planning, Building, & Launching An E-Commerce Website"
Tom is an entrepreneur and investor with a passion for community, marketing, and innovation.
Tom is the founder and CEO of EnvisionTees.com, an Inc 5000 company, and co-founder of Shirt Lab. Tom shares his marketing expertise with the Screen Printing Marketing Facebook Group as well as group coaching and online courses.
Recognized world-wide for his marketing stunts, most notably breaking the Guinness World Records for wearing the most t-shirts at once with 247 T-shirts, freezing a t-shirt in under 1-minute, and the infamous Pope bracket.
Tom is an avid ultra-distance runner and traveling with his wife Amanda, and two children Thomas Jr, and Theodore.
Chloë Thomas – "Just What IS The Right Message?"
Chloë is the brains behind eCommerce MasterPlan.
She's the author of the books and blog content, the host of the podcast, and develops all our content and strategies.
Chloë has been working in direct marketing since 2001, originally getting a job in retail banking marketing at Barclays after her history degree at Oxford. Next she worked at UK mail order and high street business Past Times as their Direct Communications Manager – looking after the instore loyalty program, the catalogue mailings, and email marketing.
After Past Times went into administration in Christmas 2005 (not her fault she assures us!), she was very lucky to get a job as Head of eCommerce at mail order consultancy Ardington. There she brought several established mail order businesses into the internet age – launching multiple websites, endless first ever email campaigns, as well as Google Adwords and affiliate marketing. That role was highly successful and after less than a year turned into a marketing agency all of its own.
The agency cycled through many different approaches and models over the years, enabling Chloë to cut her teeth in B2B marketing and sales as well as learn a great deal more about retail and eCommerce whilst working with everyone from high street retailers to pure play online startups.
In 2012 Chloë realised her future was in helping eCommerce businesses work out what marketing they should be doing – and that trying to do this whilst also flogging Google Adwords services wasn't the best way forwards! And so eCommerce MasterPlan was born allowing her to focus on bringing better eCommerce business strategies and marketing to the world.
Having launched the business in Oxford, Chloë moved back to her home town in Cornwall in 2013 and can now frequently be found on First Great Western trains heading in and out of London!
Mike Zeller – "Business Owner vs Business Operator"
Known as a top Entrepreneur Mentor and Business Architect, Mike has had a hand in starting or owning 15+ businesses across multiple industries including technology, real estate, fashion, digital marketing, and high-level entrepreneur masterminds and coaching. His businesses have generated more than 9 figures in total sales. He's also the author of the forthcoming book, Twiceborn: How a Crisis Can Remake You.
His love for travel takes him to an average of 5 countries per year and one month in one of the world's most beautiful cities to stimulate creativity, to create renewal, and to enjoy a life of adventure.
At his core, Mike is most passionate about helping entrepreneurs and thought leaders gain clarity on their zone of genius while unleashing their potential to make money and impact. Through that process, they also learn how to design their business around their strengths and a life of fulfillment.
He's been featured on Business Insider, Forbes, Fox Radio 16 times, spent 1447 hours with Tony Robbins. He currently leads high-level masterminds for entrepreneurs hungry to step more into their zone of genius who want to find and identify their core 4% client that will bring them 64% of their revenue. Learn more at mikezeller.com.
Two Choices for Shirt Lab Forge
For this event, we are offering you two choices.
You can invest $197 for the event to learn the secrets that these E-commerce masters are sharing, or you can join the Shirt Lab Tribe community for $49 a month.
By the way, Shirt Lab Tribe members that are already in the group get to participate in Shirt Lab Forge for free.
What is Shirt Lab Tribe?
It is a safe space for people in the decorated apparel industry to grow and learn. In the Tribe, members mentor each other without judgment or ridicule. There are no "dumb questions". Every day there are opportunities for engagement and learning.
Each week in the private Facebook group, there is a planned activity for engagement and learning.
Monday is for accountability with "Make It Happen Mondays." Share your goals for the week!
Tuesday we have a live Zoom Q&A session. Crowdsource those answers with other members of the Tribe, plus some experts weighing in too!
Wednesday is "Wednesday Wins." Share your victories so everyone in the Tribe can help celebrate and promote positivity.
Thursday is Expert Presentation day. Every Thursday an industry expert shares a presentation and answers questions live.
Friday is "Fun Fact Friday." Share what you learned this week so others can grow too!
Saturday we publish a survey about the industry. We use this information to help build and make the Tribe better.
Shirt Lab Tribe Research Center
Each week the Zoom Q&A calls and the Expert Presentations are recorded and posted on a private webpage called the "Shirt Lab Tribe Research Center."
Also, video lessons about all aspects of the decorated apparel industry are being filmed and posted in this area. We've just started filming these, but here is an example of the first completed lesson.
Here's What You Need To Do
I'd love for you to participate in our Shirt Lab Forge event, and choose the "Join the Shirt Lab Tribe" option.
It's the best of both worlds. You get the amazing E-Commerce focused presentations of Shirt Lab Forge, plus the ongoing awesomeness of the Shirt Lab Tribe community.
Just click this button and get your ticket today!
---
"My vision is to build an e-commerce ecosystem that allows consumers and businesses to do all aspects of business online." – Jack Ma
"E-Commerce is not an industry; e-commerce is a tactic." – Tobias Lutke
"Read every book, blog, website, whatever, about what you want to be an expert in." – James Altucher