Shirt Lab Washington DC achieved many things. For this event, the focus was on athletic apparel sales and marketing.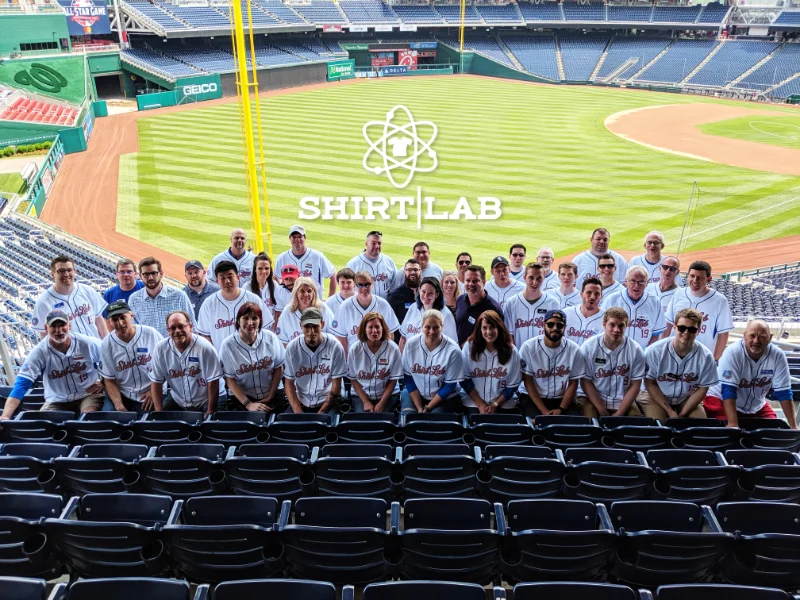 This means CrossFit gyms. Little League. Soccer. High School Sports. Collegiate Sports. 5k Runs.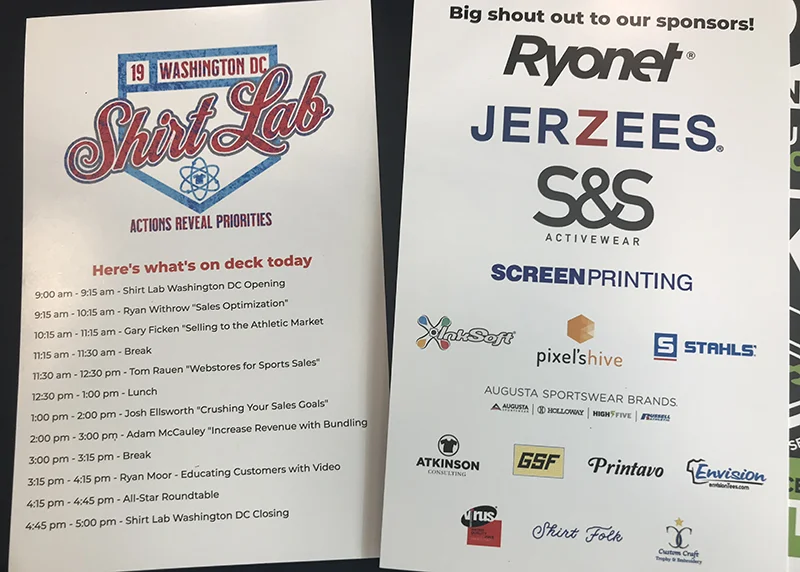 Basically anything that makes the customer sweat into the apparel you are creating for them. Why did we want to create an event about this? Mainly because a lot of shops have this segment in their customer line up…or they wish they did.
But when Tom and I identified this segment we wanted to do something different for the event. Lining it up to be held inside a major league baseball ballpark was the spark that set it off.
Below is a recap of the event with a few pics and videos so you can see what all of the hooplas was about. Don't forget, you can join the Shirt Lab Tribe by attending our next event.
Shirt Lab Portland OR is on August 3. Get tickets here.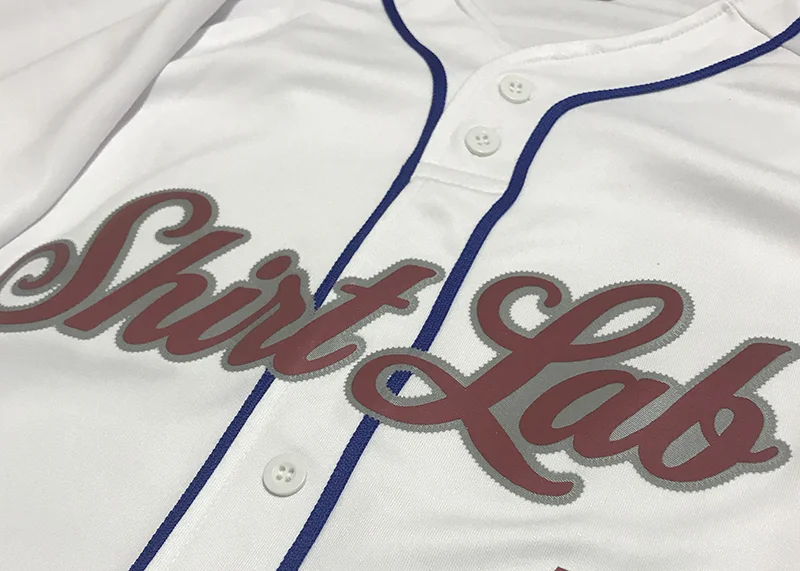 Huge Thank You to Our Amazing Sponsors
It's almost mandatory, but it is such an honor to work with companies dedicated to making this industry better. Shirt Lab is not a trade show. These companies dedicate their time and treasure to make everyone grow. Please tell them thank you.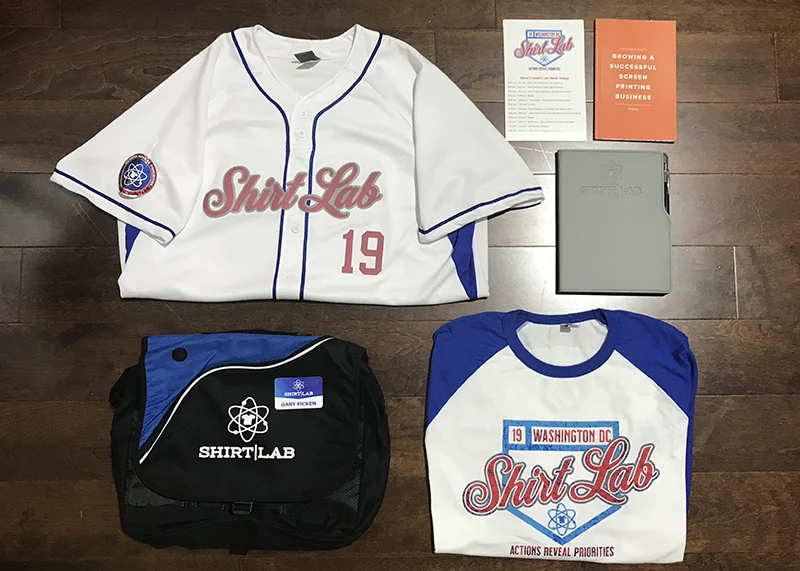 Diamond Sponsors
Ryonet – Ryan Moor not only is one of our favorite instructors on creating videos, but he backs us with financial support as well.
Jerzees – The team at Jerzees has been a huge supporter this year for Shirt Lab. For this event, we created custom 3/4 sleeve raglan shirts for the attendees.
(Not to mention please check out the Adventures in Apparel Decorating YouTube series I'm doing with them. It's amazing.)
S&S Activewear – These guys have really come through for us this year, and we're happy to have them backing Shirt Lab!
Gold Sponsor
Screen Printing Magazine – Content-wise, this is one of the best publications in the industry for "how-to" tips on making your shop run better. They have been incredibly helpful with Shirt Lab marketing and supported us from day one.
Silver Sponsors
InkSoft – These guys have sponsored the Friday night networking event from day one. Please tell them how much Shirt Lab means to you – especially if you have participated in our legendary Rock-Paper-Scissors tournaments!
PixelsHive – During our event, the incredible lunch that we have catered is made possible by the folks at PixelsHive. They offer a complete suite of creative services for shops. From full-on design work to set up social media templates, InkSoft stores, or even animation…they do it all. Check them out!
Stahls' – For Shirt Lab Washington we wanted to create custom baseball jerseys for everyone. The team at Stahl's knocked it out of the park with the custom decoration for the event. Thanks, guys!
Augusta – Yep. Augusta donated those incredible Holloway baseball jerseys so everyone could take home a piece of the event in style.
Bronze Sponsors
GSF – Our good friends at Graphic Screen Fashion are sponsoring all of our events this year!
Printavo – The gang at Printavo not only are financial supporters of Shirt Lab but donated a copy of the new book – "Growing a Successful Screen Printing Business" to all of our attendees!
Supporting Sponsors
Virus Inks – Beppe Quaglia wanted to help out and is financially supporting all of the Shirt Lab events this year! Thanks, Beppe!
Shirt Folk – There is a new blog in town, and it's run by Rob Green. Not only did he attend Shirt Lab Washington…but he decided he wanted to be a sponsor of the even too! Fantastic!
What Was Shirt Lab Washington DC Like?
The number of people in the industry that didn't go to Shirt Lab Washington obviously outnumbers the folks that made the trip. If you are in that group, you might be wondering what was said or want some free tips.
Sorry, but I can't detail everything…as that's why we want you to go. However, I can share a few nuggets that might pique your interest as show you the value of what you missed.
Shirt Lab Experiences
One of the amazing things we were able to arrange was to take two groups down to batting practice before the game on Friday, right before our networking event…and another group on Saturday after the Shirt Lab workshop.
We couldn't take everyone, but the ones that were chosen had an experience that they will treasure for a lifetime.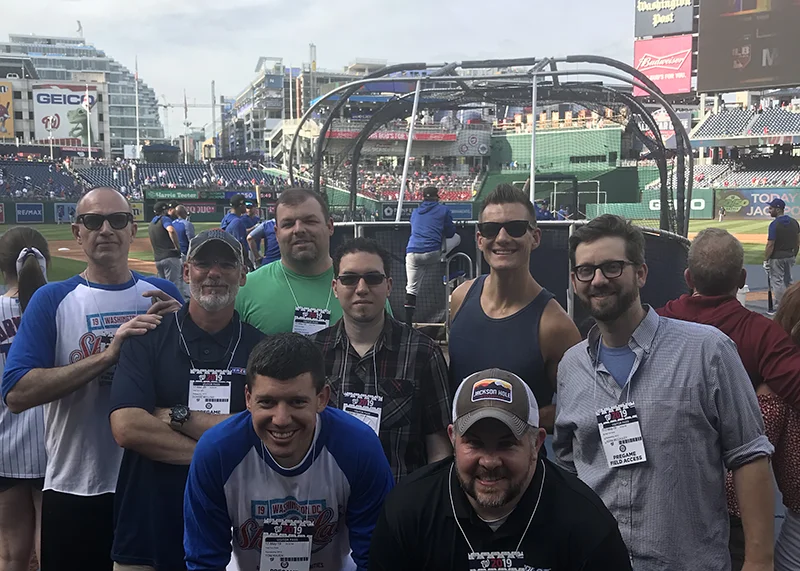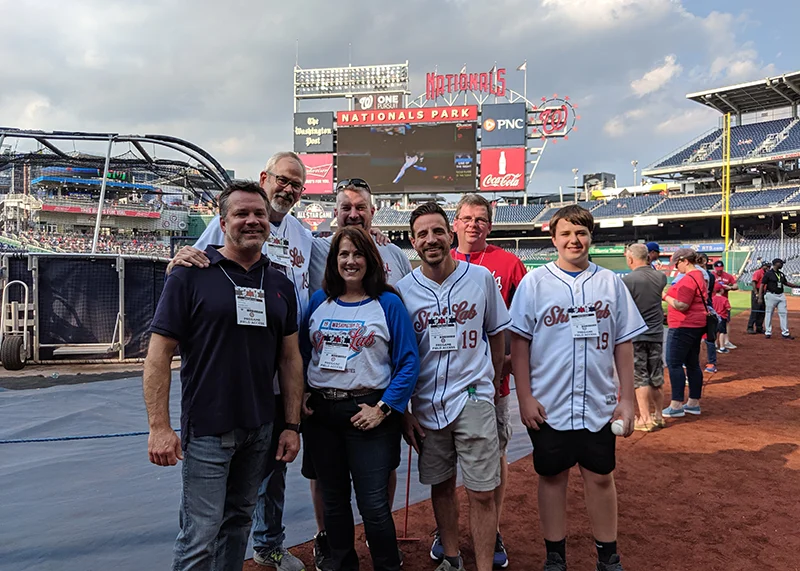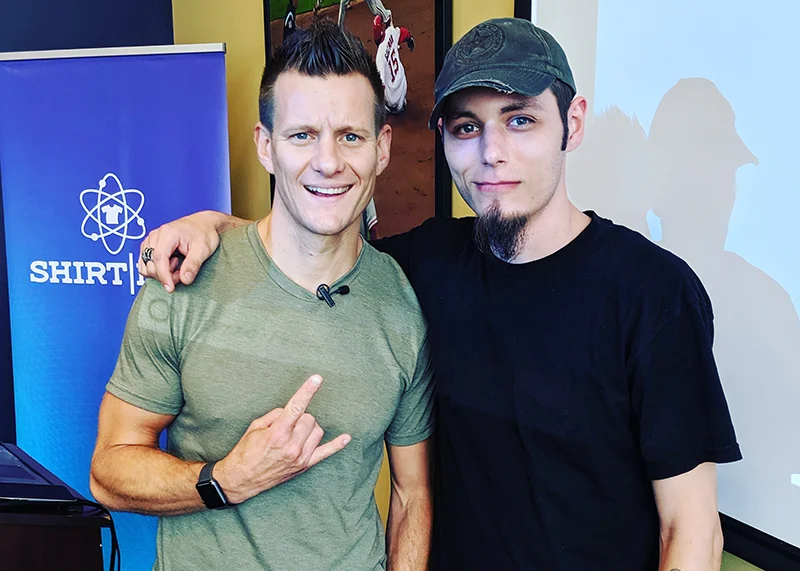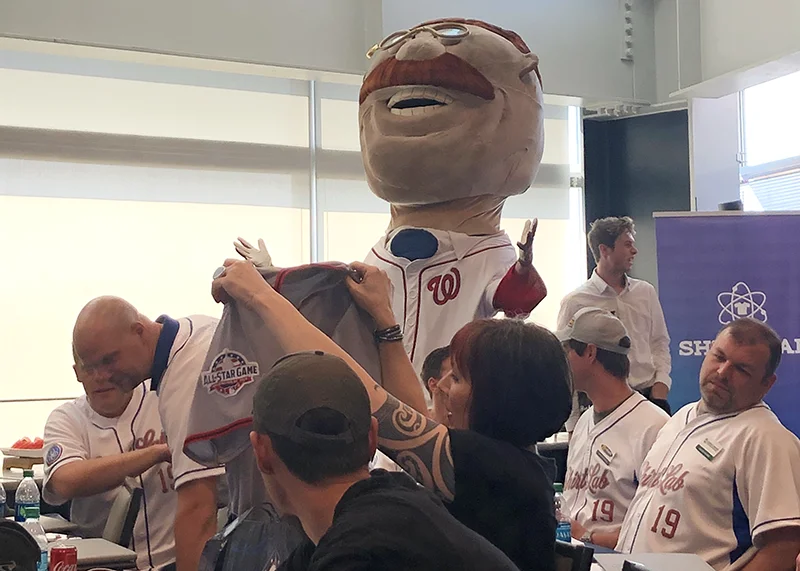 Friday Night Networking
One of our Shirt Lab traditions is having fun networking the evening before Shirt Lab. As everyone comes to town, we can gather somewhere to introduce ourselves, talk a little shop, and laugh.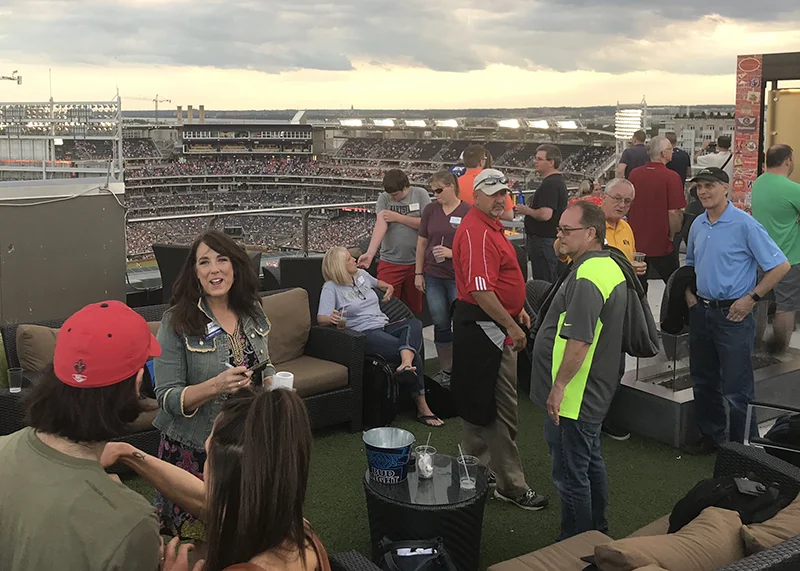 The networking event at Shirt Lab Washington DC was held on the rooftop bar overlooking the Washington Nationals stadium. It was a great event and was sponsored by InkSoft.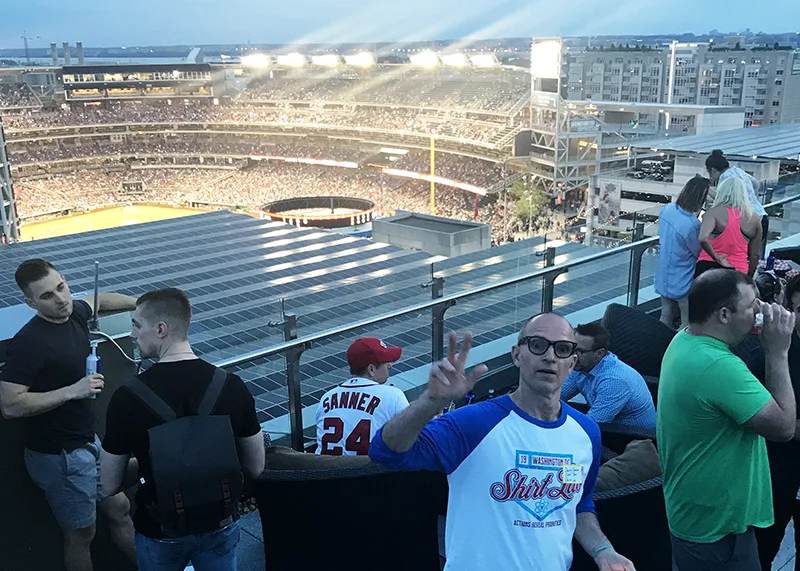 Shirt Lab Rock Paper Scissors for the Win!
A fantastic network activity that we've incorporated into our Friday night hangouts is a Rock Paper Scissors tournament. When each guest arrives, we grab a business card. Later, we'll pull from that bucket and randomly pair up people and fill out a March-Madness type bracket.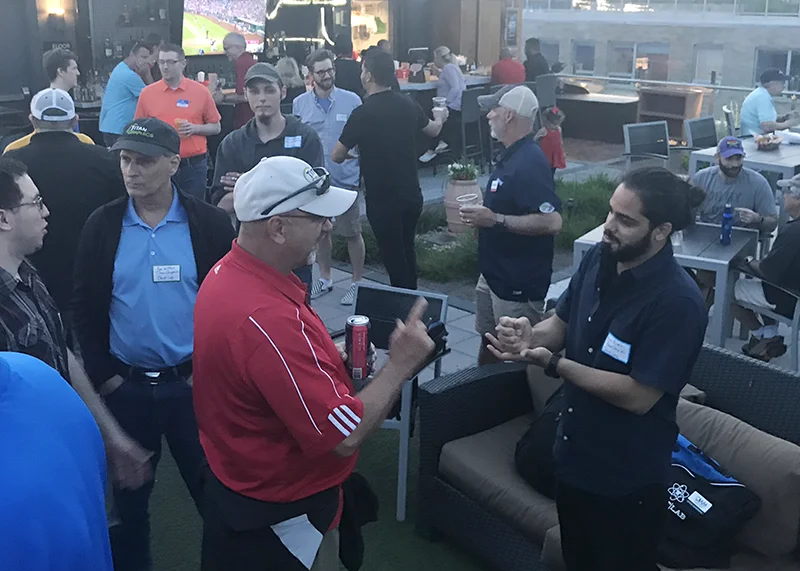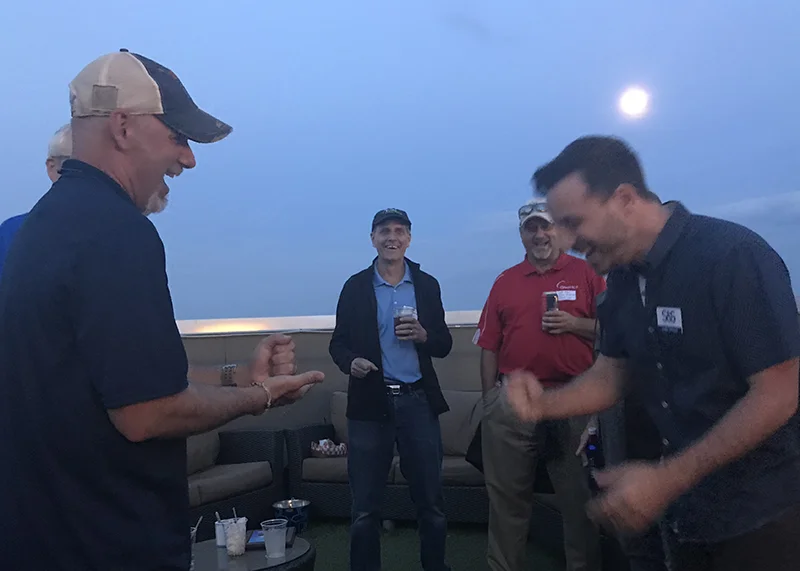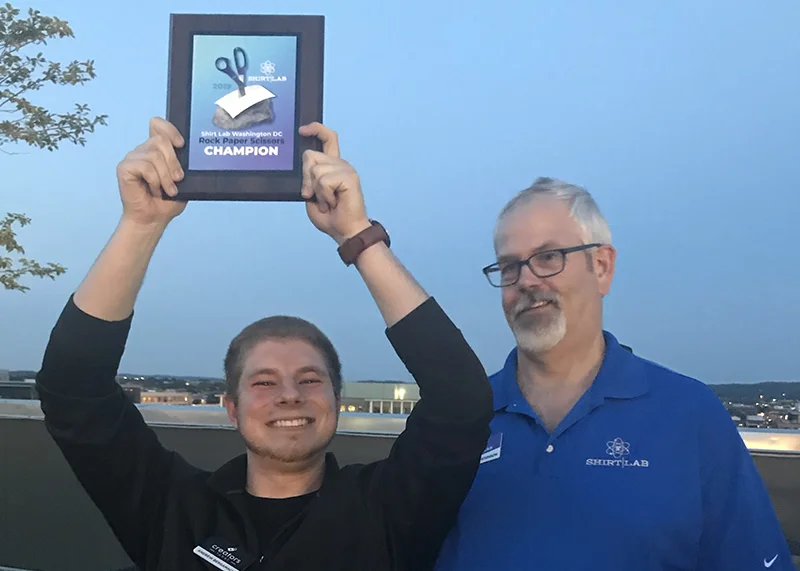 The fun thing about this is that it breaks down some barriers and gets people talking. On Saturday during the event, everyone has been introduced and the discussions flow freely.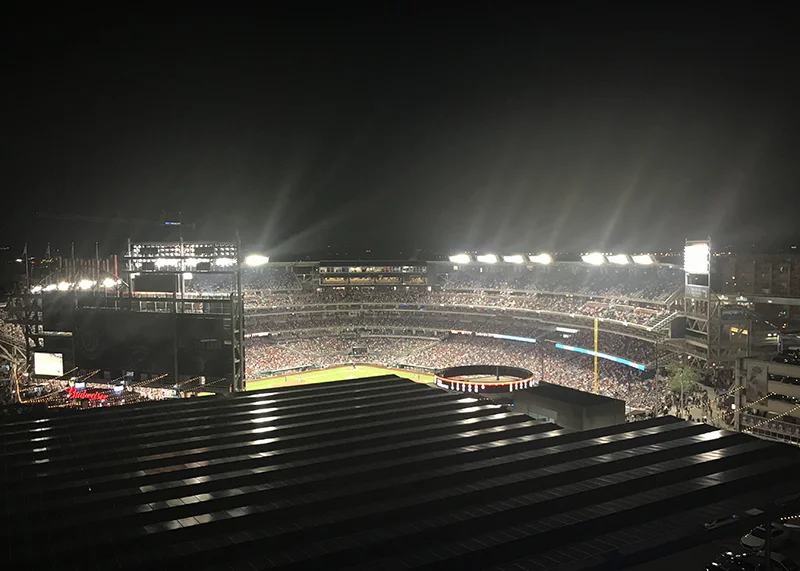 Saturday "Melt Your Brain" Learning
Saturday was the main event. As the Washington Nationals were playing later that day, security was tight. Everyone has to go through one gate and up to the Reagan Room of the stadium.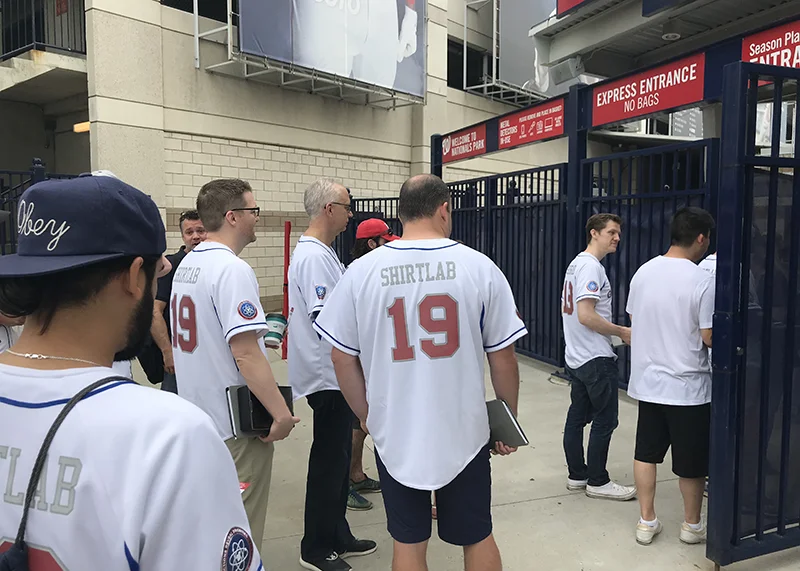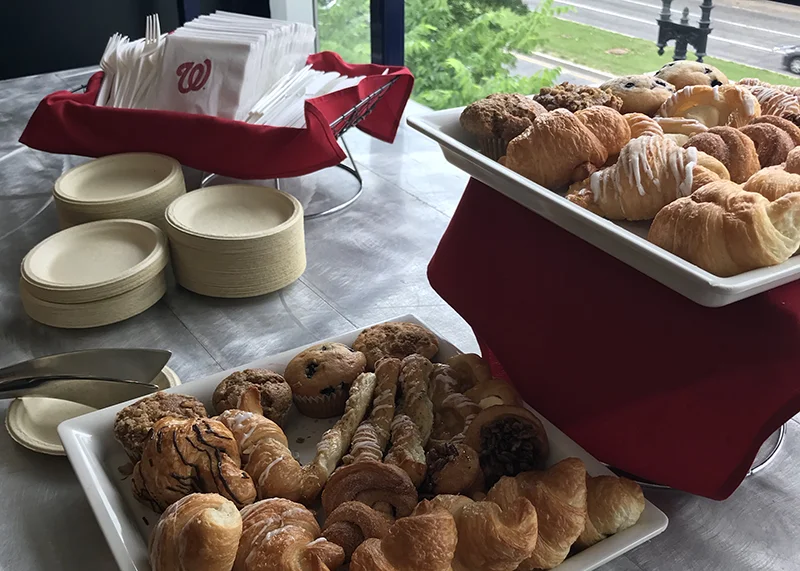 Kicking Things Off
To get Shirt Lab started, I kicked things off with a warm welcome. What's always great in this industry is folks willing to share. I think what makes Shirt Lab so special is that it is interactive.
People truly want the industry to grow. But in order to that, you need to try new things. That's what Shirt Lab is about. Learning that fantastic nugget of information that will totally change your business for the better.
But like the saying says, "You have to be present to win".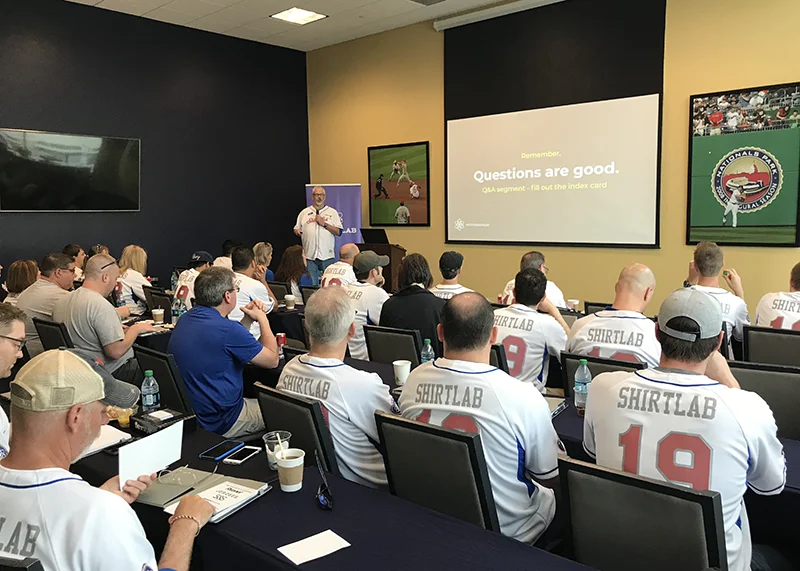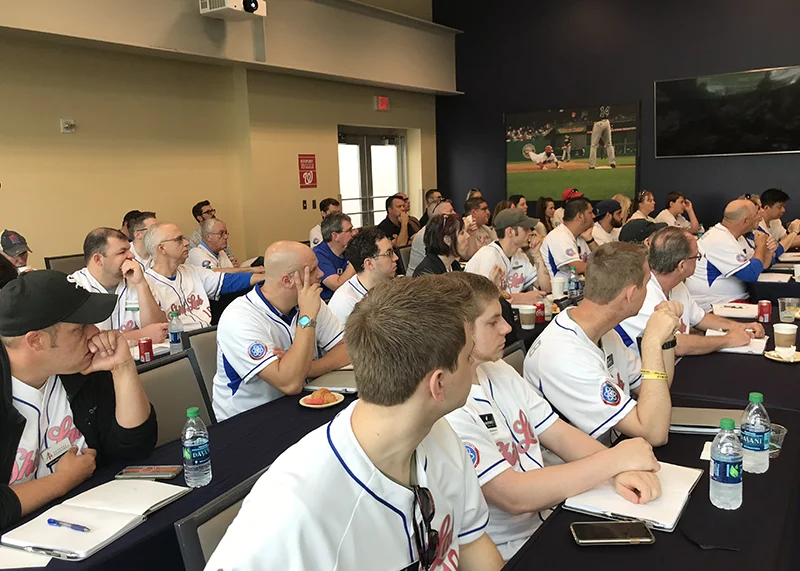 Shirt Lab Washington DC Lead-Off Hitter – Ryan Withrow
When pulling together topics and speakers for an event like Shirt Lab, we look for people that not only have the experience but can be engaging with the audience. Ryan Withrow packs a powerful punch.
Over his career he is directly responsible for $750,000,000 in sales.
He's transitioned from the sales side of things for companies to coaching sales teams for companies. He brought a high level of energy and interaction and got the day rolling perfectly.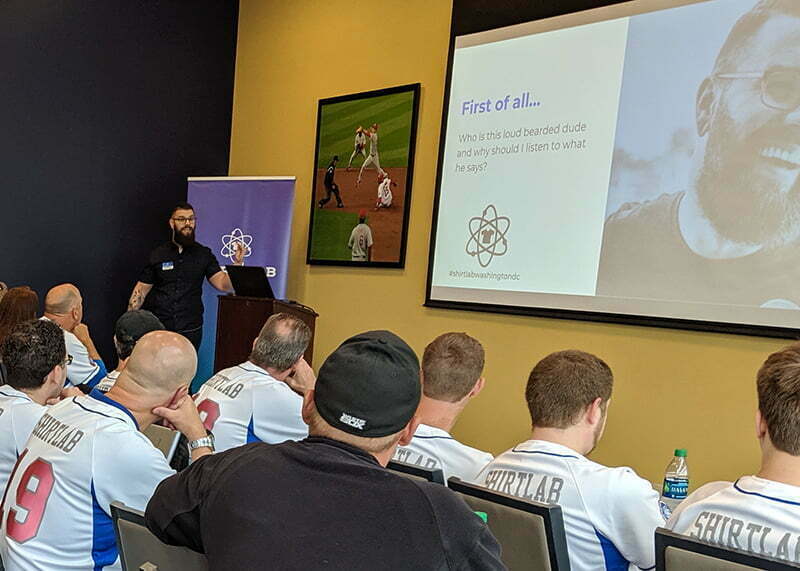 Ryan began his talk by illustrating the importance of defining who your perfect customer really is. Remember, you are in control of who you deal with every day.
He then transitioned into detailing how the human attention span works regarding sales interactions. Building a better process allows you to control the conversation. This is where following up with your sales prospects lands you the deal.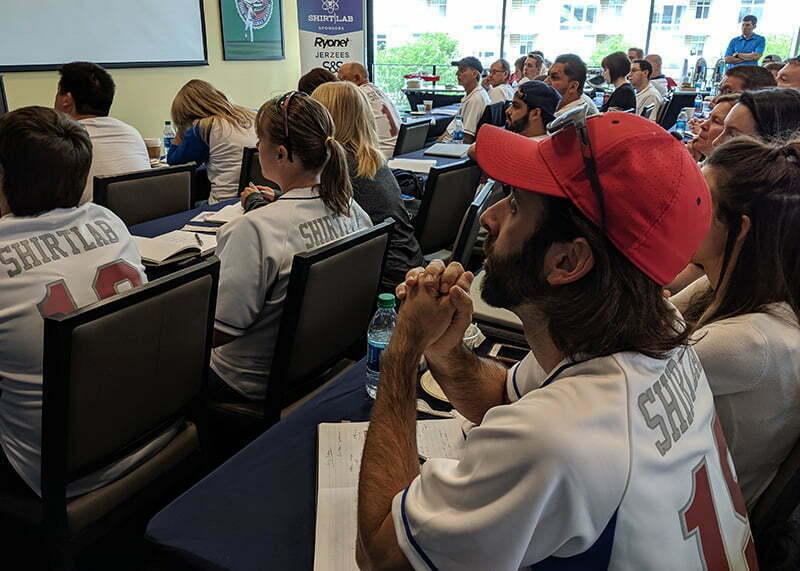 Sales Statistics
48% of Sales People Never Follow Up With A Prospect
25% of Sales People Make A Second Contact And Stop
12% of Sales People Only Make Three Contacts And Stop
Only 10% of Sales People Make More Than Three Contacts
2% of Sales Are Made On The First Contact
3% of Sales Are Made on the Second Contact
5% of Sales Are Made on the Third Contact
10% of Sales Are Made on the Fourth Contact
80% of Sales Are Made on the Fifth to Twelfth Contact
The Follow Up
According to Ryan, this is the single biggest issue that he uncovers when dealing with sales teams or processes.
Look at those statistics above. How many times to you follow up with a customer regarding sales?
Dropped Balls = Lost Customers
Which is why you need a better process. That's when Ryan walked everyone through the most incredible way of doing it.
But sorry, that's a Shirt Lab secret. You have to go to know.
Gary Ficken with Bimm Ridder
Bimm Ridder handles athletic merchandise for professional, minor-league, and collegiate sports retail sales. Based in Iowa, they are direct competitors of Nike, Under Armour, Fanatics, and other household brands.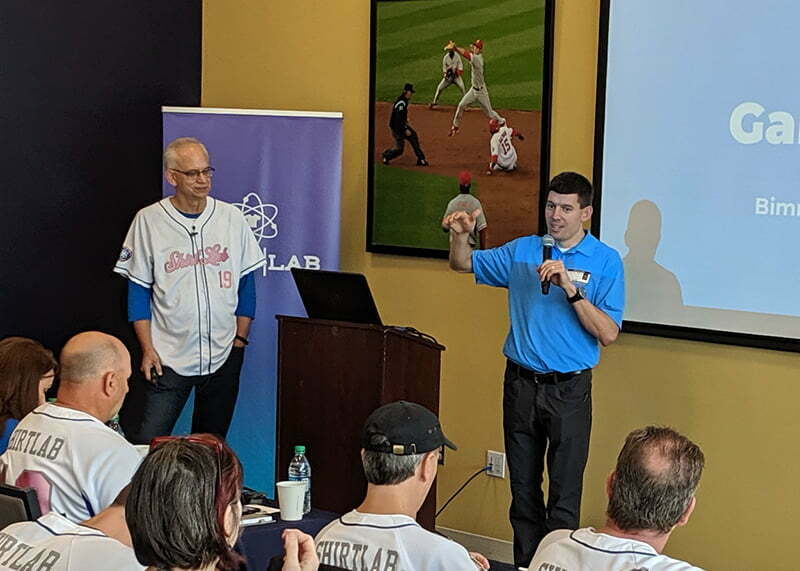 Gary's segment at Shirt Lab Washington was "Seasonal Action Planning for Sports". Which is a fancy way of saying "Plan Ahead".
He began with a question. "How many of you are planning the sales process 6-9 months in advance?"
Gary drew on more than three decades of experience planning the sales process for serving athletic markets and teams. He explained to the crowd that, "you have to make it easy for your customer".
And that, "don't forget they are already using someone else. They will have to fire that vendor to use you."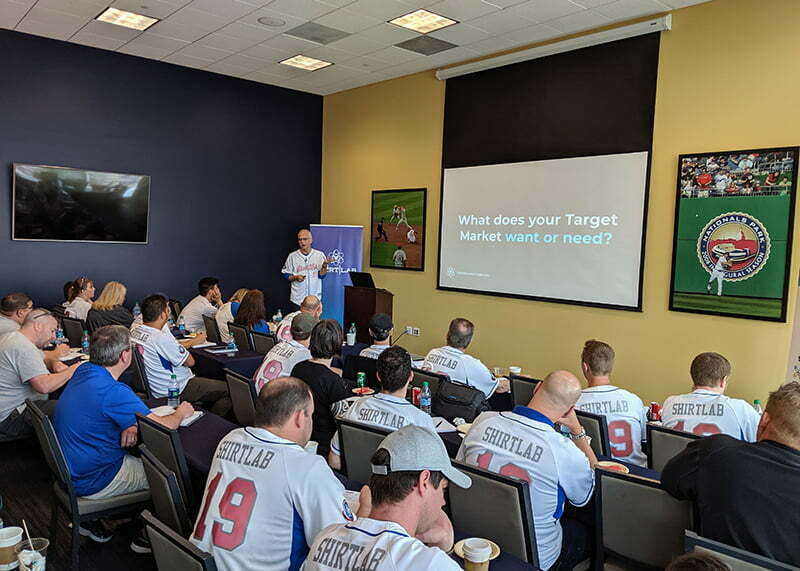 Gary's Challenge
So, here is Gary's challenge for you. What are you doing that is going to be so special that your potential customer fire's their current shop and switches to you?
Bonus tip: It can't be about lower prices. Don't win the race to the bottom!
Webstores for Athletic Sales With Tom Rauen
Tom shared some amazing insights. And as usual, he got bombarded with questions from the crowd, looking for tips on how to replicate his success.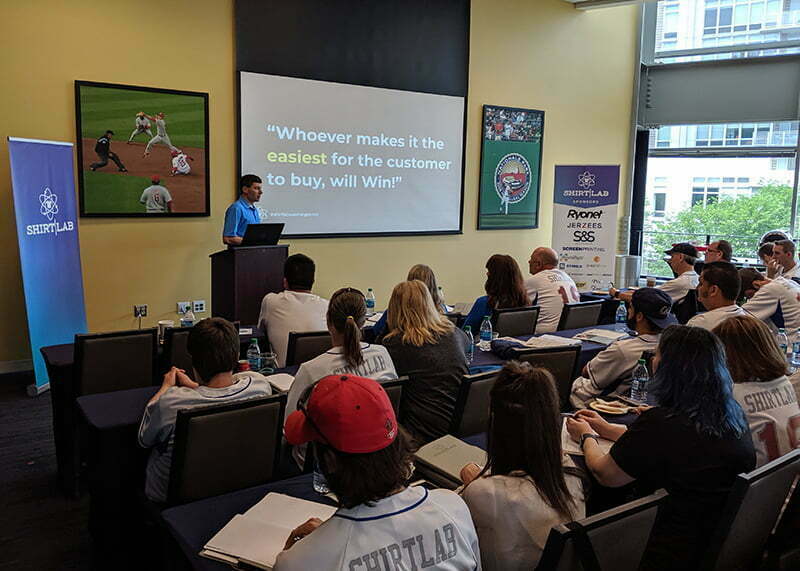 Let's take a look at some stats he shared.
In 2013 Envision Tees did $55,147 in online web sales. By 2018, Tom had grown that number 10x, to $525,629. This year, 2019, he's at $1,025,437.
What's the secret to his shop's success? Building a standardized process for creating online stores for customers. This is an on-purpose activity that he wants to replicate. The more successful InkSoft stores that he can create and market, the better his sales growth will become.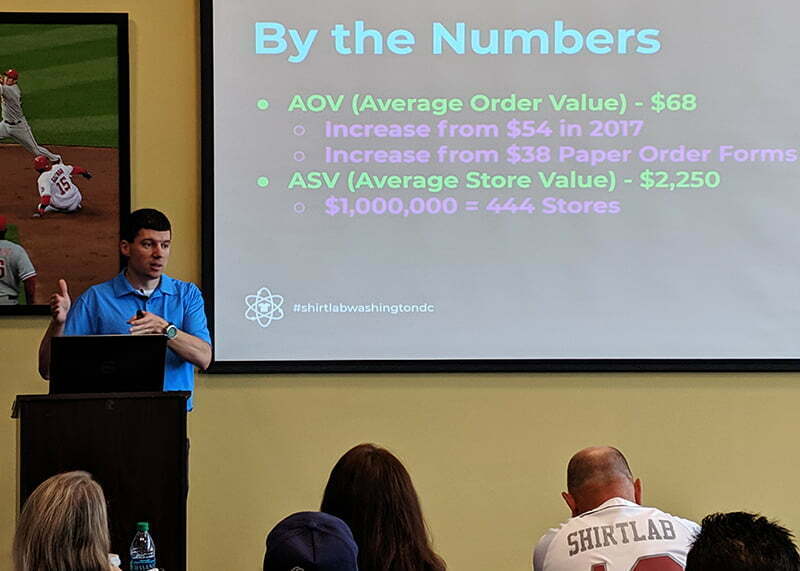 To do so, Tom has created a process and is measuring Key Performance Indicators (KPIs) in his stores. He also has worked to standardize the process of the items going into the stores, how they are built, and even marketed to his customers.
This makes it easier to replicate.
Think about how you could gain sales traction by developing a sales process and then finding customers that would be a good fit for that process. How much could you grow?
10x in five years?
Lunch Break!
The mark of any great event is the food. At Shirt Lab, we like food as much as you do.
Our lunches have been always sponsored by PixelsHive. They are fantastic creative services outsource agency. Check them out!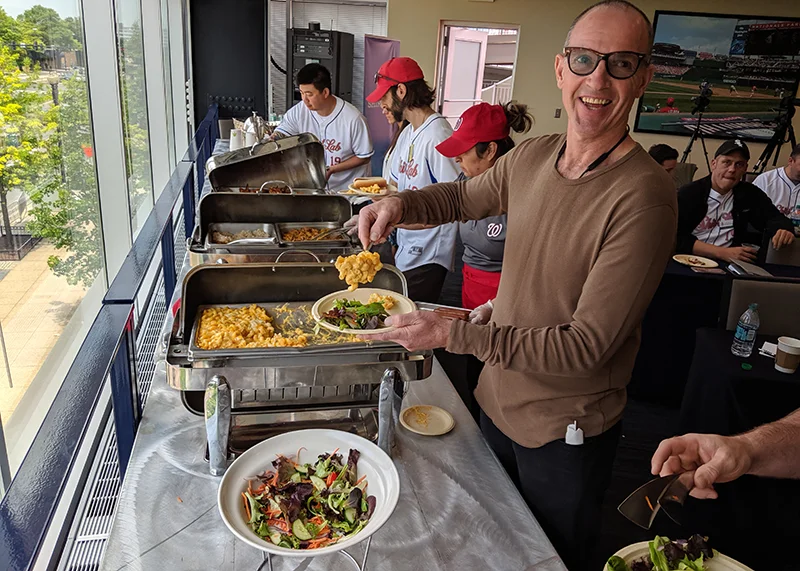 Crushing Your Sales Goals with Josh Ellsworth
Chances are you've watched one of the over 1000+ videos that Josh has created for Stahls' over the years. But behind the camera, one of Josh's roles is developing sales teams.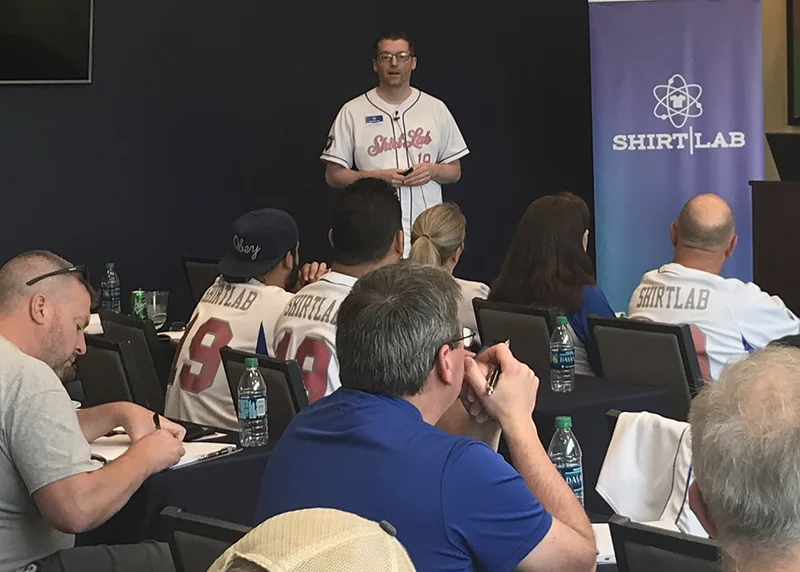 At Shirt Lab Washington DC he walked everyone through their sales process and how developing a game plan for understanding where your potential customer is on their sales journey should influence the questions you are asking them.
Receive the Kick
He detailed six scenarios and likened them to "receiving the kick" on a football kickoff. In some situations, you can score easily because your customer is closer to saying yes. In others, there is more work to do. It's similar to what yard line a football return man would receive that kick.
Josh gave pointers to develop a game plan for these different scenarios. This is based on your shop asking questions and analyzing the response.
What does their answer tell us about what they truly want or need?
What does that tell us about what they actually know?
These two points can unlock the game plan for closing the sale.
3 Pillars of Sales Goals Success
Josh closed his workshop segment with some points on creating a sales process dashboard. These can be broken down into three pillars that your sales team should be measured.
Effort
Effort is a measure of how hard you are working. How many phone calls, emails, text messages, in-person visits, or other activities are you completing?
How many should you be doing?
What is the difference between your shop's expectation for effort and the actual effort being turned in every day? Are you tracking this?
Forecast
Forecast is an indicator of future success.
Think about it. If you define the six levels of the customer's journey, you can measure how many potential sales you have by how many customers are in each category. What's the close ratio for each?
How can you influence your customer to get to close in each level? What is the potential sales dollar amount in each?
That's forecasting.
Revenue
Revenue is a measure of today's success.
What's in the bank? If you have set sales goals, what is the percentage toward achieving that goal?
Also, if you are measuring the other steps you can determine your sales conversion ratio, sales cycle length, and sales velocity.
But if you aren't measuring any of this or looking at your numbers, you don't know where you are on your sales journey. You are just stuck in the mud.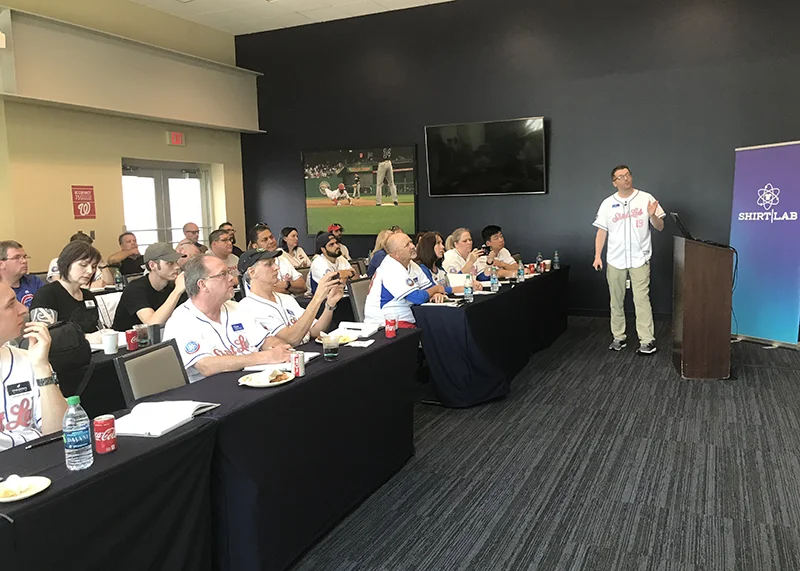 Adam McCauley – Increase Revenue With Bundling
Adam is the co-owner of Sandlot Sports in Saginaw Michigan. His partner, Ryan Dost, was at Shirt Lab Washington DC too and contributed to the discussion wonderfully throughout the day.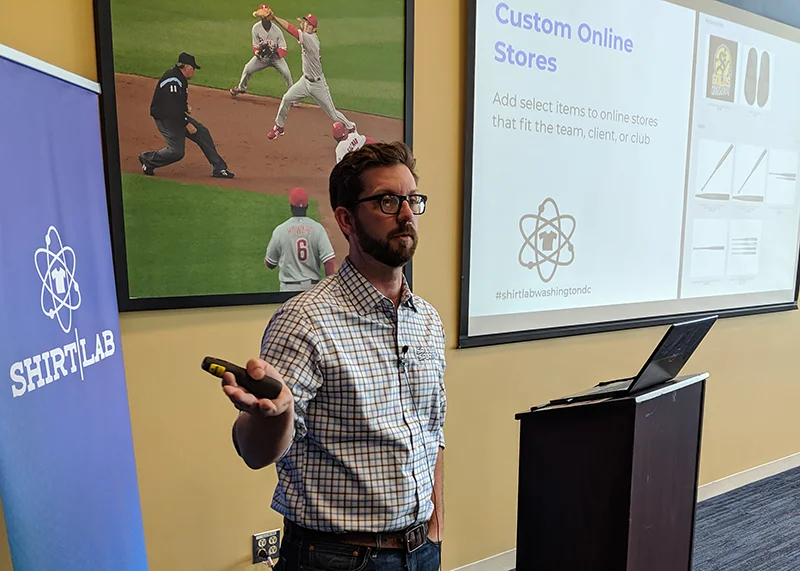 His segment for Shirt Lab was focused on increasing revenue dollars for each order by bundling other items into the sale. Since this was an athletic sales and marketing day, in this arena that means equipment.
But that doesn't mean he saying that you need to turn your shop into Dick's Sporting Goods. Be realistic.
Offer items that make sense.
Grow Sales With Your Existing Customers
You've spent time and effort in developing your customer base. What can you sell them besides apparel?
Adam recommends that if you are already using online stores, try adding some different items in the store. For athletic sales that could mean balls, bats, yoga mats, pole vault equipment, helmets, and other gear.
You don't have to decorate these, they simply ship with the order.
He gave an example of a Little League order where the apparel part of the sale was $6,900. By offering bats, balls, bases, and other equipment the league added $5,800 to the sale. The sales total was now $12,700.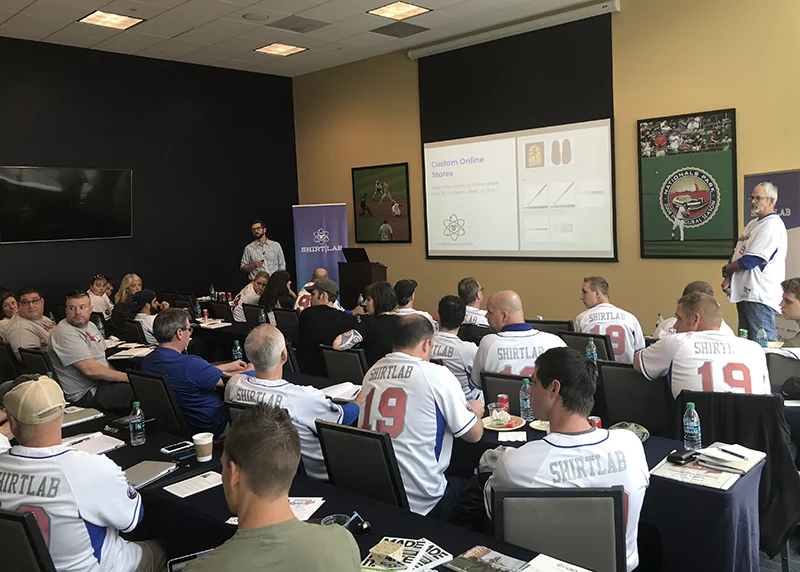 Ryan Moor – Custom "How to" Videos
In every Shirt Lab event so far Ryan Moor has delivered the goods with different takes on how to use video for shops. Shirt Lab Washington DC was no exception, as he brought the heat with a tailored workshop on creating "How-To" videos.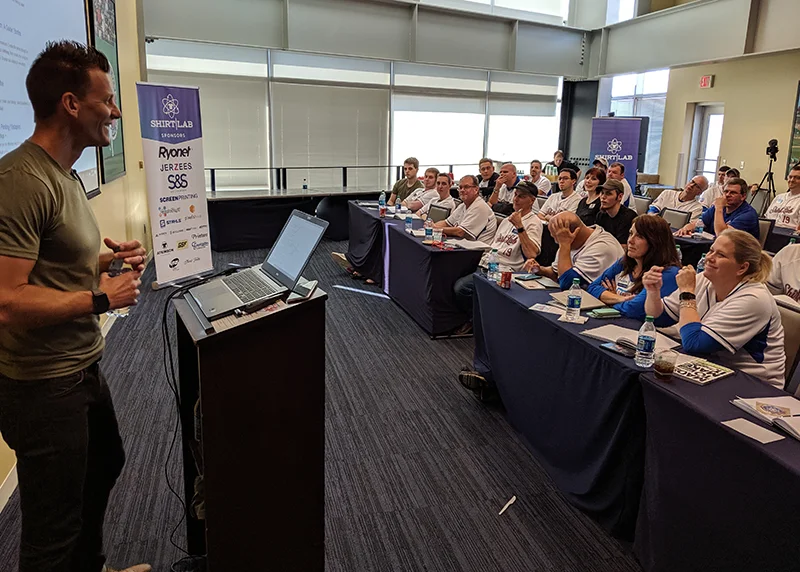 A graphic that Ryan shared was that of the videos that business use or watch online, the leading top five video categories are:
Product Videos
Demos
Explainer Videos
Webinars
How-To / Educational Videos
When To Create a Video?
Therefore, if you wanted to create a series of videos that could help your business, putting some effort into answering your top frequently asked questions could be a huge win.
Ryan shared there are three times where creating video content can really help your shop.
Answering a common question.
How you do something or how your shop is different.
Teach how to solve a problem.
Wear Your Spirit Warehouse
For Shirt Lab Washington DC, we hooked Ryan up with Alison Banholzer with the Wear Your Spirit Warehouse in Maryland. Ryan helped her create a custom video about her shop that had a customer testimonial from a local coach included.
What was fun to go through was the process of building the video. Ali and Ryan shared their journey. Mistakes, things they learned, and what Ali is going to do better next time. The great thing is that she was brave and did something different, and was willing to show the process behind the work during Ryan's segment.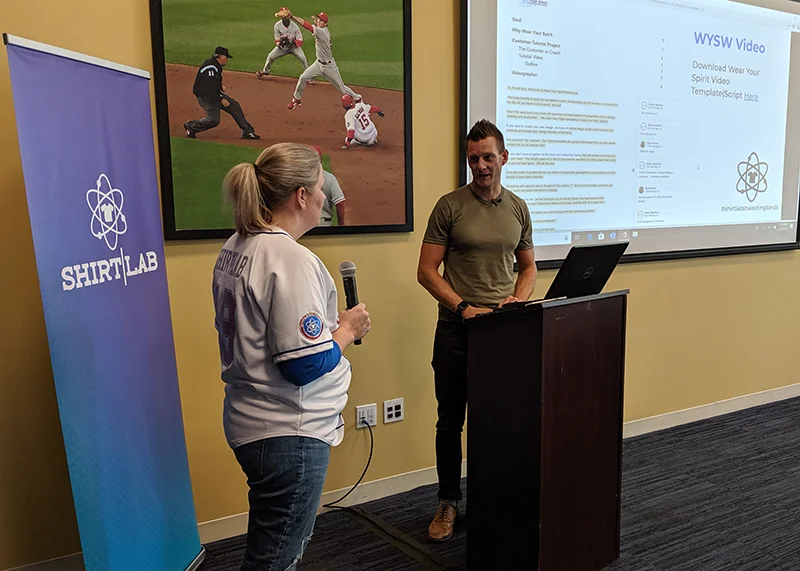 All-Star Roundtable
During the event, each attendee was given a card to write a question or two down for the final panel discussion. I was the moderator, and we had each Shirt Lab Washington DC instructor come up and answer questions posed by the audience.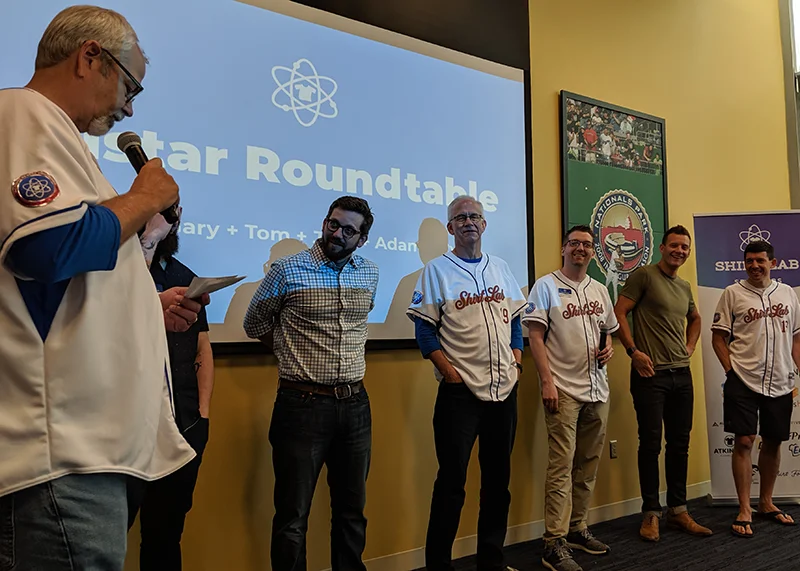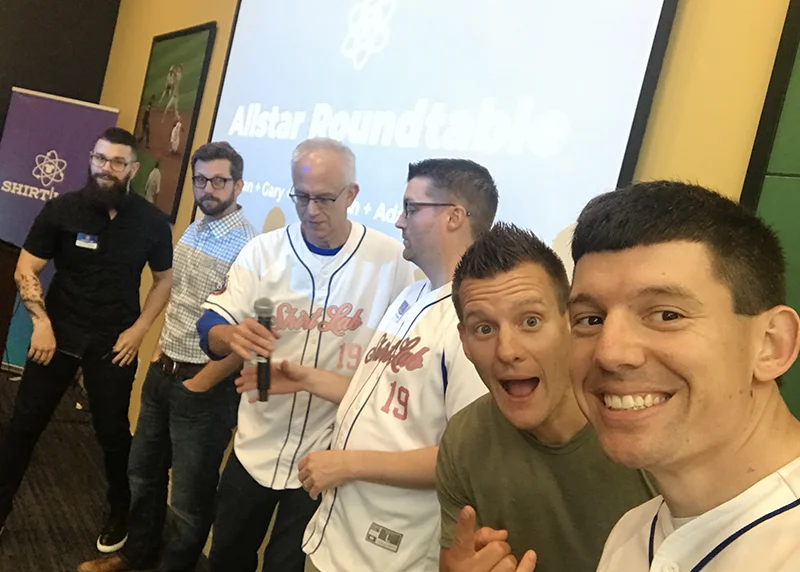 Post Event Awesomeness
After Shirt Lab Washington DC, everyone gathered in the centerfield club to watch the game and network for a few hours.
The Nationals won against the Cubs 5-2. In-between the baseball was a tremendous amount of shop talk.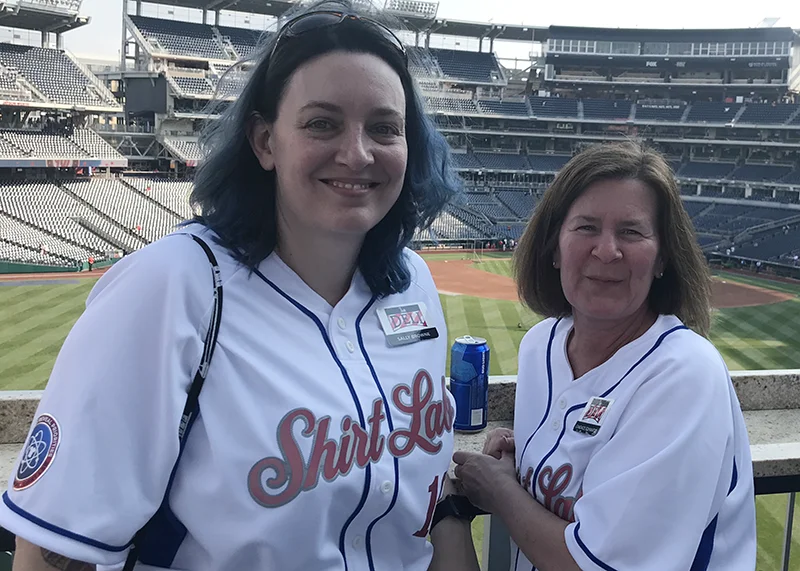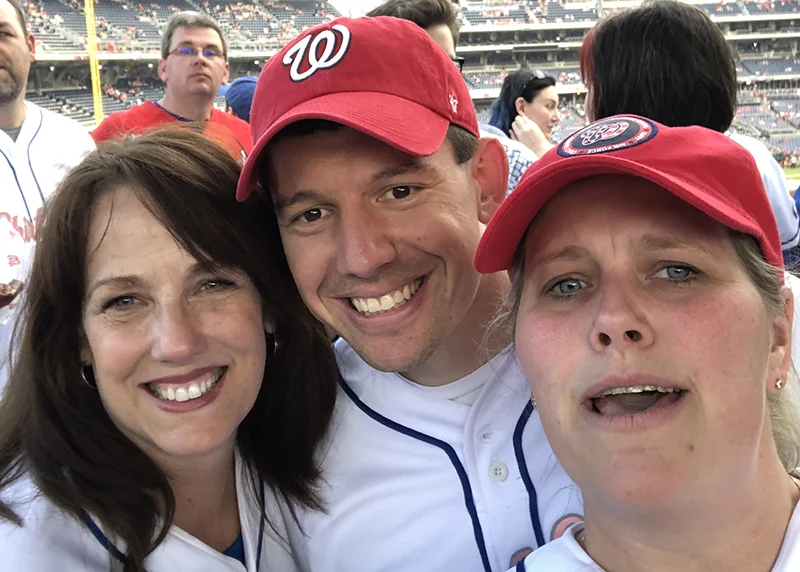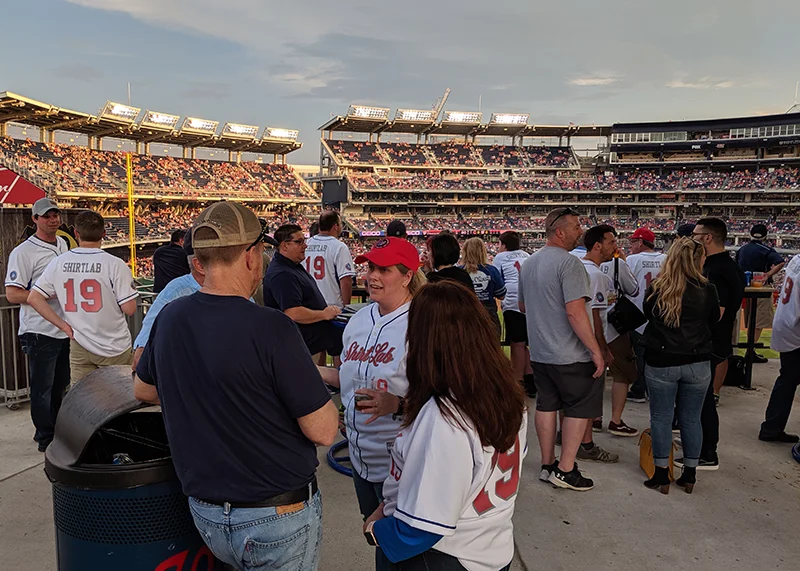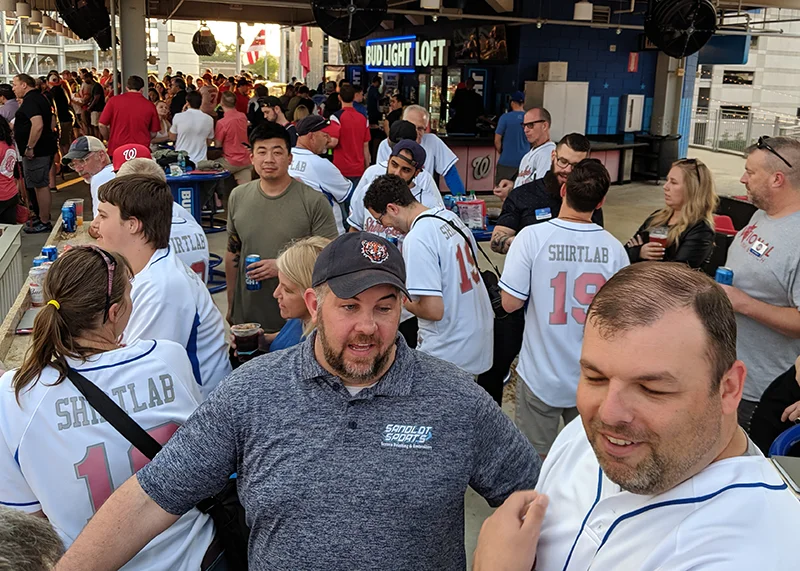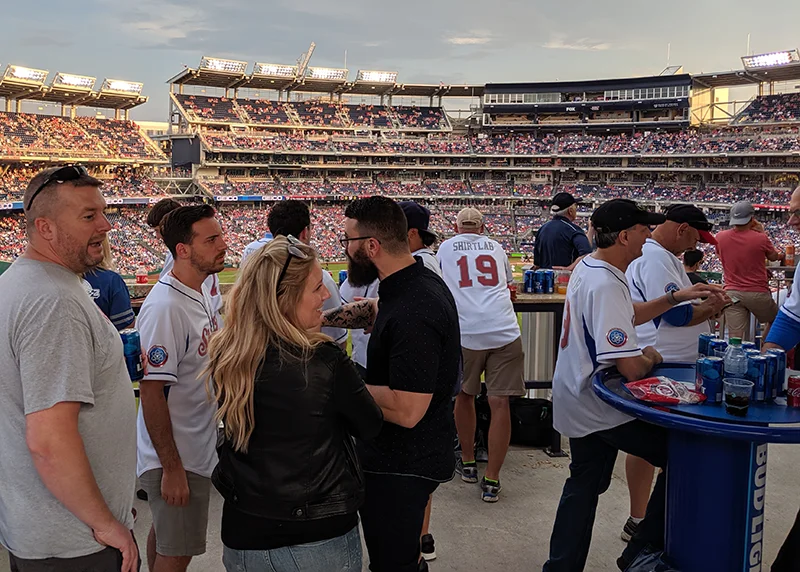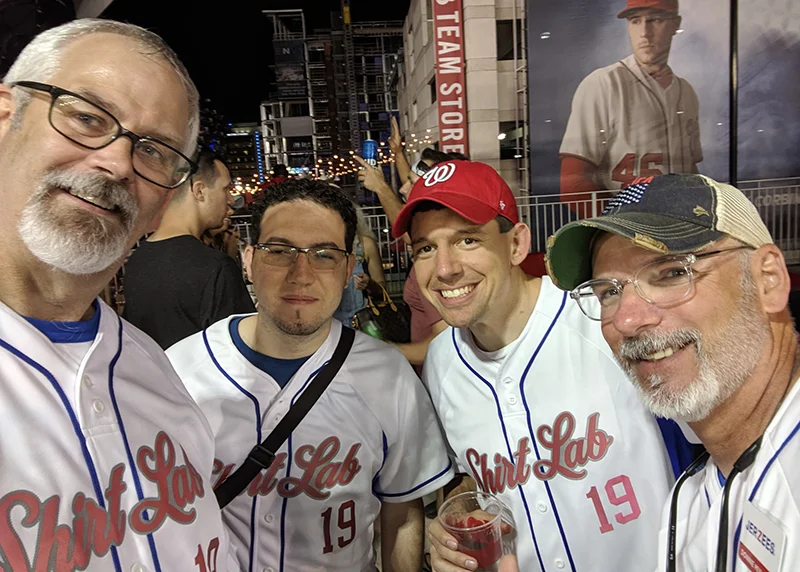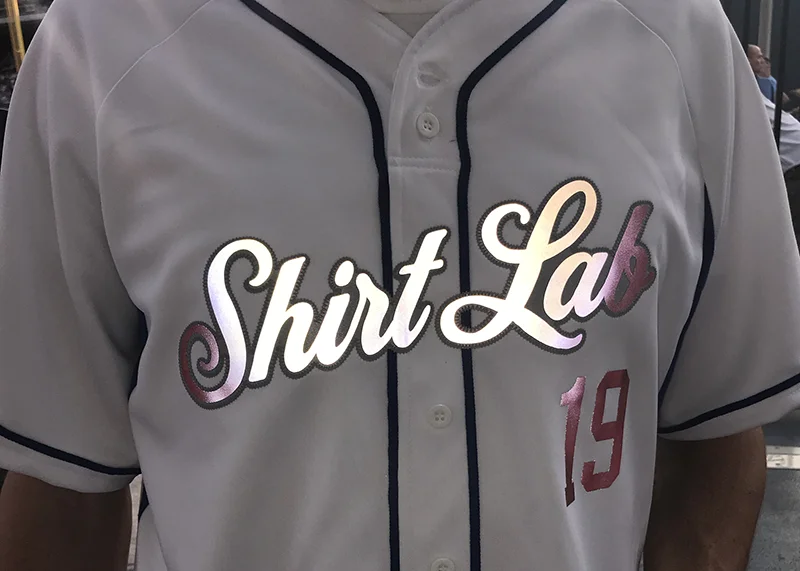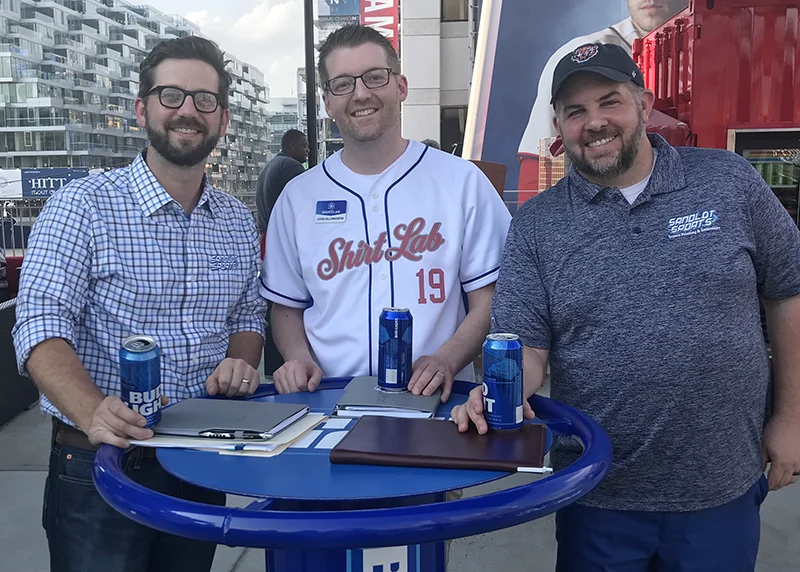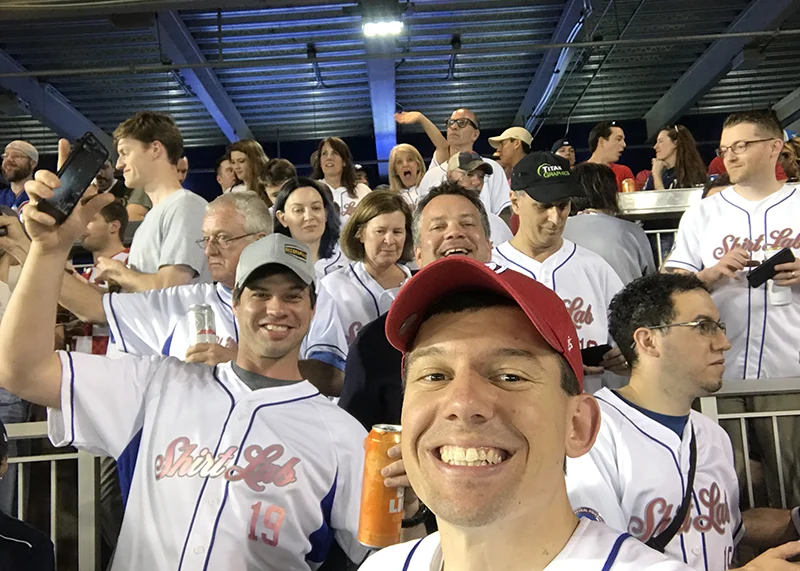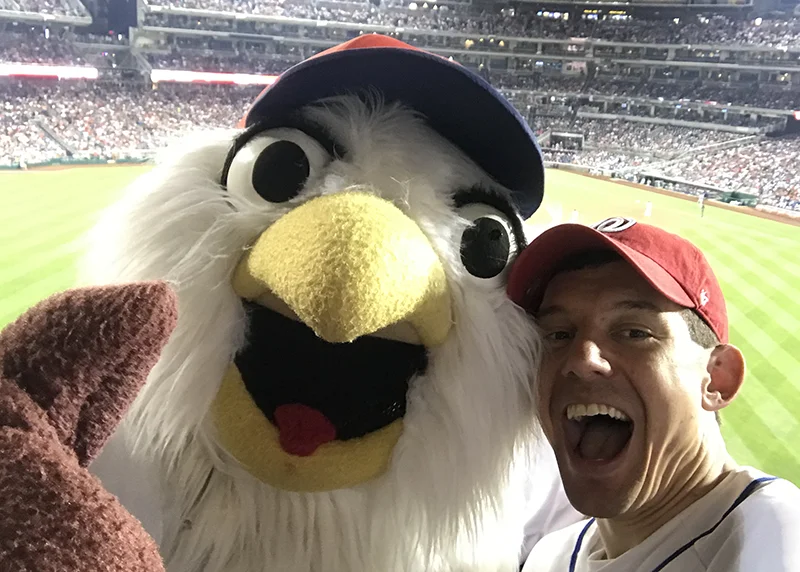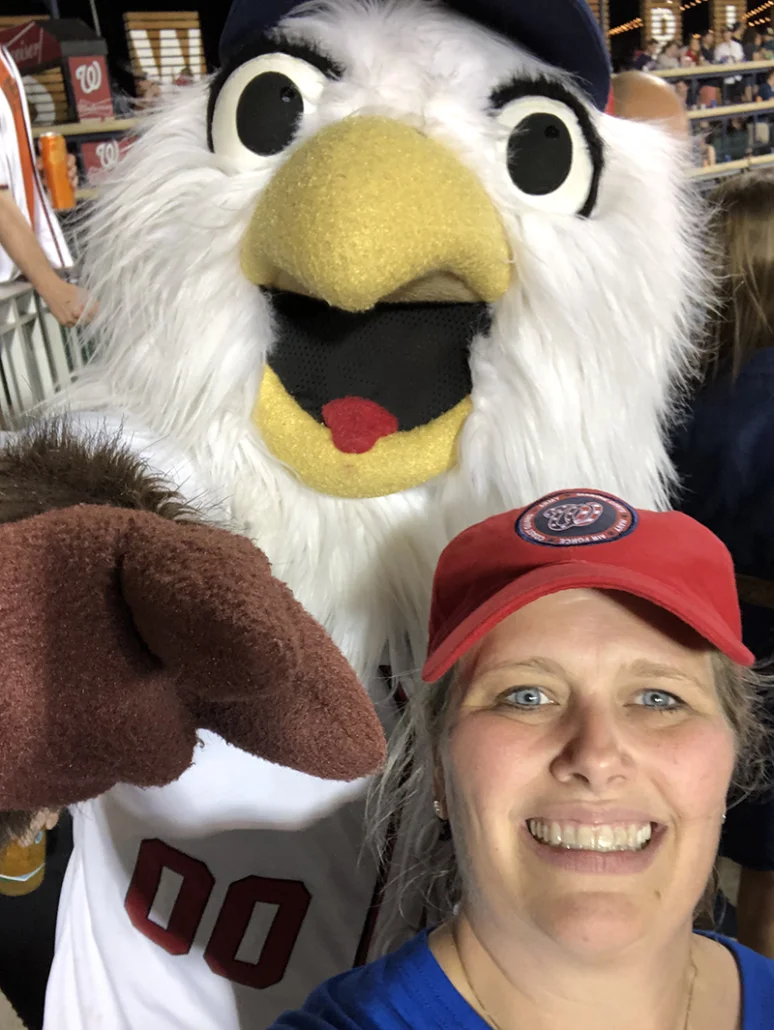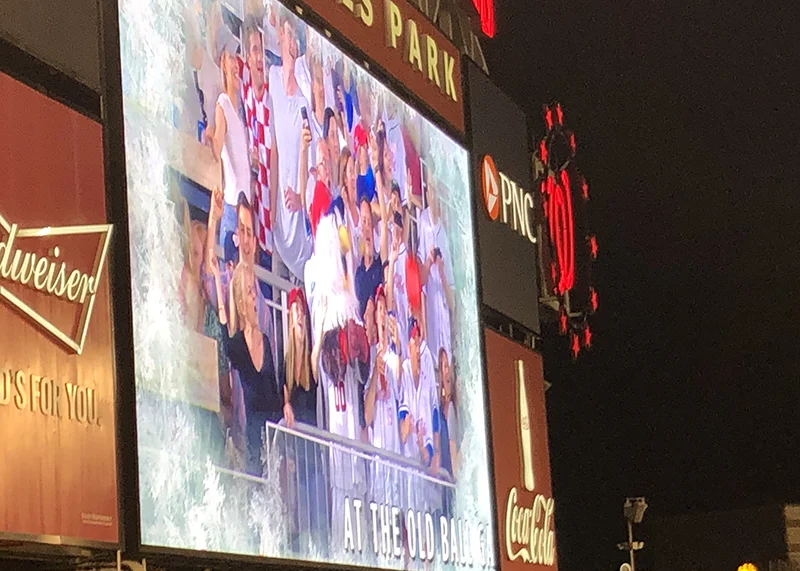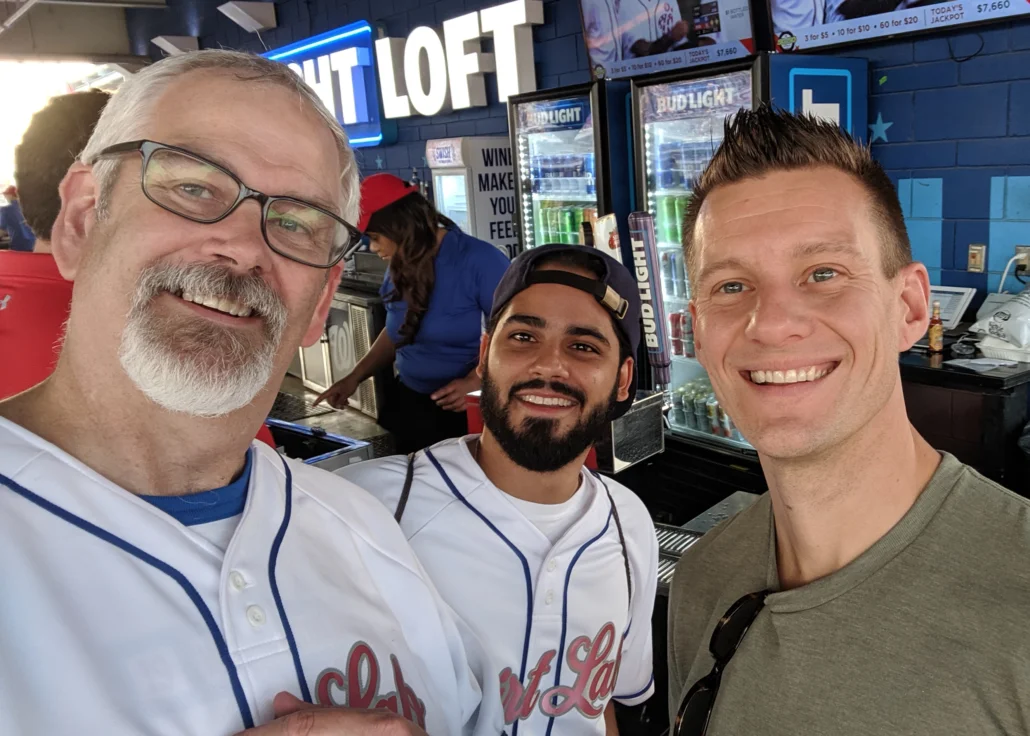 Save $200 on Shirt Lab Portland Tickets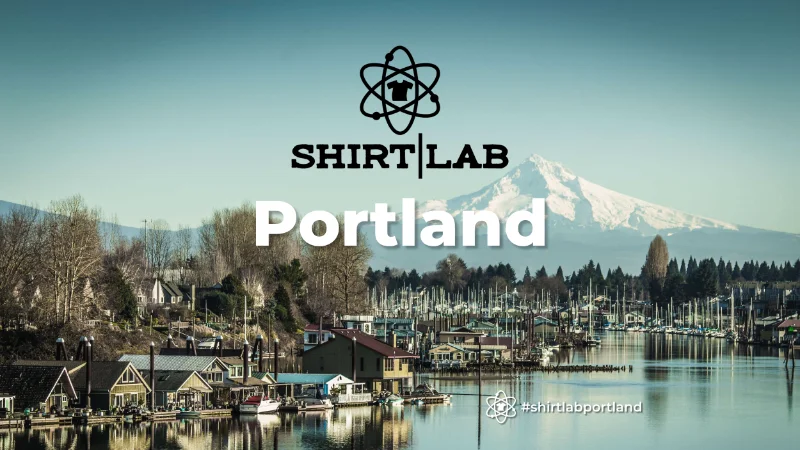 You can be a part of this amazing community and learn the best industry sales and marketing strategies too! Reserve your seat at Shirt Lab Portland today!