I want to convince you to go to Shirt Lab Portland on August 3, 2019.
The Shirt Lab event series is a live workshop where we have the best instructors walk you through the most relevant sales and marketing topics to help grow your shop.
Every event is built on two things. Education and Networking.
Plus a bonus third thing, which is Fun.
Each Shirt Lab is different, and a good chunk of our audience has been to at least two out of the three we've staged so far. A few shops have been to all of them.
Why do they keep coming back for more?
Simple.
They are learning and implementing ideas that are making a direct difference to the bottom line of their shop. All the while making friends and having fun.
Reason #1 for Shirt Lab Portland
The content. You aren't going to find this type of quality sales and marketing line up at any other one-day live workshop event besides another Shirt Lab. (By the way, our next one after Portland is Shirt Lab Atlanta on September 28, 2019)
Let's break it down:
Marketing Success with Story Branding
Industry legend Mark Coudray opens Shirt Lab Portland with a bang by using the Story Brand book by Donald Miller and working it out for the decorated apparel industry. This is a how-to workshop on changing the way you market your shop to one that sells with clarity.
Hear Mark talk about Story Brand and Shirt Lab on this podcast.
How to Sell More With Instagram
Like a lot of shops, I'll bet you have an Instagram account. Are you using it correctly? Do sales and leads come in daily through your posts? Instagram thought leader Sam Sprague with Sprague Media will change the way you use this platform forever.
Converting Leads With A Better Funnel
I'm sure you have heard of Click Funnels. But has anyone ever explained to you step-by-step how to use them with maximum effectiveness? We've brought in Jorge Vasquez to give you the how-to tips and tricks that will make an immediate impact on your shop's sales.
Building Social Proof with Videos
The normal sales cycle goes something like this…Know, Like, Trust, Buy. Trust is a crucial step in that process. Using video, you can build that trust by illustrating your expertise to your customer. Ryan Moor with Ryonet will outline how to create, edit, post, and use video content to build better social proof.
Starting a Sales Team
Have you thought about hiring someone to help out with sales? It's one of the most commonly posted questions in any industry group. Lots of theories. To shed some light on this subject, we've brought in Brad White, who is an expert at building, managing, and motivating sales teams. He will hand you the best practices and steps needed to build a sales team that can make a huge impact on your growth.
Hear Brad White discuss some tips on Starting a Sales Team on this podcast.
Sales Closing Techniques
At Shirt Lab Columbus, Ken Seidl wowed our first group with his fun and lively workshop on sales closing techniques. Ken is an expert and rockstar closer, and he's back to deliver a completely different workshop on sales closing techniques. This is one that you can implement right after the workshop!
Stump the Panel Roundtable
You've got questions, we've got answers. Bring 'em!
Reason #2 – Networking
They say you are the average of the five people you hang around with the most. So in this industry, who are those people?
At Shirt Lab, we know who ours are. A good chunk of our audience has been returning attendees. We've put on three events so far since October of last year. Many have been to two, but a few folks have been to all three.
Why are these people coming back for more?
Simple.
They love the Shirt Lab community as much as the educational content. "These are our people", I heard someone say.
We encourage discussion and want that open dialog. That's why we have purposely created space around that, and activities that foster engagement.
As I like to say, "Remember, your best friend is only a handshake away."
Reason #3 – Weather
So in August what's the weather going to be like where you live?
I live in Phoenix and at that time of the year, it will feel like the face of the sun, only hotter. Maybe your hometown has something similar and you are tired of sticking to your car seat.
How nice would it be to travel to a place where you might have to bring a jacket?
Take a look at this chart from the same time last year in Portland. If you are going to be a sweat-soaked grumpy Gus because of the heat, then you might want to consider getting up here just for the natural air-conditioning alone.
Ahhhhhhhh.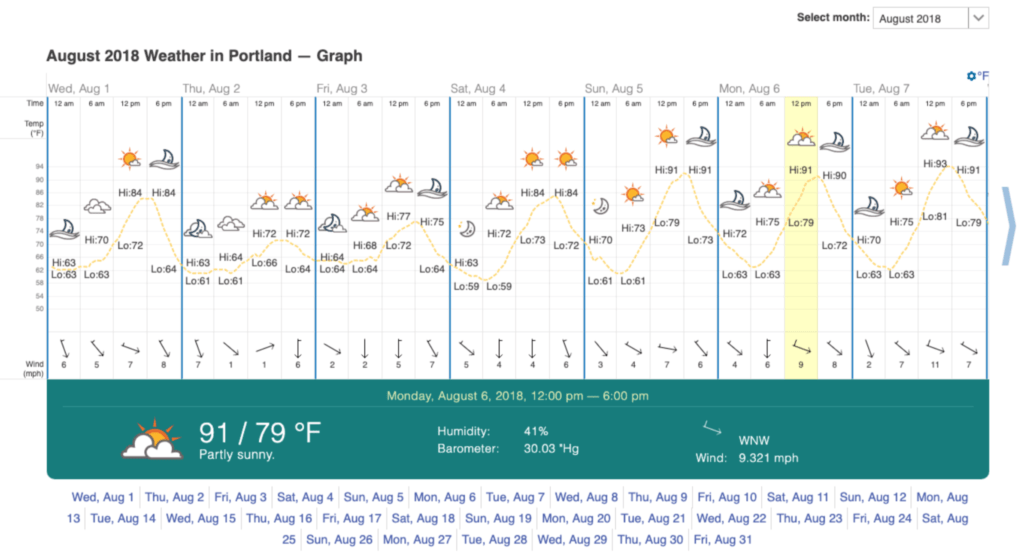 Reason #4 – Experience
C'mon. You've heard others talk about how great Shirt Lab has been. You know you want to experience it for yourself!
But don't just think about being a normal attendee. There are some other options you should be aware of that could make your trip more interesting.
First, at noon on Friday, August 2 we'll be hanging out at Ryonet for a Facebook Live event. Come on out around 11:30 and we'll take a tour and get on social media and answer questions. It's live and free!
Then, that night we'll be hanging out at Heathen Brewery Feral Public House for some craft beers and wine compliments of InkSoft. Join our famous Rock, Paper, Scissors Tournament and see if you can defeat the Shirt Lab Portland crowd for the trophy!
After the Shirt Lab Portland event on Saturday, there is an exclusive VIP dinner at Warehouse 1923 for those that want to elevate their experience. It starts a 7:00, and only a dozen shops can join our speakers and select sponsors for a fun-filled, belly stuffing extravaganza. This is sure to sell out, so get your tickets early.
Then on Sunday, don't forget to sign up for our Shirt Lab Mastermind Brunch. Before you head off to wherever you came from, you can squeeze one more industry discussion into your trip! You can buy the Brunch ticket individually, but it is included with VIP dinner tickets.
Reason #5 – Get Out Of Your Shop
You've been slogging away all year. Don't you think it is time to sharpen your saw and learn something new?
Sometimes the best thing you can do is to completely immerse yourself with a new experience by traveling. Get unstuck!
You have plenty of time to clean screens later.
Reason #6 – New Thinking / New Opportunities
One of the great things about Shirt Lab is that everyone will see and hear things differently as they try to work out how to apply the lessons to their individual shops.
It's the interaction and discussion that will free up a new idea that could impact your shop in an unforeseen way. Are you open to find that nugget that will make a difference?
Hear past Shirt Lab St. Louis attendee Bobby Harris talk about how he transformed his business with one idea that he gleaned from the event in this podcast.
Someone is going to ask a question, offer an opinion, or suggest a solution that is going to blow your mind. Will you be there to hear it?
Reason #7 – You've Never Been to Portland
I'll be honest with you. One of the reasons we picked Portland for Shirt Lab was just so the event would be in Portland and we could go.
I haven't been there. Neither have you. Let's meet up at Shirt Lab Portland!
Seems like a good of a reason as any!
Watch this video below.
---
Read recaps of previous Shirt Lab events:
---
"To succeed, jump as quickly to opportunities as you do to conclusions." – Benjamin Franklin
"You don't have to see the whole staircase, just take the first step." – Martin Luther King
"Whenever you see a successful business, someone made a courageous decision." – Peter Drucker