ThreadX 2020 was held this past week in Scottsdale, Arizona. That's about a 30-minute drive from my house, so it was an easy decision to go. I've been to the other two ThreadX events, so I already knew what to expect.
But let's say that you didn't go to any of the previous events or this year's version? What was it like?
That, my friends, is the basis for this article. For this piece, I'll share my favorite four takeaways from ThreadX 2020. These are the top items that I think were impactful nuggets that can help you or your business.
ThreadX Networking
For starters, let's get this out of the way. One of the main reasons why you go to an event like ThreadX or Shirt Lab is one simple reason.
Networking.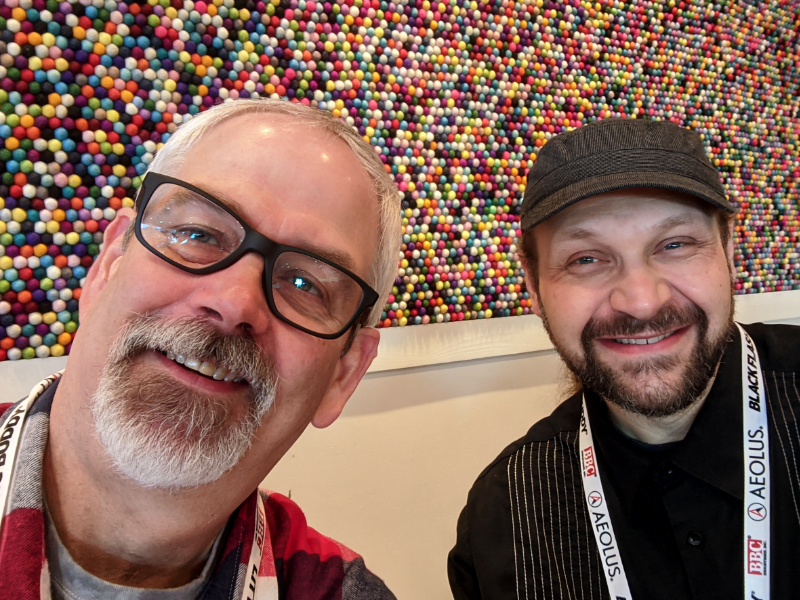 At a trade show or other industry event, everyone has other things to do. Buying, selling, demos, etc. At an event like these, everyone is gathered there for one reason. They will be attending the same segments during the day as you. This means in between those event moments there are key times to simply hang out and meet your fellow decorated apparel industry professionals.
Some are sponsors. A few are in the media. Most are shop owners or part of the leadership team. They are all on different journeys and have different experiences than you.
The fun part is uncovering that.
I heard their incredible success stories, and maybe a few that edged over to bitter disappointment or challenges, but all certainly relevant to the understanding of the industry.
As I've said before, "you must be present to win".
Best ThreadX Takeaway – Scott Wozniak
My absolute favorite speaker from ThreadX was Scott Wozniak. Hands down. Most of the other presentations were really well done, but he took it to another level.
His segment was how to "Build a Raving Fan Engine".
What's a "Raving Fan"?
A Raving Fan is a customer who will drive 100 miles out of their way to buy from you or get your logo tattooed on their body. (Think Harley-Davidson) They line up and will stand in line for hours when a new product is launched. These customers become your biggest advocates.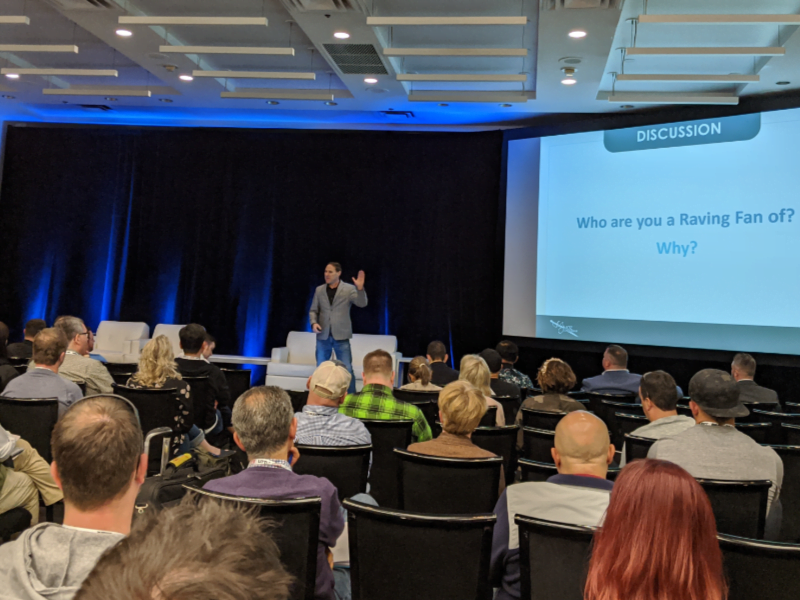 As customers Raving Fans are more apt to:
Buy More
Buy More Often
Pay Full Price
Get Others To Buy From You
I don't know about you, but those sound like some great customers to have. Scott detailed how you can have more Raving Fans for your company by building what he calls a "Raving Fan Engine". This is 100% in your sales process.
Raving Fan Process Step 1
What is it like to do business with your company? Are you like everyone else?
Scott detailed that the best companies with Raving Fans work extremely hard on building a fantastic designed experience for their customers. Think about what it is like to go to an Apple store or Disney World.
That experience is a controlled environment that helps the customer create an emotional bond with the company. You have to think things through. How can you amp up the excitement? What would surprise and delight your customers?
No detail is too small. Case in point is how Apple iPhone customers save the box that it came in because it is so well made. It is the experience of opening the box to reveal the phone that creates that joy.
Raving Fan Process Step 2
No discounts.
Discounts or sales make it hard for Raving Fans to feel good about paying full price. Sure, it might seem like a good idea to slash your prices to get people to order, but it becomes a trap.
Scott cited the "Pizza Chain Price Trap".
This example is how pizza chains have trained their customers to look for coupons before they order a pizza. Nobody can charge full price, because everyone in the market knows that there is a deal to be had. The discounted price is actually the real price.
A better way to think about this is how Chik-Fil-A handles it. Their food is always at full price. In fact, they don't have a value menu. For them, the offer is always either full price or free. Want to try the new chicken biscuit? It's free.
Think about how you are training your customers to deal with how you price or mark things down on sale. What headaches is that causing? Are you generating Raving Fans? With only a small number of Raving Fans buying from you at full price it only takes a few to become more profitable.
One way that you can do this is to create "story-worthy moments". Do something different and create joy with how you interact with your customers.
What stories about your business do you want them to tell?
Raving Fan Process #3
Scott says that you have to deeply understand your customers. The key insights you uncover will allow you to tailor and build those unique experiences that turn customers into Raving Fans.
This goes way beyond raw data. He used a humorous example to show the difference.
Based on these descriptive words, who is this person?
British
Lives in a castle
World Famous
Male
Wealthy
71 years old
Quick. Who did you think of? Was it Prince Charles?
Wrong.
The answer is Ozzy Osbourne. Both are Princes, but only one is the Prince of Darkness. Crazy. But that's how it goes…
Here is where understanding your customers beyond the data sets and tags can help you create unique experiences that will cater to your customers better. Obtaining more information and getting that into your CRM can be the difference-maker in appealing to your customers with more insightful messaging.
After all, Charles and Ozzy probably respond to things differently.
Raving Fan Process #4
Operational Excellence. Yep. You have to do things right.
This is the biggest factor in creating Raving Fans, and the most important. After all, if you are inconsistent with your business nobody will trust you. In fact, Scott believes that being inconsistently excellent is as bad as being consistently bad. Read that sentence again.
Namely, because the customer is left wondering, "will they show up today?"
The most important part of this is understanding what are the critical few things that you have to get right every time. Without fail.
Do you know how big of a gap you have between your best day and your worst day?
Are you measuring and improving?
Raving Fan Process #5
Personalized Service. We are all in the people-pleasing business.
Here's a question your customers instinctively ask you every day: "Do you notice me? Or am I just a transaction?"
Scott stated that feeling heard is so close to love that people don't notice the difference emotionally. I believe it.
How are you singling out your customers with personalized service that makes them feel like you notice them as people?
Every life has a story if we bother to read it.
What stories do you know about your customers?
Raving Fan Process #6
Creating Memorable Moments. Remember, your customer's story isn't about you or your company. It's about them. They are the hero of the story.
But yet, so much of the marketing in the industry is about how great the company is, not the hero's journey toward success.
Are you sharing your customer's hero journey? What is the feeling your customers have about you?
In thinking about this, there are three things that most people remember:
Are you involved in those with your customers? Can you create memorable moments on purpose and have your customers share these stories?
Raving Fan Secret to Success
Healthy Leadership Team. By the way, Scott emphasized TEAM. In order for the Raving Fan Engine to work, all members of your team have to work together.
These are not individuals. In his example, he showed the difference between a Track Team and a Football Team.
A Track Team has individual members competing in different races, and athletic events. They are all competing, but they don't work together.
A Football Team is comprised of many athletes, but to run a successful play each member must do their part.
Your company is more like the football team than the track team. It is that teamwork effort that makes a difference in solving problems and getting the Raving Fan Engine to run successfully.
ThreadX Preview to Shirt Lab Dallas – Jason Rink
What was incredibly fun for me was to listen to Jason Rink give his presentation on "Building Your Marketing Presence With Video".
I haven't heard Jason give a presentation before, so it was great to hear his style, humor, and wit on stage. He will be presenting at Shirt Lab Dallas in October on using the Story Brand SB7 framework in marketing videos. This is a follow up to Mark Coudray's workshop on Story Brand that we had at Shirt Lab Portland in 2019.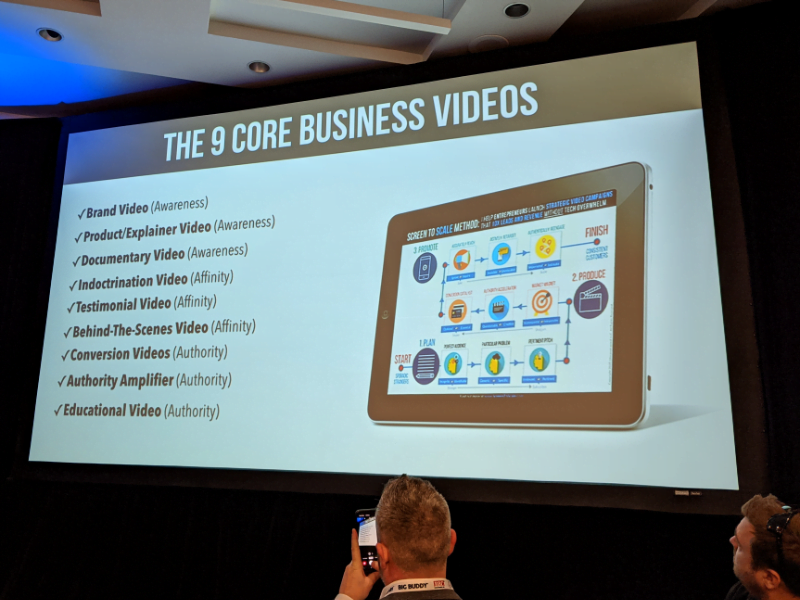 How Do You Get Your Customer's Attention?
Jason started his presentation with the notion of Clarity. I loved this part, as I talk about this with my coaching clients too.
To be successful, you need to get clear on WHO you serve and HOW you serve them. Be specific.
Know where they live. Their age. TV shows they watch. What's important to them. What keeps them up at night. You have to understand everything. Get those details!
The audience that you have or can build is important to understand when you are creating your marketing messaging. What is a problem you can uniquely solve for them?
You have to get extremely clear about that problem.
Build Content
Once you understand the problem and how you can solve it, then you want to create stories that you can tell illustrating that.
Don't show what you can do, show how your customers feel. Film the problem being solved, or the reaction to it.
Video can be repurposed three times too. Once for the original piece. Then with audio for a podcast, and finally with text, if you transcribe it. The text is rich for SEO value.
For content, there are three goals that you should keep in mind when scripting out your video.
Awareness
Affinity
Authority
This is what you have to consider. Awareness drives the bus for people to know who you are and why they should pay attention to you. Affinity is how you are going to get them to like you. Authority is all about building trust.
7 Things That Grow With Video
Jason shared his tips for growing your business with video and stated that companies should focus on seven different ideas.
Install the Facebook Pixel. As you build your audience this information can be used to clone them and grow a lookalike audience to expand your views.
Optimize Your Digital Real Estate. Create and post videos on Facebook, YouTube, Twitter, LinkedIn, TikTok, and Instagram. Build videos for Awareness, Affinity, and Authority. Each video has to be created with intent. What do you want the viewer to do or think?
Capture and Publish Behind the Scenes Videos. People don't see this as ad content, and they are extremely interested in how things work. Once they find you, they will binge-watch everything you've published. Be relevant and interesting.
Shoot a Customer Commercial. Film a video that shows a customer using your product, but the video is mainly about them. What you do is a small sliver of the video.
Produce FAQ Videos. Take your top frequently asked questions and film answers for each one. This becomes a video series. Serving up useful and helpful content is always the best practice. This also establishes your Authority.
Launch a Video Podcast. Bring guests on and talk about relevant topics. This is not about your main business. Think about problems people have and shoot videos on those. Create one per month. These videos are evergreen, binge-able, and relevant.
Create Local Search Videos. Make this keyword rich. Put intention in the title. Jason suggested using vidIQ, which is a tool that helps with getting more views on YouTube.
People are hungry for video content. Especially ones that make an impact or tell a good story. Be authentic and use video to serve people.
ThreadX Customer Experience – Jay Baer
Opening for any event is a tough slot. You have to bring the heat and get the audience engaged and warmed up.
Jay Baer hit a home run with his talk on Customer Experience.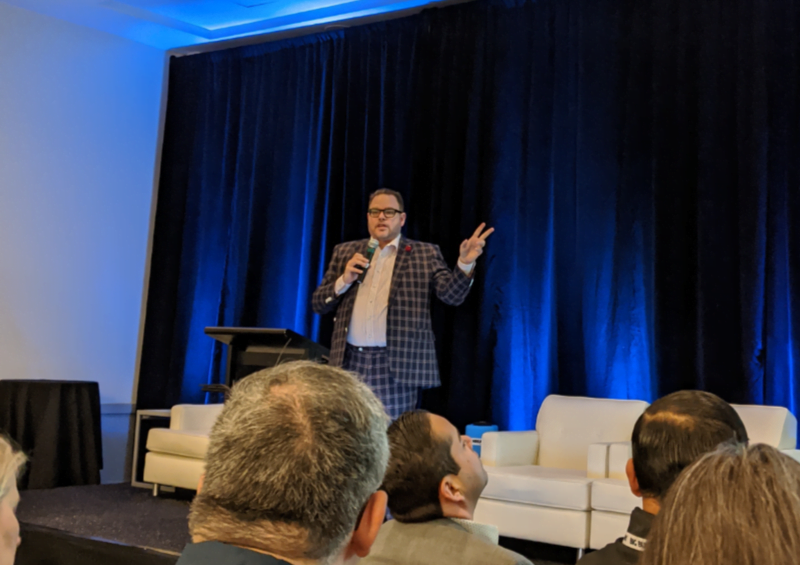 Customer Feelings
Jay started off with this statement, "Customer experience is how we make our customers feel. These feelings are driven by this expectation equation. Customers have expectations. Do you live up to them?"
That's powerful stuff when you dig into it. How much time and effort do we spend uncovering our customer's expectations when an order gets placed? How often have you asked, "What is the number one thing we need to do to be successful here?" Probably not often.
Want a better customer experience? Jay says that the easiest way to exceed in your customer experience is with better service. What is the gap between what the customer expects and what we actually deliver?
5 Ways to Exceed Customer Expectations
Number One – Embrace Complaints.
Jay threw out a statistic that simply blew away everyone's minds. For every 100 dissatisfied customers, only 5 people will actually complain. That means that the other 95 customers simply start using someone else. You'll never know.
Your unhappy customers are your most important customers. In fact, you should create a mechanism or survey to actually get more complaints.
Why?
Your customers know where the problems are. If you can get them to tell you, all you need to do then is spend the effort and time fixing those problems to create a better customer experience.
Build more touchpoints in your process. "Exactly how was your experience today?"
Number Two – Answer Always
A customer you ignore is a customer you should be prepared to lose. Jay stated that 30% of customer complaints are never answered.
No response is a response. It means you don't care.
Jay stated that there is a 25%+ increase in customer advocacy when a customer receives a response to a problem. Even if you can't fix it, in their mind you answered and they like that.
Number Three – Answer Everywhere
You have to be prepared to engage where the customers are comfortable, not just where you are comfortable.
In today's world, complaints are a spectator sport. You see them on Google Reviews, Yelp, Facebook, or any other social media channel. The economic impact of that complaint can transcend what that customer or order was actually worth.
We have to be prepared to answer our customers today wherever they are.
Jay stated that online you should only answer a complaint twice. It's the "Two And Out" rule. Don't get caught up with the argument or get defensive. State how you want to make things right. Demonstrate empathy and that you are listening.
Number Four – Answer Fast
Everyone is busy. Jay stated that speed is the one dimension with customer service that has changed. If your competition or other industries are fast, you are seen as slow by comparison.
Speed matters. Jay shared these stats for how customers have high expectations for speed in responses:
2013 – 4%
2017 – 25%
2020 – 77%
This means that when you get a complaint you need to answer immediately. As fast as you can. It doesn't mean that you need the correct answer. Simply state that you will look into it and get back to them. Then follow up.
Speed is an operational choice. You have to want to be fast.
Number Five – Interact with Empathy
Empathy is about permission. Does your customer service or sales team have permission to treat people with empathy?
If they notice something can they do what is required to make it right for the customer? Yes, this may mean spending money.
Empathy requires a human touch. It is not robotic.
The Flipside of Love is Indifference
During his talk, Jay stated something that I thought was really profound.
"The flip side of love is indifference, not hate. If someone cares enough to be mad, that means they love you. If they are indifferent, there wasn't any love there to start with."
Want to grow your business? You have to out-care your competition. People complain about people more than anything. Who is on the front lines in your company?
ThreadX Recap
All in all, I thought that the ThreadX 2020 event went well. Sure, there were some hiccups and things that I didn't feel hit the best levels. But that happens with anything.
I was able to learn from some fantastic people. The best minds in the industry were all in one room, so the networking was spot on. Plus, it was fun!
By the way, I filmed a few videos at ThreadX as part of my Facebook Live 30-Day Challenge. Check them out:
Day 22 – We ganged up and tried to all do a Live Video from ThreadX simultaneously. "Let's break the internet!"
Day 23 – Hanging out with Alan Howe before breakfast and talking about ThreadX and ISS Atlantic City.
Day 23 – Whoops! I just realized that I got my numbering wrong when I titled this video. This was really Day 24. With Alison Banholzer and Tom Rauen. ThreadX takeaways plus a discussion on Shirt Lab Chicago which will be held on June 6, 2020. Alison is a speaker for our event.
Day 24 – Back in the office. ThreadX recap.
---
"Believe you can and you are halfway there." – Teddy Roosevelt
"Today is the only day, yesterday is gone." – John Wooden
"You must do the things you think you cannot do." – Eleanor Roosevelt
---
Shirt Lab Tickets
If you are interested in ThreadX, let me share with you some points about Shirt Lab.
I've partnered with Tom Rauen to help the industry solve the most challenging sales and marketing problems. So far, we've held five Shirt Lab events. In 2018, we had our first one in Columbus Ohio. In 2019, we held events in St. Louis, Washington DC, Portland, and Atlanta.
Every Shirt Lab is different. From the topics to the speakers, the events are workshops for you to learn tactical tips to bring back to your company and make an immediate impact. The instructors are the best of the best and handpicked to provide the greatest value for you.
Shirt Lab Chicago will be held on June 6, 2020, at VenueSix10. We survey our Shirt Lab attendees and also the industry, and there was an overwhelming demand for an event that championed women in the industry. Shirt Lab Chicago is the Women's Nexus. Can men attend? Of course. This event will sell out. Don't wait – reserve your seat today.
Shirt Lab Dallas will be held on October 2 & 3, 2020 at the Ft. Worth Community Arts Center. This is our first two-day event, and we're overloading the event with speakers and fun for you. Our keynote speaker for the event is the legendary "King of Sales" Jeffrey Gitomer. This event will be one of the most impactful education sessions the industry has seen in quite some time. You need to be there.