Wanna hear "stuff they said?" This past week I attended two completely unrelated but thoroughly amazing events. I'm still trying to get my thoughts together.
The first was the incredible CEX – Creator Economy Expo held in Cleveland, Ohio. At the event last year, I purchased a "NET" or "Never Ending Ticket" NFT for CEX, meaning I'll attend these events as long as they have them for free. Plus, it unlocked some fun and interesting all-access opportunities. The 2023 event was loaded with information, tips, tricks, and discussion on creating and using content better.
The second event was the M&R Accelerate event held in Roselle, Illinois. M&R manufactures some of the best equipment for the decorated apparel industry, and this was both a showcase of their work and a glimpse into the future.
I Took A Lot of Notes
Between the two events, I took 52 pages of notes. (holy hand cramp!)
While my scribbles might not make sense to you or be in your wheelhouse for anything you are currently working on, I thought it might be fun to share some takeaways, quotes, and my thoughts on why I thought that nugget is something worth its weight in gold.
Warning: I'm mashing some of this stuff together, as there were some trends that connected the two disparate events.
Plus, at the end of the article, I'll add a list of the tools and books all of these experts are using or reading.
Stuff They Discussed: Psychology
"What motivates you to click a button?" said Andy Crestodina with Orbit Marketing. Is it the shape, color, or text on the button? What metrics prove that how you set something up is working the best way for your website or online store?
For any "Call to Action" or CTA, there is a psychological formal cost that the user has locked in their brain on the interaction. Does the benefit of what is behind the button exceed the psychological or emotional "cost" of clicking the button? You want the benefit bigger or the cost smaller, so the user will click.
Specificity Pushes Conversion
For example, the CTA button on your website could read, "Book a Call." While this may work, the user may not have enough clarity the break down the psychological cost to enable the freedom to click to start that process.
However, what if a short sentence above the CTA button read, "Book a call with a personalization expert. We'll usually get back to you within four hours."
To punch that up further, the CTA button could use "Let's Get Started," which, according to Andy, is the best-performing CTA across all industries.
At the M&R Accelerate event, Frank Vacanti, who printed for legendary rock bands like the Grateful Dead and Journey at this time at Winterland Productions spoke about being different. "You want to stand out from everyone else and it is important to have your own thumbprint. Be original. Art is what sells it."
Stuff They Disclosed: Fear
One of the best quotes heard at the entire CEX Expo was not in a workshop or lecture but at a networking event. A group of us were talking about how writers and artists may be intimidated by ChatGPT, Midjourney, or Adobe Firefly. Over a beer, this nugget was dropped into the conversation.
"If it scares you, it is meant for you."
Whoa.
That stopped everyone dead in their tracks. Many people are absolutely freaking out about how artificial intelligence driven ANYTHING will make them obsolete. They see these new ideas as competition.
This was the other side of that coin. What if these tools made you BETTER at what you already do? The discussion then launched into how these folks use these tools to iterate faster, brainstorm more, and add creativity to their lives and work.
What If?
What was remarkable was that both events I attended were completely different in the make-up of the attendees. However, both had the artificial intelligence "what-if" river snaking through the conversations, workshops, demonstrations, and late-night discussions.
It is how you are going to be using these tools that matter. AI is endlessly derivative. When you use it to create either written text or a new image, it is sourcing something.
Our job as creators is not to be derivative. That is why we have an imagination and possess the ability to think.
"If it scares you, it is meant for you."
AI is a tool. How are you going to use it to include your point of view?
Brian Fanzo had another take on this at CEX; he stated, "AI is not replacing artists but unlocking others to be more creative." He showed his Midjourney account live onstage, and he's already created 41,000+ images using the tool.
Be a student of what works and what doesn't.
Stuff They Affirmed: Not Stopping
On the M&R Acclerate Panel, shop owner Steve Demko with Fashion Graphics explained his rationale behind getting into using a Digital Squeegee. "Nothing has changed in this business for thirty years. This digital stuff is changing everything."
They have been employing Midjourney to create more intresting graphics for their clients. Steve said that using the tool is great because they don't have to work so hard on getting amazing art. "This bus is not stopping for anybody."
Victor Carlos, owner of Quikturn Professional Screenprinting agrees, as he owns seven digital squeegees. He said, "If you do good work your customers are not going to leave you."
Stuff They Declared: Success
At CEX, Jay Baer gave a great presentation on creating something new and offered up this fantastic quote, "Success comes from perspiration, not inspiration."
Meaning it is the actual work that you put in that matters. Jay says that it is ok to make mistakes. Over time you only have to be right slightly more than you are wrong. Being wrong often is the stepping stone to that success. Be consistent about the work. Research your competition. Try new things. Talk to current or potential customers and get their opinions.
A few moments later, Alexis Grant talked about building a business also. Her tips boiled down to three ideas:
Expectations must align with resources. You can't build Rome in a day. Use the tools, people, and financial resources at your disposal…but be realistic. Find out what you need to get to the next level.
Let small bad things happen so you can build big things. Don't get caught up in micromanaging.
Be intentional about where you are spending time, energy, and money. Prioritize for the outcome you want.
Stuff They Delivered: Resonance
Also at CEX, Jay Acunzo dropped this gem, "Don't make people like stuff. Make stuff people like."
The results of your effort need to resonate with your customers and audience. The connection you build will tie them to whatever you are creating.
That's the thing.
Starting from a foundation of what people already like but adding your twist to it. What is your vision? Are you communicating that well?
Sometimes, people in this industry get a little lost in order-taking. We're churning out printed or embroidered garments as fast as we can, but what gets lost sometimes is how the end customer is using the shirt.
Make More Stuff People Like
Ask more questions. Discover your customer's stories. Find out how to make more stuff people like.
For example, at the M&R Accelerate event, legendary OG screenprinter Jon Weiss with New Buffalo Shirt Factory said that, "Printing t-shirts is the only part of this business that matters." On that same panel discussion was Frank Vacanti, who told a great story about riding on top of a Precision Oval press slowly dripping dots of ink into a screen and "playing the squeegee like a guitar" for some shirts for the band Heart.
On a different panel at the M&R event, Brian Rainey, president of Gooten discussed that "consumer behavior is fracturing. What do consumers want?" He compared the latest developments in the market to the disruption of the camera with film. The market shifted from using film, to digital cameras, to everyone using their phone to capture images.
"Now, everyone can sell their ideas online. How do we print that?"
Stuff They Voiced: Perspective
Everyone is on their own journey through life and their career. Last week I met an incredible number of talented and successful people. It is easy to compare yourself to them, and feel a little imposter syndrome starting up.
Chris Lema put things into a different framework when he said, "Whatever you've been, whatever you've done, there is always someone doing it worse." That made me feel a lot better.
During his workshop, he outlined the four different gaps that content creators can use as an opportunity. This was a unique way of looking at this, so I wanted to share:
Knowledge Gap – If you provide how to think and what to know, this gap is for you. Your content is for teaching, frameworks, and examples or templates.
Skill Gap – This is for you if you know how to do something, and in what order to do it. This is great for explainer videos, demonstrations, and any sort of instructions.
Context Gap – this is a bridge. Your audience already knows something. Your job is to get them to go somewhere else. "Here's how to tweak something to do this."
Motivation Gap – this is for people who can help others with encouragement or accountability. You can provide connections, 1:1 meetings, or simple encouragement.
FAQ vs RAQ
One other great nugget shared at CEX was the notion of not only using a FAQ – "Frequently Asked Question," but also a RAQ, which is a "Rarely Asked Question." This is the top of the pyramid of the questions your audience or customers could ask. The idea here is that this could be the exact thing your best customer might be searching for, as the commodity based type of customers will want something from the FAQ list. What is the RAQ that matters most in what you do?
At the M&R Accelerate panel discussion, Mike Beckman, the guy that invented high density printing spoke about being a "very curious person" and that "digital printing is the wave of the future." During a workshop, attendees got to use word prompts to create an original image in Midjourney and have the image instantly printed on a new M&R Polaris digital printer.
Many discussions later at dinner involved the idea of getting ideas onto the shirt faster.
Stuff They Shared: Data
Between the two events, a lot of people discussed metrics and data. If you know me at all, you know they are signing my song here. After all, "you can't manage what you don't measure."
During his workshop on Wednesday at CEX, Brian Piper spoke about being "data inspired and data informed." As many already know, not looking at your data can hurt you. After all, if you are not connecting your data to your goals, how do you know where you are on your journey? Data helps you see the big picture.
I loved the term, "Data Informed." Knowing your KPIs or "Key Performance Indicators" is how you measure success. Your KPIs can be about anything.
OTWB Rate
For badass writer, Ann Handley, the KPI she tracks is her OTWB Rate. That is her "Open To Write Back" rate. On her newsletter she expresses that she wants her readers to write her back regarding the edition that just came out. That is how she judges the success of the topics she's covering.
Also, did you know you can instantly get data on what you are posting on LinkedIn? I know that other platforms have data analystics, but I didn't know about LinkedIn. Just go to your profile, and immediately at the top of your profile page is an "Analytics and Tools" section. Click that. (I just found out that my posts saw a 246% increase from the previous week!). Mainly because of this article I wrote 9,462 people read it on LinkedIn.
Now, I'm "Data Informed!"
Stuff They Presented: The Five E's
The keynote speaker for CEX was Jesse Cole, owner of the Savannah Bananas baseball team. He brought his high-energy approach to the stage and discussed his approach, which he calls "The Five E's." It was a fun presentation, and it boiled down to these ideas:
E – Eliminate Friction – put yourself in your customer's shoes. Whatever are the friction points, try to do the opposite. How can you make dealing with your company a better experience?
E – Entertain Always – P.T. Barnum said, "The noblest art is making others happy." Try working through your customer experience and benchmark the moments and experiences. What are the stages? How do customers go through them? What if each moment along the way was memorable and unique?
E – Experiment Constantly – Do the opposite of normal. Test a few and see what happens. Jesse tries to "work the idea muscle" by creating a list of 10 ideas every day.
E – Engage Deeply – Try to do for one what you could do for many. Listen carefully, respond creatively. Show that you care. The Savannah Bananas make it a point to incentivize stories that their customers can share over any type of sales. Try to make an impact.
E – Empower – To make a difference empower your staff to make changes and be independent. Train them on limits and the outcomes you want to build. Empower your staff to show gratitude.
One of the best quotes from Jesse was his story that, of course, included baseball. The catch phrase was "Swing hard, in case you hit it." If you are timid in what you are trying, if you do connect you will get timid results. However, if you give it all you have, if you do connect you may just hit a home run.
"Swing hard, in case you hit it."
Stuff They Used: Recommended Tools
Adobe Firefly – the new creative AI from Adobe. This is in beta; you must sign up to be invited. It's different than Midjourney in that all of the images the AI has learned from have been copywritten and cleared. It also gives AI-generated vector art.
Answer the Public – Search listening tool. Find what people are typing into the search.
AutoPod – Edit your podcasts easier.
Bard – Google's version of ChatGPT
Bigroom.tv – Convert landscape videos for vertical format social media clips.
Canva – Makes it easy to create graphics. (Matt Marcotte predicts that within five years Canva will either buy Adobe, or Adobe will buy Canva – putting it in here as a record of the statement."
ConvertKit – helps you grow your audience.
Copy.ai – Create copy in seconds.
CXL Courses – Marketing course hub to learn how to do something
Descript – Edit podcasts and videos easier.
Discord – topic based channels for discussions. Platform needed if you want to use Midjourney
Durable – AI powered website clone tool. Generate a website template that you can use from any website.
Google Analytics 4 – or GA4
Google Search Console – Search Console tools and reports help you measure your site's Search traffic and performance, fix issues, and make your site shine in Google Search results
Grammarly – Make your writing better instantly.
Hotjar – webpage site heat mapping
HuggingGPT – HuggingGPT uses LLMs to understand user intent and decompose complex tasks into sub-tasks. Hugging Face has developed HuggingGPT to be user-friendly and accessible to developers and researchers.
Keywordtools.io – find great keywords using Google Autocomplete
Jasper.ai – Online AI content
Market Muse – This is an AI tool to analyze your website and to help plan with targeted keyphrases.
Midjourney – image artificial intelligence creation platform. You'll need a Discord account to use it.
MOZ – SEO and Keyword Search Tool
OpenAI – ChatGPT site.
Opus.pro – Reformat long videos into short clips and text
Podia – online course creator site.
Quora – a site to gain and share knowledge
Reddit – a site to gain and share knowledge
Replicate – Experimental machine learning to do tasks for you.
SEMrush – Optimize your data metrics online
Surfer SEO – Gives you the workflow to optimize your social
Talkwalker – online listening tool for your brand.
Topaz Gigapixel – this upgrades your Midjourney or another AI-generated image to something usable for print. (I use this, and it works great!)
Tweetpik – capture beautiful screenshots of Twitter posts to share on other platforms.
Zealous.co – Build out competitions and entries for award events.
Stuff They Read: Recommended Books
"2 Second Lean" by Paul Akers
"Atomic Habits" by James Clear
"Beyond Disruption" – by W Chan Kim and Renée Mauborgne
"Content Chemistry: The Illustrated Handbook for Content Marketing" by Andy Crestodina
"Epic Content Marketing" by Joe Pulizzi and Brian Piper
"Everybody Writes: Your New and Improved Go-To Guide to Creating Ridiculously Good Content" – by Ann Handley
"Fanatical Prospecting" – Jeb Blount
"Find Your Yellow Tux" by Jesse Cole
"SuperFans" by Pat Flynn
"The Content Marketing Equation" by Anthony Fasano
"The Practice" by Seth Godin
"Traction" by Gino Wickman
---
"No matter what people tell you, words and ideas change the world." – Robin Williams
"Believe you can and you are halfway there." – Teddy Roosevelt
"Someone is sitting in the shade today because someone planted a tree a long time ago." – Warren Buffett
---
Help Support This Blog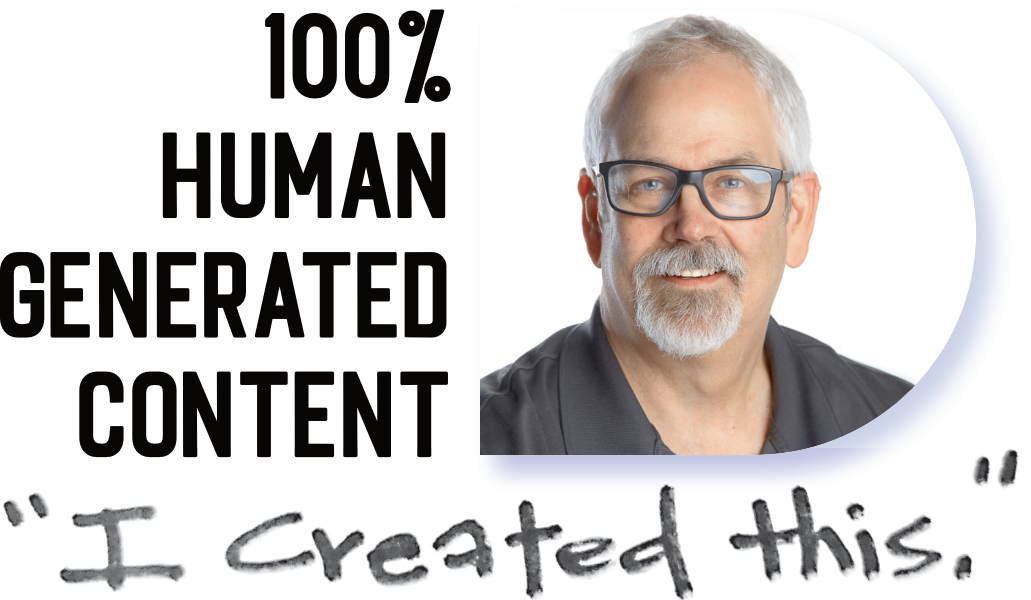 While I may be goofing around with AI for some projects, this blog and its contents have been created by me, Marshall Atkinson. For this particular article, I did use Midjourney for the cover image. Mainly because it's fun.
Why am I writing this? To remind you, dear reader, these words are backed by a real person. With experience, flaws, successes, and failures… That's where growth and learning happen. By putting in the work.
If you are reading this and it is not on my website, it has been stolen without my permission by some autobot. Please report this to me and/or publicly out the website that hijacked it. And if you are trying to copy and use it without my permission, you are stealing. Didn't your mama teach you better?
If you like this blog and would like to support it, you can:
Share this blog on your social media.
Subscribe to the Success Stories podcast.
Watch and like an episode on the Jerzees Adventures in Apparel Decorating YouTube series.
Get signed up for the new Production Tracker app.
Also, my basic elevator pitch to you is that I help with "Clarifying effective change." If you are dissatisfied with your business's current results, maybe I can help.
Please schedule a discovery call here if you want to learn more.
Thanks!