Have you ever thought about outsourcing your art?
I know. Your creative team rocks.
I've been there. I was an art director for 14 years. But in the last few years, many shops have started outsourcing their art tasks to creative teams in another country. As someone that likes to do the art myself, I didn't understand why anyone would want to go that route.
Until I dug a little deeper.
Then, it was like how the light comes on when you open the refrigerator. Bink. Angels didn't sing or anything, but I did have an epiphany.
It all makes sense now.
I want to share with you a few reasons why I think that outsourcing art might make sense for your shop.
Outsourcing Your Time
There are only so many hours in the day. You aren't getting more. So when your sales efforts skyrocket, what is the team that gets impacted first?
That's right. The funky bunch in the art department.
Have you ever considered outsourcing production when you can't print or embroider everything you have scheduled? You may have done that once or twice. (this month?)
This idea is not much different.
Your crew can pick and choose what to keep. A lot of the work that flows into the art department's schedule isn't too difficult to create, but it all takes time.
Time is your enemy here.
So stop and consider why haven't you:
Set up those new business cards for the sales guy they just hired?
Added those two new InkSoft online stores?
Created an animated intro to your videos?
Worked through the backlog of late design jobs?
Finished digitizing those logos for that company store project?
Cleaned up that 36k file your new customer sent as their logo?
Helped out your marketing crew with building social media templates?
Your art department is simply trying to keep their head above water. And for some of you readers out there, besides doing all of the printing and admin work in your shop…you handle those art chores too.
Holy smokes.
It is no wonder one of the biggest bottlenecks in your shop is in the art department.
For most shop owners, finding enough people talented enough and trained in this business is like looking for that needle in a haystack. Usually when there is a lot of work to do the answer is to throw more people at the problem. "Many hands make light work", right?
But who said those hands have to be on your payroll?
Outsourcing The Skill
I've been doing art for the decorated apparel industry since 1993. (Yeah, I'm that old)
My particular skill is in Photoshop. I love it. (Check out my new eBook "T-shirt Texture Tricks" – Link at the bottom)
But what do I know about embroidery digitizing, video graphics, or setting up art to print on paper?
Zip.
Nada.
Bupkis.
Sure, I can slog through it and probably get it handled. But it's slow going.
I have to look stuff up or ask basic questions.  I'm functionally literate in these areas, but certainly not an expert.
I don't know your art team or their skill level, but I would bet they have similar worries. They might not even express it to you either, as we live in a "can-do" society. Which is why we take on projects that are larger than our current skill set.
Nothing wrong with that, as that's how learning happens.
But what happens when while someone on your creative staff is spending two days creating something that would take a trained person a half-hour to complete? Art tasks and creative work stack up behind it. Very soon that domino effect will reach your production floor.
"What do you mean those screens aren't ready? That art was approved three days ago!", said every production manager everywhere.
They can't make the screens until the art department hits that button on the seps. Currently, they are busy doodling thumbnails for a new design series for your sales team to go sell.  They have a presentation to give on Wednesday.
Now imagine a world where that crazy art project is outsourced to a team somewhere else? In fact, anything where your team doesn't quite have the skill that is needed on an elite level, that work is outsourced to professionals that can knock it out in a day.
Can you describe the acceleration that would happen to your company?
"Get 'er done!"
Save Money By Outsourcing
This is a feast or famine business.
When sales are good, we need to get the product produced and shipped out the door. After that sales tsunami hits, it's all hands on deck, "nobody-leaves-until-we're-through" type of deal.
Even your art team can pull fifty to sixty-hour weeks just to keep up. You don't keep more artists, because any other time of the year, you might not need them.
Think about the cost savings you would have if a chunk of that art that needs to be produced is outsourced to another team.
Your artists keep their sanity. Which means, error rates aren't as high as they are not rushed to get everything out daily. Therefore they can spend a little more time on the creative end of things properly, which keeps your shop's reputation up.
Plus, they can have the time needed to create those designs your sales guy wants for that presentation next week.
Solopreneur?
Or, if you are a one-man band type of shop you know the struggle. You do everything. Sell. Create art. Digitize files. Burn screens. Print. Embroider. Ship. Invoice. Admin. Clean.
Feeling the squeeze?  Especially since your t-shirt shop is your after-hours gig.
How much money is your time worth anyway? One of the things that I have been advising my coaching clients is to stop doing $10 an hour tasks and do more $10,000 an hour tasks. This happens through automation and delegation.
One of these could be in outsourcing the art.
Imagine if that was off of your plate.
How many potential customers could you be talking to during that same amount of time?  What else could you be doing instead?
Getting new customers that will love you and send you business for years to come is a $10,000 an hour task. Setting up that left chest art with the customer's logo and sending them an approval form is not.
Move faster.
Solve The Problem
Which brings us to the solution I have for you. Just recently I have partnered with a fantastic outsourcing agency called Pixel'sHive from Argentina. I wish I had this resource when I was an art director many years ago.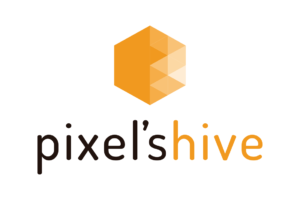 You need to try these folks.
[av_button label='Try Pixel'sHive' link='manually,https://art.pixelshive.com/mac' link_target='_blank' size='x-large' position='left' label_display=" icon_select='no' icon='ue800′ font='entypo-fontello' color='theme-color' custom_bg='#444444′ custom_font='#ffffff' av_uid='av-nlho4t' admin_preview_bg="]
Send them something to do. It's crazily affordable.
From there, each project you send has a team of three people that work on it. There's an art director that overviews the job. One person handles the creation. A completely different person micro-manages it with quality control.
With over sixty artists on staff, they turn most jobs in 24 hours. They take care of everything about the job. The creation. Approvals. Changes. The whole enchilada.  Not to mention they work in the same time zones as the United States, so communication can be better than using artists that are around the globe.
How fast is your current team? Can they turn everything that quickly?
They even have enterprise level accounts available if you want to go all in and set things up with an API.
If you struggle with this in your shop, you owe it to yourself to give them a try.
"In order to be irreplaceable, one must always be different." – Coco Chanel
"Change is the end result of all true learning." – Leo Buscaglia
"We cannot solve our problems with the same thinking we used when we created them." – Albert Einstein
T-shirt Texture Tricks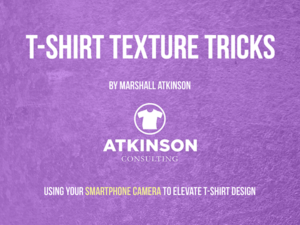 T-shirt Texture Tricks is my new eBook.
Many of you know me as an operations guy, but I made my bones in this industry creating art for some of the biggest names around.
Simply put, I'm a Photoshop geek. Back in the day, I would scan textures into Photoshop and use them to manipulate the files to give me an added edge to sell the designs.  My textures gave the designs added flair that can't be easily replicated because they stem from my creative voice.
These days, I do that with my cell phone camera. Probably like the one you own.
All around you are thousands of textures that you can grab and use in your designs. This book is built to show you how with easy to follow step-by-step instructions.
Whether you are a beginner designer or a seasoned pro… "T-shirt Texture Tricks" has something for you.
Plus, I teach you how to separate Photoshop files into spot colors and even a simple way to create your own Simulated Process Seps.
It's quick, easy, and fun!
Below is the image I'm using in the last chapter. It's a simple file that I created to work on a Military Green t-shirt, just like many you probably work on every day. In the book, we take textures from images that I captured during my normal day.
The back of a stop sign.
A window screen from my house.
Even a telephone pole.
Then, I walk you through how to separate this into spot colors for t-shirt printing. 
Including a great trick for creating an underbase plate that can't lose, using a color mode in Photoshop that you might not be too familiar with yet.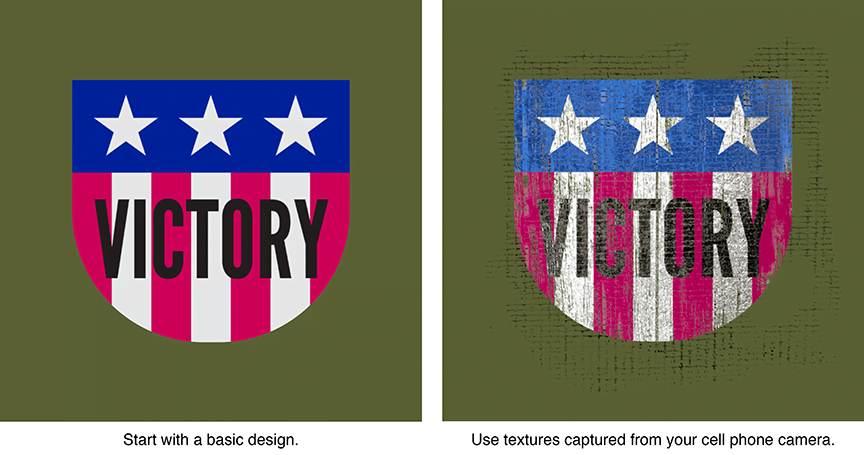 To download this $29 eBook, just click this button below and start learning how to do this today!
[av_button label='Buy T-shirt Texture Tricks' link='manually,https://atkinsontshirt.com/product/t-shirt-texture-tricks/' link_target='_blank' size='x-large' position='left' label_display=" icon_select='no' icon='ue800′ font='entypo-fontello' color='theme-color' custom_bg='#444444′ custom_font='#ffffff' av_uid='av-v5mwr1′ admin_preview_bg="]
.