Recently I had something printed, and the supplier sent me this notice:
Your File Is Perfect!
"Hi Marshall,
We've got your print file, and it's a green light from here. What's up next?
Your file will move to the next stage in our 33-Point Print Check.*
We'll let you know when your item has shipped or is ready for pick up."
*Every print order goes through our 33-Point Print Check process, a series of machine-run and human-led inspections. These processes ensure that your item is printed accurately and professionally."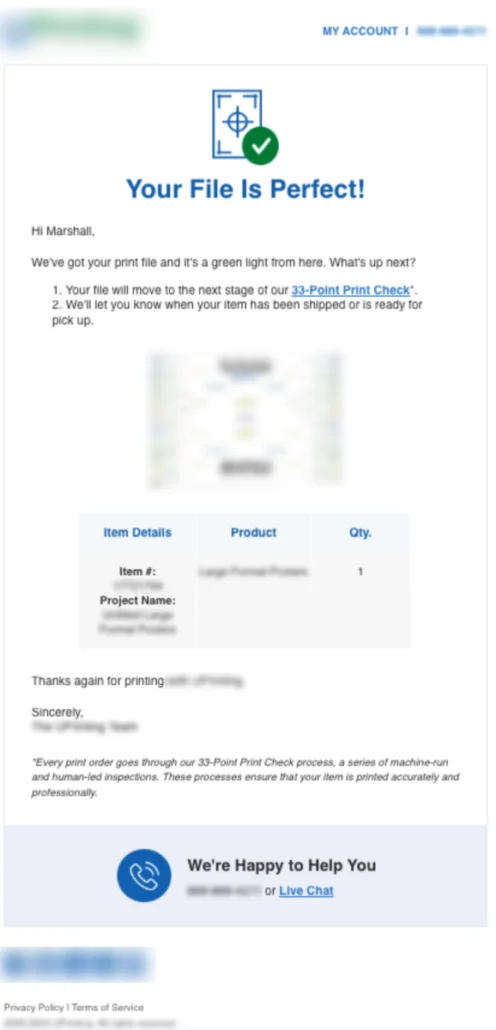 Awesomeness On Many Levels
I love this.
Why is a 33-Point Print Check important? "Why do I love thee? Let me count the ways."
First, it establishes basic communication, saying, "Hey, customer, we have your file and have actually reviewed it."
It is process-oriented. Each file they print goes through the same process. This means they have a standard. If it is not met, action steps begin.
From a production standpoint, you know they are only producing work that has passed the 33-Point Print Checklist. This eliminates wasted time, effort, or worry.
It establishes trust and confidence that they are the experts. How many of their competitors have a 33-Point Print Checklist? I don't know, but I don't care either. I'm using these guys because it appears they know what they are doing.
Easy to read. Many people only glance at their emails coming in. This stood out and was brief.
The next step in the process has been queued up. "We'll let you know when your item has shipped or is ready for pick-up." Now that I know that, I'm less likely to bug them about it.
There was a phone number and live chat link. If I had a problem, I could immediately contact them for resolution.
It begs the question – "What if it wasn't perfect?" Would they have highlighted what was wrong? My guess is yes.
Generally speaking, I like it when people look at my work and say it's perfect. That made me feel good, especially as it was the headline for the email.
What is their 33-Point Print Check?
This intrigued me so much that I reached out to the company and asked if they could share with me their 33-Point Checklist. I've written it out below, but if you want to know the name of the company, contact me, and I'll tell you.
The 33-Point Print Check – first 13 checks
Verify artwork resolution. We see to it that the artwork meets the recommended resolution of at least 300 dpi. Low-resolution files will display obvious pixelation. However, uploading artwork with resolutions higher than 300 dpi will not improve print quality. It will only make the file size larger to process.
Confirm the artwork size. Uploaded artwork should have the same size as the order specs. We will notify you if there is a difference so you can upload a new file with the same specs as your order.
Check bleed and safety zones. Important design elements should be within the safety zone to prevent them from being cut off after printing. If your artwork has a background, it should extend beyond the bleed to avoid the appearance of unwanted gaps after printing.
Verify that the artwork matches the order specs. This is a quick check to see if the artwork specifications are the same as the ones in your invoice.
Check and convert color mode. Images should be created in CMYK for accurate color printing. However, some files are created in RGB. In this case, we will convert the color mode for free to CMYK and check for major color shifts after conversion.
Make sure there is no unintentional color overlap. Overprinting is the process of printing one color over another. This makes the printed artwork look different from the one you designed. Checking for overprints ensures that the colors in your artwork do not mix with another color by mistake.
Check for after-printing requirements. If your order includes finishing (e.g., scoring, foiling, lamination, spot UV, or folding), our team will check your file to see if is included in the design.
Manually check the design for errors. Our team will make sure that your file is print-ready before it goes to printing. We will check colors, text placement, images, and transparencies. Spelling checks are excluded from this inspection.
Electronic checking. Our team will run another series of checks to fix any issue that may have been missed during the human inspection. Using preflight software, we can flag artwork issues and fix them. If the problem requires action, we will send the file back to you with our recommendations.
Ensure the right ink density. Laying too much ink on paper could lead to smudging. Using the right ink density allows printed designs to dry faster and prevent smearing.
Double-check order specifications. Our team will do a final human-led inspection to see if your order matches your file.
Check the order plating process. Our team will check that all marks (e.g., trim lines, color bars, etc.) are included before printing begins.
Inspect order output. We will print a small batch to check if the printed artwork quality is acceptable. This allows us to spot-check errors before printing a large batch.
The 33-Point Print Check – the next 14 points
Ensure all color levels are correct. As your project is printing, our team scans the printed artwork for color consistency. Using the closed-loop color system, we can make automatic adjustments to the colors and ensure that is true to your design.
Continuously inspect the product during printing. This helps ensure consistent quality and allows us to fix errors.
Examine color density. We check each printed sheet for proper ink trapping, correct color breaks, and color consistency.
Compare the printed product to the original artwork for color fidelity. This ensures that colors are printed in the same hue, and all design elements are printed exactly how you want them.
Ensure proper color registration. We check each color to ensure that they overlap precisely. This prevents images from looking blurred and having white spaces in areas where there should be color.
Double-check the correct positioning of elements. We ensure that all images, cuts, and scores are included in the printed product.
Check proper bleed. Before printing your project, we will run another check to see if any text or images might be trimmed.
Verify paper stock. Our team will check the weight, color, brightness, and texture to ensure it is the same stock you specified in your order.
Check the press sheet for inconsistencies. Our team will look at each image, text, and other design elements to ensure they are consistent with your design.
Review the printed proof to confirm that the artwork is printed correctly. We check for inconsistencies in pagination, text placement, font conversion, and other possible issues. We also inspect the printed product for missing elements and unintentional copy changes.
Check the quantities to print. We will compare order specifications against the actual copies printed.
Look for any imperfections or errors in the printed sheet. Before we trim your product to its actual size, we will check the printed sheets for any blemishes, mottling, pinholes, and other flaws.
Verify all sheets are cut accurately. We will check and trim the bleeds before cutting your project to its final size.
Check product quality. Before moving to the next stage, your artwork will go through a human-led inspection to manually spot and fix errors, if there are any.
The 33-Point Print Check – the last 6 points
Run quality checks at every stage in production. Our trained Quality Assurance specialist will run several checks—from prepress to printing—to ensure all products are up to standard.
Conduct a final inspection before we ship your product. The final inspection will help us identify issues and allow us to fix them before we ship out the order.
Find the right packaging for the order. The boxes we use for delivery will depend on the number of products to ship. As an eco-friendly printing company, we use mostly recycled boxes to ship our products. This helps us pass on our savings from manufacturing and printing to our customers.
Verify the delivery address and shipping mode. We will double-check customers' information and order specifications to ensure that the orders are correct and that they will arrive on time.
The shipping clerk will check the orders and sign shipping documents. All shipping documents will be checked and signed off to ensure accuracy before shipping.
Provide real-time tracking. Customers will know when their order ships without going to different shipping websites.
Quality Guarantee
At the end of the 33-Point Print Check is this:
Your Order is Done: Satisfaction Guaranteed
We stand behind our products and our services. If you are not 100% satisfied with your print product, let us know, and we will work with you on how to make it right.
What Does This All Mean?
For starters, I'm sure that other print companies do all of this stuff. Does yours?
What is important here is the 33-Point Print Checklist is being communicated to the customer as part of their process. Early.
This is a signal that you are in trust hands.
It is driving a giant flag into the ground and saying, "We are professionals. Your business and work are important to us. We want to get it right. Here is how we do it."
A Checklist Manifesto for Your Shop
One book you may or may not have read is Atul Gawande's seminal book, "The Checklist Manifesto." It is excellent, and I highly recommend it. In the book, he details the reasons why checklists work and explains what makes a great checklist.
Airplane pilots, surgeons, engineers, rock stars, authors, and grocery store shoppers all use a checklist for the same reasons. To not forget anything. What is important and mission-critical is on the list.
Gawande says, "Four generations after the first aviation checklists went into use, a lesson is emerging: checklists seem able to defend anyone, even the experienced, against failure in more tasks than we realized. They provide a kind of cognitive net. They catch mental flaws inherent in all of us – flaws of memory and attention and thoroughness. And because they do, they raise wide, unexpected possibilities."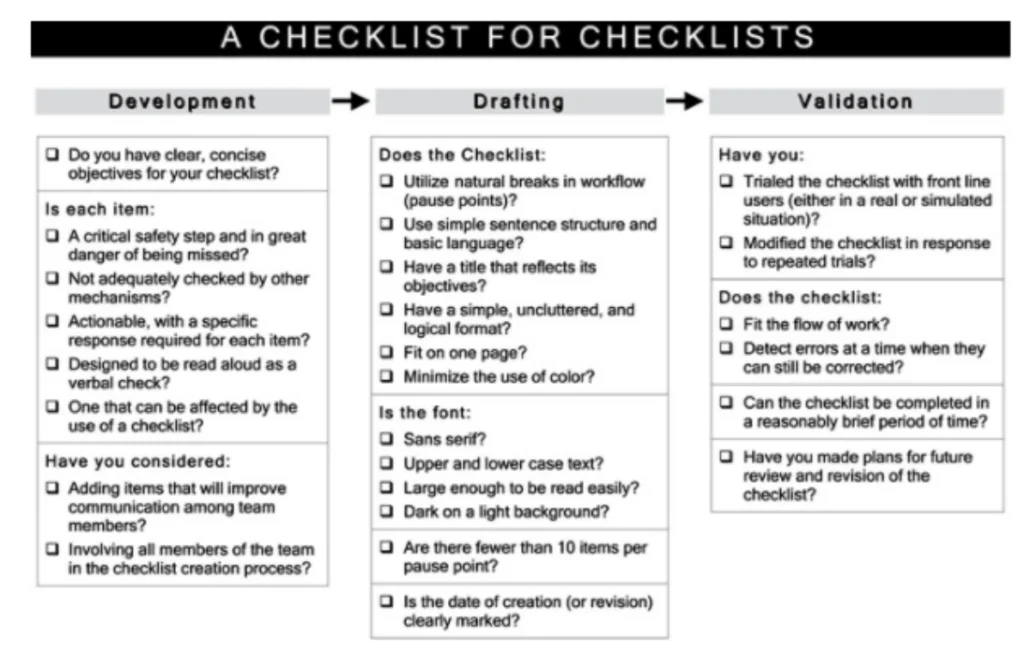 Consider how and why a checklist like the 33-Point Print Check can be used to build quality, speed, and cost optimization into your process.
If you don't have one, that is ok.
Don't feel bad. The time is now to start. Even though your points may differ from the 33-Point Print Check, could you use this to make your orders qualified to be scheduled and produced? What would you change?
Get your team together and brainstorm on what you want in your checklist and how you would deploy it for your work.
---
"All truths are easy to understand once they are discovered; the point is to discover them." – Galileo Galilei
"Style is the perfection of a point of view." – Richard Eberhart
"Hope is not a resting place but a starting point. A cactus, not a cushion." – H. Jackson Browne Jr.
---
Help Support This Blog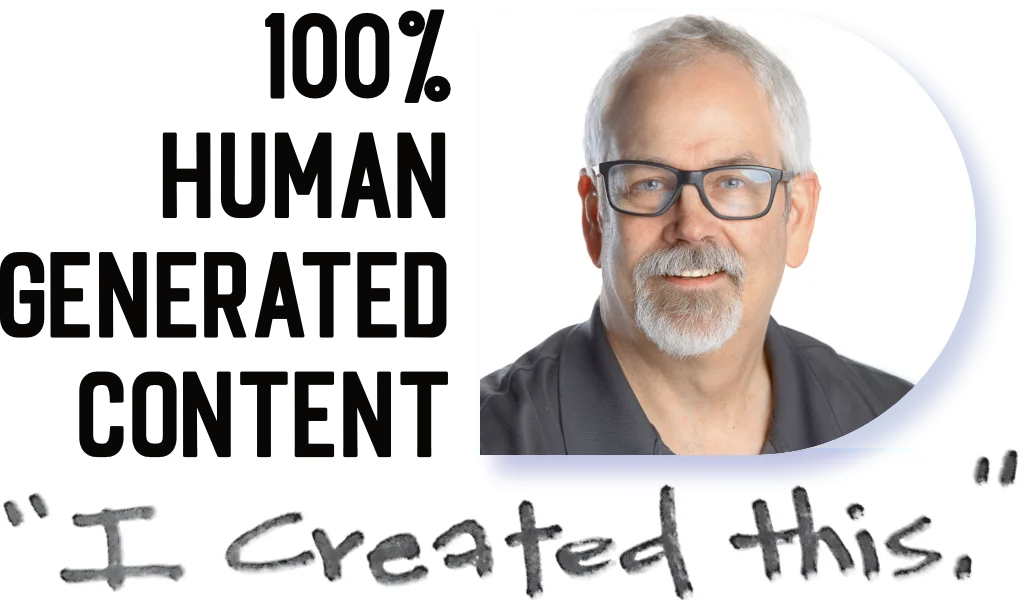 While I may be goofing around with AI for some projects, this blog and its contents have been created by me, Marshall Atkinson. I occasionally use AI tools such as Midjourney or OpenAI. Tools are meant to be used, and as a human being, I can control them.
Why am I writing this? To remind you, dear reader, these words are backed by a real person. With experience, flaws, successes, and failures… That's where growth and learning happen. By putting in the work.
If you are reading this and it is not on my website, it has been stolen without my permission by some autobot. Please report this to me and/or publicly out the website that hijacked it. And if you are trying to copy and use it without my permission, you are stealing. Didn't your mama teach you better?
If you like this blog and would like to support it, you can:
Share this blog on your social media.
Leave a comment! Engagement is fun.
Subscribe to the Success Stories podcast.
Watch and like an episode on the Jerzees Adventures in Apparel Decorating YouTube series.
Get signed up for the new Production Tracker app.
Subscribe to the Midjourney Elevating Print Creativity Newsletter
Also, my basic elevator pitch to you is that I help with "Clarifying effective change." If you are dissatisfied with your business's current results, maybe I can help.
Please schedule a discovery call here if you want to learn more.
Thanks!