"You know, you have to earn your customer's business and loyalty every day." That's what one of my coaching clients said to me the other day.
Holy smokes that is genius.
I scribbled that thought down on a notepad, as I knew instantly that it was an excellent idea for an article. You guessed it. Here it is.
Let's put this into context. This is about survival and growing your business. Right now, out there, snapping at your heels like a pack of angry wolves, are your competitors. Not just the local yahoos around the corner, but those mega-shops with all the advertising dollars.
Every day, your current customers are being bombarded with messages, samples, cold calls, emails, social media direct messages, and other forms of communication. They are all saying one thing.
"Fire you, hire me."
They want your customers to drop you like a sack of bricks and start using them. I'm betting that you don't want that to happen. If so, here are some things that you should be shoring up.
Quality
Nothing makes a customer pull their business away from you and send it to someone else faster than poor quality. The Ford Motor Company used to have a slogan, "Quality is Job One." I'm not sure why they don't still use that, (and let's sidestep that discussion) but it is absolutely true.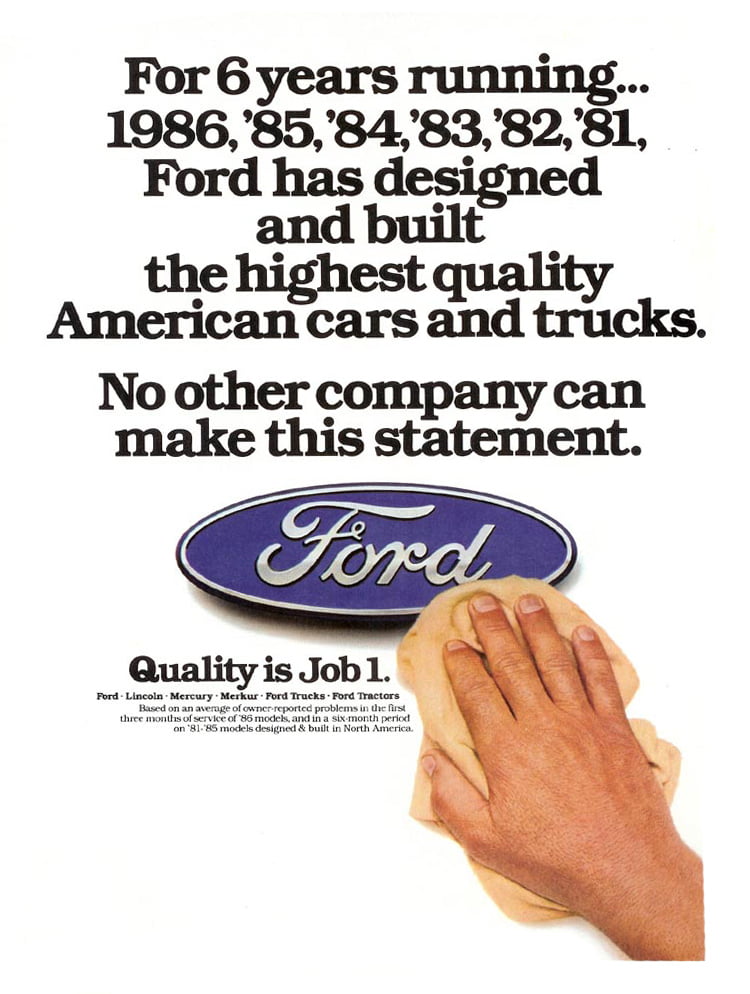 Your customers demand and expect that the work that you send out will have great quality. So let me ask you this. Just how buttoned up is your quality control program? Think about these:
Are you keeping track of errors to do the work to prevent them?
How is your internal training for your staff? Do they know what to do?
Are you auditing your work on purpose? How often is someone reviewing things before any item goes into a box?
Do you have a preventative maintenance program for your equipment?
Are you measuring performance? How are you tracking your KPIs?
How often are you having employee performance reviews?
The Impact of Poor Quality
Let's say on average that you lose a penny on every impression you print due to poor quality issues.
Do you track your errors? Take a look at this example spreadsheet. Here's how losing a penny on every impression can aggregate to a huge number at the end of the year.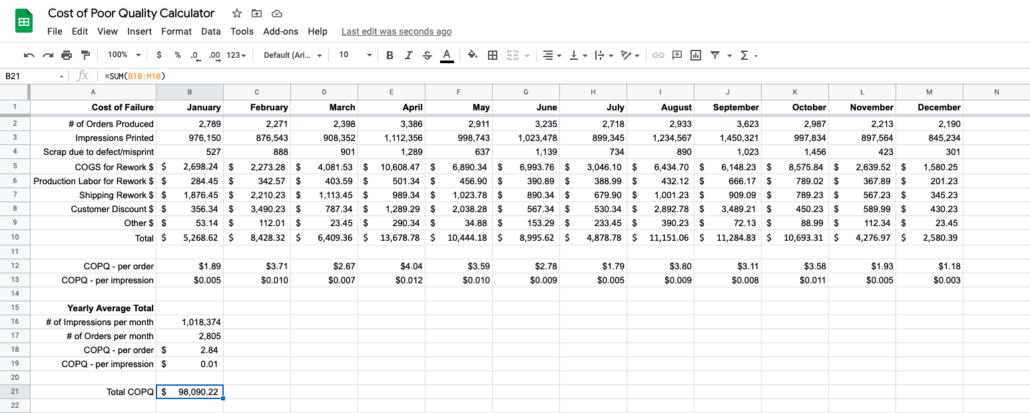 So that one penny in this shop amounts to $98,090.22 a year in lost profit. And let's not forget the impact on the production schedule when you have to do things over. If you don't have the time to do things right, when are you going to have time to do things the second time?
By the way, if you'd like to use this spreadsheet template to track your Cost of Poor Quality (COPQ), click here.
Want to earn more of your customer's trust and business? Shore the quality challenge up with processes, training, better equipment, and practices.
Poor quality is bad business.
On-Time Delivery
There is nothing worse than missing a deadline.
Yet, one of the biggest problems the decorated apparel industry has is producing and shipping out work when it is slated to go. Is your shop consistently on time…every day…with every order?
Why not?
From my years running shops, I can tell you that one of the biggest reasons we pulled in new business is our ability to hit a deadline. If it has to ship on Friday, that is your number one goal.
On any work order, the Ship Date is the most important piece of information. Every staff member in every department should be trained to understand their piece of the puzzle so that any order ships on the day slated.
Reason #1 – Inventory Not In The Building
These days, it is all too common to be waiting on inventory to arrive. Yes, it was slated to come in today, but you just received a notice that it won't arrive until next Tuesday.
Are you adjusting for this? How is your production schedule being updated with this information? Hopefully automatically, but certainly by someone that has this responsibility.
Does your customer know? What if this was for an event?
Due to the insane inventory and freight forwarding challenges we're facing right now, you should be discussing this during the sales process before you even accept the order. Be clear upfront.
If you have a 1000 piece order and you are waiting on 30 mediums to come in, do you cancel those and proceed? Move the ship date? Print the order on two different days, but charge them for the second setup?
Also, on another note: It is your receiving team's number one duty to bring in, count, and receive anything delivered on the same day it arrives. There can not be any waiting. You need to know that the goods that have been ordered are complete and ready to go absolutely as soon as possible.
Even though it is incredibly frustrating these days, how you handle this inventory situation could set you apart from other shops that are less professional.
Reason #2 – Art Not Approved
Before the world ran out of apparel stock, this was the number one reason why jobs were usually late.
The Sales to Art to Client to Production workflow is usually the biggest bottleneck. Production could be screen printing, digital printing, embroidery, laser etching…it doesn't matter. Getting the creative side of things set and moving quickly and accurately has always been the biggest challenge because people have a hard time communicating their vision.
"Do something cool" will not ever be enough information to create something and send it to the client so they will approve it without any changes. Often clients can't or won't articulate their vision.
Multiple art changes ensue.
As that back and forth happens, the production deadline can sneak up on you. Eventually, you may hit the point where the job is going to be late because you can't bend the laws of time and physics to be able to run the job and hit the ship date.
There Has to Be a Better Way
The business end of the Sales to Art to Production challenge can be improved by looking at the questions that are being asked when the order is being quoted. Successful information gathering at this point will pay huge dividends for your creative team later when they try to build out the vision for the order.
Your goal should be to get 85% of the art approved on the first try to the client. This means measuring. You want to track the reason why there is an art change. Was it one of these?
The client changed something.
There was a mistake caused by the artist.
Instructions were vague and unclear.
Details were left off or wrong.
The wrong colors/shirts/logos were specified.
There was a sizing issue. (Make something bigger or smaller)
Another issue.
Start keeping track of the changes you are making. Then, your priority job is to try to head these off at the pass with better questions earlier in the process. When you give more detailed instructions to your creative team, they can do a better job of designing things right the first time.
Surprise and Delight
Anyone can print or embroider a shirt.
Keeping clients happy is another thing entirely. For that, I want you to focus on the experience of doing business with you. Exactly what is that like?
Do your customers rave about you and send clients your way all of the time?
No?
Why do you think that is? People recommend other businesses.
What are you doing to create so much joy in working with you that everyone you do business with sends you other customers on a constant basis?
Think of it as a "Surprise and Delight" campaign. Yes, this is marketing.
Consider sending out new ideas to your customers for things that they have never considered or ordered before. Package them well. Use tissue paper inside the box. Include a hand-written note. Or better yet, a custom video of you talking about them that they can access via a QR code.
Give them a reason to talk about you to others. Or share what you sent on Facebook or Instagram.
Now that will earn you some business.
---
"A brand for a company is like a reputation for a person. You earn reputation by trying to do hard things well." – Jeff Bezos
"If you don't drive your business, you will be driven out of business." – B.C. Forbes
"Ideas pull the trigger, but instinct loads the gun." – Don Marquis
---
Help Support This Blog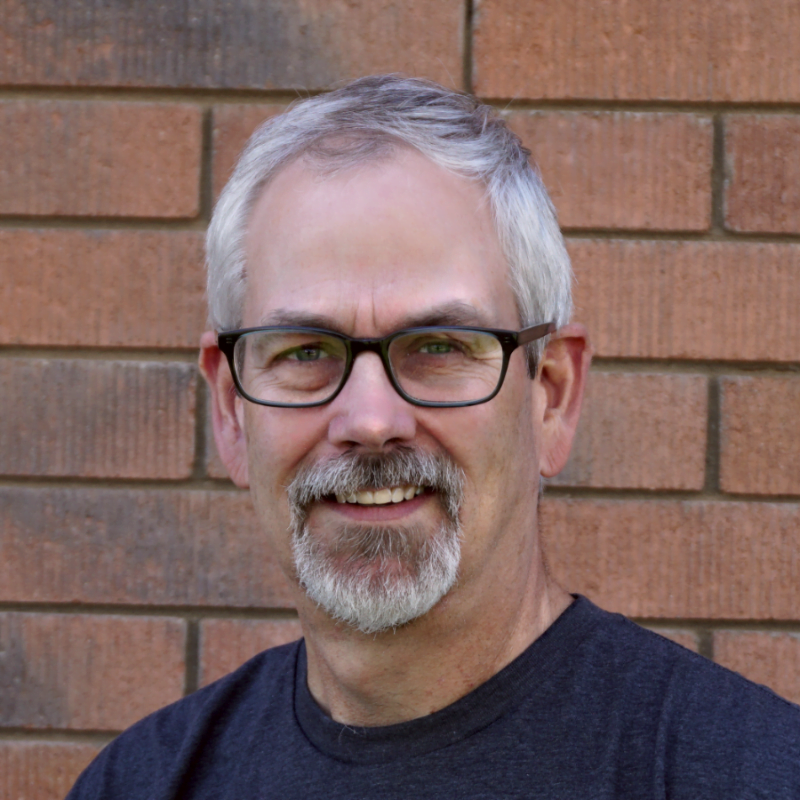 If you like this blog and would like to support it, you can:
Share this blog on your social media.
Subscribe to the Success Stories podcast.
Watch and like an episode on the Jerzees Adventures in Apparel Decorating YouTube series.
Get signed up for the new Production Tracker app.
Thanks!