Do you know specifically who your best customer is for your business? This may be a trick question by the way.
For starters, it may not be a current customer at all. It could be someone new.
It may also not necessarily be based on total revenue. For example, what if one of your top customers gives you an enormous amount of sales, but there is little profit in those orders?
As we start considering 2023, you may want to pause for a minute and reflect on your current work for your customers. Is the work frequent? Is it easy and cheap to acquire? More importantly, is it profitable?
How do you know?
I say that because, as a coach, I hear many stories about customers in this industry. Not all of them are tales of victory. Shop owners are quick to share their awesome revenue goal achievements. Yet, they don't have any answers when I inquire about bottom-line profit.
Furthermore, many shops had at least one, if not more, price increase this year. The room gets silent when I ask if the banner year in sales is due to the price increase and not obtaining more work or better clients. Nobody thought of that.
Map Out Your Best Customer
Do yourself a favor. Before the new year begins, map out exactly who you think your best customer may be. Here are some ideas that you might consider:
Frequency of orders. Are they a one-and-done type of client, or are they ordering every week?
Ease of relationship. Let's face it; nobody wants to work for jerks. You shouldn't either.
Your "sweet spot." What is the best type of order for your shop, where that work is the easiest to push out and is the most profitable? Get more of that.
Expansion business. They are interested in new ideas and opportunities.
Referrals. They help send you new customers. We all need more champions for what we do.
Profitability. This is the most important. Is your schedule filled with low-profit work? Being busy to be busy is a waste of time.
Take a hard look at who you are catering to right now. On those six points listed, how do your current customers match up?
80/20 Deep Dive
This isn't anything new, but you should take a minute and review your customer sales totals. Pull a report and map out each customer with their total sales. If one customer has several people sending in orders, lump them together.
Export that to a spreadsheet, and then rank them by their totals so that the biggest sales dollars are at the top.
Without knowing anything about your business, I can tell you that the top 20% of your sales gives you about 80% of your revenue. Who are those customers?
The flip side is that the bottom 80% of your sales only drive about 20% of your revenue. This is what continually clogs up your schedule, forces over time, make you buy new equipment, and other "problem-solving" decisions that you are making.
But for the most part, that report can be misleading because those top customers on the list don't have a profitability factor associated with them.
What If
What if what you thought was your best customer turns out to be not so fantastic? This is where our old friend "math" creeps in.
Are you looking at your KPIs and costs for the work that you are doing? Why do so many shop owners only use the total revenue as the metric they earmark for goal setting?
What if, in 2023, you focus on your net profit goal instead? That's right. The bottom line. What's dropping there every week?
If you are a shop owner that "can't afford to pay myself right now," I can tell you that something is definitely wrong with that picture.
Profit Dashboard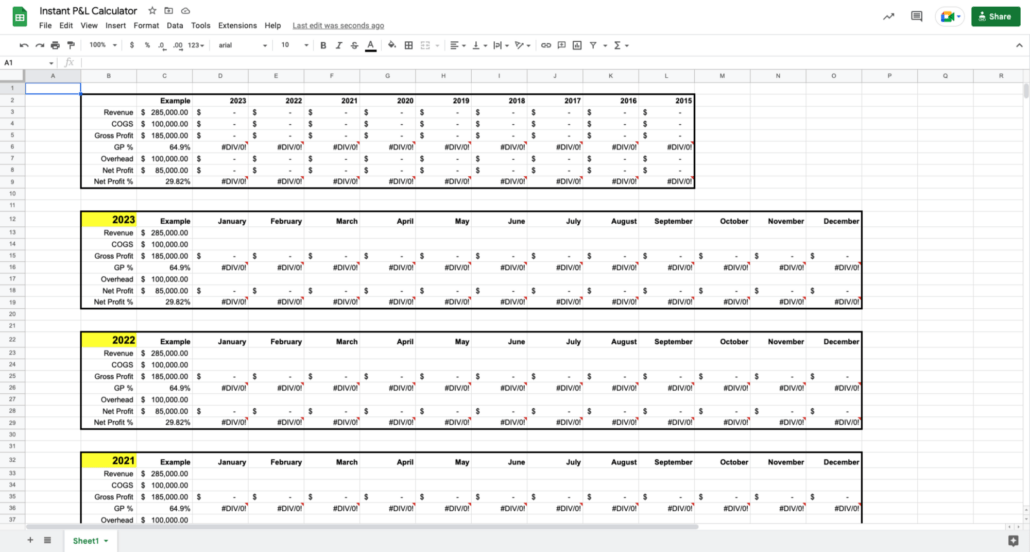 Take a look at this. It is a simple way to measure your profit. I created this a few years ago for a coaching client. They kept making excuses as to why they didn't know their gross and net profit because they were waiting for their bookkeeper to get back to them.
All you need to know are these three things:
Total sales revenue by month.
Total COGS by month (this is all of your variable expenses associated with the work. Shirts, labor, supplies, etc.)
Total Overhead by month (this is all of the standard costs that you would have regardless if you have orders or not)
Pull a report in your system and find those three things each month. The formulas in the spreadsheet will automatically work and fill out the totals. If you go back a few years, you can see some patterns.
For 2023
For 2023, start thinking about how you can earn more money to improve your business's bottom line. This isn't going to happen by accident. It's going to be messy.
You may need to stop working with some low-profit and uber-demanding customers. Replace them with better ones.
Look at your costs. Being more effective with your time and reducing errors can drop a few profit points to the bottom line every month. At the end of the year, that can show up with some good gains.
A good habit is to decide what is a good number and what is a bad one for gross and net profit. As the year progresses, is your effort reflected back into gaining ground in these areas?
You can't be scared to know this stuff. Do the math.
Take better control of your outcomes.
---
"Statistics suggest that when customers complain, business owners and managers ought to get excited about it. The complaining customer represents a huge opportunity for more business." – Zig Ziglar
"The golden rule for every business is this, 'Put yourself in your customer's place." – Owen Swett Marden
"So I think instead of focusing on the competition, focus on the customer." – Scott Cook
---
Help Support This Blog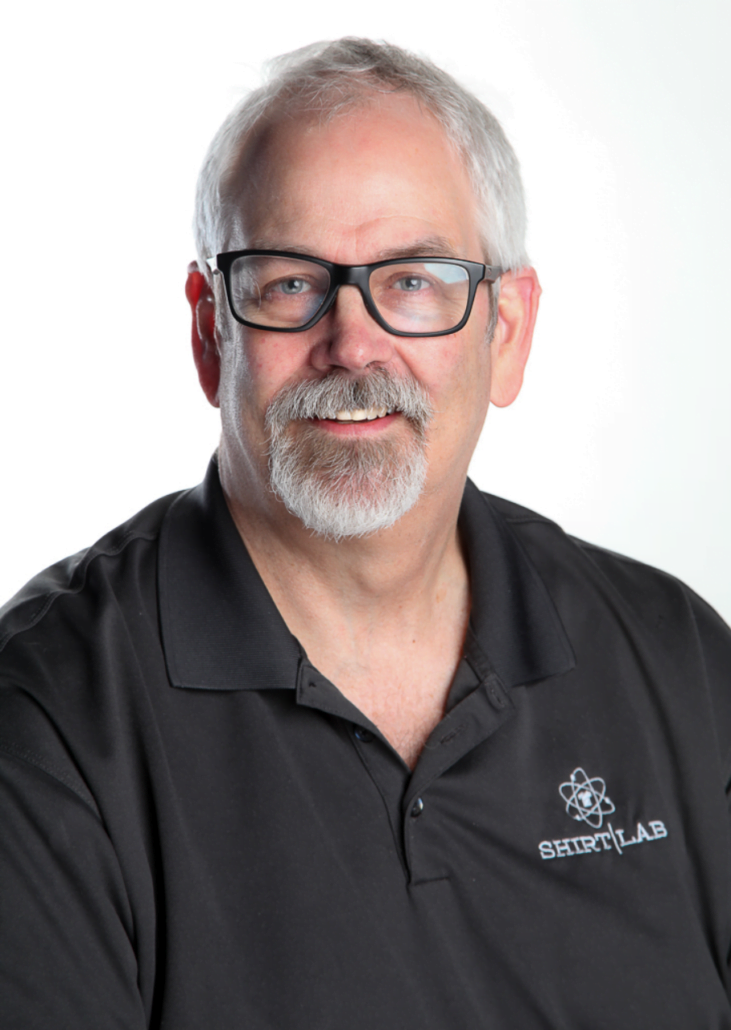 If you are reading this and it is not on my website, it has been stolen without my permission. Please report this to me, and/or publicly out the website that hijacked it. And if you are trying to copy and use it without my permission, you are stealing.
If you like this blog and would like to support it, you can:
Share this blog on your social media.
Subscribe to the Success Stories podcast.
Watch and like an episode on the Jerzees Adventures in Apparel Decorating YouTube series.
Get signed up for the new Production Tracker app.
Also, my basic elevator pitch to you is I'm that help with "Clarifying effective change." Please schedule a discovery call here if you need help and want to learn more.
Thanks!

Marshall Atkinson also shares exclusive blog content at Supacolor.com. Supacolor makes The World's Best Heat Transfer and provides tips, inspiration, and other resources designed to empower professional garment printers.