2021 is just around the corner. I've been thinking a lot about it lately. My office whiteboard is scribbled with industry event dates that may or may not happen, creative ideas I want to pursue, and even some items I need to finish and launch.
Of course, we all want things to return to "normal", but as I've been writing and speaking on this topic since April, going back to normal isn't in the cards. The halcyon ways of how things worked back in early 2020 won't do the trick now.
It's the "Next Normal" that we need to be concerned about. The good, the bad, and the ugly.
There simply are too many factors that don't have easy or obtainable answers for really anyone to make an accurate prediction. Including me.
The goal of this article is to challenge you to think about a few possible outcomes and consider how you might position your business to take advantage of these situations early.
2021: The Uncertain Three
There are three main factors that I think everyone should be concerned about. These are the things that are going to influence the long-term decisions that you will be making now, and next year as we move through recovery.
Social – Do people trust each other, have empathy for each other, and are committed to getting this pandemic behind us? Will people be willing to travel or attend functions? Will schools be safe?
Political – The outcome of the US Presidential Election is going to have an incredible impact on the economy, conditions, financial markets, and the outcomes that we see. And no, this is not a political post for either the red or blue viewpoints. I'm just stating a fact.
Epidemiological – What is going to happen with the virus? Will there be a vaccine? Can I get an accurate test easily, safely, and cheaply?
Right now, there are so many questions marks it is literally impossible to plan. As my coaching role for businesses consists of literally talking to business owners all-day, I hear many different opinions and let me tell you they vary wildly.
Except for one thing. Everyone has a "wait and see" attitude and the pivotal lowest common denominator in the discussion is the US Election Results.
Therefore, what I've started talking about with my clients if we are working on 2021 plans is to consider drafting three contingency plans. Basically a "Good", "Better", "Best" version of a business plan for next year.
2021: Plan With Three Factors
Many businesses have adopted new ways of working, and made inroads in getting older customer reactivated and spending again, or have found new customers altogether. I've found that the companies that are sitting and waiting for the "old way" of working are either failing or headed into bankruptcy.
Smart firms are looking at basically three factors and are making solid headway into recovery with these ideas.
Focused activity that is centered on Profit Margin.
Expansion ideas that are targeted on Revenue Growth.
Exploration into new territory with Innovating Ideas.
Let's breakdown each of these and explore more in detail.
2021: The Year of Profit Margin
As my friend Mark Coudray is fond of stating, "Top-line sales are vanity, bottom-line sales are sanity."
While many business owners are constantly comparing their overall sales numbers as the benchmark of success, savvier folks are looking at the profit margin for these sales. Scared and less-confident people tend to drop prices when customers balk at a price during the sales negotiation phase, or when they are posting items on social media marketing. The closer you get to zero at the price the easier it is to get someone to do what you want.
However, this doesn't help the business and can actually overwhelm it with too much low-margin work. This is how shops become busy being busy, and not busy being profitable.
An interesting note that has happened from the adjustments shops made during the pandemic is that many found out that they could operate effectively with about 50%-60% of their staff if they brought back the right people. Even without a price adjustment, the shop is more profitable per order.
Many shops raised their minimums, or started being choosier with what clients they wanted to work with, because they simply couldn't or didn't want to work on those "garbage" orders for zero money.
Personally, I've been working with an entire fleet of new coaching clients and most of them are focused on identifying their "ideal customer", not just any schmo that walks off the street. The work they are doing is about building trust and alignment with the customer, and not on a price point.
They have been sending the tire-kickers and price complainers to work with their competition. For 2021, I see this trend continuing as more shops will be focused on their profit margin as an indicator of success.
If, of course, they know how to calculate it. That's another article though.
2021: The Year of Revenue Growth
I firmly believe that next year will be the year for solid growth in revenue, and it will be primarily driven by digital sales. There are simply too many great tools out there, with customers hungry to buy online.
Here's a big if. You have to have the right platform, frictionless experience, and marketing strategy.
Digital means eyeballs on your website or online store. For solid growth, this doesn't happen by mere accident.
And let's be honest here, not everyone has that built.
Yet.
It's not too late. The party hasn't started. Plenty of time to build out something amazing. If you need some help, click here and learn about the October Shirt Lab Forge e-commerce event that can give you a headstart on what you need to do to drive that success bus at warp speed. (Here's an in-depth blog article about it too, plus a video on Black Friday / Cyber Monday)
There are some amazing opportunities ahead for this industry next year. Print on Demand, fulfillment, online stores, merch stores, webstores, company stores, and apparel support programs. The face of retail is changing. Companies are finding they can work from home.
Virtual events from athletic events like the Boston Marathon to business education events are using apparel and promotional merchandise to build emotional and customer connectivity. Start investigating these in your area of influence and see if you can partner with the organizers early in the discussion. You are the expert!
2021: The Year of Innovation
It's no secret, where there is friction or a problem there is an opportunity. It is safe to say that with all of the problems of 2020, going into next year there will be a lot of opportunities ahead.
The question is, will you be open to creating that innovation? People and businesses are looking for solutions.
Are you talking to people and asking them about their challenges? Now more than ever, it pays to be listening.
It's hard to understand sometimes where new ideas are generated from. What books, articles, or magazines are you reading? Do you listen to podcasts, or watch YouTube videos?
Better yet, think about who is on your radar to partner or collaborate with. As I like to say, "Your best friend is only a handshake away."
To me, 2021 is going to be an exciting year, loaded with innovation. I can't wait to see how things shake out. Sure, right now it looks a little bumpy. But if you approach it with a positive mindset, with your head up and look for the opportunities in front of you, I think the year can be a winner.
2021: The Year of Disruption
On the downside of things, I believe that we are going to see some disruptive shifts that could cause some huge challenges. While nothing is certain, I would be planning on your response to these circumstances:
Supply Chain issues – What happens if we continue to see outages in apparel brands, consumables, spare parts, or other things you need to make your business run. Better start working on backups now.
Governmental Regulations – Not just in your shop with your employees, but with how businesses operate. Think about how much of what we do is affected by the transportation sector, manufacturing, importing, and other macro industries.
Trust – Yeah, I'm putting that one here. For the economy and business to accelerate to levels that I think we all wish to see, there has to be a level of Trust that I believe we no longer have. Will we get the Trust back in 2021? What is the canary in the coal mine for you?
2021: Here's What You Can Do
Start writing out your plans now. Below are twenty questions to ask and ponder, and maybe stumble into a plan that might work.
Twenty Questions for 2021
What are you doing right now to prepare for an economic downturn for your business?
What would a modest sales and profit margin goal look like if the picture isn't as rosy as we would like? Yearly, Quarterly, Monthly, Weekly? Can you survive on that?
What skillsets with my staff do I need to shore up to be successful if 2021 is a little shaky? Think about people and training now.
Who is your worst employee? Who is your best? If you only could keep 50% of your staff, how would you operate?
What are the ways that you can engineer a better culture in your business, especially when the times might be a little iffy?
What customers do we have right now that might be in jeopardy if the economy or societal conditions falter? Better, what support can we give them now to assist them?
What KPIs should you be measuring that you are not right now?
What tradeoffs will you have to make to cover basic expenses? How lean can you go?
How do you bring more value to your customers to over-deliver? Name three things.
Who are your main suppliers? Do you have accounts with three or four more that can deliver the same items to you?
Who can you partner or collaborate with nearby to strengthen both businesses? This could be with an event, product, or bundle.
What are other businesses doing? Do you belong to a solid peer networking group like Shirt Lab Tribe?
How strong are you financially? Could you survive with minimum or zero sales for a short period of time? What would you do? Write it out.
What has changed with your target customers? What problem can you solve for a new set of customers?
How far out do your planning and thinking go? Are you thinking ahead 6 to 8 weeks at a minimum? What opportunities are in front of you?
What are the "headwinds vs tailwinds" that might affect your business? How can you change direction to take advantage of a tailwind opportunity? What would you need to do?
What is the next level up for you for equipment, facility space, or employee headcount? Where should sales and profit be for that to happen?
What would it take for your business to not only survive in 2021 but thrive? What does amazing success look like?
Let's say your sales increase by two or three times. Yes, it is a nice problem to have, but how would that impact your business? Could you keep up? What is the limit that you could comfortably produce in-house?
When you start to get overwhelmed who can you partner with to shoulder some of the burden in production? Have you set up a relationship with them yet?
---
"A champion is someone who gets up when he can't." – Jack Dempsey
"Change your thoughts and you change your world." – Norman Vincent Peale
"Try to be the rainbow in someone's cloud." – Maya Angelou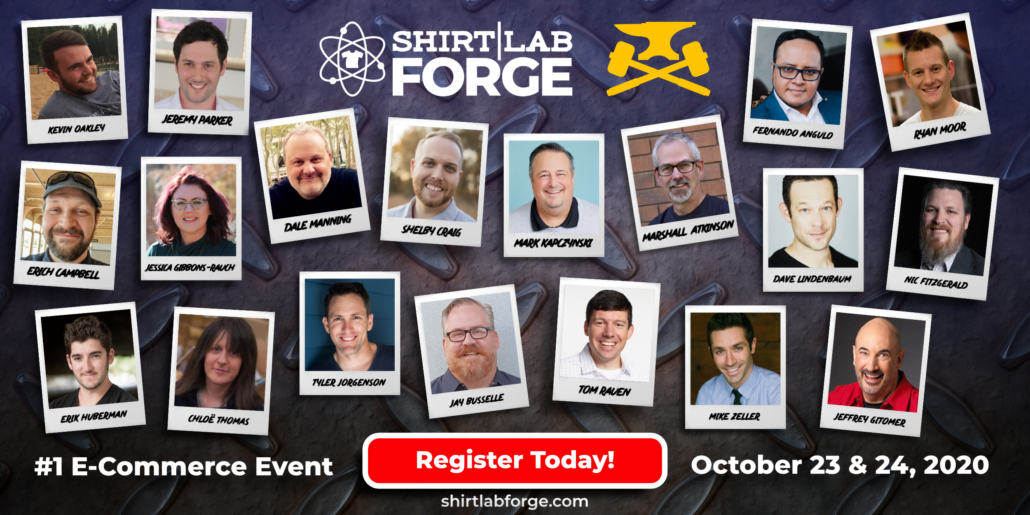 It's all going digital these days. Are you prepared?
How are your sales for your online stores on InkSoft, Shopify, Printavo Merch, Etsy, or Amazon? If you are not satisfied with the results currently, you might want to consider signing up for Shirt Lab Forge.
This event brings together the top minds in the digital sales world. If you are serious about making 2021 an outstanding year for your business, you should look into the shared tactics that the presenters from Shirt Lab Forge are giving.
$197 or you can sign up for Shirt Lab Tribe at the limited Founder's rate of $49 per month.