Hyper-personalization. What the heck is that?
As apparel decorators, we are used to decorating shirts with quantity. That's the established norm. Shops everywhere shy away from doing anything that doesn't "feed the beast" and keep those presses humming!
But something interesting is happening with the notion of marrying technology and our industry that may just have some profitable legs.
Here's something I want you to consider. Today is the slowest day for the world for technological change. Smart people everywhere are inventing new ways of working, printing, communicating, and processing information.
Tomorrow will be faster than today. The next day will have better tools to use.
In this article, I'll be connecting some things that I see today with some possibilities for the future. Will I get it right? Who the heck knows?
But I'm willing to think about it and write down some thoughts.
What is Hyper-Personalization?
Simple. This is a personalizing the garment to a unique individual.
Very small decoration runs. Usually just one piece, but the print edition can be more if there is a unique something about it that is made to be for someone with a specific change to the garment.
Hyper-Personalization: The Present
Our industry personalizes garments in a multitude of ways. We heat press names on the back of soccer jerseys or embroidery "Larry" on the right chest of some mechanics work shirt. Those standards have been around for a long time. You may even produce those types of orders in your shop. Nothing wrong with it at all.
These are personalized and decorated garments intended for one person. 11-year old Mary on the soccer team, or Larry that is going to fix your brakes.
But you can also send in a picture of your dog or cat and this can be reprinted on a custom pair of socks or reimagined as a renaissance noble in a fake oil painting.
Our industry is also moving very quickly into the Print on Demand space to support the online stores' gold rush. Previously, retail would print thousands of garments and hold them in a warehouse for distribution. Now, all of that is outsourced and the shirt is printed a day or so after the order is placed by a third party vendor.
Everything is moving to the sales unit of one. Companies like MerchLoop or Gooten are springing up to help people with their online stores.
Hyper-Personalization: The Future
There are few things that I think are going to start creeping into our industry and it is going to be exciting to see. The technology exists right now or is being developed to make these possibilities a reality.
The Power of Variable Data
Let's take the recent Bernie Sanders meme on for size as an example. If you didn't keep up with this pop culture trend, Senator Bernie Sanders attended President Joe Biden's inaugural event dressed in his "Vermont best" and sat patiently waiting for the hoopla to commence. His pose, mask on, legs crossed, huge hand-made mittens in the foreground, went viral.
As a result, people everywhere jumped on the trend and spliced Bernie into all sorts of crazy photos and events.
Here's a pic that I made in a few minutes as a refresher. I layered him into the chest-bursting scene from one of my favorite movies, "Alien."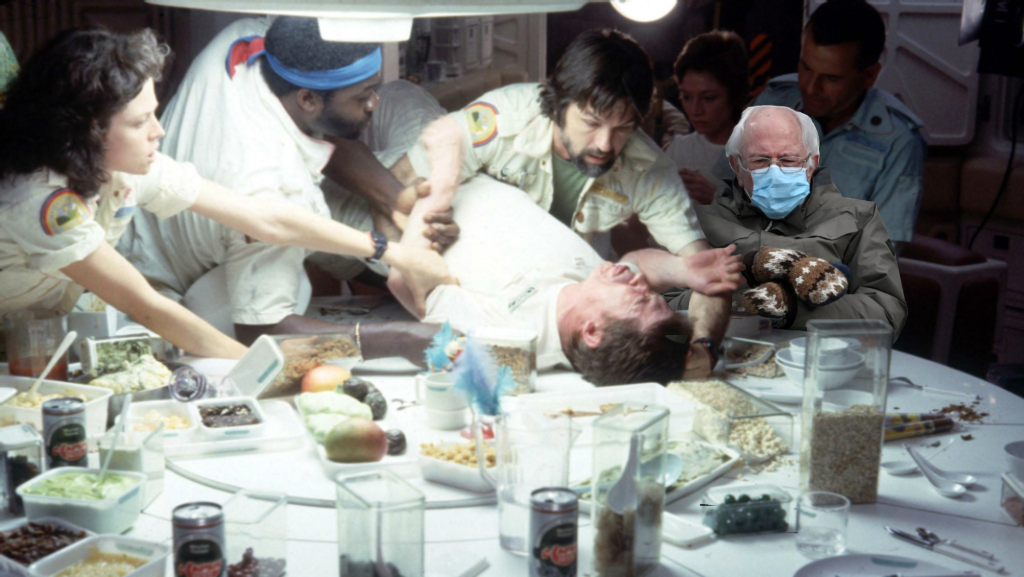 People Understand This Idea
Now imagine that instead of Bernie and this film clip picture, the variable data is a high school senior photo that will be inserted into an existing graphic design template.
The senior class shirt gets an update. They all look the same, as it is based on the same master graphic, but it is hyper-personalized to that individual graduating student.
Using Variable Data for Hyper-Personalization
How will this work?
It's about the process. Using a combination of Photoshop action commands, and some software to automatically push a final graphic rendering to the print production queue.
For commercial use, this has to be automated to work. The workflow funnel is the tricky part, and to my knowledge, I don't know if there is one yet. (someone please let me know if you have a solution)
The final result: An online store sells the shirts, pulls in the data, and pushes it out to be printed at 400+ shirts an hour speed on an M&R DS-4000 Digital Squeegee on a school color tee.
The beauty of this is that the shirt can retail for more money as it has customized value. Hyper-personalization adds dollars to the sale.
Now Imagine That Same Scenario For:
Fans of a rock band
Professional sports teams
Fundraising
Popular memes – just like the one with Bernie Sanders
Event SWAG
A clothing brand
A tourist attraction or theme park
Hyper-personalization Doesn't Have to Be Images
These could be sponsor logos for an event t-shirt. Imagine there is an event where you gain access to different classes or networking opportunities.
At commercial print speeds, the event goer's shirt is hyper-personalized and printed with a one-off design change that adds their name, company logo and some fun icons that allow them entry into the different segments for the event. They get a branded souvenir and don't have to wear the clunky name badge with the lanyard.
Or maybe the order is for a local 5k run. Usually, everyone gets a commemorative run shirt that they immediately pin the race number sheet to the shirt to help them track their time for the event.
What if every runner had a hyper-personalized race shirt with their race number already printed on the shirt, and maybe something on the shirt recognizing their status as having run that race in previous years?
The beauty of hyper-personalization is going to be linking the data somehow with what is going on in the garment decoration.
Hyper-Personalization is Scarcity
People will pay more for things if quantities are limited. Look at the success of Supreme or Johnny Cupcakes. In retail, smaller print editions for a design increases the demand and value to the consumer that is a fan of the brand.
With today's digital print technology, the art can easily contain individual art watermarks or even simple "Print 23/300" tags below the image to safeguard the value of the garment.
The limited edition aura creates the higher value to the consumer.
Hyper-Personalization is Collaboration Driven Experiences
Imagine the power of marrying a brand with an idea, image, or verbiage from a consumer to an actual product?
We're seeing that now with brands such as YR Stores that have interactive kiosks at stores, events, and trade shows. They aren't selling the printed product, they are selling the experience of hyper-personalization.
You may remember Tim Williams' presentation from the first ThreadX in Palm Springs a few years ago. He spoke about using the hyper-personalization idea with a pop-up store and selling digitally printed shirts for about $120. He is using the same DTG printer that you probably have in your shop.
It isn't the ink on the t-shirt that the consumers are buying. It is hyper-personalization and a better experience.
YR has evolved and has been doing this with some of the biggest brands in the world. Nike, adidas, Kiehl's, Google, Star Wars, Oreo, and Levi's, to name a few.
The live design experience drives their success. The backend production uses the same tools you have in your shop. Dye-sublimation printers, DTG printers, and embroidery machines.
Hyper-personalization Is For Your Customers
Think about your customers for a moment. How could you use this idea to deliver something new and exciting for them?
Can you imagine the excitement and power they will feel when they get to control what goes on the shirt? What if you could deliver that experience?
Many of the ideas in this article are already in existence. Someone else could be slowly marching towards gathering your customer segment into this new hyper-personalization idea.
I'd start researching and brainstorming. Need some help?